April 28, 2021
Crazy About Crinum Lilies and Spider Lilies!
Every few months, new packages arrive. Nope, they're not dropped on my doorstep. They pop up in the garden, often seemingly overnight, when bulbs deliver their seasonal messages. This week, heirloom Byzantine gladiolus lined up in magenta majesty.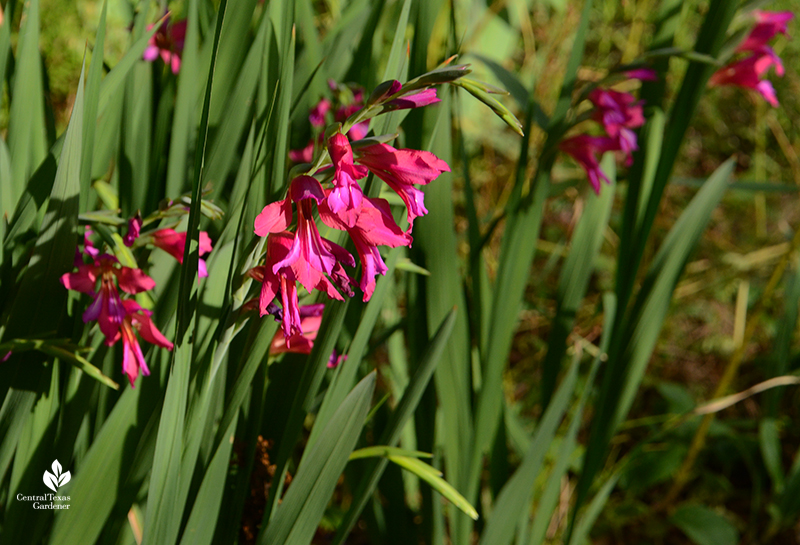 I planted them from corms one fall years ago. Every summer, I cut them to the ground for happy returns in late winter.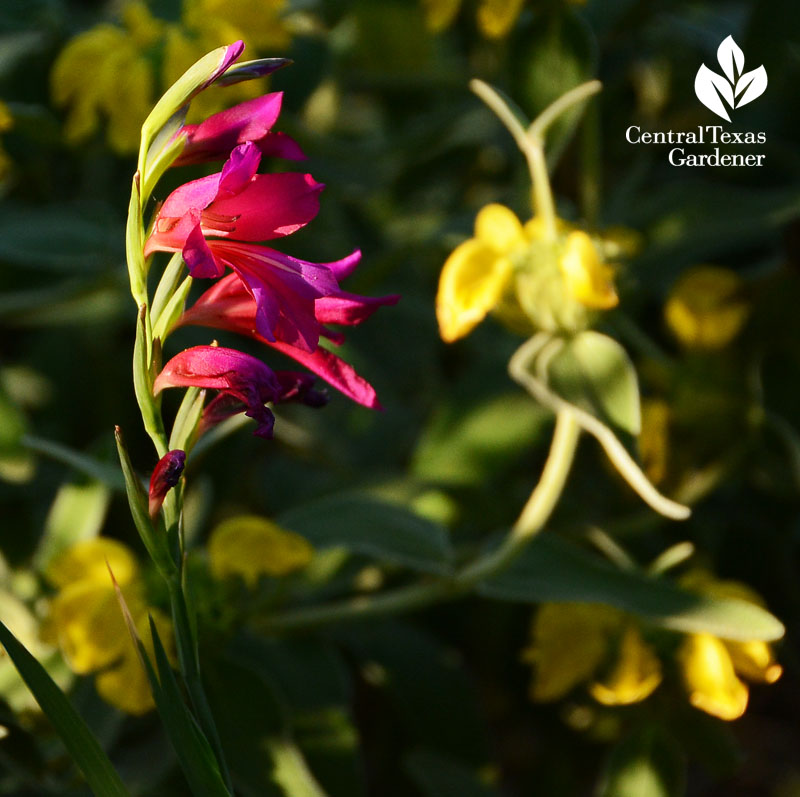 Frilly yellow bearded iris goes for curb appeal, undaunted by afternoon's sun blast against street-reflected heat. Drought-tough, its evergreen foliage simply needs a little grooming a few times a year. This reliable little pass-a-long is named 'Glitter Gulch'.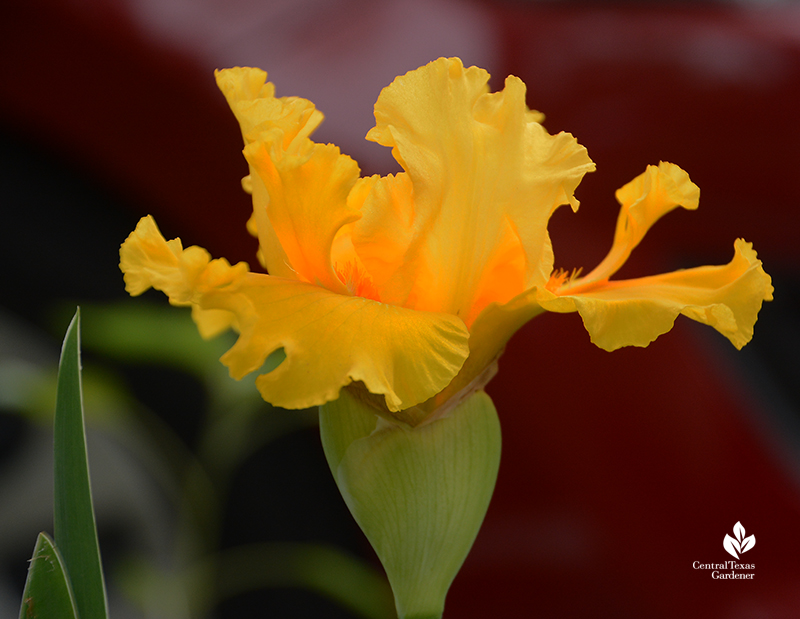 St. Joseph's lily (Hippeastrum x johnsonii), also called Johnson's lily, blooms for weeks in April. Emerging as usual after winter dormancy and the great February freeze, mine get some morning and afternoon sun. A metallic green sweat bee couldn't resist that trumpeting invitation.


Their genus Hippeastrum is in the amaryllis family. Coming on their blooming heels are the crinum lilies, also in the family Amaryllidaceae. Although crinums are generally larger than amaryllis, their relationship is apparent through the same fleshy, strappy leaves and deep tubular flowers.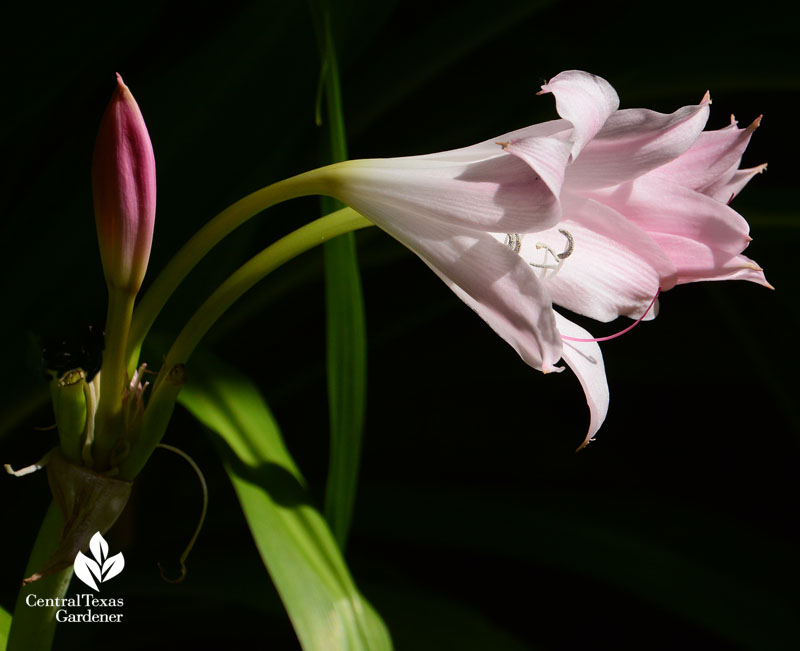 Crinums, spuria iris, and daylilies were sure a mess after February's great freeze.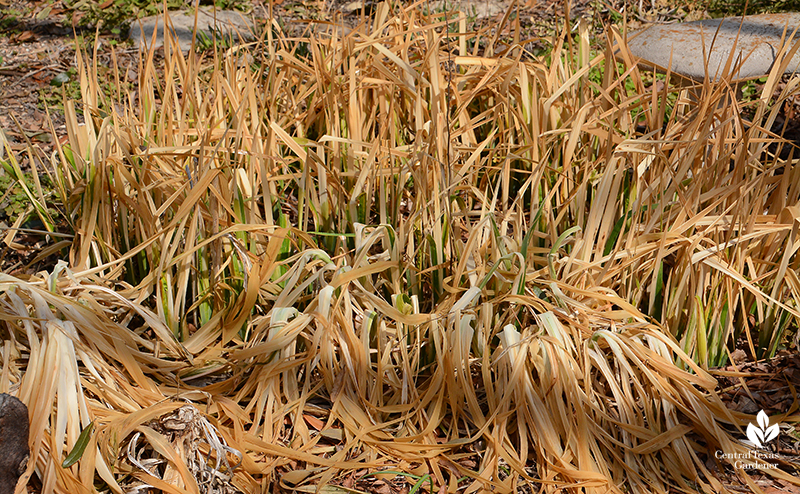 But not for long! Here they are today after a little cleanup. Spuria iris stands tall again, flaunting golden flowers beloved by bees and wasps. Daylilies, bearded iris, native inland sea oats, and red-blooming Salvia 'Silke's Dream' join crinums making a fast rebound. That blank space will be covered by June.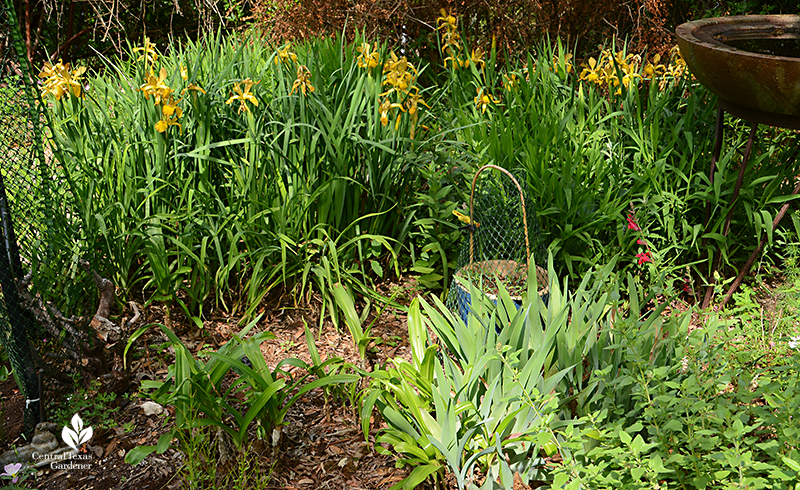 These bulbs, rhizomes, and corms have all been handed down for generations across countries, states, neighborhoods, families, and friends. I got these crinums from Boggy Creek Farm long ago. Who knows: they could have been planted 100 years ago!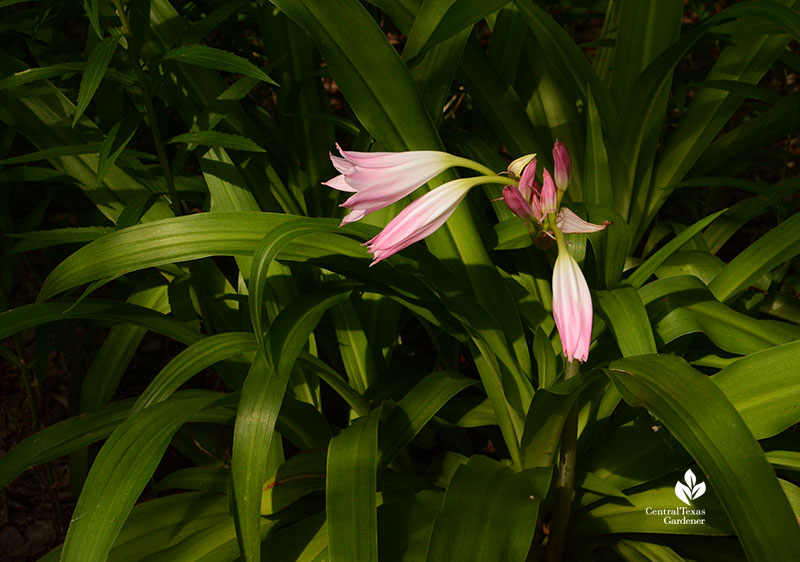 This week, CTG's host John Hart Asher joins Steve Lowe, founder of Tejas Bulbs, and longtime collaborator, Phillip Schulze, for the most comprehensive quick look at growing crinums I've ever seen.
Mine bloom from June through early August, but they've got me hooked on varieties that extend the cycle from April to frost. The first in spring is Crinum bulbispermum (this one is 'Sacramento'), native to Africa, and reproduced from abundant seed.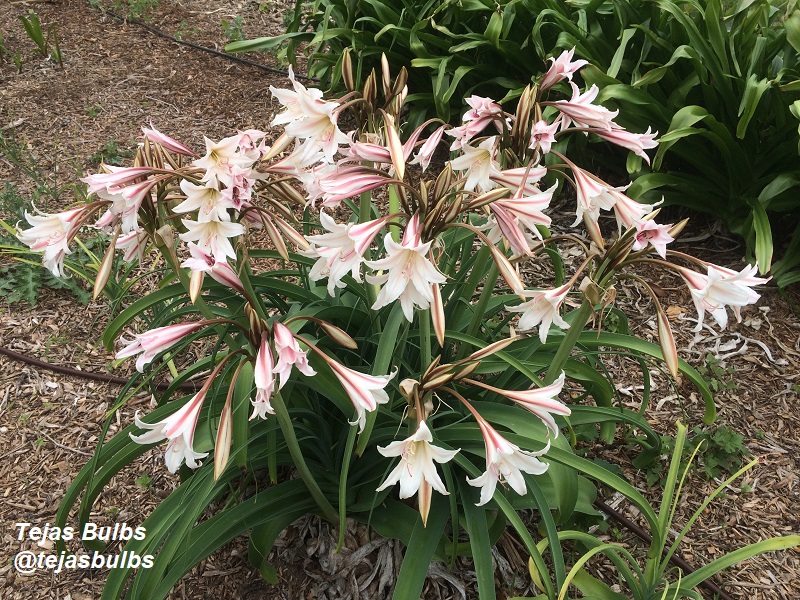 "You'll typically find those—variations of those that have gone feral—in parts of central East Texas down in swales off the highway or next to the railroad track," Steve told us.
Crinums are great choices for rain gardens, depressions that collect rainwater and then dry out. "They can take flooding and they can take drought, which is very, very unique, and makes them work really well here in Texas because that's what we have. We have floods and droughts," Phillip said.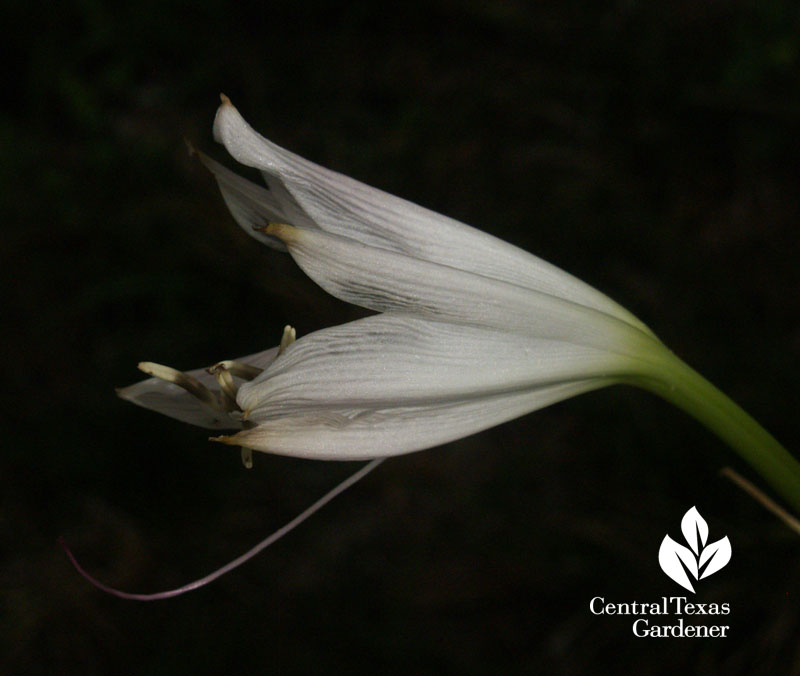 From his farm in Boerne, Steve grows countless varieties from bulb division. He also hybridizes from seed, including 'Lady Chameleon' that flowers from seeds in just two years. Its summertime petals vary in color from one bloom to the next, a botanical phenomenon called "chimera."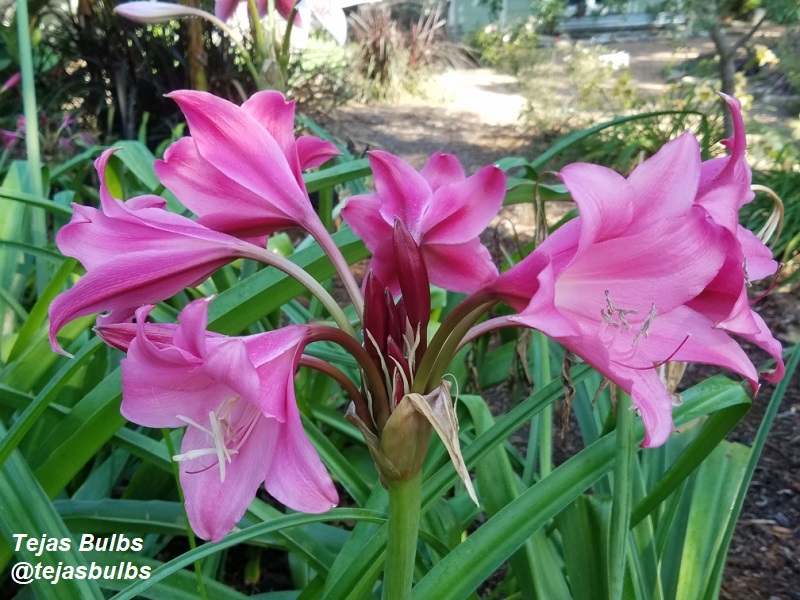 Working in the commercial nursery business in the 80s, he discovered tough-as-nails crinums. Many survive along with antique roses even in long-abandoned homesteads. Recognizing their value as a water-resourceful plant, he started Tejas Bulbs in 1984.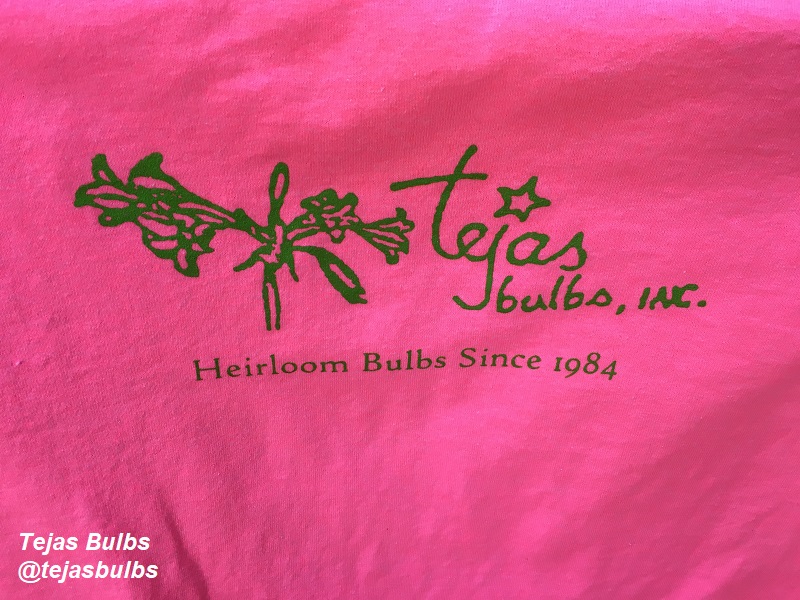 In a morning sun bed along my house, 'Ellen Bosanquet' crinum lily (hybridized between 1915- 1920) sits under a fragrant 'Buff Beauty' rose (introduced in 1939). There are three crinums in this bed, along with narcissus, daylilies, yuccas, annuals, yarrow, spuria iris, Salvia microphylla, one 'Tropical Giant' Hymenocallis from Tejas, and a border of native asters and snake herb (Dyschoriste linearis) that's blooming lavender now.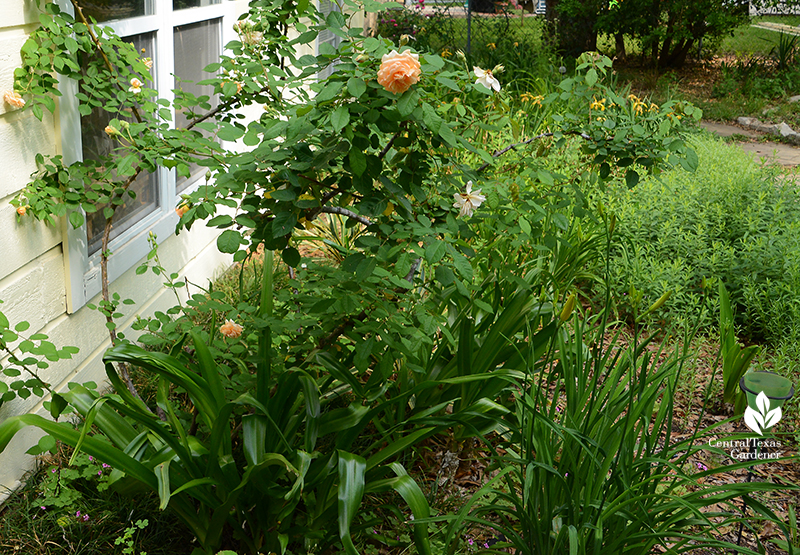 Phillip got involved with Tejas as a kid when his dad partnered with Steve. Now, he grows crinums at his farm in New Braunfels and works with Steve when he's not at the Lady Bird Johnson Wildflower Center as the arboretum and natural areas manager.

Many crinums are fragrant, too, and make great cut flowers, Steve noted. May-blooming Crinum x powellii attends many weddings!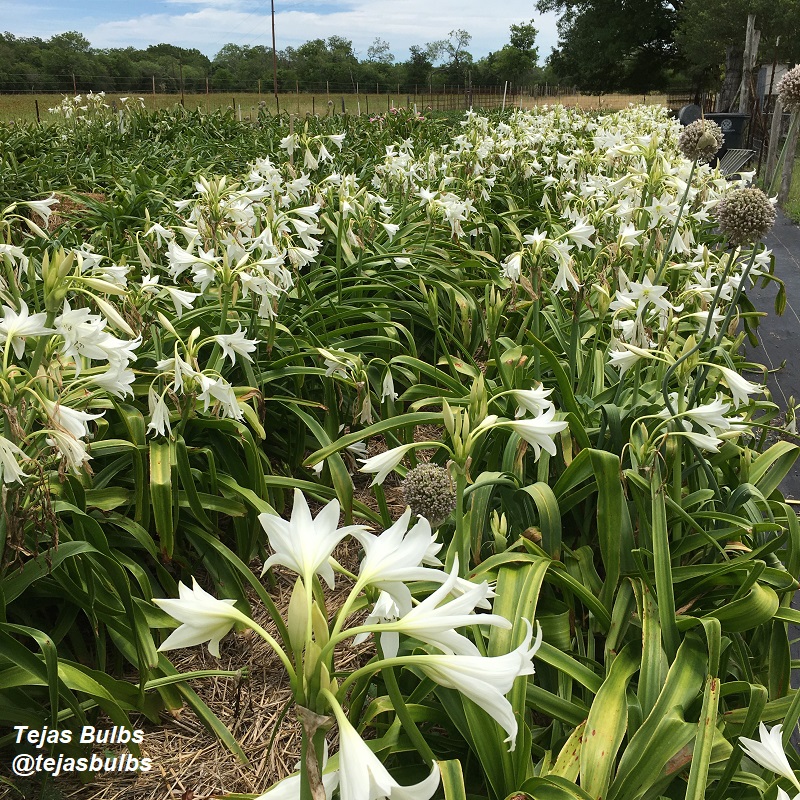 Steve and Phillip grow most of theirs in full sun, but afternoon shade is always welcome. Mine get alternating morning and afternoon sun. They also accept my heavy soil. Steve's growing in clay and said, "They thrive on whatever you throw at them."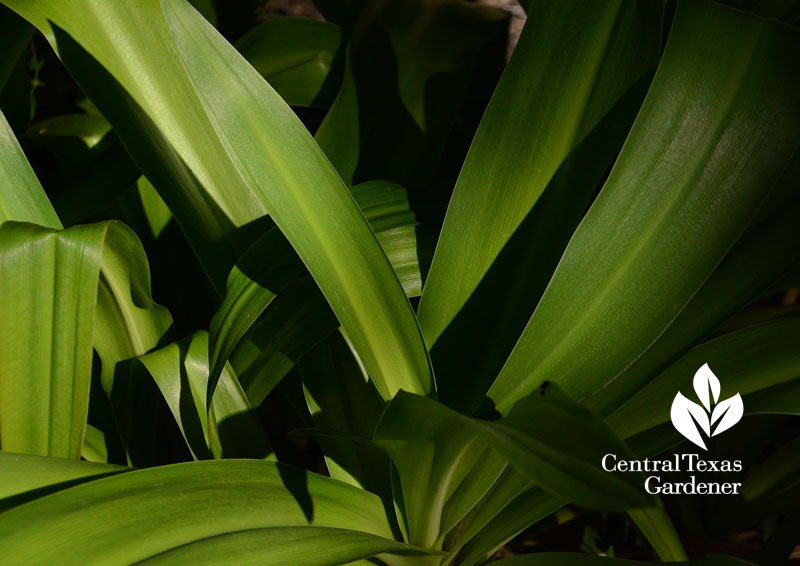 Here, a strappy leaf embraces 'Pam's Pink' turk's cap in a bed that gets a little morning sun followed by shade until late afternoon when it gets blasted.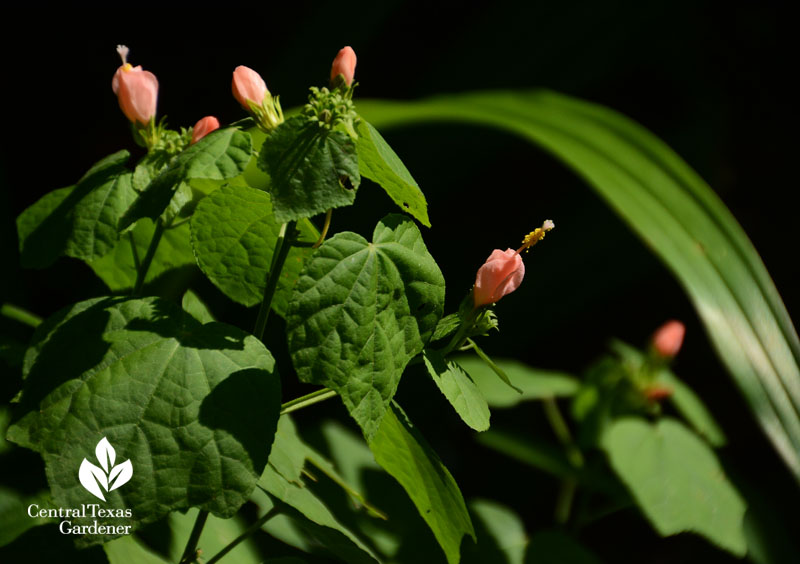 So, how do you get them to bloom? RAIN! "Normally eight to 10 days after a good rain you're going to get a big flush of flowers," Steve said. If you want to push them along a bit, feed with a balanced fertilizer, top dress with manure, or drench with HastaGro now and then.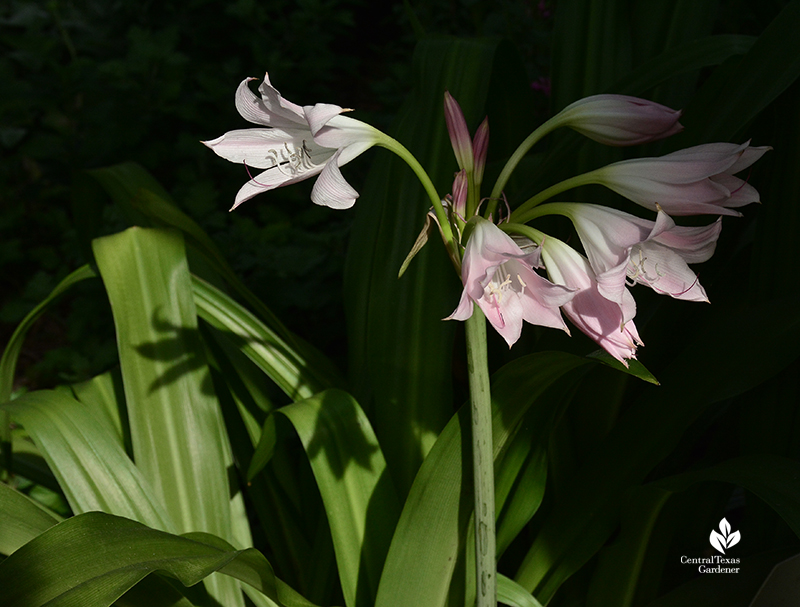 June and July bring on the deep pinks and reds. 'Ellen Bosanquet' is a large one you'll often find.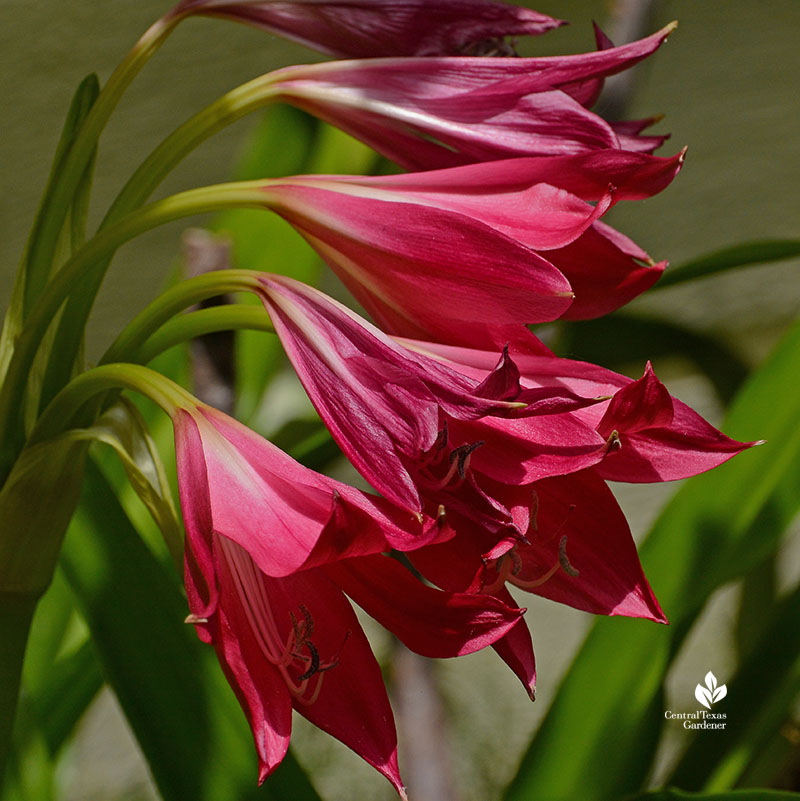 Australian native 'Bradley' is smaller, about the size of agapanthus.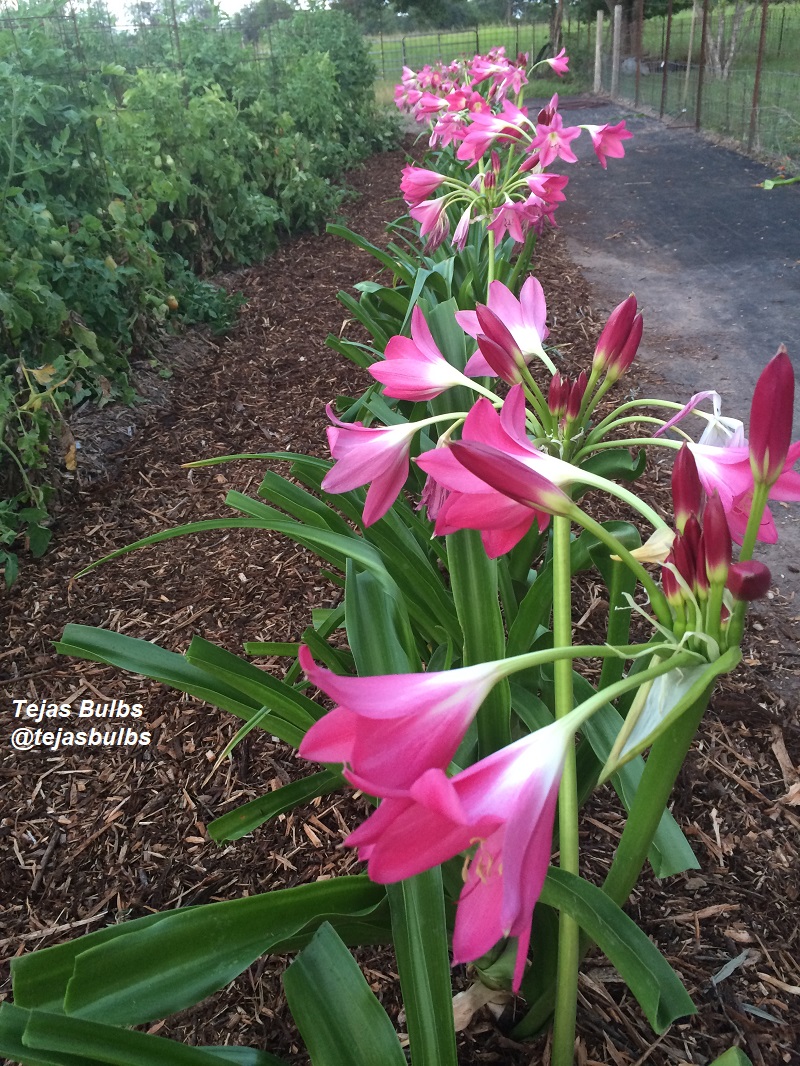 Late summer heralds native Crinum 'Americanum', also known as swamp lily and spider lily. I spotted this one at the Wildflower Center's entrance pond.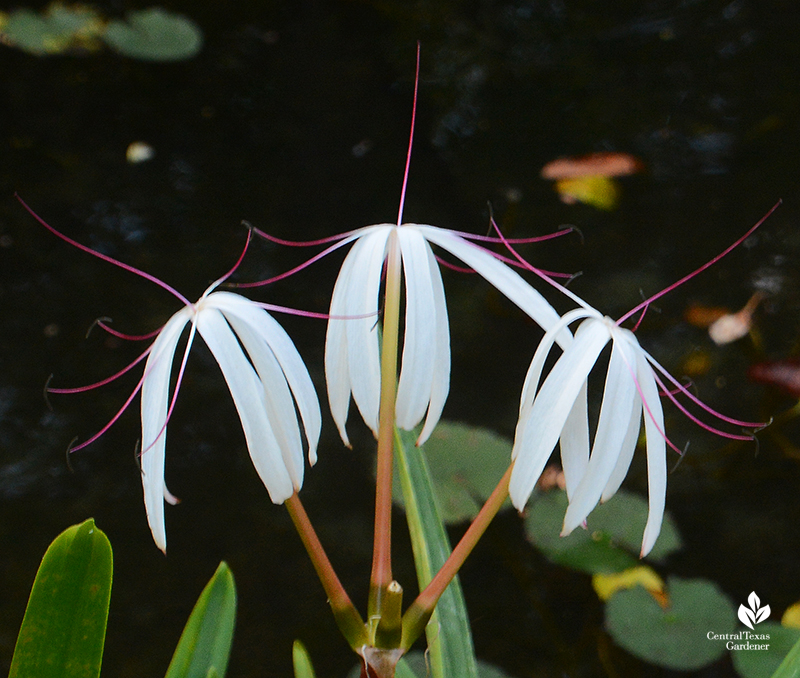 Lots of plants are called "spider lily" from fall's red-blooming Lycoris radiata to summer's Hymenocallis. This one's Hymenocallis 'Tropical Giant' that bloomed for me just two months after I bought it from Tejas at an event.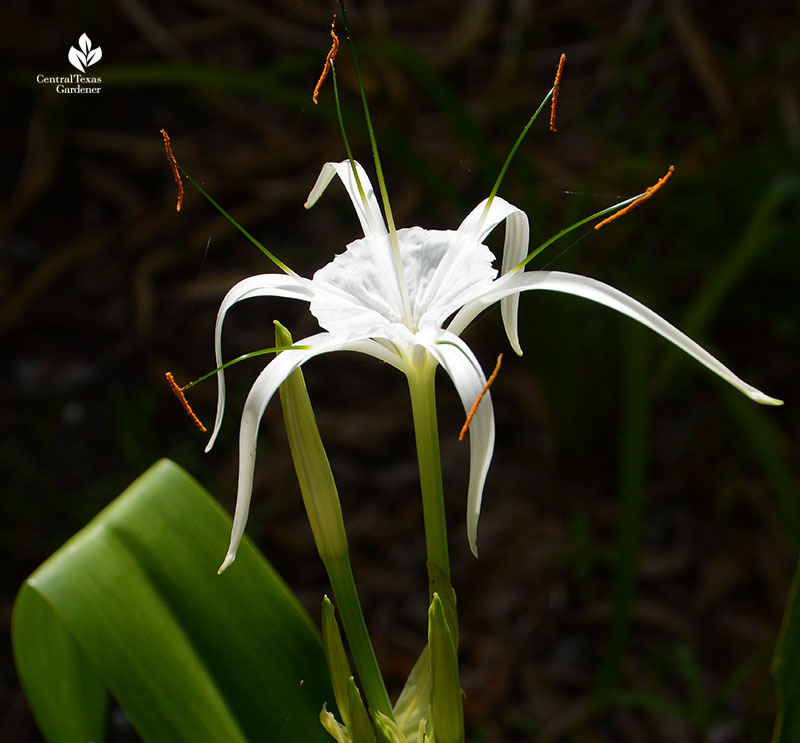 Steve and Phillip like these cold-hardy bulbs for their rich, never-messy foliage, that's perfect to line a border, driveway, or a pool. And they're small plants, too, like this H. riparia.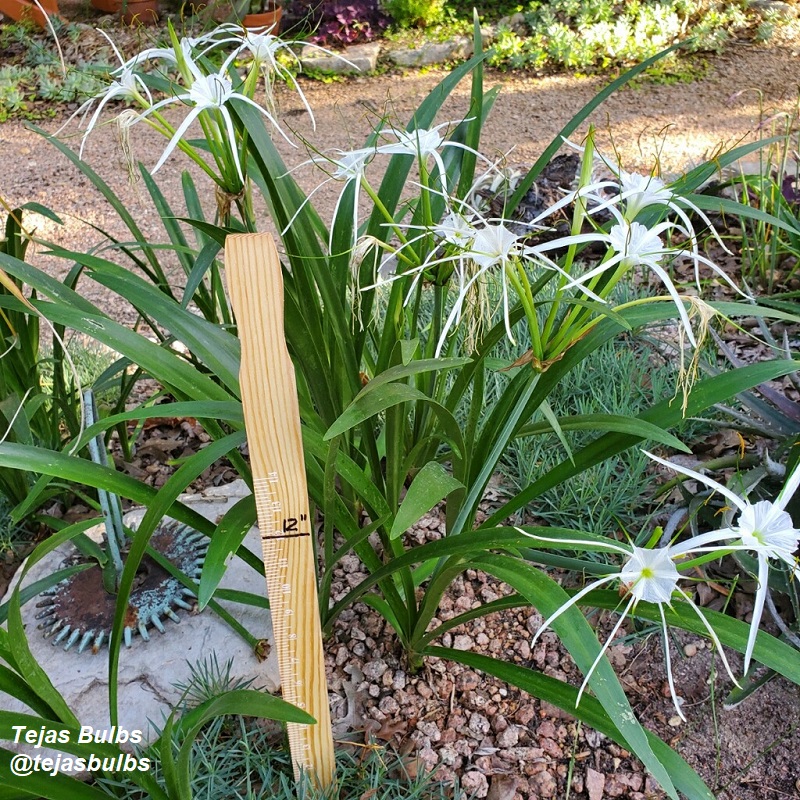 In July, Crinum 'Stars and Stripes' puts on its own fireworks. It was introduced by Thad M. Howard, a Texas grower we featured on CTG long ago when he published Bulbs for Warm Climates. I strongly recommend it!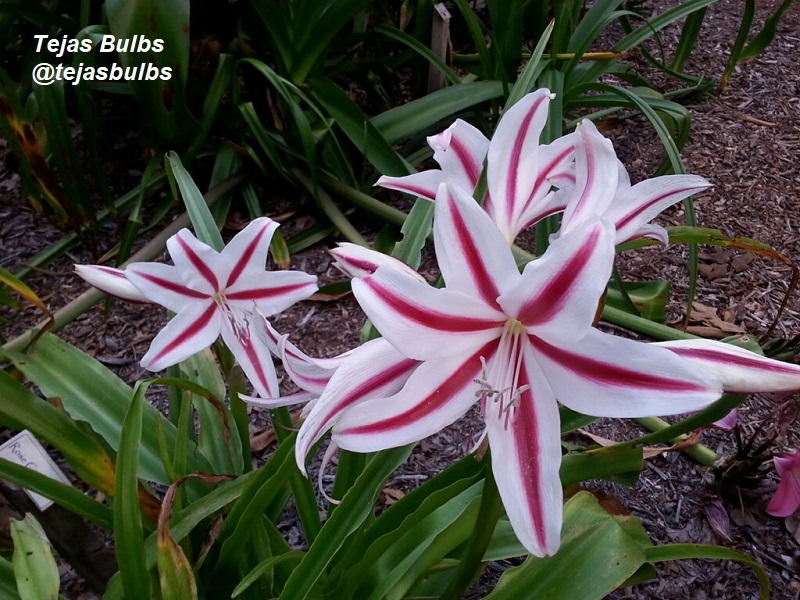 In autumn, we can fall for fragrant 'Twelve Apostles'.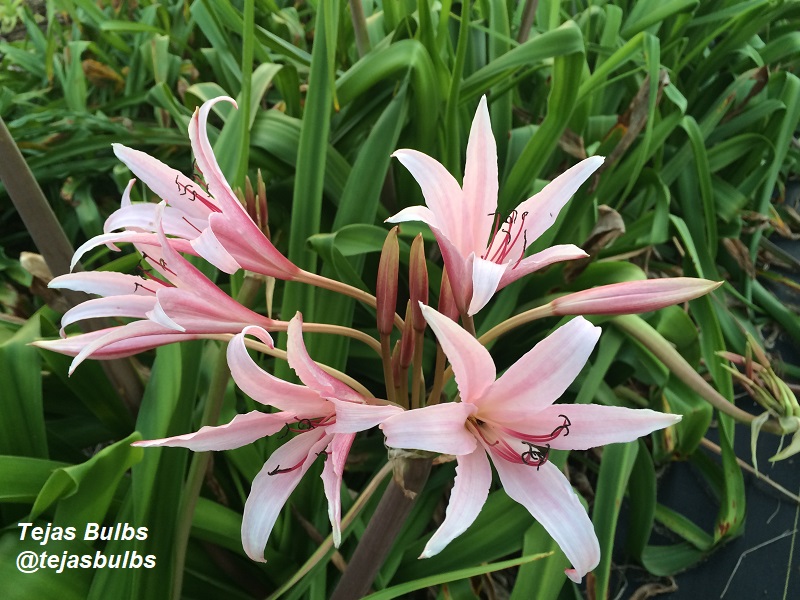 'Jubilee' is the last to bloom in October to frost. It's a smaller crinum that also accepts some shade.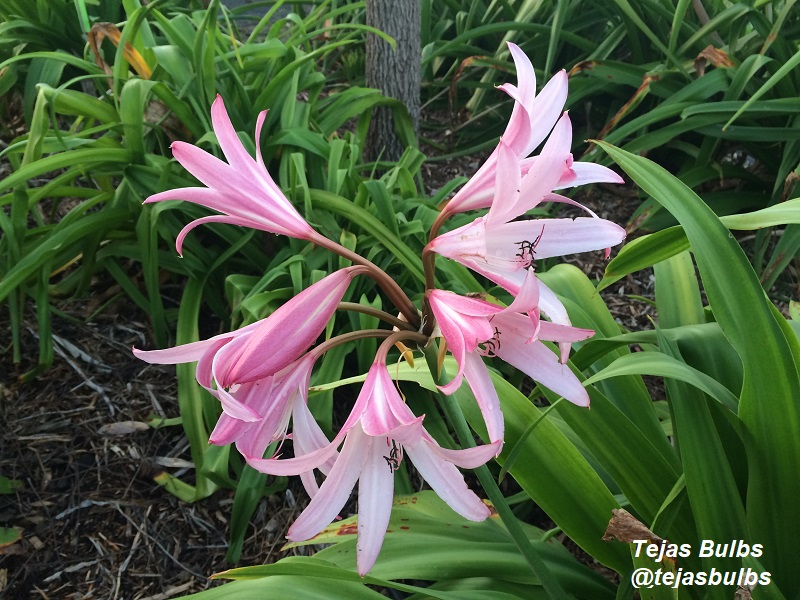 When they freeze back in winter, simply pull away or clip off the damaged growth. I even cut back mushy necks. If they start looking ratty in late summer, Steve will cut back at the neck to prompt new lush growth.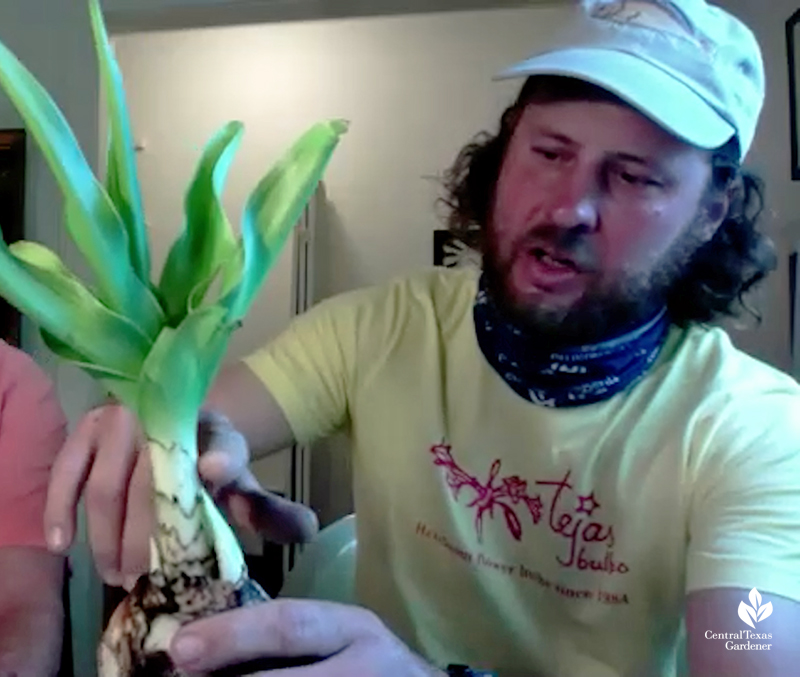 Since it's hard to kill a crinum, established ones can get so large that you'll need a couple of people or even a backhoe to divide. But I've dug up and divided mine a couple of times. Steve and Phillip divide theirs to provide to nurseries in spring, but you can move any time of the year.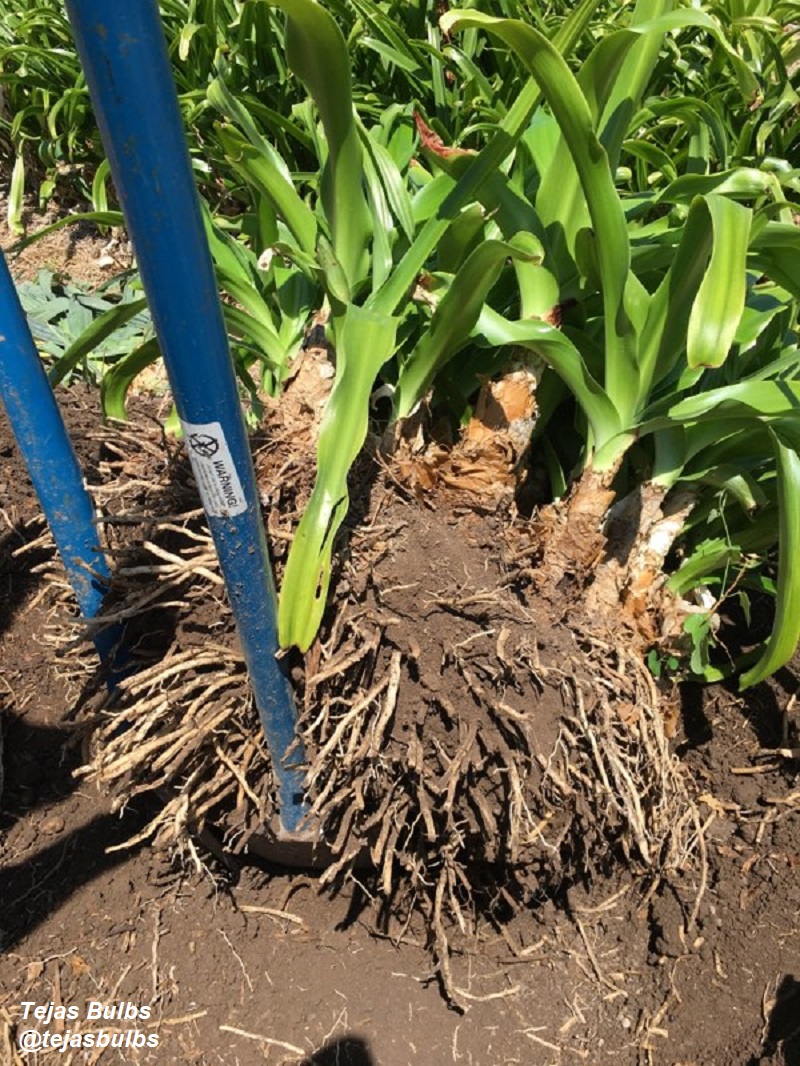 Tejas Bulbs doesn't host a website but you can find their bulbs in late spring at The Natural Gardener and often at Rainbow Gardens in San Antonio. They will also head again to events next year, including the Mercer Arboretum in Houston.
Follow them on Instagram @tejasbulbs to see what's blooming and get tips for cultivation and dividing.
Watch now for all their great tips!
Comments