April 21, 2021
Cut Flower Garden Love with La Otra Flora!
One of my most powerful memories is the cloudy spring Saturday when I picked flowers from my very first garden and arranged them in a thrift store vase. I burned up the phone lines to tell our parents about this wondrous event! When I met Laura Ruiz Brennand (pre-pandemic), she absolutely glowed with the same elation I discovered as a young gardener.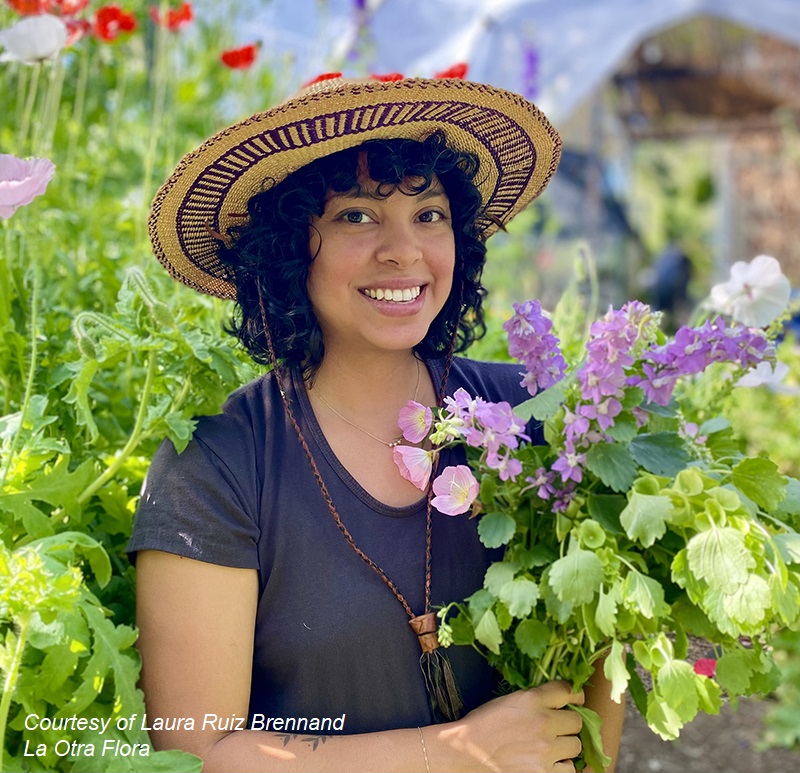 So, for now, we hooked up via Zoom and a quick visit to her garden to get the story behind her flower garden design consulting business, La Otra Flora.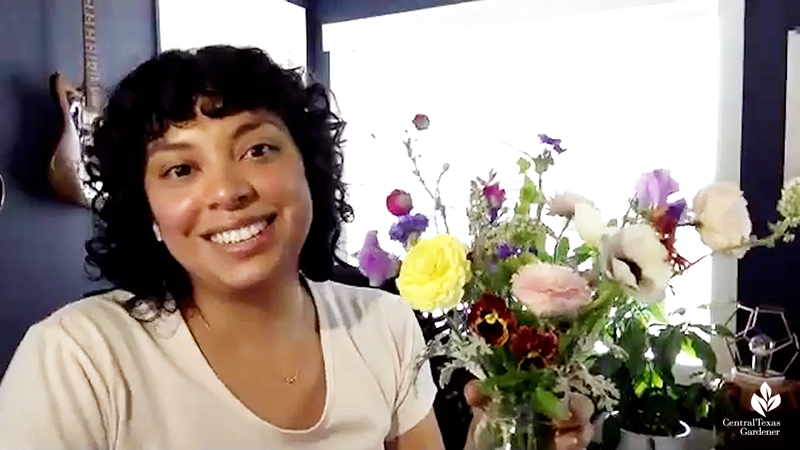 Laura's always gardened, but when she and her husband had a baby, she just tossed some narcissus bulbs into the beds. "And I was so busy with my baby that when they started growing in the spring, I just was blown away on how beautiful they were. And it opened the door to all kinds of flowers. I was a teacher for a long time and so I decided to combine my love of teaching and my love of flowers to teach people how to grow them," she said.


Exuberant son Shea, now four, can teach you a lot about plants, too!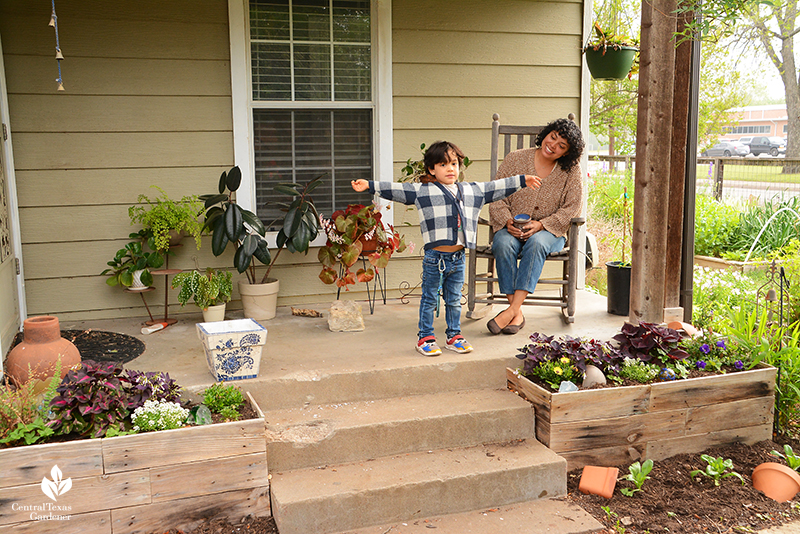 I'd known Shea for about two minutes when he raced off to pluck a nasturtium leaf. He handed it to me with an enthusiastic "Try this!" Oh, how yummy. That peppery taste reminded me—yet again—to plant nasturtiums next spring. I'll call them Shea's nasturtiums!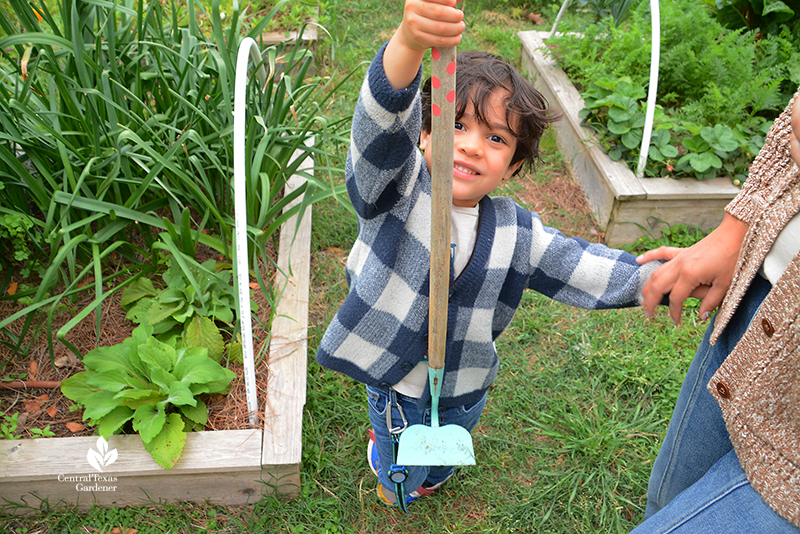 Then he waltzed me over to a mixed bed of strawberries, Swiss chard, carrots, lettuce, and flowers.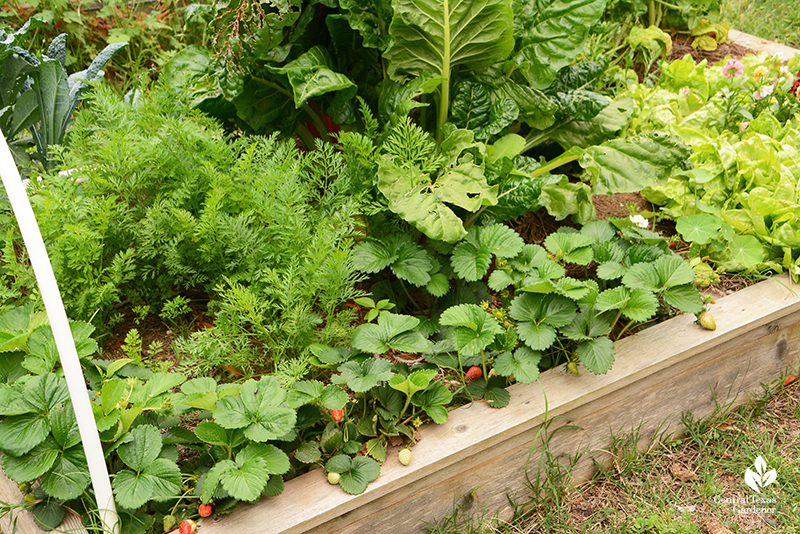 Laura breaks down the essentials for getting started with soil, sunlight, fertilizer, and watering. You don't need a large space at all. Small raised beds pack in a lot of flower power if you don't scrimp on garden soil. Get a good one that's light and fluffy. Mix in some compost and organic granular fertilizer, too. In containers, select a high-quality potting soil. It's okay to add a bit of compost to them, too, though some mixes will already contain compost.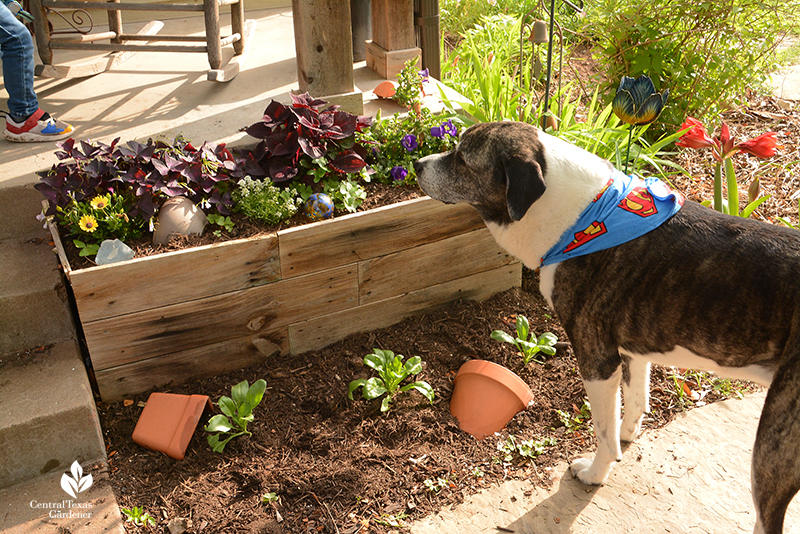 Here, she combines African daisy and purple-leafed, pink-flowered oxalis for tiny bouquets.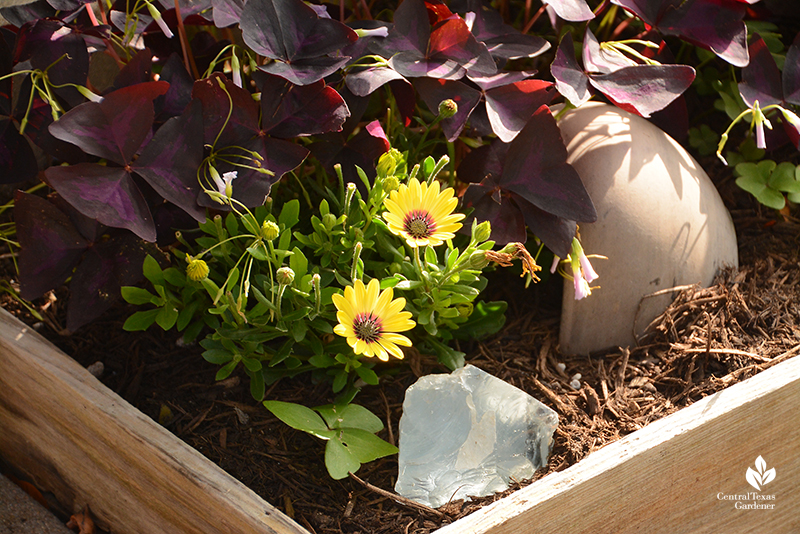 Alyssum's fragrance perfumes the front porch, especially on our breezy, balmy days.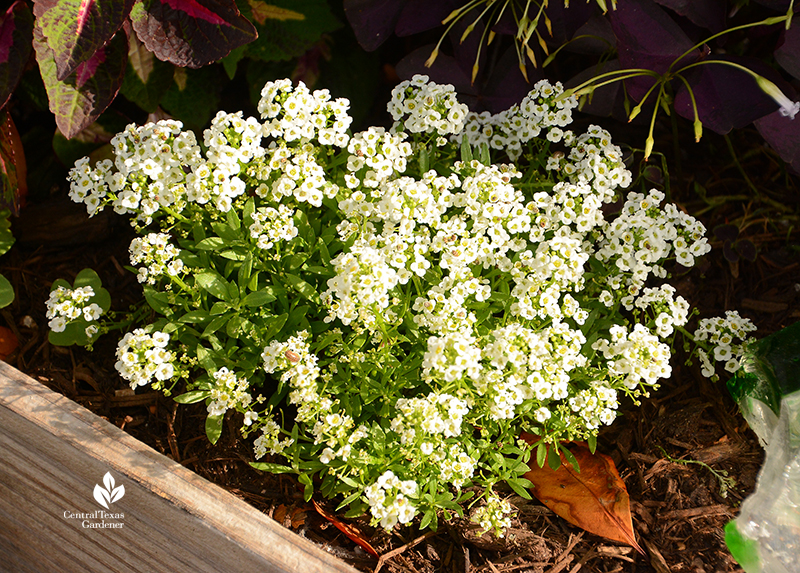 If growing in the ground, she advises to just loosen it to aerate, getting oxygen into the soil. Use a garden fork or trowel rather than tilling which can harm earthworms. Gently mix in good garden soil (at least the first time), compost, and some organic granular fertilizer. Add compost every planting season.
But in the side strip beyond the fence, plants pretty much take care of themselves. Native pink evening primrose showed up on its own. In fall she throws out various wildflower seeds, like standing winecup (Callirhoe digitata) and firewheel (Gaillardia pulchella). "It makes me so happy and it makes the neighbors happy," she said.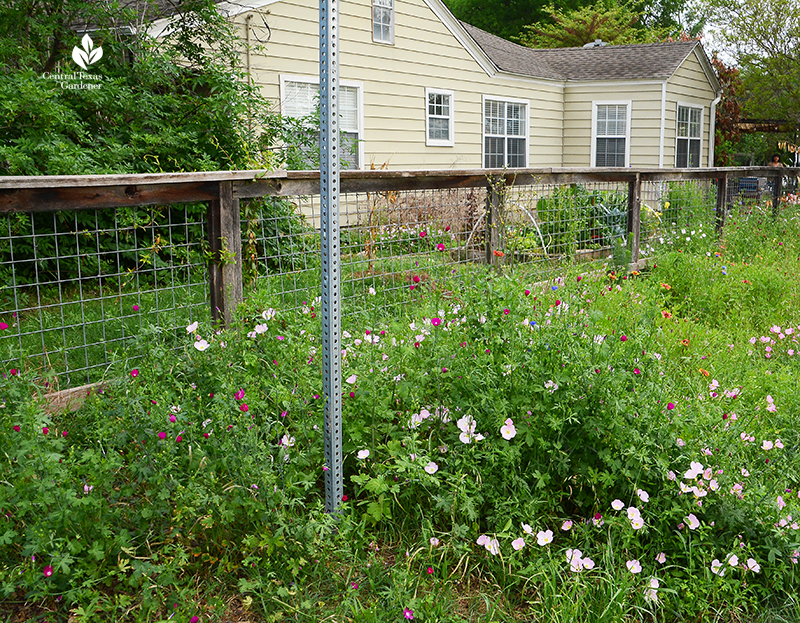 I'll try seeding winecups next fall! My winecups are the ground-hugging Callirhoe involucrata that I started as transplants a few years back. In this area, they're wandering into fuzzy-leaved Jerusalem sage.


So sad that the Jerusalem sage won't bloom in time this year for their velvety yellow flowers against that rich burgundy.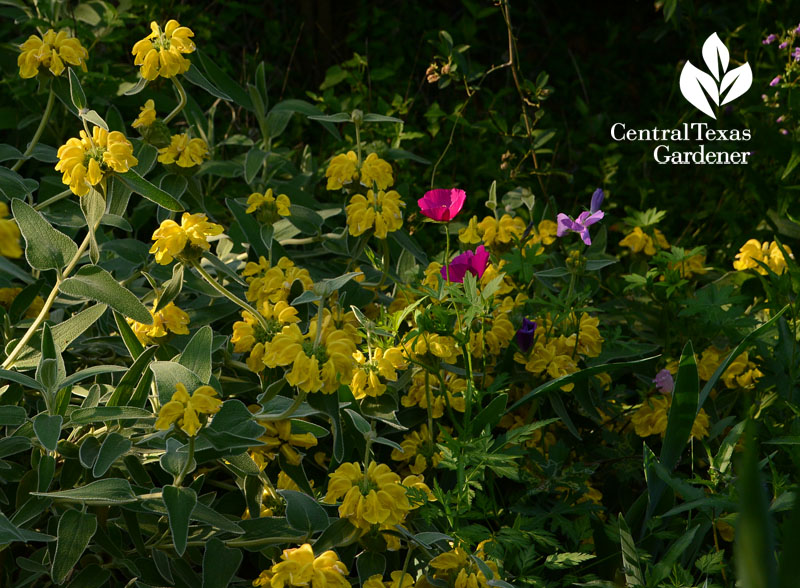 Native spiderworts dot her part shade areas, especially under trees. She leaves most to the bees, but cuts some for arrangements. I love them, too, so I've got to show off a white that bloomed for me this time, a rare event in my collection of pinks, purples, and lavenders.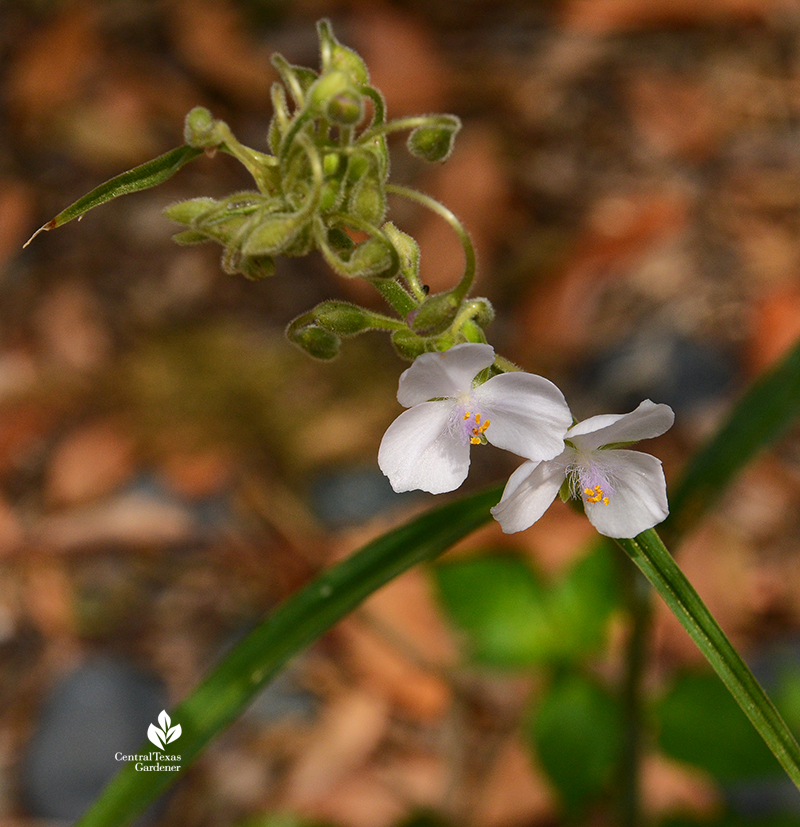 Spiderworts die back in heat and return in fall. They cross pollinate like crazy, so it's fun to see what new ones show up next year from their scattered seeds. When the seed heads are fully brown, collect some seeds for next year to share with a friend or a new spot.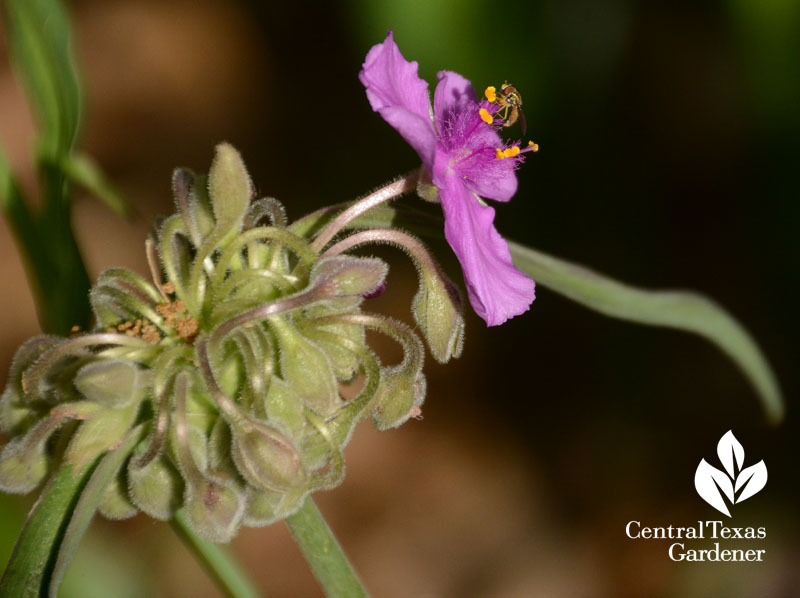 Planting times are critical with seeds, bulbs, and corms (like ranunculus and anemone), Laura reminded us. For spring bloomers, she starts in October. Last fall, she seeded annual white-spiked mignonette, green bells of Ireland, silvery dusty miller and larkspur (in the foreground) that's blooming by now.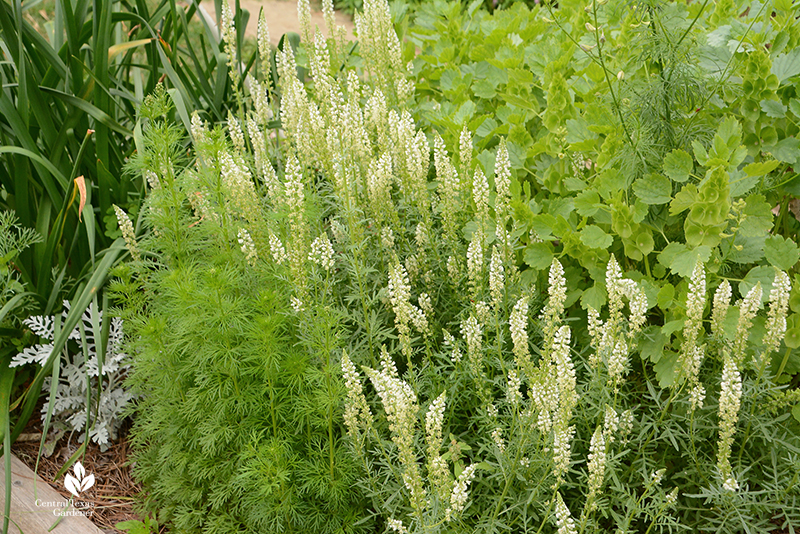 Beyond, foliage of early spring blooming narcissus promises fragrant bouquets next year. Wait until the foliage browns up to cut to the ground.
Even in this small raised bed, Laura orchestrated a progressive colorful sensation. Yellow ranunculus (grown from corms, a sort of bulb) is winding down as the first lavender-blue larkspurs bloom. Opposite this bed, lavender anemones (also planted from corms) finished off their season, since the heat sends them underground.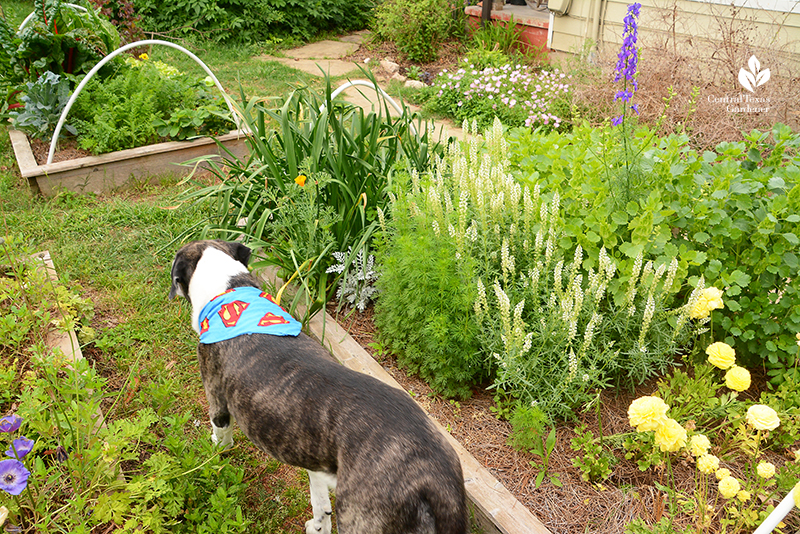 Anemones and ranunculus were the first "bulbs" I ever planted and it was definitely love at first bloom! For me, they were annuals, but they're inexpensive and so pretty that I'll do it again next fall. Laura's got many colors, including the signature red.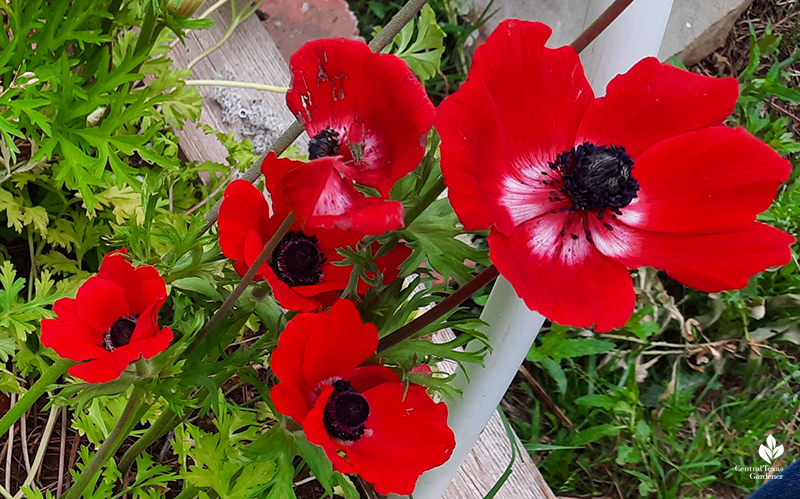 There's also a deep lavender blue—well, there are lots of colors, so pick your favorite!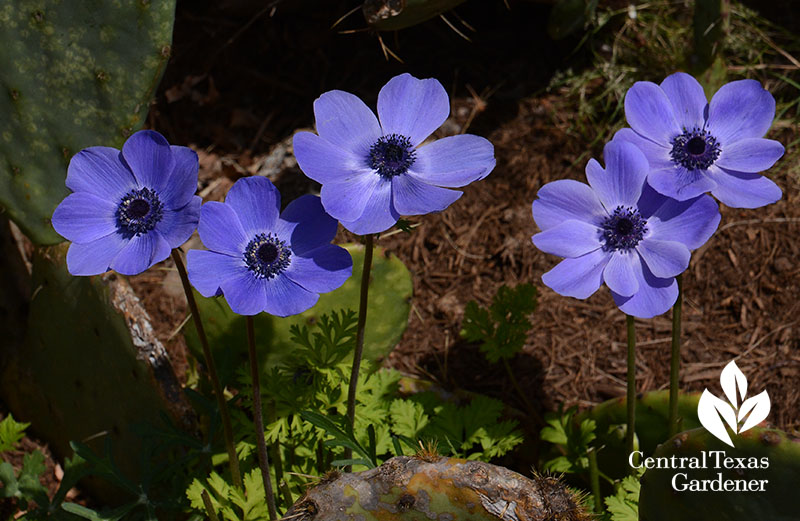 In November, she seeds all kinds of poppies that bees love as much as we do. "Along with having all these beautiful flowers, it's so important and beneficial for our pollinator friends. And it's nice having company in the garden. I never put any kind of pesticides in my garden because I don't want to hurt my little bee friends. And I just can't wait for the butterflies to come," Laura said.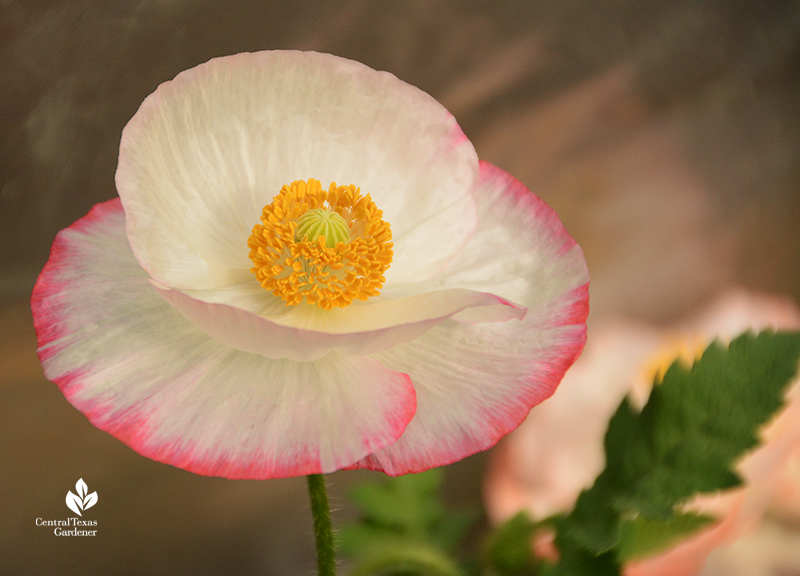 Vivid red corn poppies join Iceland poppies and lavender larkspur to feed bees and other pollinators looking for meals.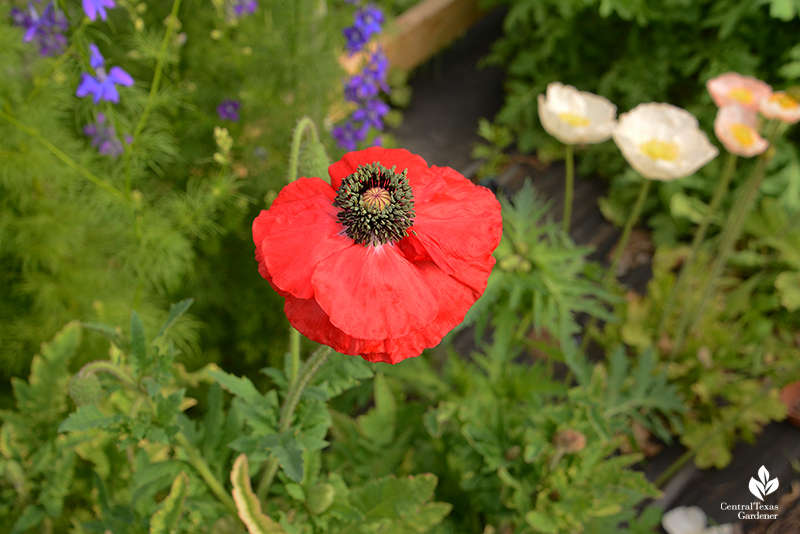 'Mother of Pearl' corn poppy is such an heirloom beauty that Laura collects seeds when the hat-like seed heads turn brown.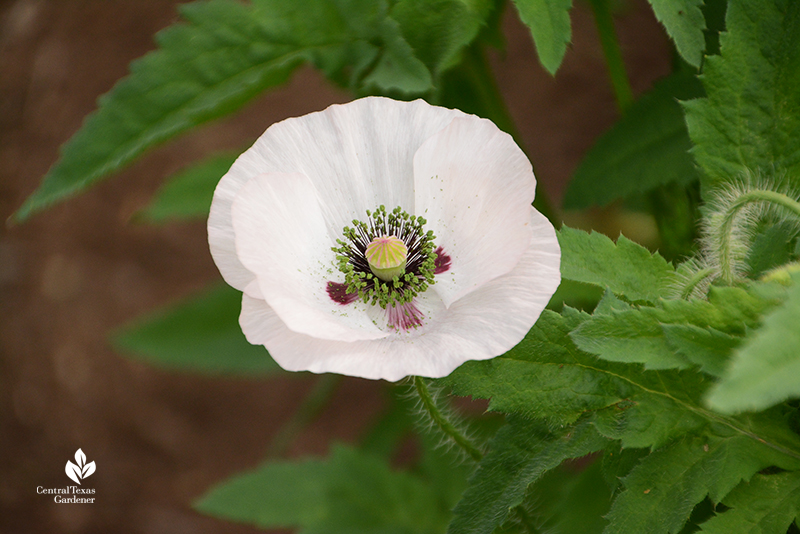 Iceland poppies come in many colors, too, so pick the ones that sing to you.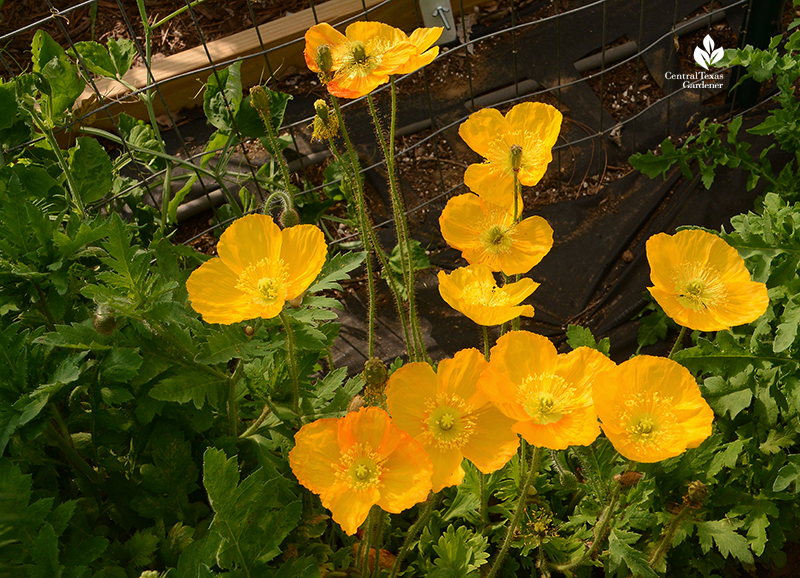 Between busy squirrels and the freeze, I lost all my poppy seedlings and most of the larkspurs. But my Orlaya grandifloras that self-seeded from the past two years are starting to flower. I learned about this great annual for pollinators and cut flowers when CTG visited Pamela and Frank Arnosky who pioneered the Texas slow flower initiative in Blanco at Arnosky Family Farms: Specialty Cut Flowers.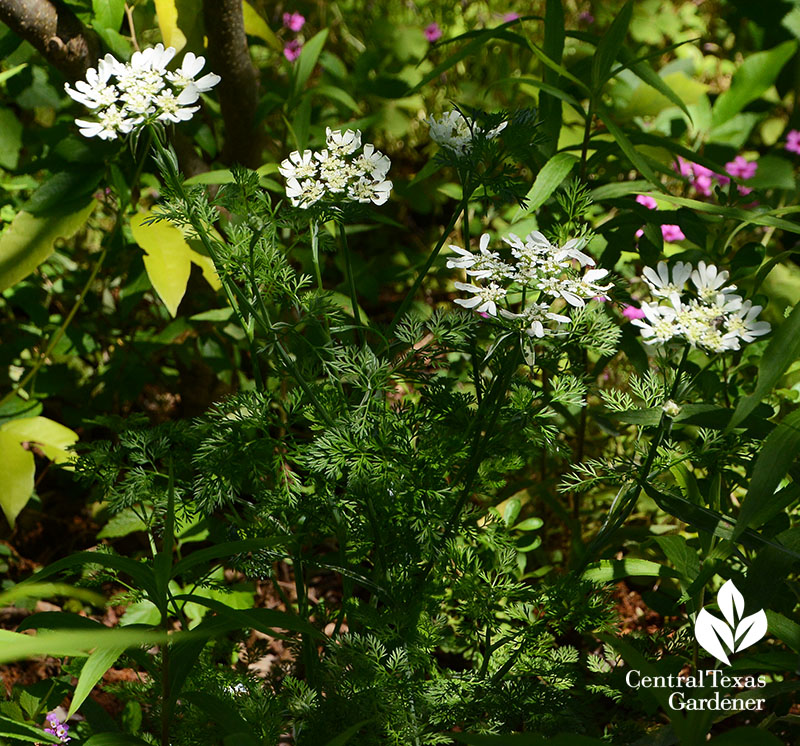 Laura reminds us that the trick is planting seeds at the right depth. Follow the packet instructions. Keep the soil moist until they germinate and establish. She likes to top with pine straw mulch, since it doesn't pack down.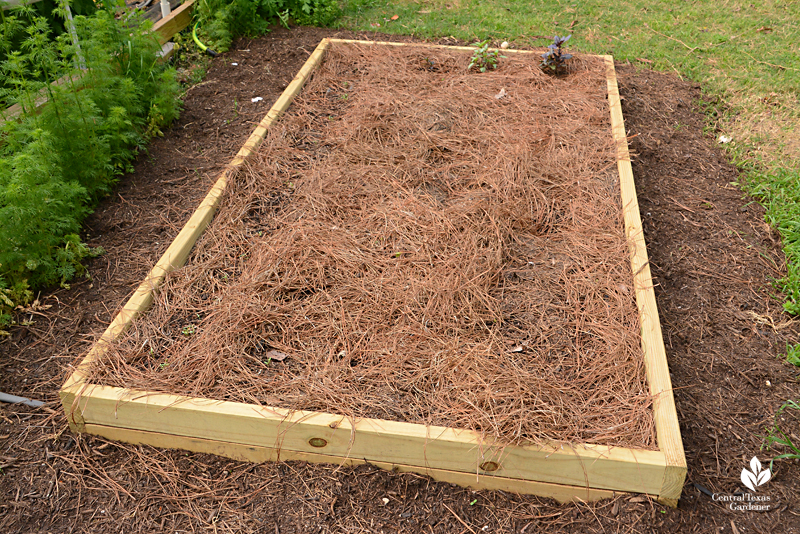 But no seed packet notes can prep you for a lengthy historic freeze that dropped temperatures to 9°. Laura and her husband built their hoop house with PVC pipe and greenhouse plastic for some winter protection.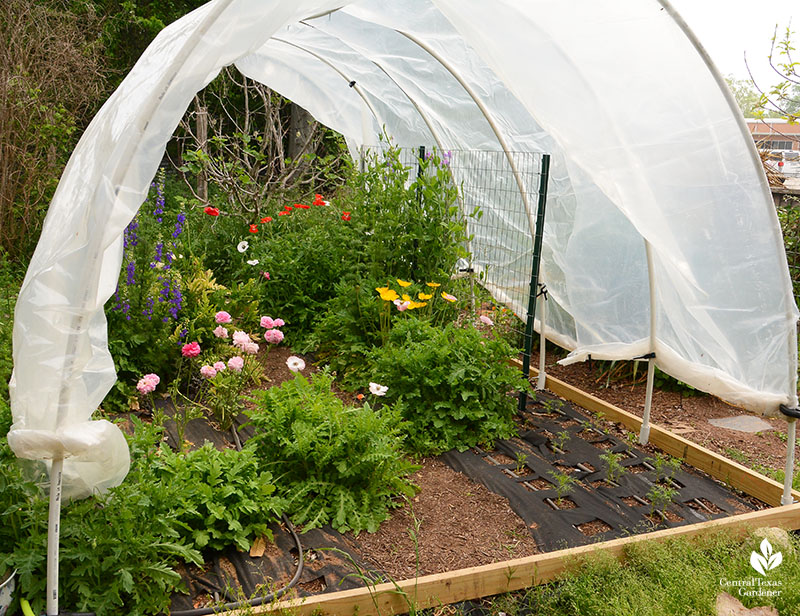 Then she covered everything, too. In a section where snow weighted it down and blew open the door, she did lose some plants. Others rallied just fine, including the sweet peas.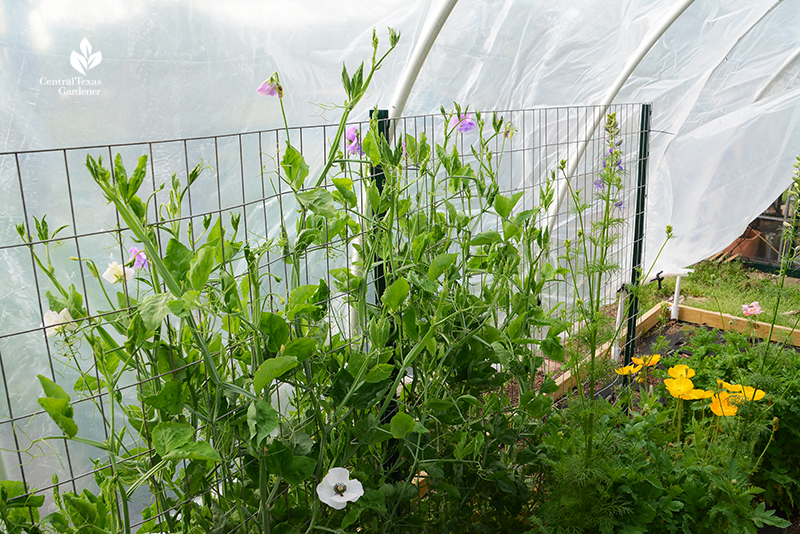 Ranunculus rallied.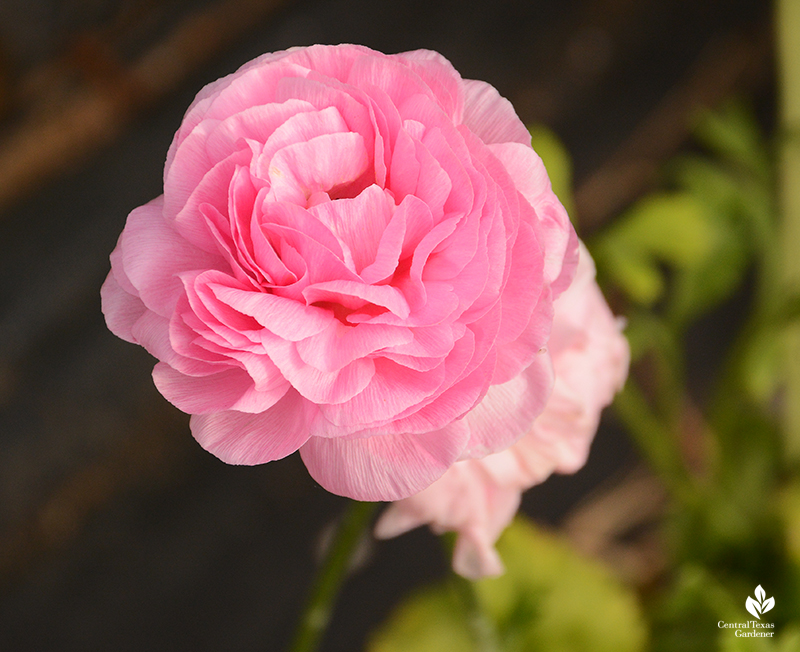 Quickly, bees found the larkspur and poppies.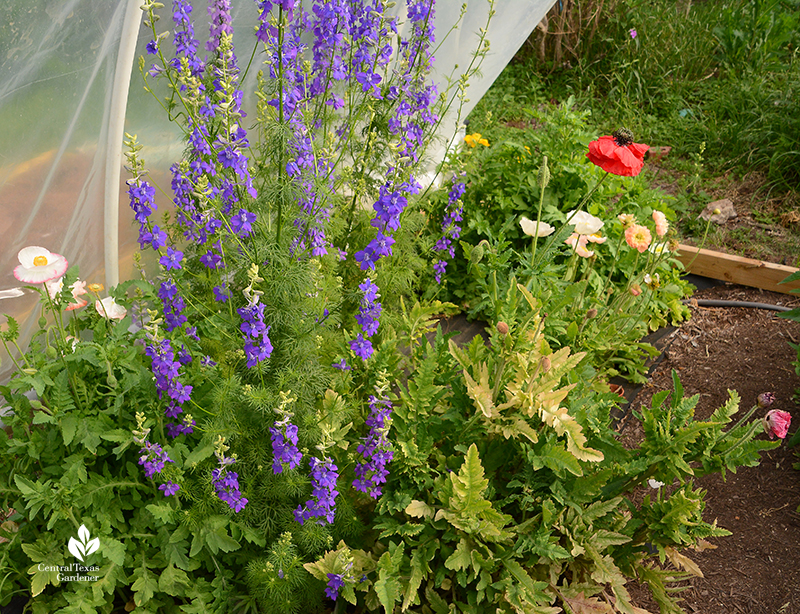 Now, Laura's planting for warm weather. She seeds every few weeks for progressive flowering. These are cosmos seedlings that she inserted into landscape fabric for hoop house protection.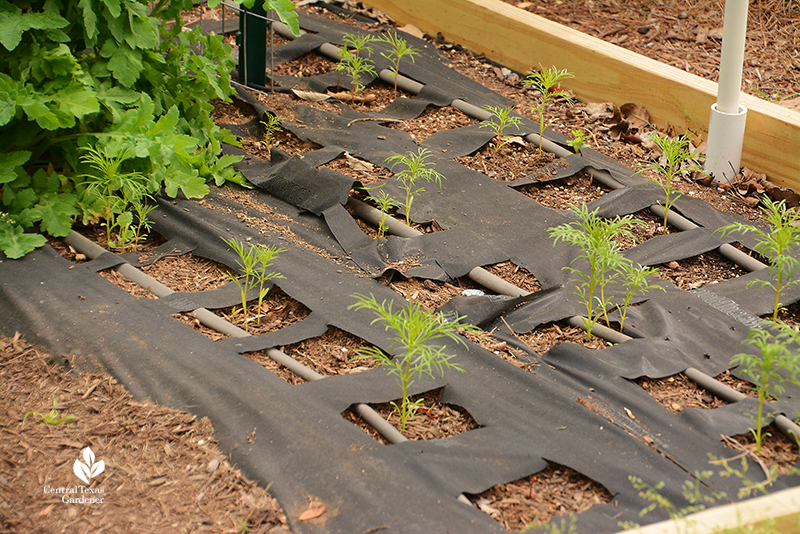 We can start seeding outside now, too. In a few weeks, they'll explode with flowers that attract all kinds of pollinators.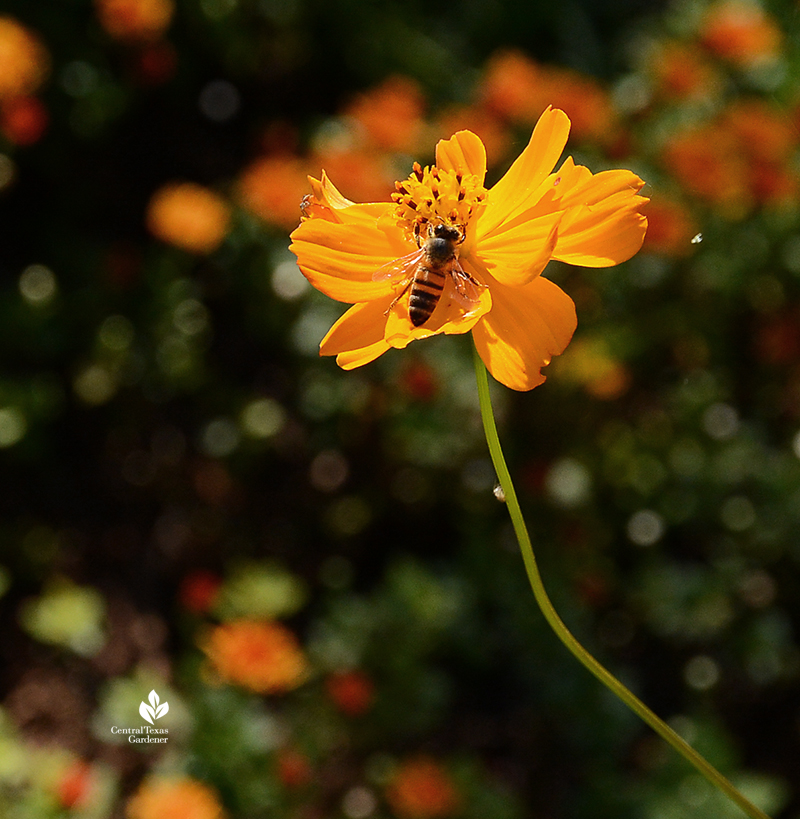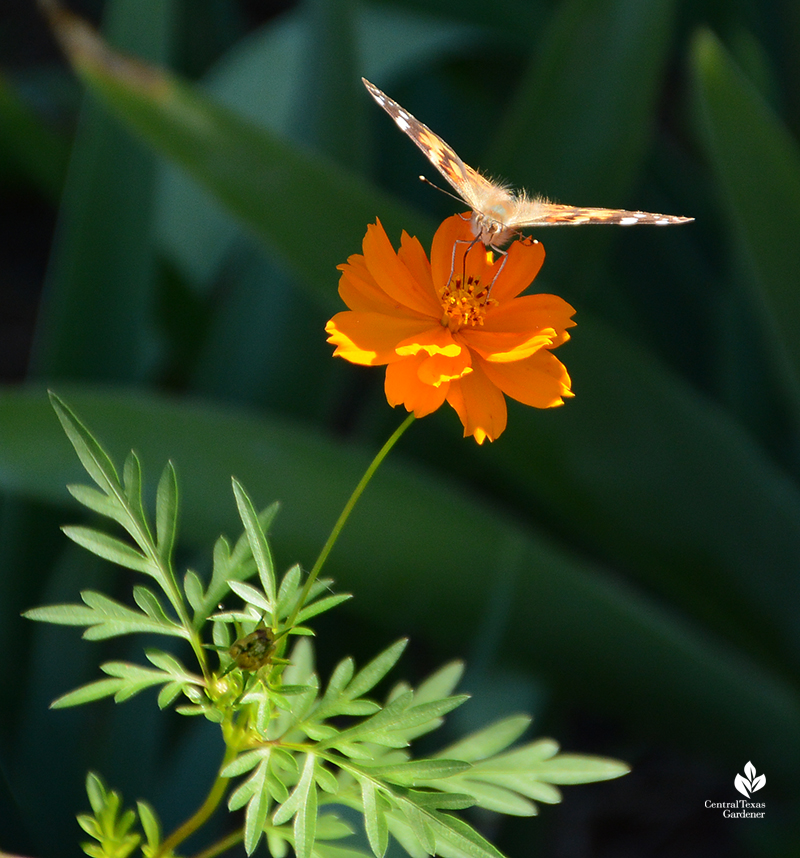 Zinnias are just as easy to grow from seed, though you can get transplants, too. Laura grows enough to share with pollinators and to bring indoors for arrangements.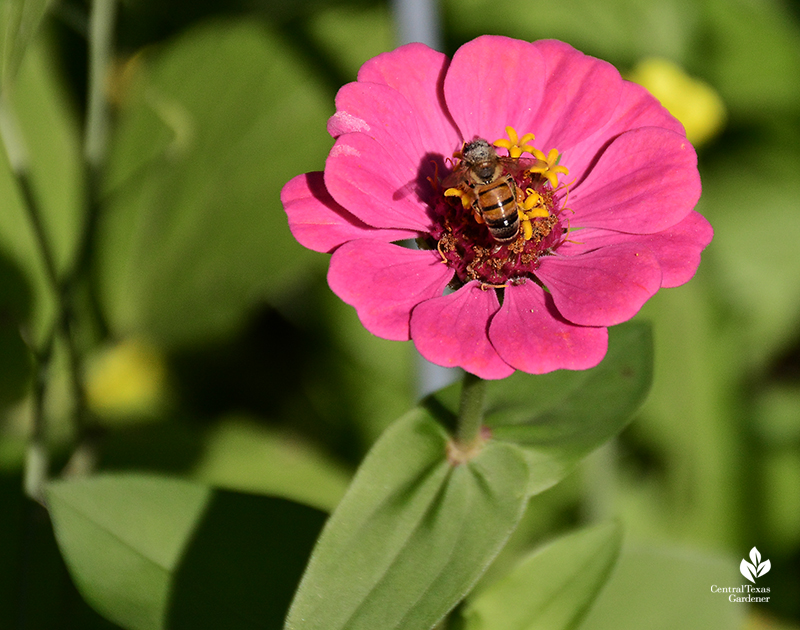 She plants all kinds of sunflowers, too, for the pollinators and then the cute Lesser goldfinches that pluck the seeds. Another we both adore is flame orange Mexican sunflower (Tithonia) that attracts butterflies like crazy! Last weekend, I nabbed packets of 'Torch' to gradually seed.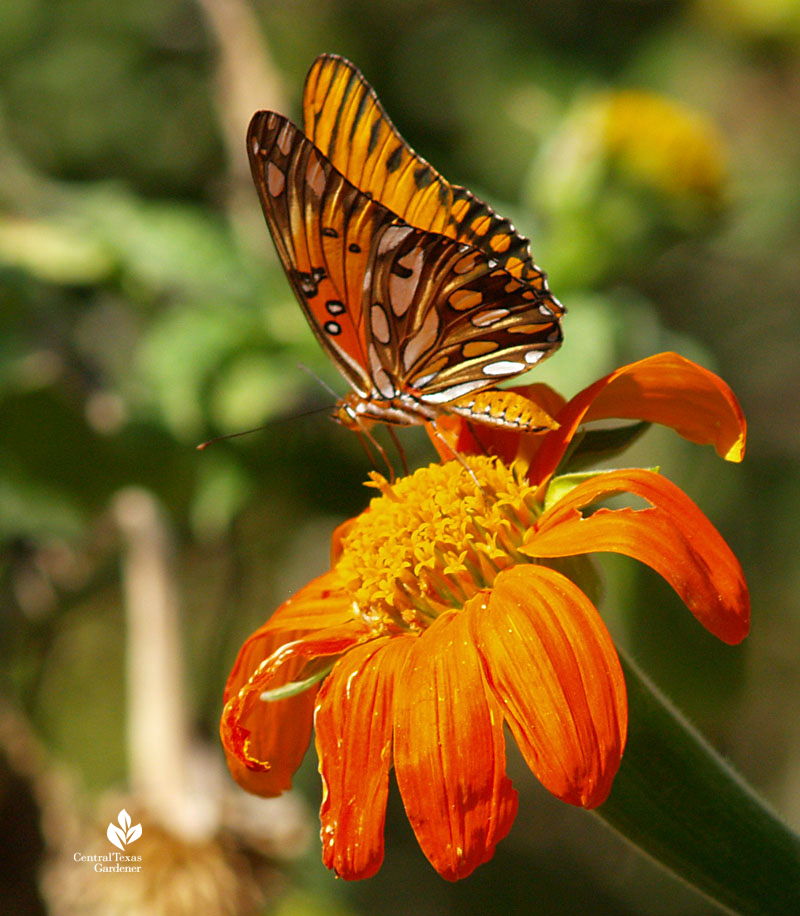 Stay in touch with Laura and sign up for classes at La Otra Flora and on Instagram @laotraflora!
Watch now for easy and fun ways to celebrate Earth Day every day, even in small spaces and containers!

Thanks for stopping by! Linda
Comments