August 19, 2021
Native Plants: Summer Prune for Fall Flower Power!
I've grown native plants a long time, but I still ask, "Should we prune fall bloomers in late summer to encourage more flowers?" By the way, this isn't my yard!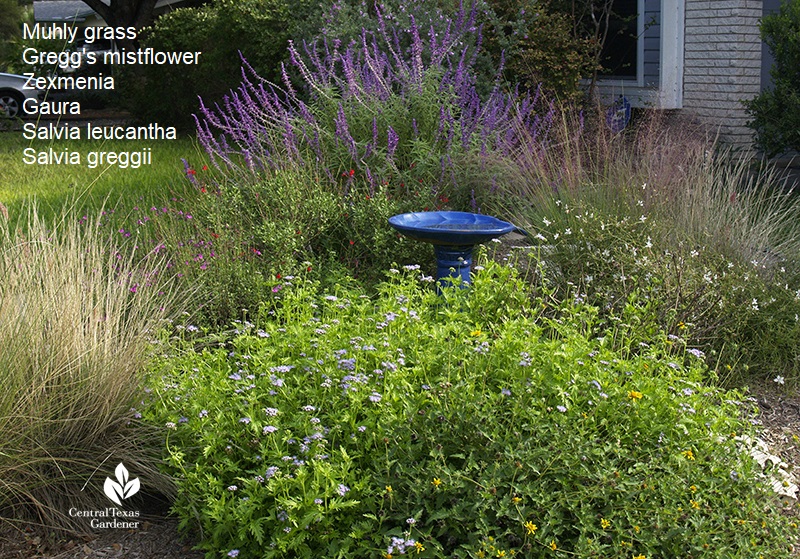 To pick up a few pruning and planting pointers, I met with San Antonio native plant designer and wildlife steward Drake White, owner of The Nectar Bar (@nectarbarsa), a native landscape company and small nursery. She also explains how to cut back tropical milkweed, a big question on our minds.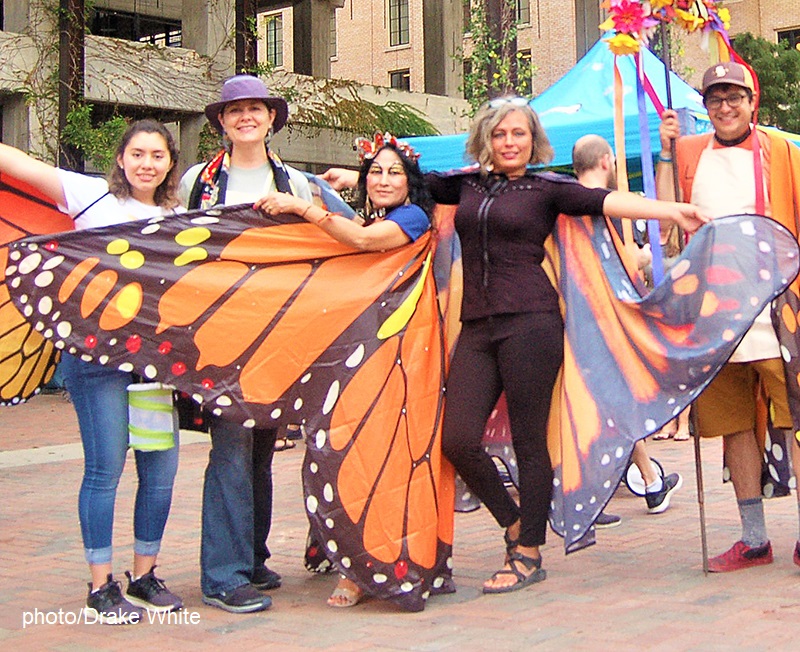 A Texas Master Naturalist and member of the Native Plant Society, she's committed to creating habitat for pollinators and all wildlife, plus teaching others how to do it and why to participate. "Whether you have a huge yard or acreage, a small backyard, a small planting spot, or can only do it in a pot, everyone can absolutely plant for wildlife and for butterflies," she encouraged.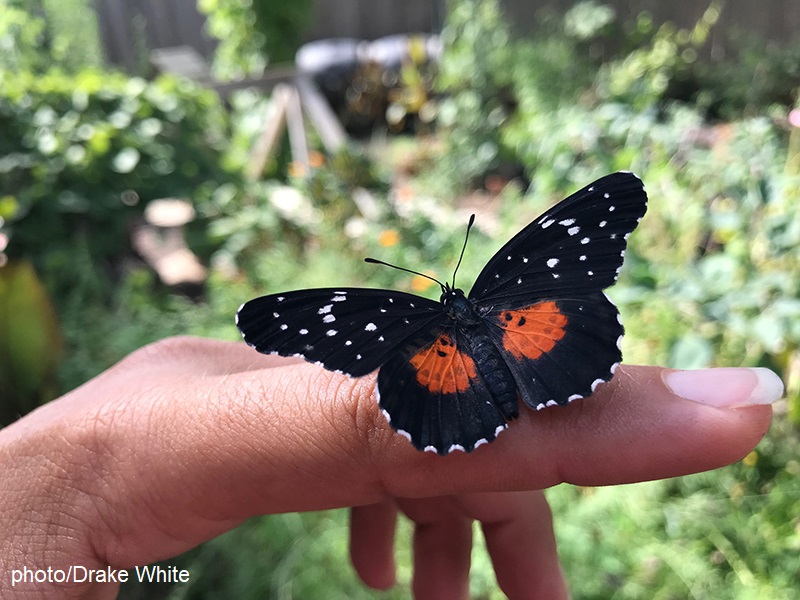 Although spring's a big fling, fall flowers are equally important to nourish wildlife before winter. Migrating wildlife, including Monarch butterflies, need food energy for their long flights.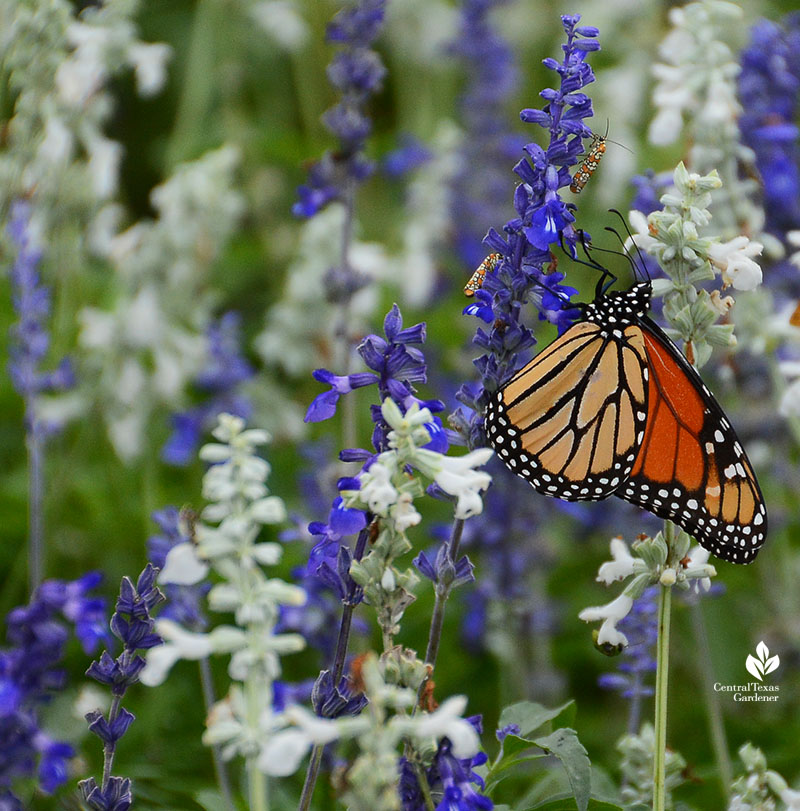 "Other butterflies need to kind of get themselves ready to go into what they call a diapause or a hibernation of such. They kind of hibernate in leaf litter and things like that," Drake said. Here's a Painted Lady on native shrubby boneset, also called white mistflower.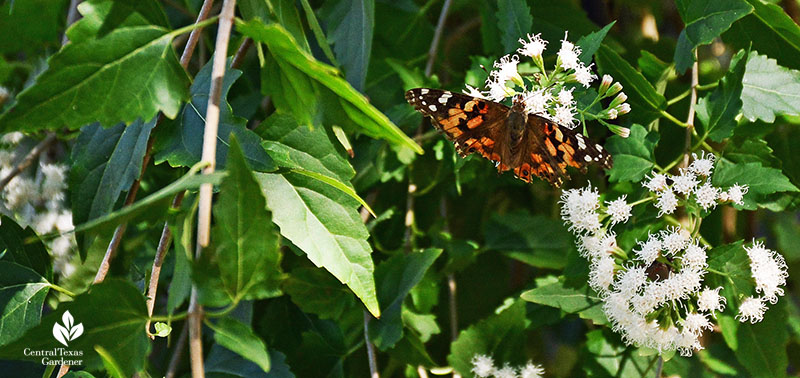 To magnify flower power, Drake likes to prune between June 1 and the third week of August, depending on the plant. She cuts native frostweed back by half the first of June. This promotes stronger, thicker stems to avoid flopping over. (After seeing her @nectarbarsa post this summer, I cut mine back about 2' in early July, since mine usually flop. Now I know why!)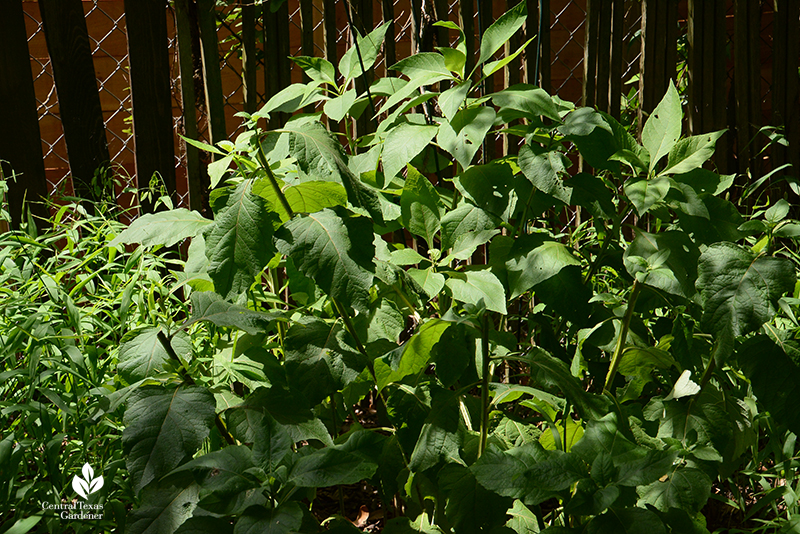 That pruning also produces more flowers for Monarchs that count on it during migration. These bold, tall plants for part shade and understory spots start blooming in August and early September to feed many butterflies and various pollinators. It's also the larval host plant for Bordered Patch butterflies.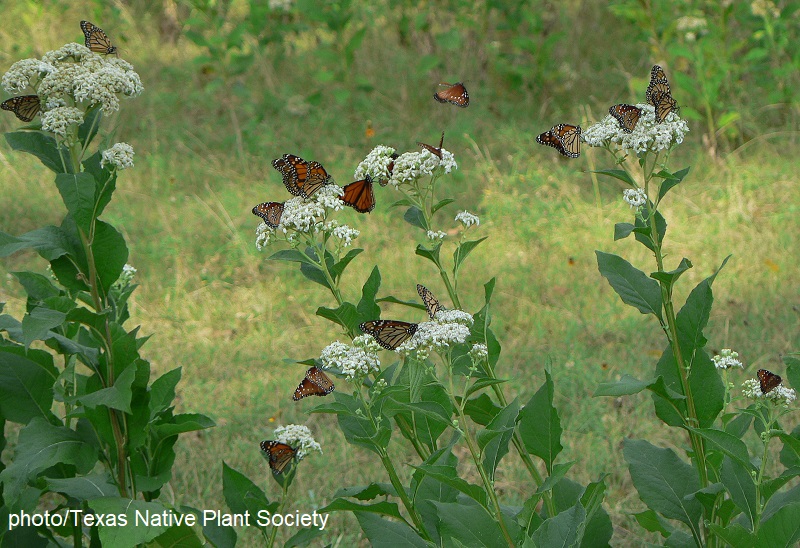 Native flame acanthus, salvias, and Maximilian sunflower can get leggy. Drake suggests cutting back straggling branches to the bushiest part or even just a few inches on salvias or other smaller plants. We're not dramatically pruning at this point; think of it as a "bang's trim!"
Don't be afraid to cut off a few flowers, Drake assured us. That will maximize blooms in coming weeks—especially if we get September rain that cools things down a bit. 10 to 20 flowers will explode into 30 or 40. Here's a lovely pollinator palace at Travis County Extension's demonstration garden featuring Salvia farinacea, flame acanthus, and four-nerve daisy.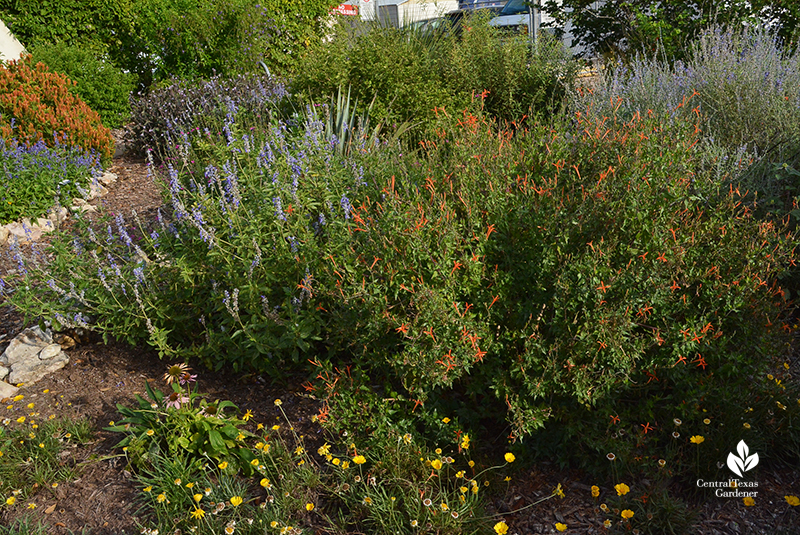 I've started cutting back some of my native zexmenias, since early summer's flowers have gone to seed. It's such a treat to watch little birds flock to them that I'll leave stems with remaining seeds. I'll cut others for a fall flower flush and more seeds for hungry winter birds!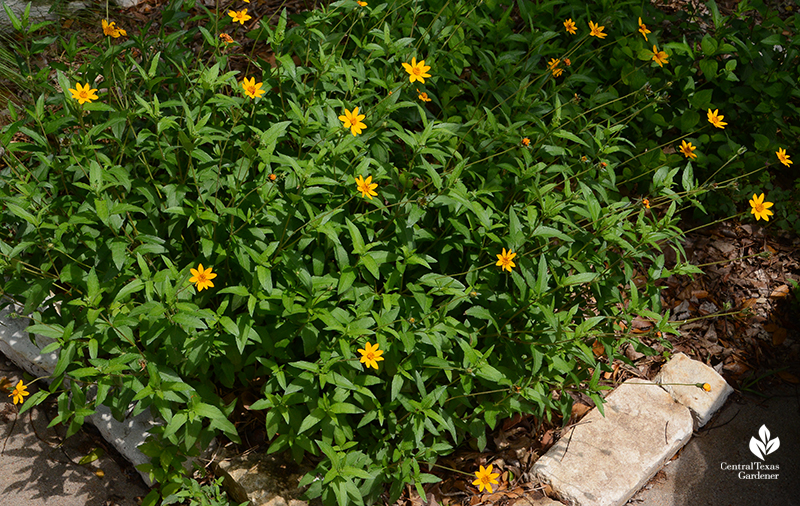 Zexmenia's the host plant for Bordered Patch butterflies, but many pollinators head for those golden flowers.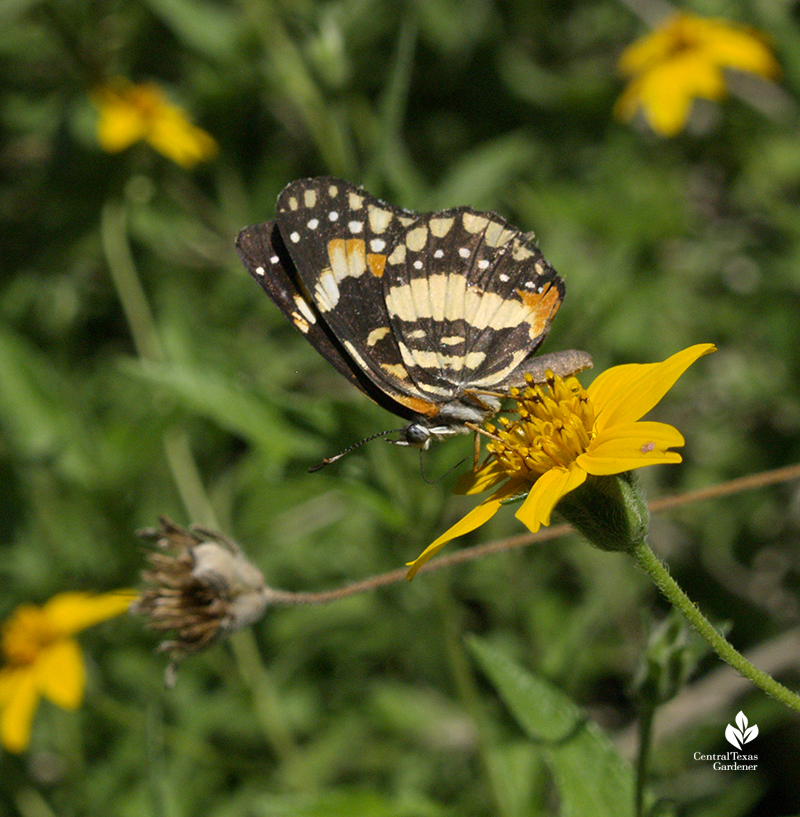 So, what if the heat/humidity/time keeps us from pruning until the end of August or first week of September? That's okay. Just trim less drastically—just tip the ends. I wouldn't prune frostweed at this point, but you can lightly trim Turk's cap, salvias, and shrubby boneset, also called white mistflower.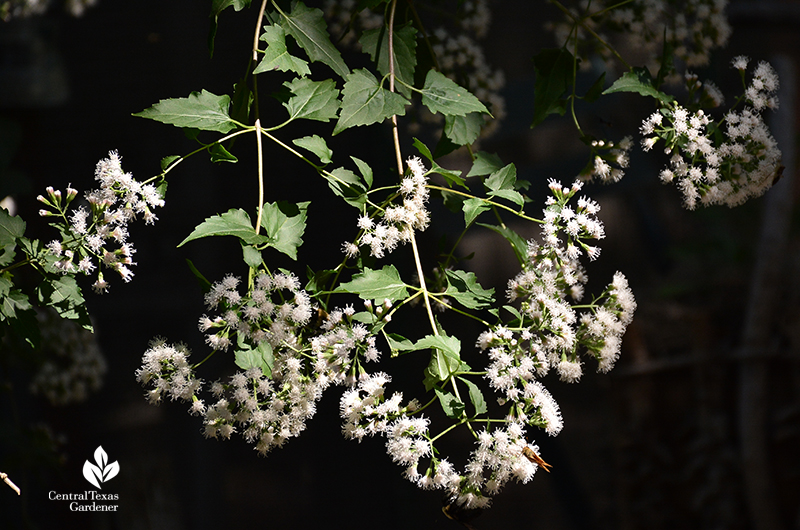 Do we need to fertilize? Nope. Drake advises compost only—the first of September and every three months or so.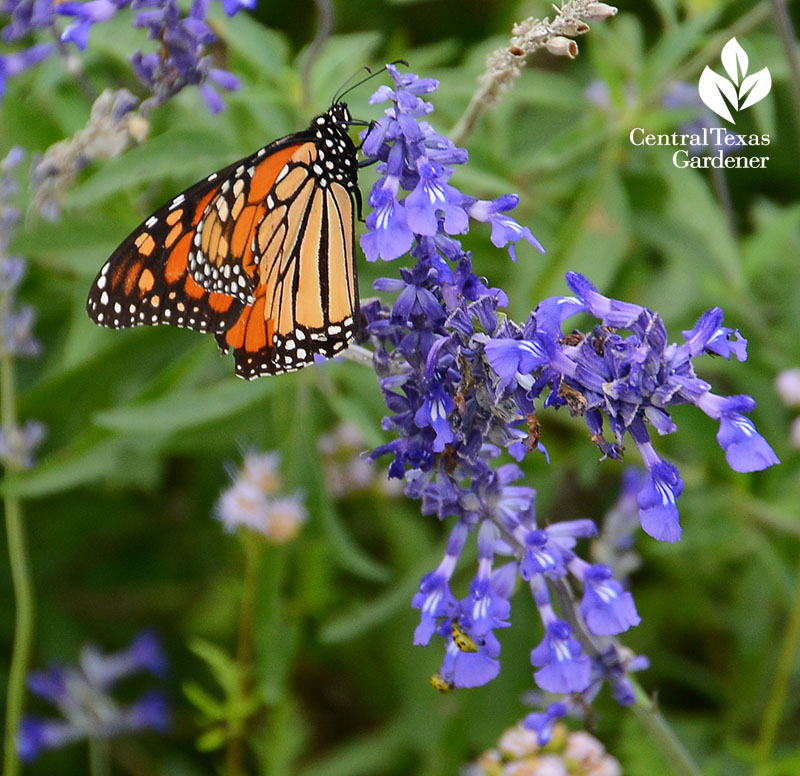 Fall's also the best time to plant. Even though this summer has been comparatively mild, it's difficult for plants to establish roots and protect themselves from the heat. As they struggle to do both, we tend to overwater and ultimately rot their roots. Even at nurseries, you'll find various mistflowers covered in Queen butterflies!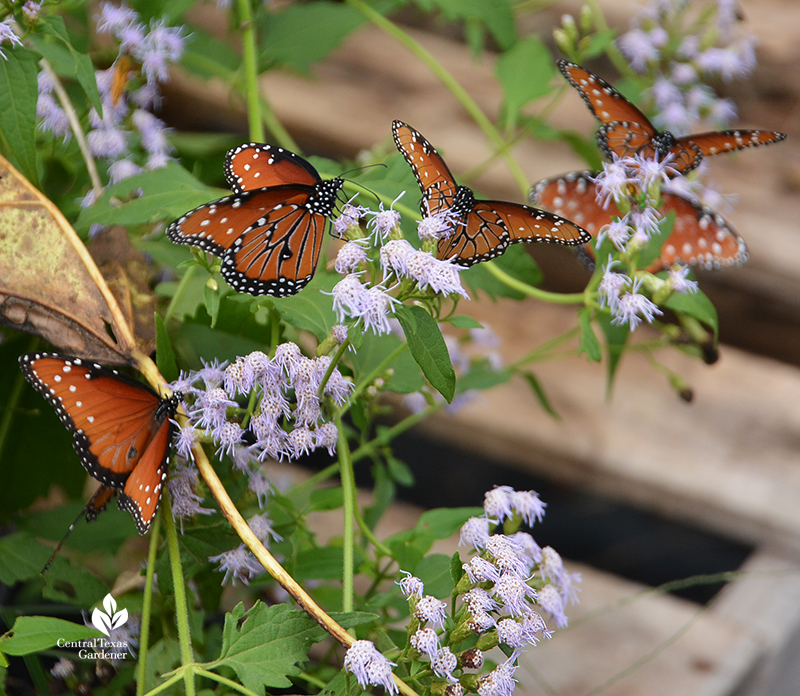 Native plant societies and botanical gardens across Texas usually hold fall plant sales. In Austin, the Wildflower Center's 2021 Fall Plant Sale is Friday-Sunday from September 24 – November 7. Register online to reserve a spot.
For full sun to part shade, Drake recommends flame acanthus, a big draw for hummingbirds and butterflies.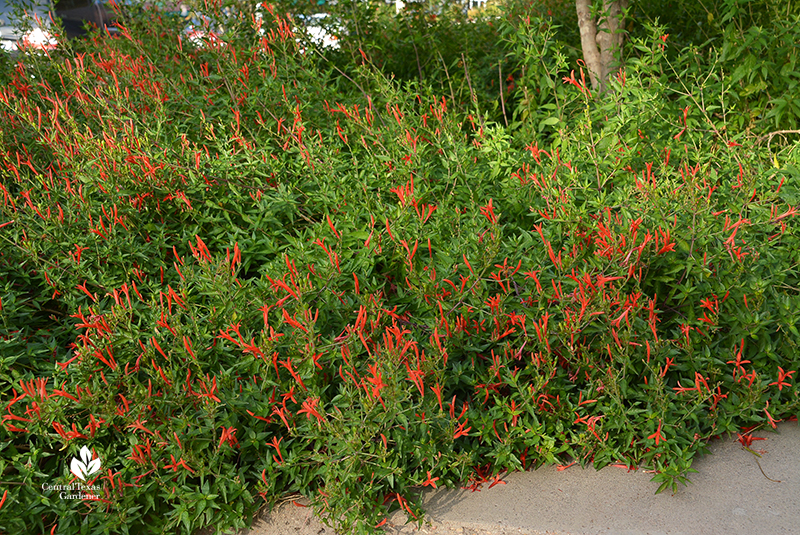 It's also the larval host for Crimson Patch butterflies. Watch our archived story with Jim and Lynne Weber, authors of Native Host Plants for Texas Butterflies, a fabulous reference to get you started on a pollinator garden.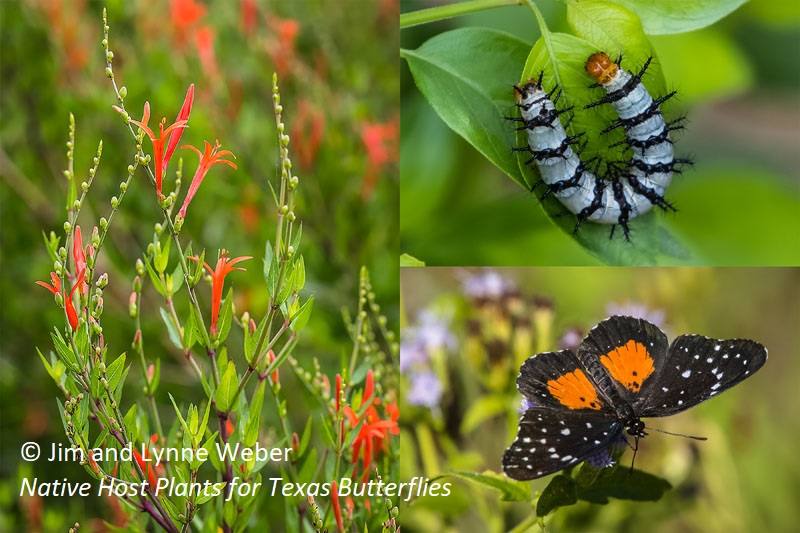 Salvias, like S. leucantha, work in full sun to part shade (depending on the plant). Some perennials bloom spring and fall.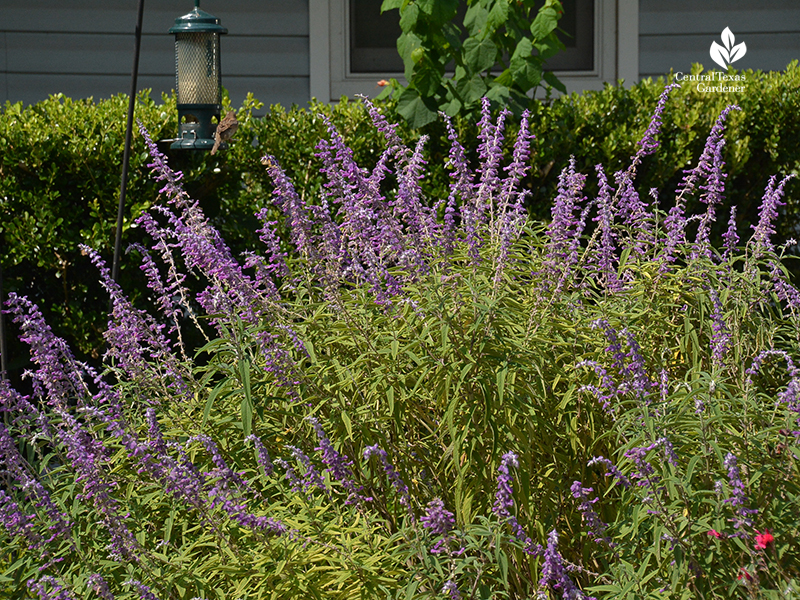 Tough-as-nails native snake herb (Dyschoriste linearis) grows only about 6" high. Drought-tolerant and deer-resistant, it adapts to sun or shade. Although it spreads, it doesn't choke out its neighbors and would look lovely draping a container.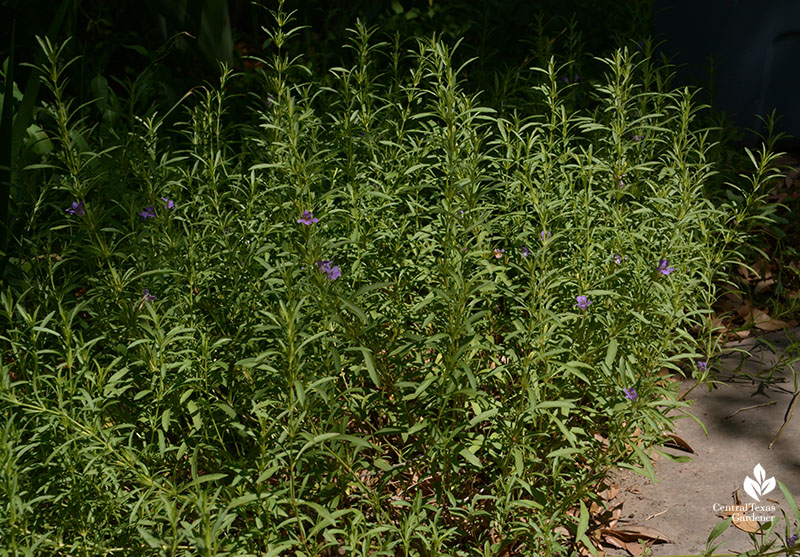 Pale lavender flowers attract butterflies in late spring and late summer if rains come our way. It's a host plant for the Common Buckeye butterfly.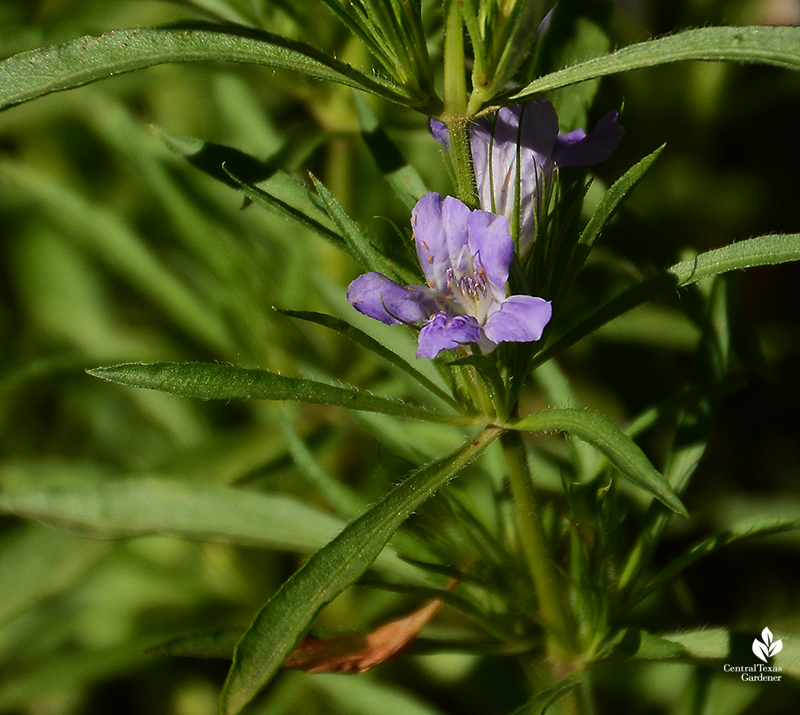 For sun to part shade, bees and butterflies go for groundcover Gregg's mistflower (Conoclinium greggii).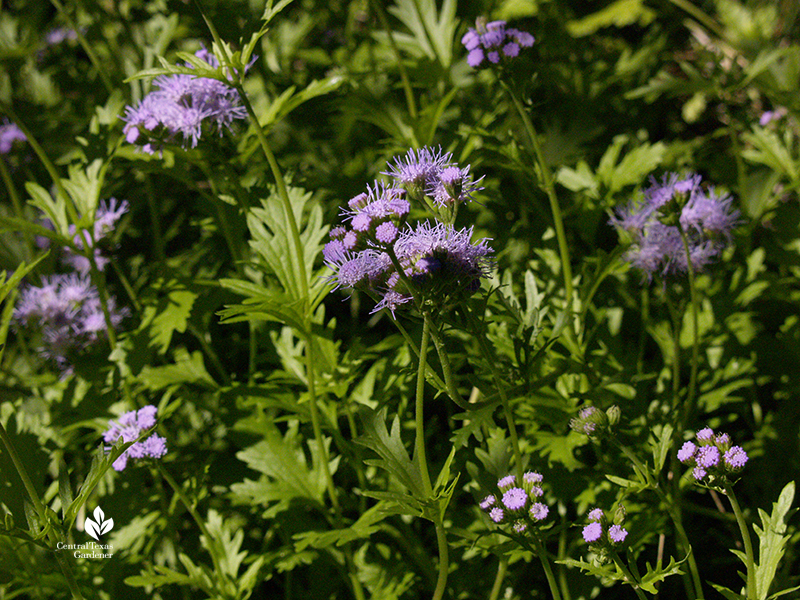 Blue boneset (Conoclinium coelestinum) is taller at around 2-3'.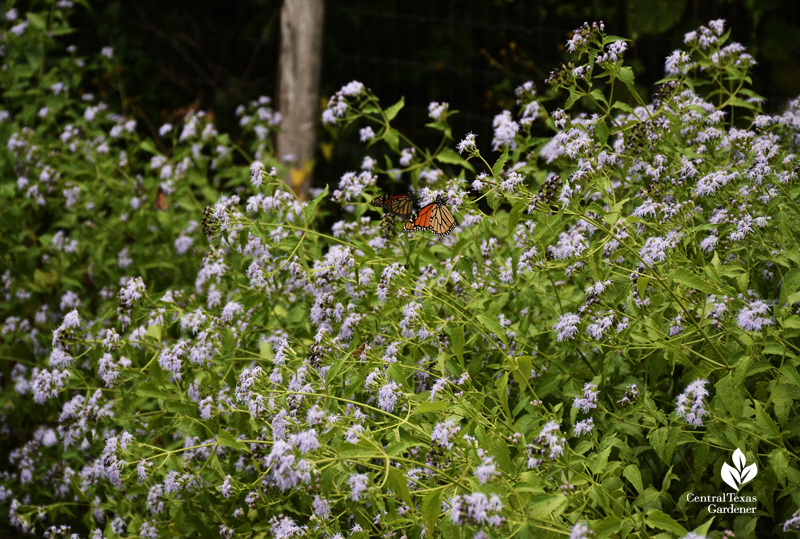 In recent years, we've all escalated interest in milkweeds since they're the larval host for Monarchs and Queens. For Central Texas, Drake recommends green milkweed (Asclepias viridis), Texas milkweed (Asclepias texana), Zizotes (Asclepias oenotheroides) and Antelope-horns milkweed (Asclepias asperula): here enjoyed by a Monarch caterpillar.


For containers, she recommends Zizotes and Texas milkweeds that can handle winter's cold without protection.


The big question: Should we cut back or dig up the easy-to-find tropical milkweed (Asclepias curassavica)?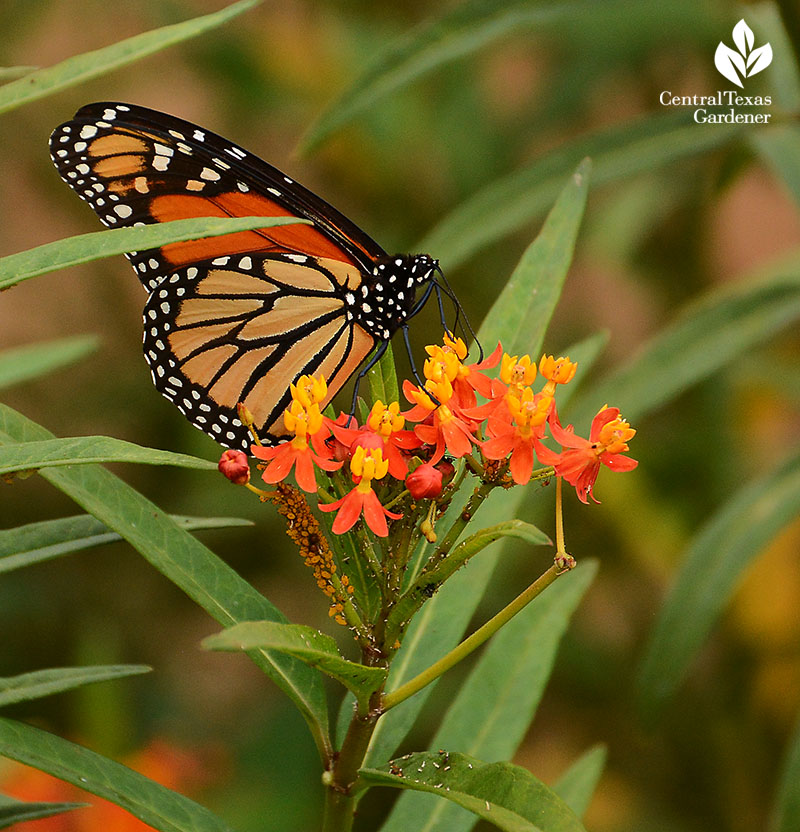 Drake recommends cutting it back twice a year: June 1st and then again in October through December. Spring's migration clusters butterflies together and thus a chance that the OE (Ophryocystis elektroscirrha) spore can be deposited. Native frostweeds may die back in summer, but the tropicals do not. By cutting them back in June, they'll regrow as healthy plants.
Should we worry about oleander aphids that feed on milkweed and oleanders?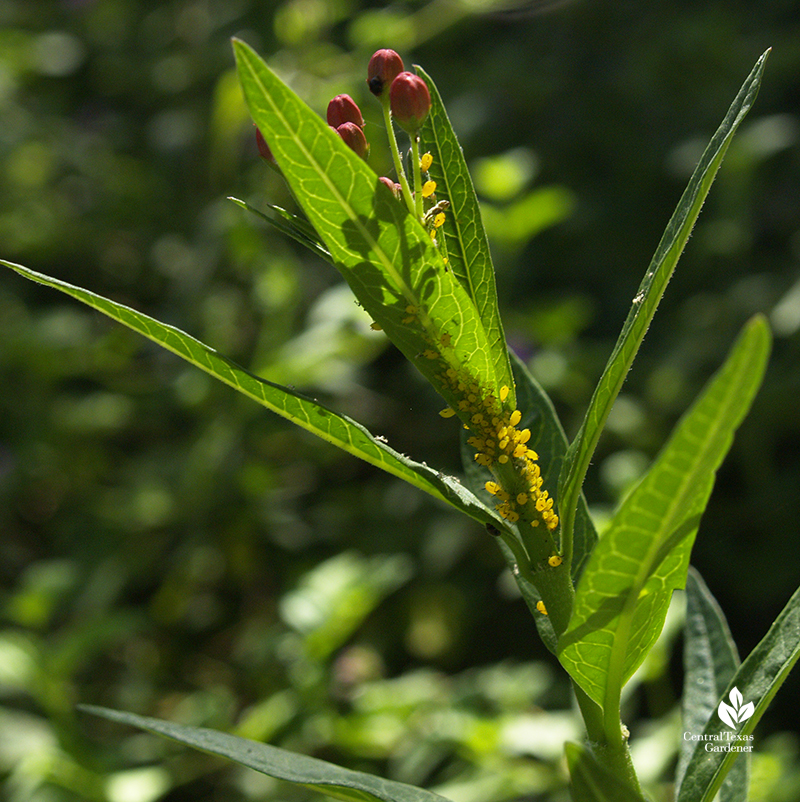 First, they don't feed on other plants, but many beneficial insects feed on them. Ladybug, green lacewing, and hoverfly larvae chomp them up and then control other pests, too. Second, Drake told us that those aphids indicate that it's "clean" milkweed and not laced with pesticides.
Drake's also the chief docent manager of the Monarch Butterfly & Pollinator Festival founded by Monika Maeckle of the Texas Butterfly Ranch.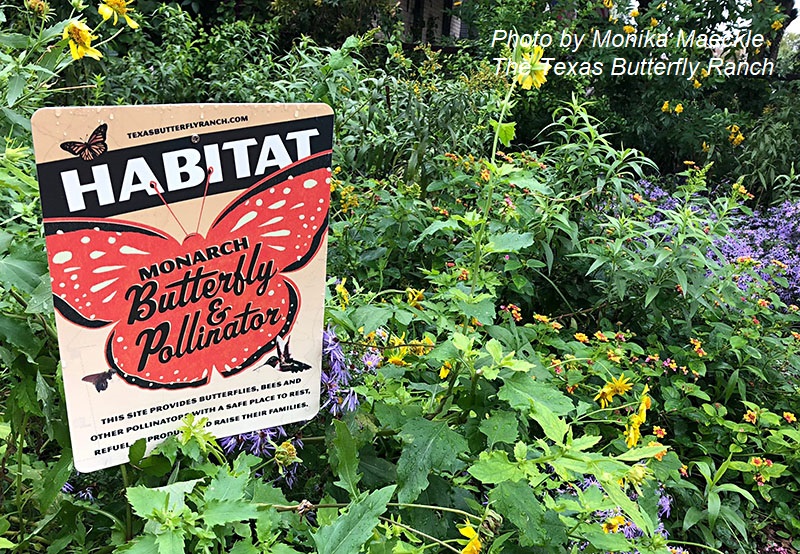 This fun, family event is back in person this year on Saturday, October 16 from 10 a.m. – 2 p.m.
at Confluence Park in Antonio.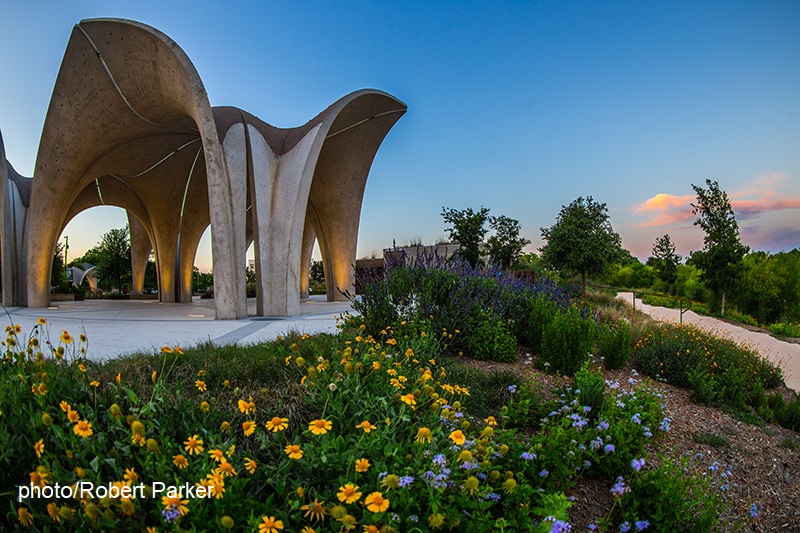 Click here for details and to name a tagged Monarch butterfly after a loved one.
Follow Drake on Facebook, and Instagram, and visit her website to learn more.
Watch now for all her tips!
In Drake's words, "Peace, love and butterflies!" Thanks for stopping by! Linda
Comments