September 15, 2021
A Unique Treasure: Mary Irish, 1949-2021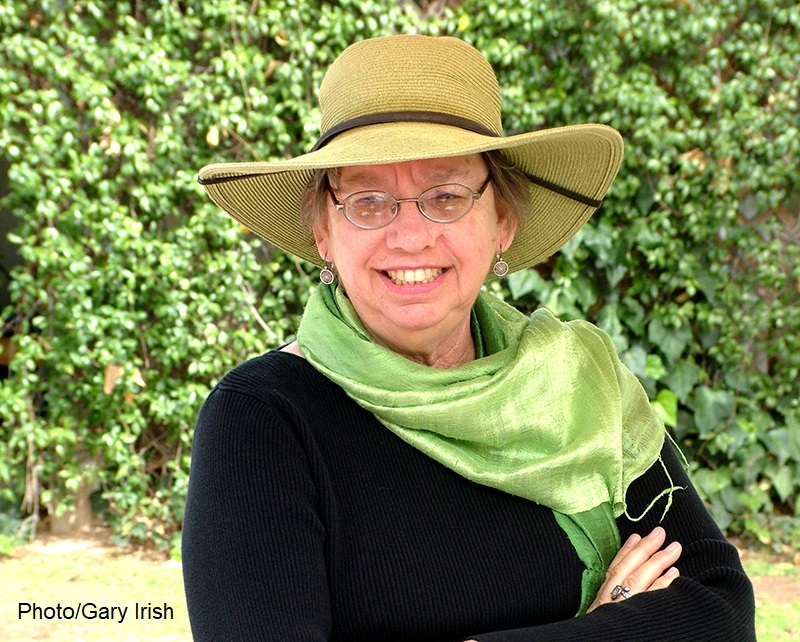 "It is amazing how little you can know at first about a new place. I look back on some of my most naïve, or most ignorant mistakes, and wonder what I could have been thinking. But the truth is I just didn't know. In the world of gardening, you often learn by messing it up royally. . ."
A Place All Our Own, Mary Irish
"Often we buy plants that don't really look like what they're going to be. This is especially true of native plants. You have to just trust that what somebody like me, or anybody, tells you it's going to be, it will be, because they may not look like that in the pot, so go for it. Also, pay attention to the size. If they say the thing is gonna spread to 30 feet, it really will."
Central Texas Gardener, 2020, Mary Irish
"She is so awesome. I learn a lot from her."
Central Texas Gardener YouTube viewer
I can't remember how long I've known Mary Irish (and her beloved husband Gary, a fellow plant nerd as Mary would say), but it sure hasn't been long enough. She left us to our own devices on August 18, willing us her expansive knowledge about gardening in challenging conditions. She gives us the roadmap through her books and articles, written in exuberant, personable style.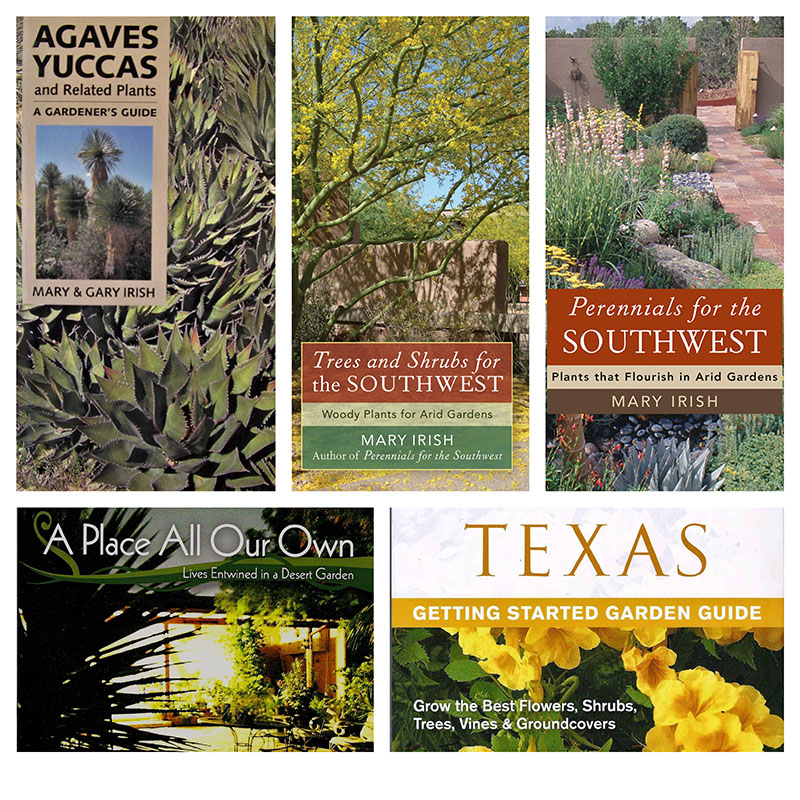 In person as a teacher and consultant, she guided so many across state boundaries. Still, she always found time to include the occasional encounters, like me personally and for CTG, always generous with welcoming grins, her effervescent personality spilling into down-to-earth wit.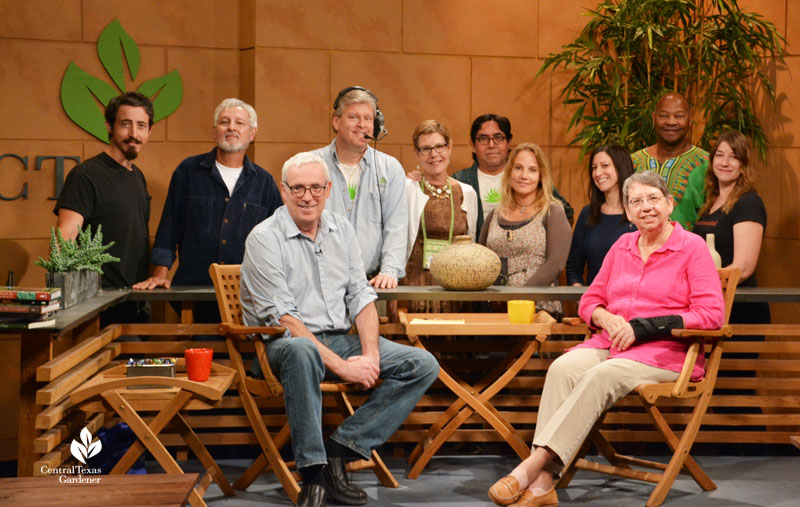 I can hear her boisterous laugh that altered more plant perceptions than a scolding soapbox ever could. Here's a jaunt we shared at a Dallas conference.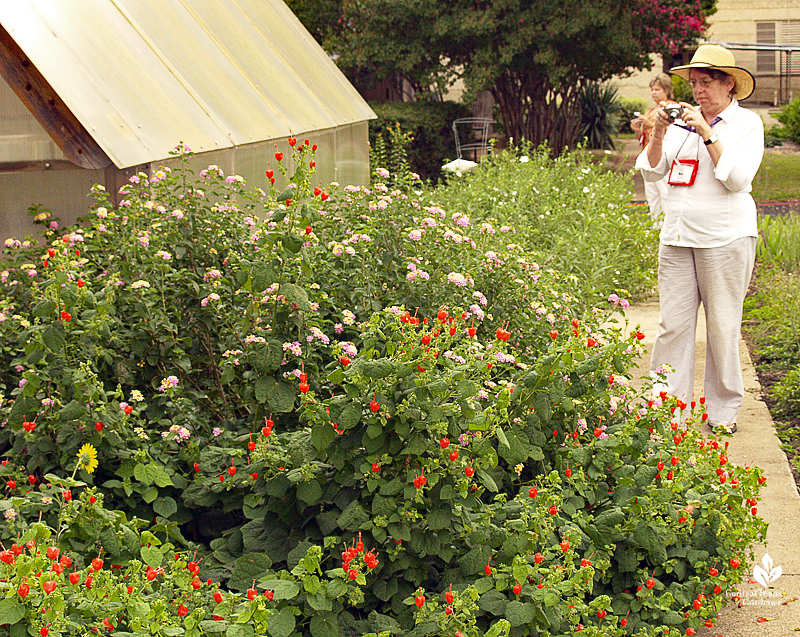 "I learned that no matter where you live, weather vacillates from being a congenial, satisfying partner to a merciless bully, and learning to join the vagaries of your climate with your choice of plants is the surest path to a calm, restorative garden."
A Place All Our Own, Mary Irish
An Austin native, educated at The University of Texas at Austin with a master's degree at Texas A&M University, she and Gary moved to Scottsdale, Arizona in 1986. She found her niche as public horticulture specialist at the Desert Botanical Garden in Phoenix, while consulting, teaching, and designing many public gardens and spaces. Somehow, she squeezed in writing eight inclusive books! (Her latest book in draft form is at the publisher's.)
In 1991, they found their dream home in Scottsdale. To them, "dream" meant a huge yard just waiting for their imagination. In fact, at the first showing, they bypassed the inside altogether and headed outside where the deal was sealed. In 2012, Mary documented their journey in A Place All Our Own; Lives Entwined in a Desert Garden.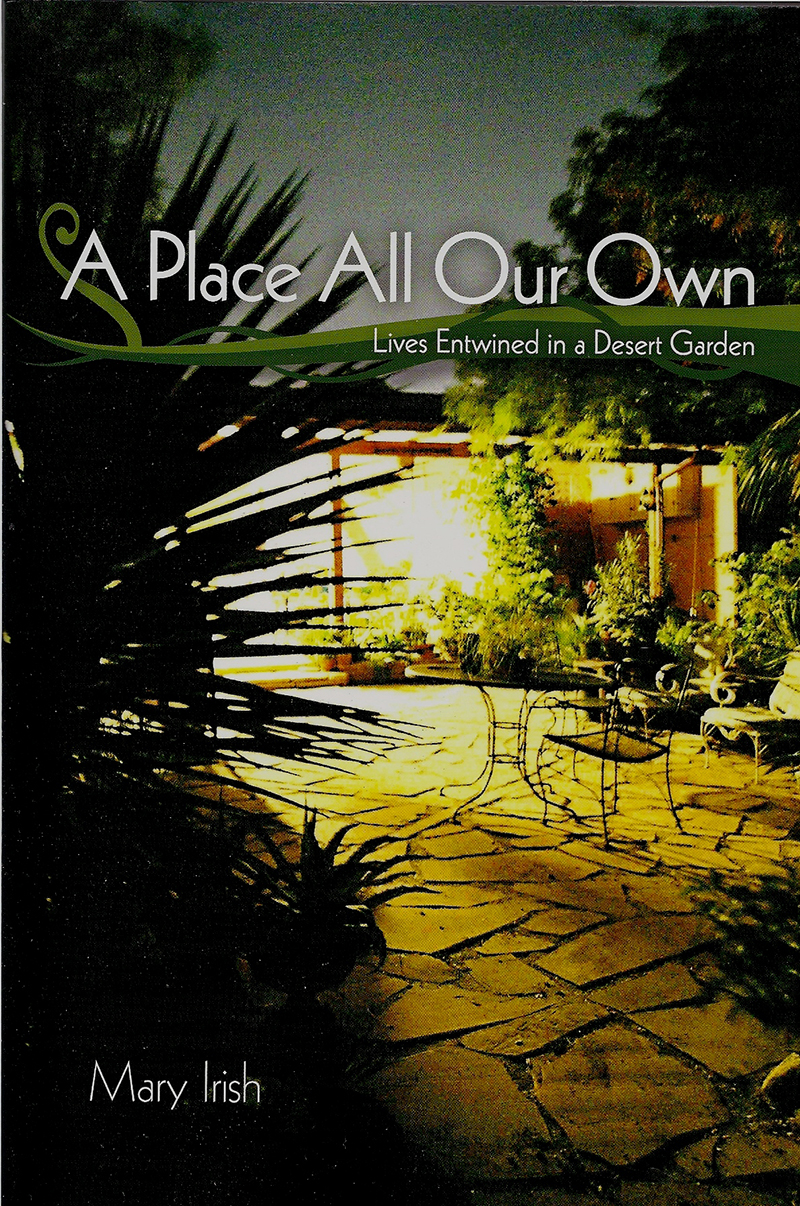 It doesn't matter where you live or what plants or design style you favor. This book is the story we all need to remind us that gardens (like our life paths) are not quickly made. Plans get blindsided, modified, satisfied, sometimes over and over again. For one thing, nature's in charge. For another, we're not concrete statues; we must be responsive to the garden conditions on which we've landed. Former fancies may head to the figurative (or literal!) compost pile as we grow our interests and philosophy.
"Completion is not our goal. The quests, the trials, and the gentle unfolding of the life of the garden are what suit us; watching it all transform, however slowly, into the scene in our heads is much more fun than getting it all done in one or two seasons."
A Place All Our Own, Mary Irish
We certainly can relate to weather scares and tragedies through Mary and Gary's response to tremendous freeze damage with their customary patience, tolerance, and acceptance. Since summer heat happens, and water supplies are limited, she explains how plants tough it out and why we shouldn't expect springtime magazine-perfection in sky high temps.
"Some species, of course, just bail out of the entire thing, as do many residents of the area. Many spring-flowering perennials of desert origin employ this strategy; they simply reduce to the lowest possible size and wait it out," she wrote.
It's a story of two people intertwined through ideas, clashes, compromises, enthusiasms, failures, and serendipitous successes. After work and the chores, they abandoned the seductive call of social media (and TV!). Instead, they talked and talked over a glass of wine, connecting to each other, their devoted dogs and cats, and all the beautiful creatures that come by night to pollinate, explore, or delight the sky.
"The shifting parade of plants in a garden is not just a mark of life in general; it is what makes our garden more than just a staged photograph. . ."
A Place All Our Own, Mary Irish
Their philosophy about pesky insects aligns with mine, and it is a treat to see them through Mary's eyes, where she honors their roles with compassion, respect, and even laughter. You'll never be mad at a pillbug ever again!
"A truly comfortable garden is one where all the lives with whom we share it become intertwined, a place where most lives are tolerated, indeed welcome, and where a moderate live-and-let-live approach is enough to settle our differences. . . But as we all know, sloth and procrastination yield many happy results both in life and in the garden. Taking the time to give things a chance to work themselves out before racing out to secure some horrendous poison has worked for us almost every time."
A Place All Our Own, Mary Irish
An avid birder, Mary's stories of their antics and acrobatics puts you right by her side in gleeful discovery. I learned how some birds "stalk" a flower bud until opening day. When I can't sleep, I think of the little quail family where papa scopes things out before mama leads out the littles. Especially I love this: "They have become inseparable from the garden itself, contributing their currency as part of the wealth of a successful garden."
We also benefit from Mary and Gary's hands-on tips and lessons, like this one about soaker hoses—a familiar situation with our alkaline water. "Here is the thing with this hose style and this place: it works great for two or three years, but then the salts in the water begin to collect inside the pipe, cutting down flow and ultimately poisoning the plants. In all drip systems, it is wise to open up the end once a year or so and let water flows out freely to remove accumulated salts. But with the soaker hoses, it became clear (later of course) that the salt crystals became more or less imbedded and interwoven in the very fabric of the pipe."
In 2011, Mary and Gary moved to Castroville, just west of San Antonio, where she directed the plant sales program at the San Antonio Botanical Garden (SABG). At home, they personified the new digs with a pollinator receiving line of drought-tough native and hardy adapted plants.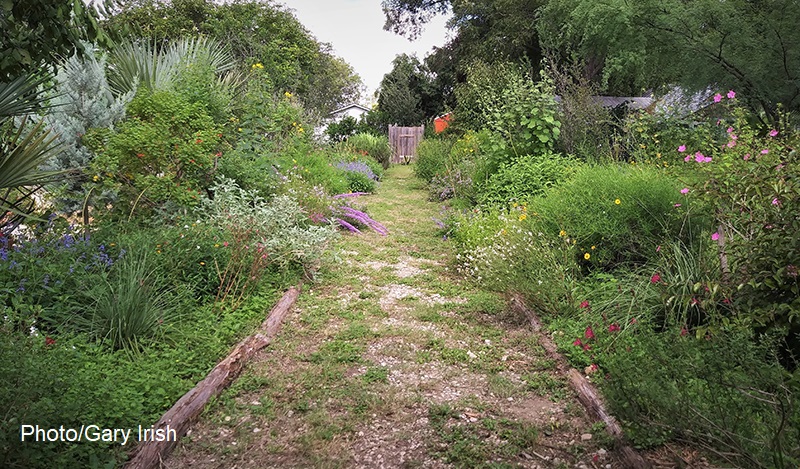 Watch CTG's 2020 conversation with John Hart Asher: "Take a Walk on the Dry Side."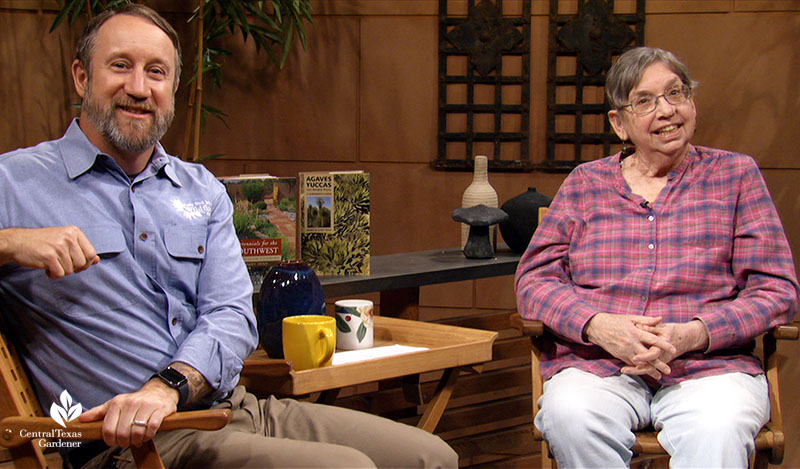 SABG volunteer Mary Fisher described Mary as "inimitable, irrepressible, and absolutely irreplaceable—one of those people you had to pinch yourself to believe you were lucky enough to have known." (Watch CTG's visit to Mary and Lewis Fisher's garden; off camera we certainly yacked a lot about Mary Irish!)
"Mary was a ball of fire!" wrote Don Clowe, another SABG volunteer with his wife Gail. CTG featured their garden in 2009.
Watch CTG's conversations with Mary, dating from 2009. Earlier ones predate YouTube.
If you'd like to honor Mary, the family requests that donations be made to:
Friends of Castroville Regional Park
For: Botanical Trail Project
P.O. Box 173, Castroville, TX 78009
"For us, our plants and the gardens in which they live have given focus to our life together, showing us our strengths and weakness in the process of creating something together. . .With these reminders the garden forms a net, support for when times are not so good, when beautiful memories can help, when life pours over us in an unbearable cascade of demands, sorrows, and failures, when a tiny wasp, an unexpected flowering, or a slight breeze is all it takes to wrap us up and hold us together."
A Place All Our Own, Mary Irish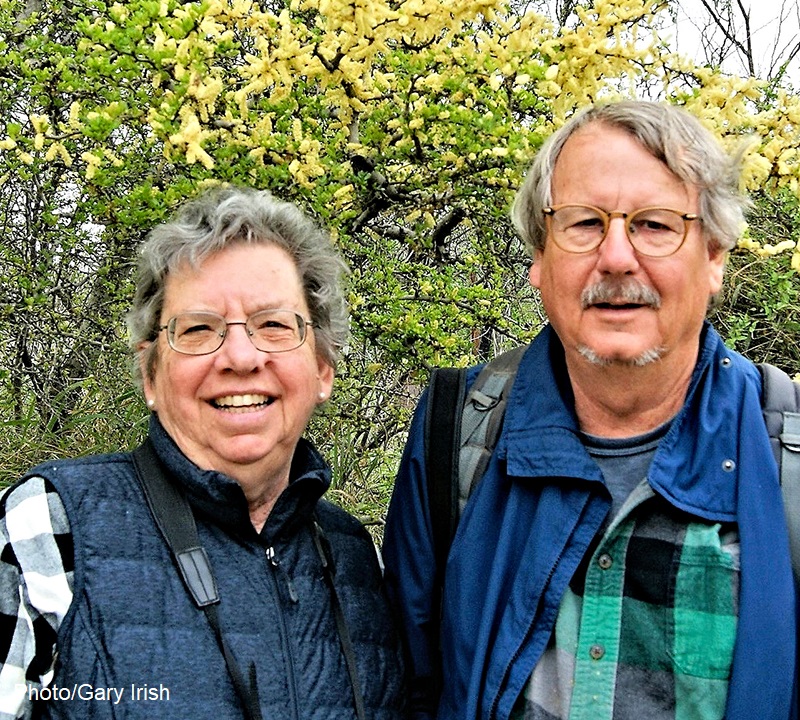 Thank you, Mary! Linda
Comments