September 8, 2021
Hot Idea Under the Sun + Pepper ID!
I don't know if it's really been hot enough to fry an egg on the sidewalk (what would Julia say?), but it's sure a great time to solarize lawn or a weedy spot to make way for new plans.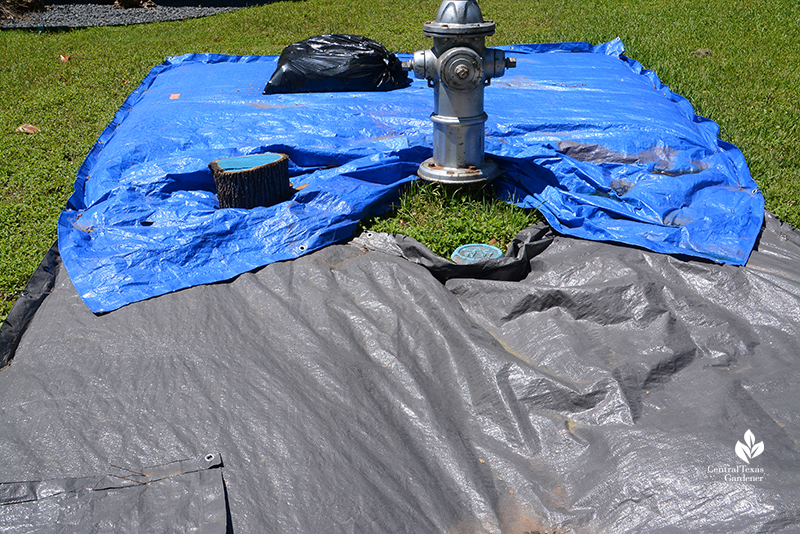 Cruising around, I've watched this project since late spring where the gardener anchored tarps to let summer's heat bake grass roots. Note: They don't have Bermudagrass that fights back the minute you relax; that battle demands eternal diligence.
In late summer, they laid out a clever, stone-dimensional design. EcoBorder rubber landscaping edging acts as curbs to keep the rocks in place and possibly to slow down storm water swooshes.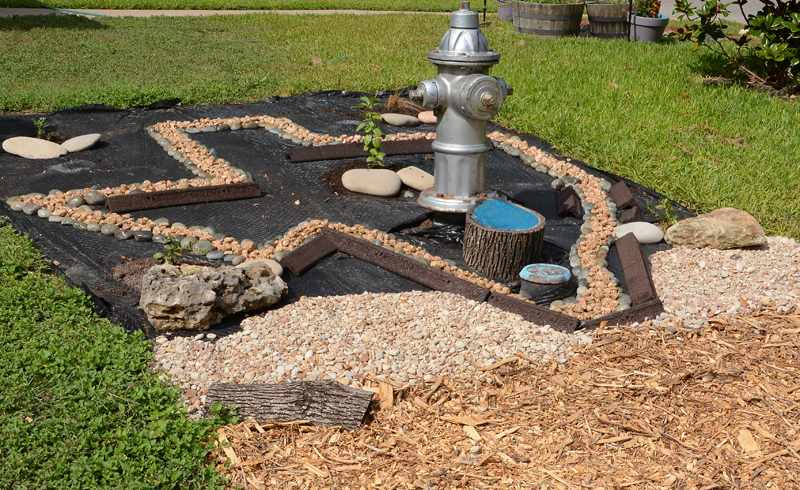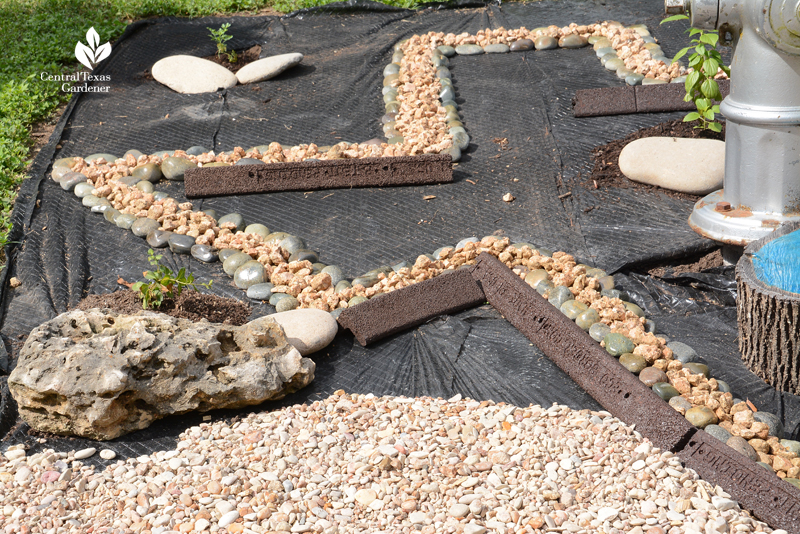 Now finished, it jazzes up this curb without impeding access to the hydrant.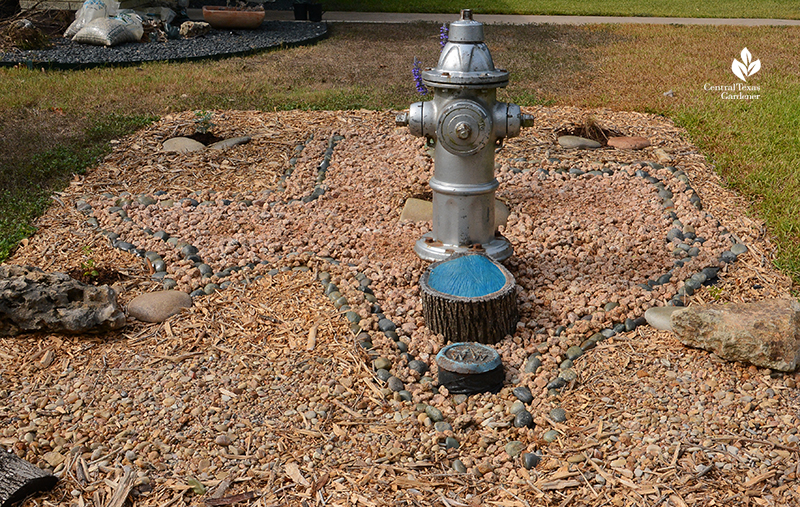 At another garden, I grabbed this shot in 2012 where the gardeners solarized the entire lawn for several months.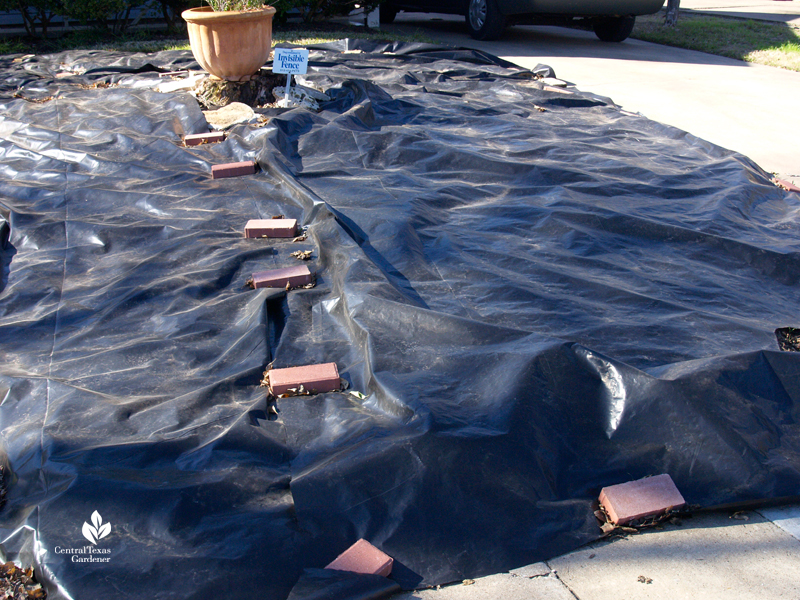 Here's a shot from spring 2020, and though still looking great, late summer's always tough for garden selfies.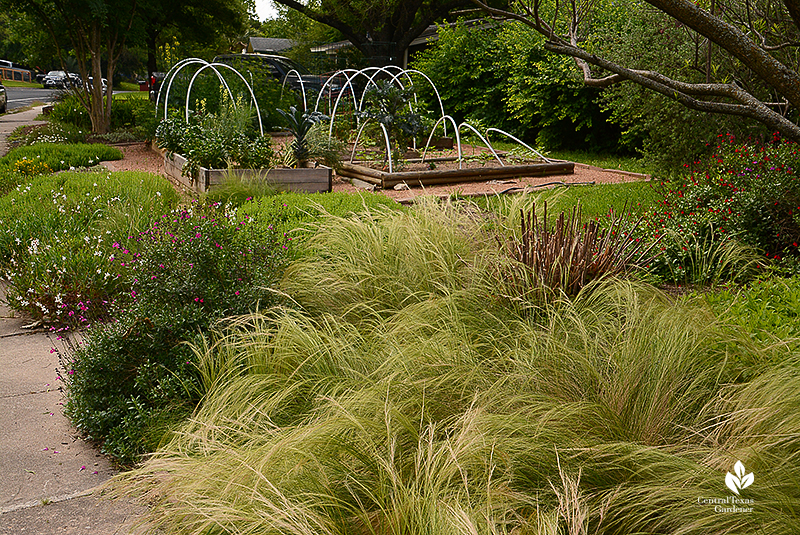 In the heat of summer 2020, Este Garden's lead gardener and farm manager Anamaria Gutierrez and farmer Lea Scott began the rejuvenation of Eastside Café's former gardens. To get a grip on tenacious Bermudagrass, they did occultation, a biological weed control technique that consists of covering the soil with black tarps and/or cardboard for three to six weeks. Anamaria told us, "It's especially fast-acting when it's 90°! This is like solarization, which uses clear plastic, but that gets hotter. And so, it could possibly kill more organisms."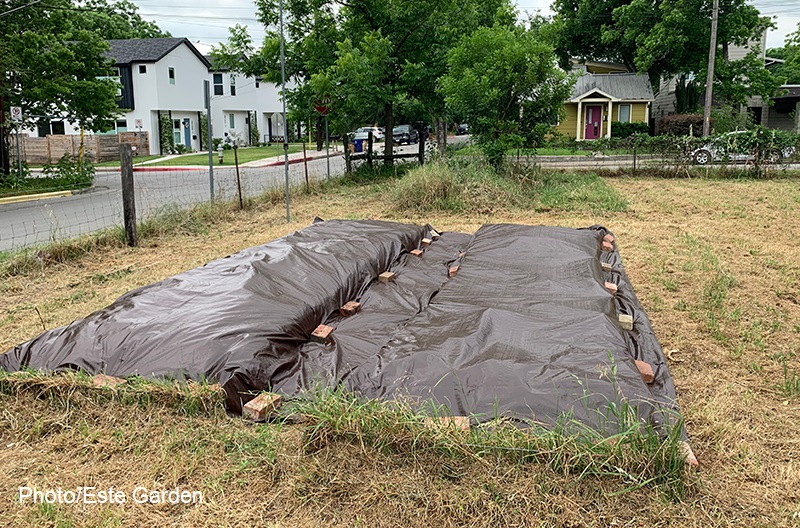 Watch CTG's story with Anamaria!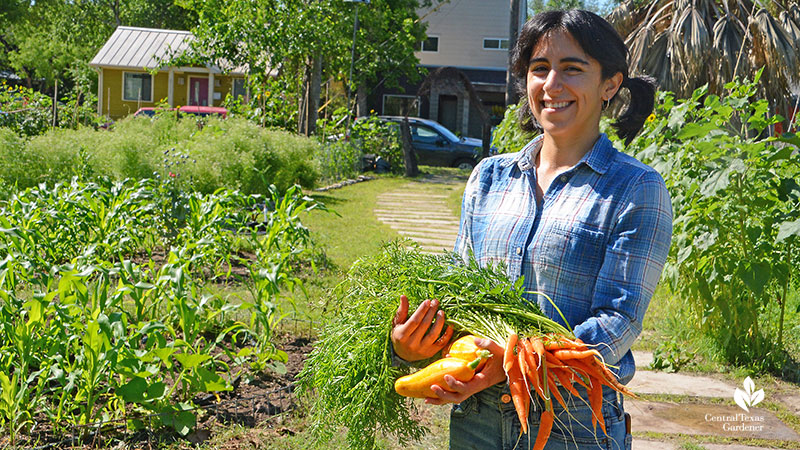 Connect with them at the first ever Field Guide Festival October 29-30, celebrating a stellar lineup of Austin chefs and farmers, deliciously pairing meals, tastings, sips, tours, music, and symposiums.
CTG's host, John Hart Asher, and his wife Bonnie Evridge, solarized to prep their backyard native grass and forbs pocket prairie, here in 2017 when CTG met them for the first time.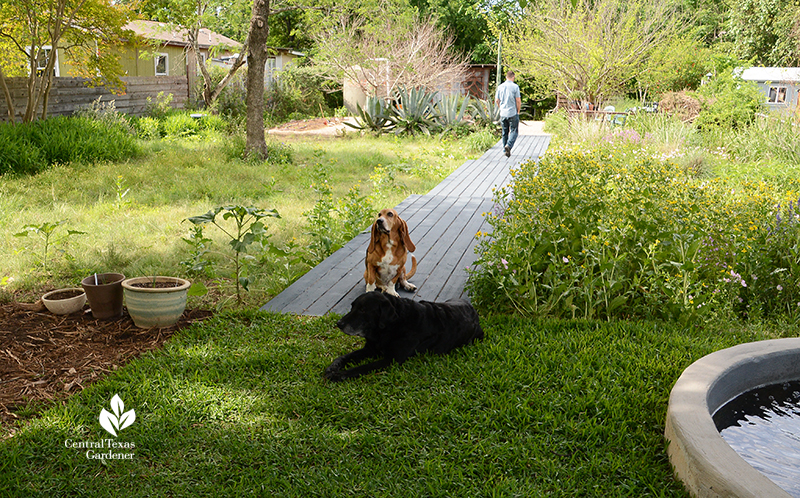 "We solarized our yard for over a year because we wanted to not only deal with warm season invasive species but also cool season species. Some people just put down a tarp. The number one problem they have is they get a really thin tarp and then the sun disintegrates it in a couple of weeks. So, you have to get six-millimeter or thicker, something that will really stand up to the sun, but even after a year that starts to break down. Then there's the big debate of whether it needs to be clear plastic or black plastic. I just went with black because it heats it up," he said.
Since solarization can kill beneficial organisms, too, John Hart and Bonnie added compost to restore underground life before planting seeds and transplants.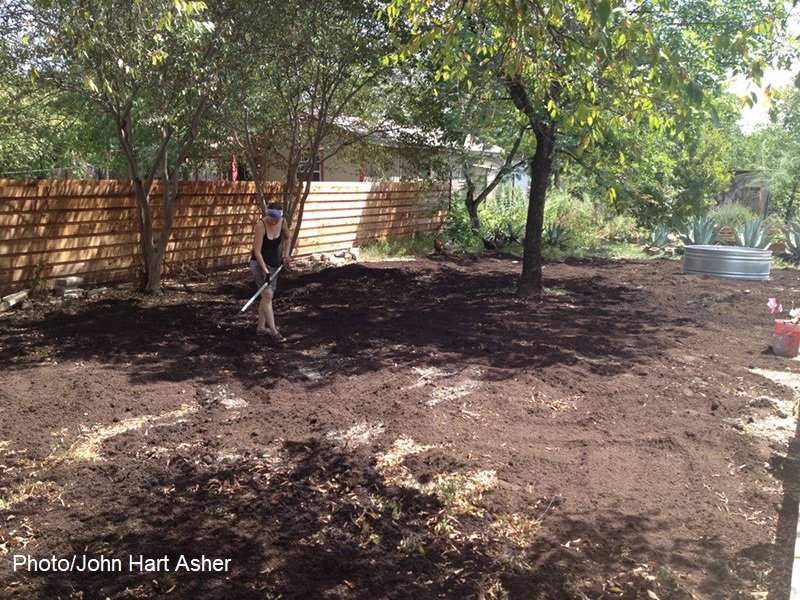 Interested in learning more? On October 10, John Hart presents "How We Save the World: An Intro to Pocket Prairies" at the Lady Bird Johnson Wildflower Center. Details are being finalized, so check the Wildflower Center for updates.
Now here's some hot news! I may have an ID on my mystery "ornamental" peppers. As fiery as summer and as cute as holiday ornaments, they're resplendent in oodles of simultaneous purple, yellow, orange, and red fruits from late spring to frost. About ½" long, I'd say the ripest reds are akin to serranos on the heat scale. Although shaped like pequins, they absolutely do not have the same fire power!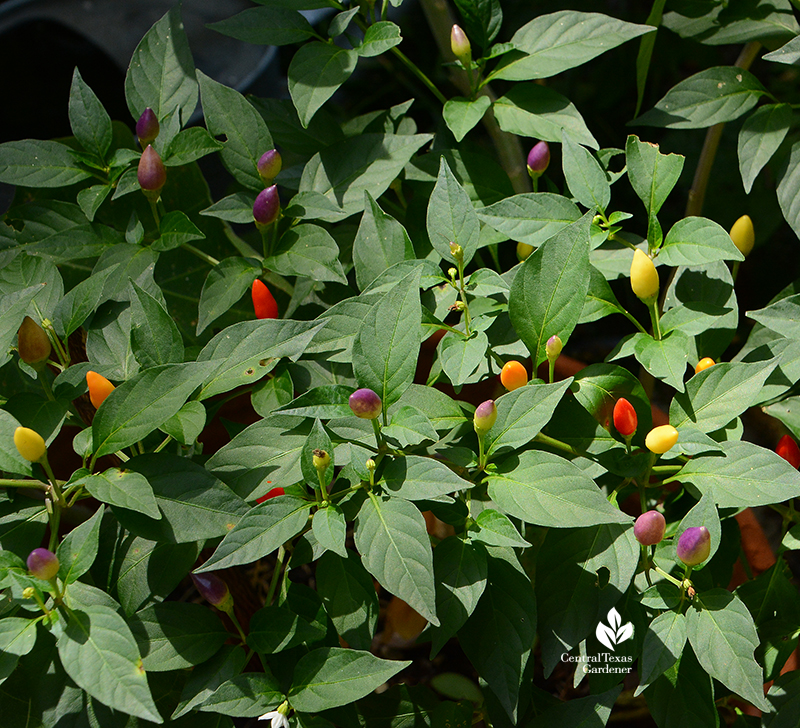 I got it long ago labeled as "patio pepper" at the historic Zilker Gardener Festival. Its size is just right for a medium-sized container, where it must reside, since it's not cold hardy. Since we cover the patio with plastic in winter and heat when we're around, we've got a ready-made holiday "tree" until hard freezes. Even if it gets severely nipped (like last February), fallen fruits readily sprout their seeds in spring. For safety in February, I cut several to bag up inside to renew the pot in late March.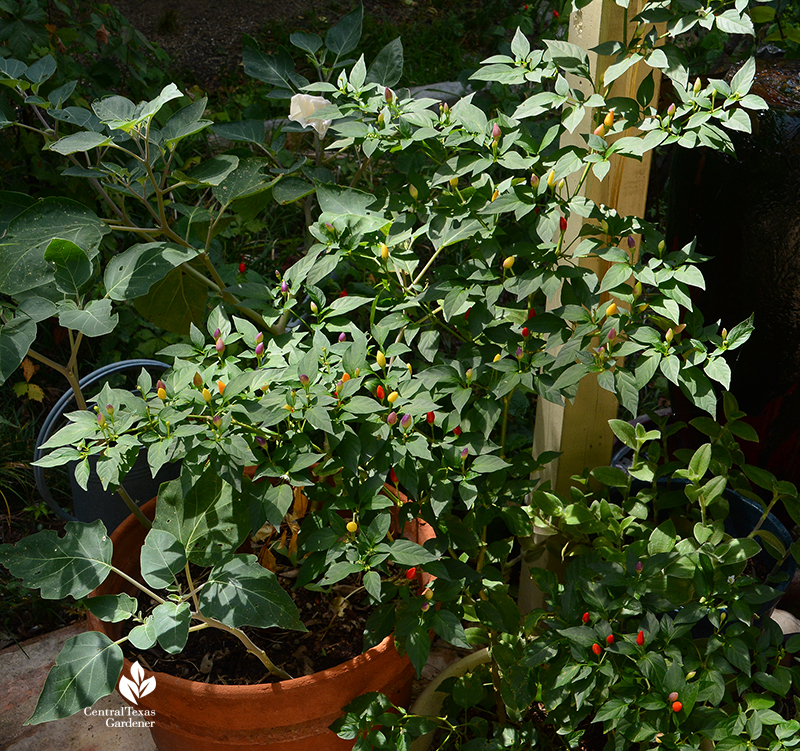 Cathy Slaughter of Gabriel Valley Farms (with husband Sam and son Daniel) thinks it's Numex 'Twilight'—originally from Jalisco, Mexico—one of the cultivars released by New Mexico State University (Cathy and Sam have even visited the pepper trial gardens). Sam, passionate about peppers, even got various seeds from them at one time, but the plants were a hard nursery sell, since gardeners went for more familiar varieties. With growing interest in container gardens, they may bring back these perpetual fruiters next spring.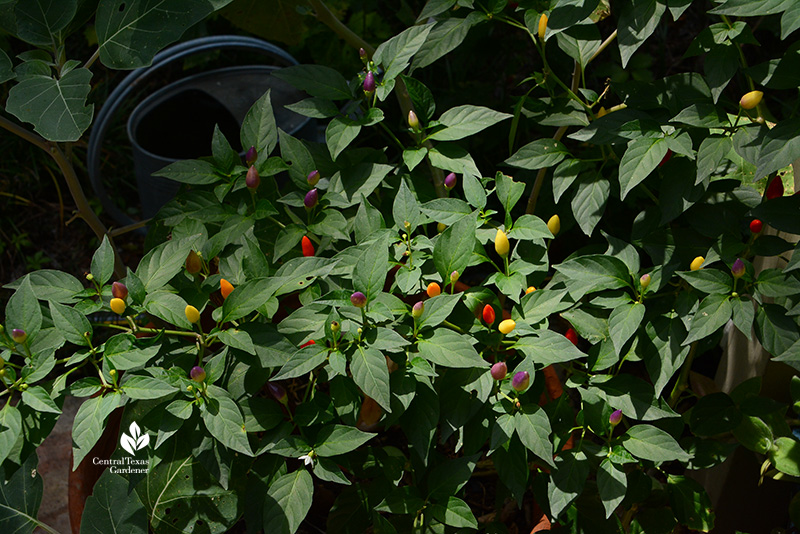 What's really cool is that Cathy and Sam remember the growers from Brownsville, Don and Debbie Cox. It marvels me always how one connection leads to another and how one little plant opens a big, wide memory door.
Thanks for stopping by! Linda
Comments