September 2, 2021
Grow Semi-Hydro Houseplants with Chloe Phea!
Whew, it's hot! Alas, my garden's a tad on the crispy critter side. Although I'm anxious to jump into much-delayed chores, I've turned my focus inward. Recently I cut back the Phalaenopsis orchid's stems after months of non-stop blooming. I'm letting it rest, watering deeply in the sink once a week. I'll resume a weak high-nitrogen feeding in a few weeks, switching to a high-phosphorous blend in late winter.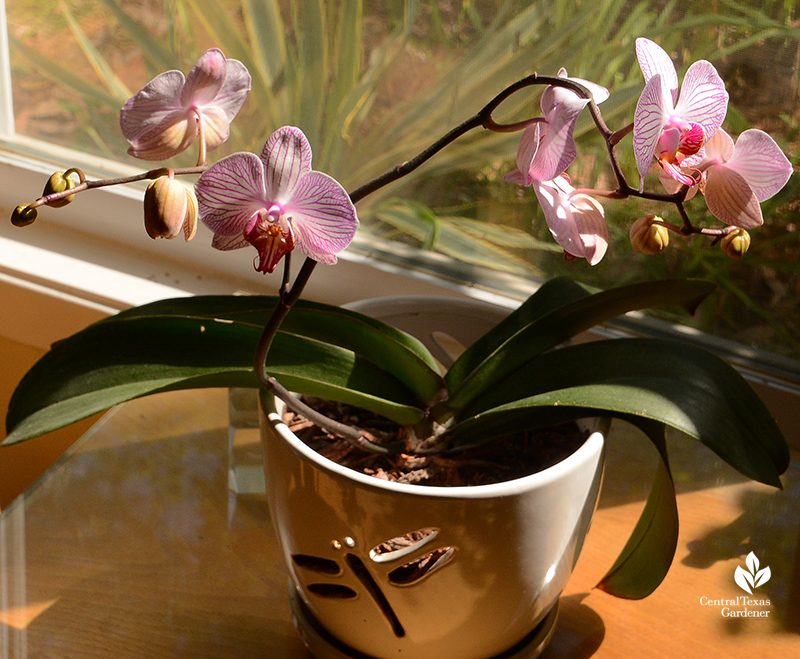 So, let's hunker down inside and learn about semi-hydroponics (passive-hydro) techniques for houseplants with passionate indoor gardener @monsteramaven Chloe Phea!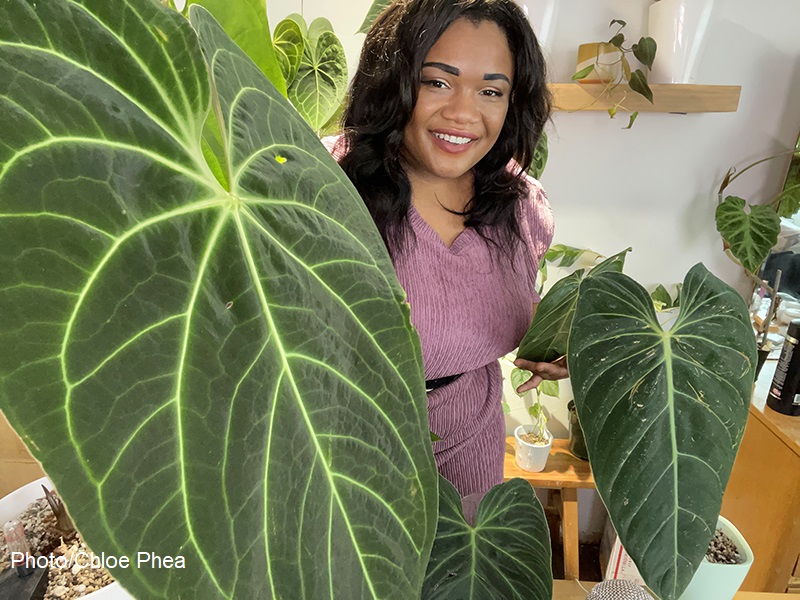 We met up online last Saturday afternoon, me in my kitchen, and Chloe in a cheery, plant-filled room in
Lubbock, where she moved this summer. With a STEM background and concentration in neuroscience, she easily embraces the science behind gardening. Her houseplant love started early on, thanks to her maternal grandmother. "She actually gave me my first plant at, I think, I was six years old. It was a grow-your-own cabbage kit and I was just so, so proud when harvest time finally came. And the cabbage was bigger than my little six-year-old head."
When her grandmother passed away, leaving her plants to Chloe, that dear legacy fostered an even greater commitment that's grown daily. Forever curious, Chloe's expanded her collection of tropical houseplants, even starting rare ones from seed. Anthuriums, though, are special favorites for their dramatic, even moody leaves.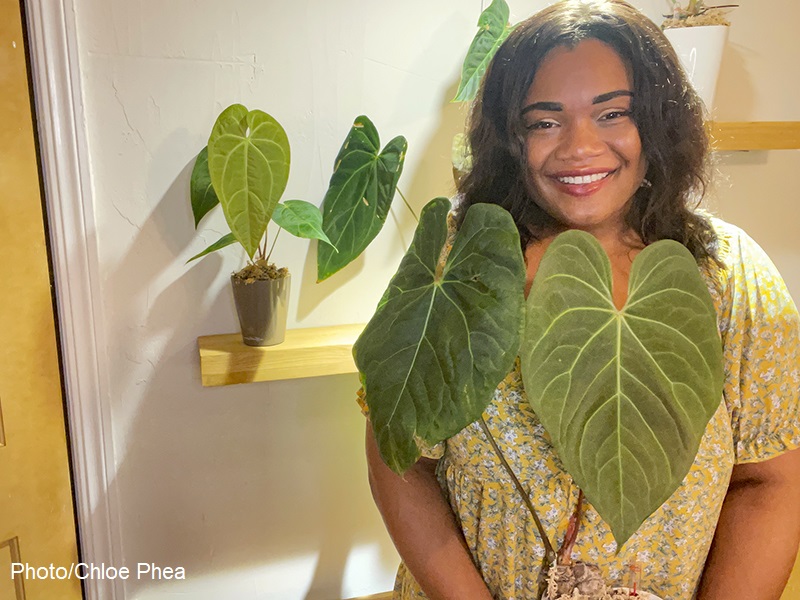 Her favorite planting technique these days is semi-hydro or passive hydro: growing plants in a mineral-based substrate, rather than in soil, peat moss, or bark. She likes Lechuza-Pon, a soilless mixture of pumice, zeolite, and lava rock. But there are many others, or you can mix your own. Many semi-hydro gardeners use Leca—lightweight expanded clay pebbles.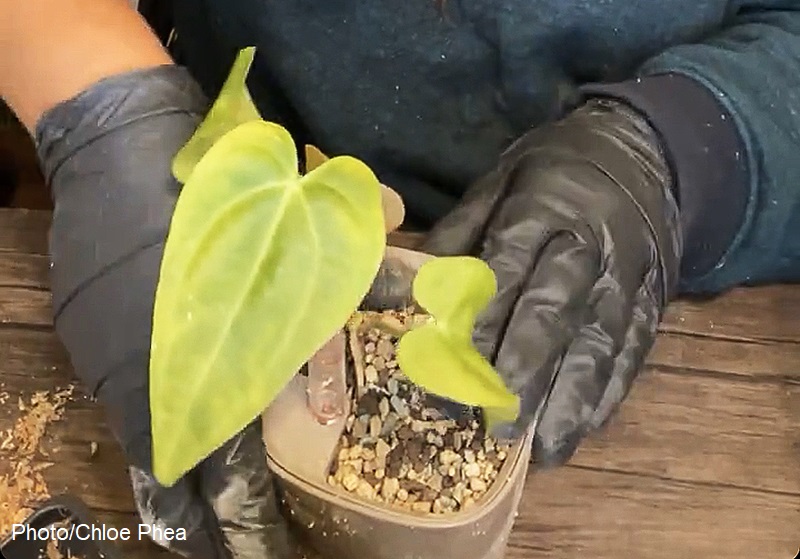 It's not uncommon for us to love our houseplants to death by overwatering! "A principal benefit to semi-hydro is that you don't have to worry about water availability and the plant's needs misaligning. Something that I see a lot when I do my consultations with my followers and my plant pals is that people will often overwater or underwater their plants," she said.
With semi-hydro, a planter with suspended wicks is inserted into a larger container that serves as a water reservoir. The wick uptakes nutrients and water when the plant has used up the moisture in the substrate.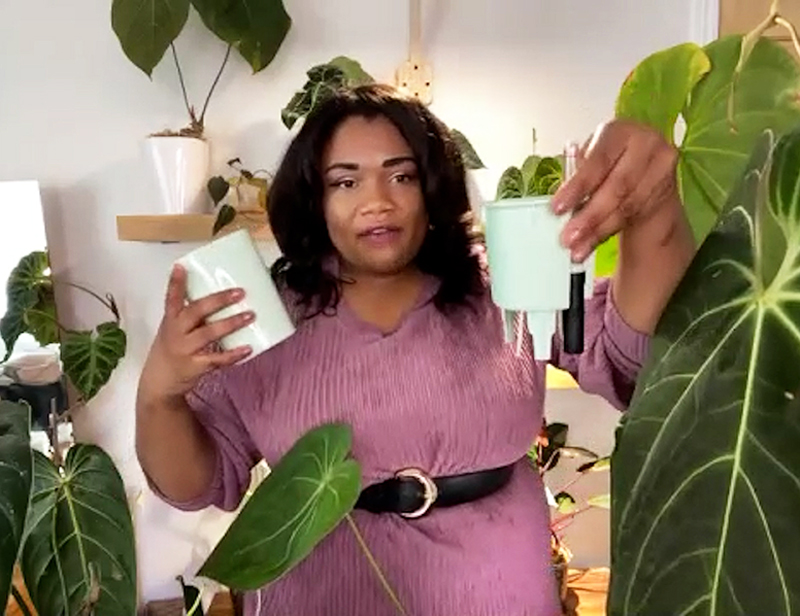 Chloe likes the stylish Lechuza containers with their built-in wicks and water level indicator. But, like anything else, there are tons of options: net pot planters, DIY wicks, even mason jars.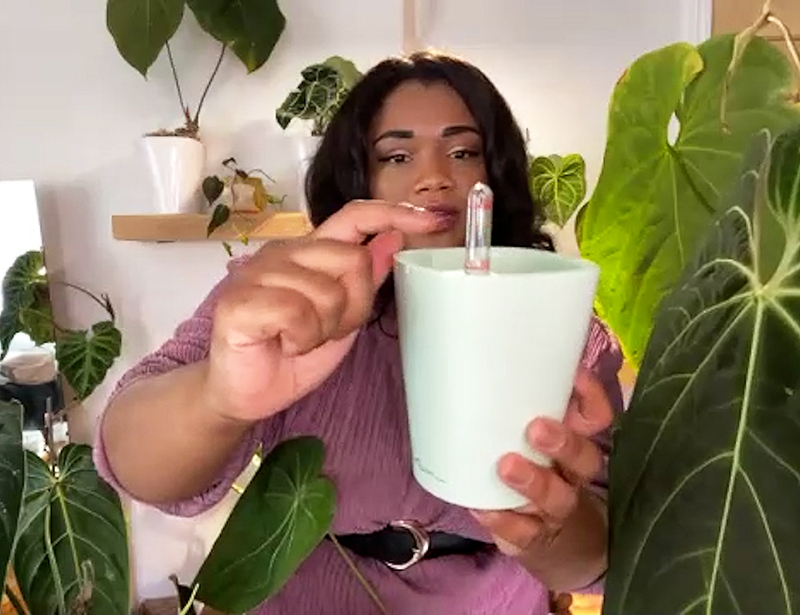 Another advantage to semi-hydro is that new roots develop so quickly. Here's a recent division from one of her large anthuriums.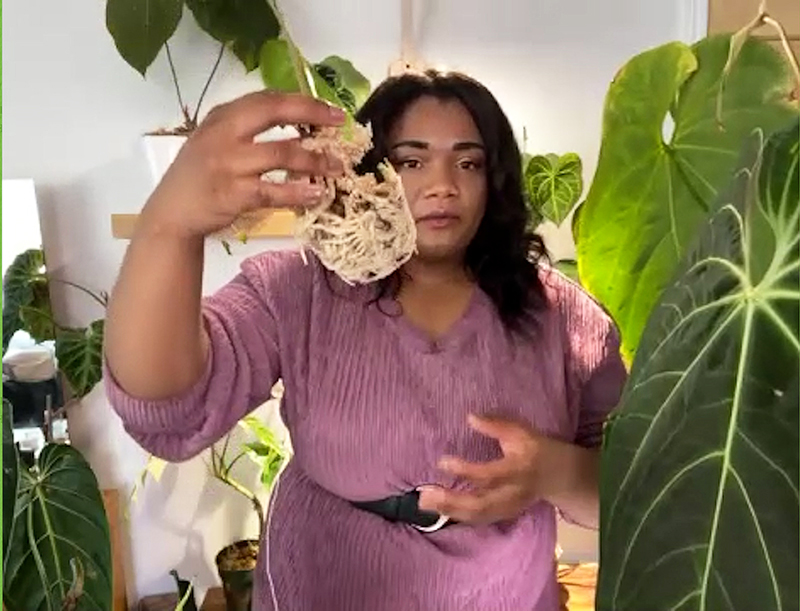 I really like her lighting, too! She's a fan of Rousseau grow lights since you can adjust the beam's light coverage from narrow to broad. They also come with a timer and smart plug, making it easy for Chloe to adjust them when she's on the run. When you've got 250 houseplants, the little things make a big difference!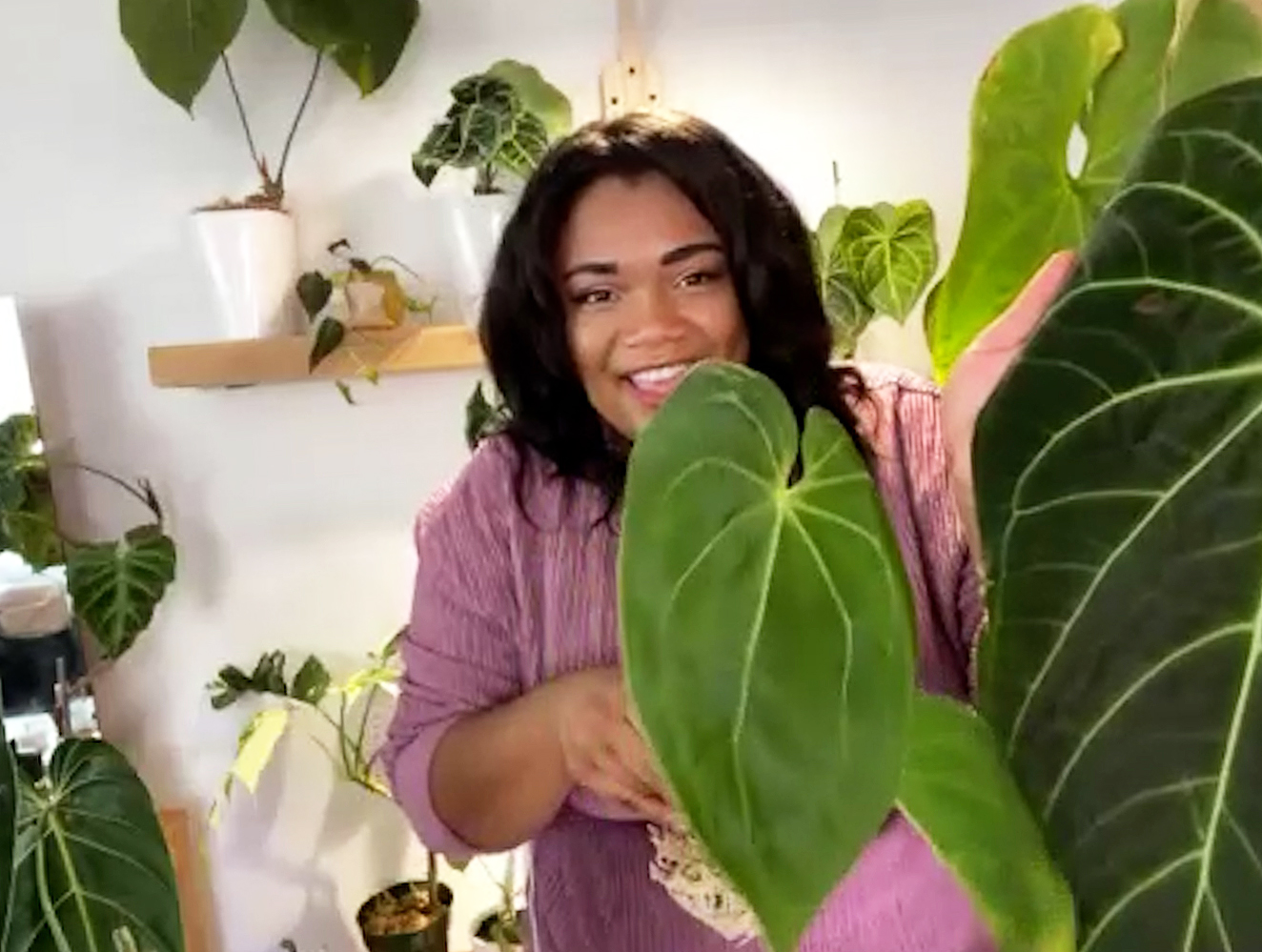 Chloe's also grown an engaging plant community on Instagram as @monsteramaven (she's also on Facebook and YouTube) where new and experienced @plantparents come together.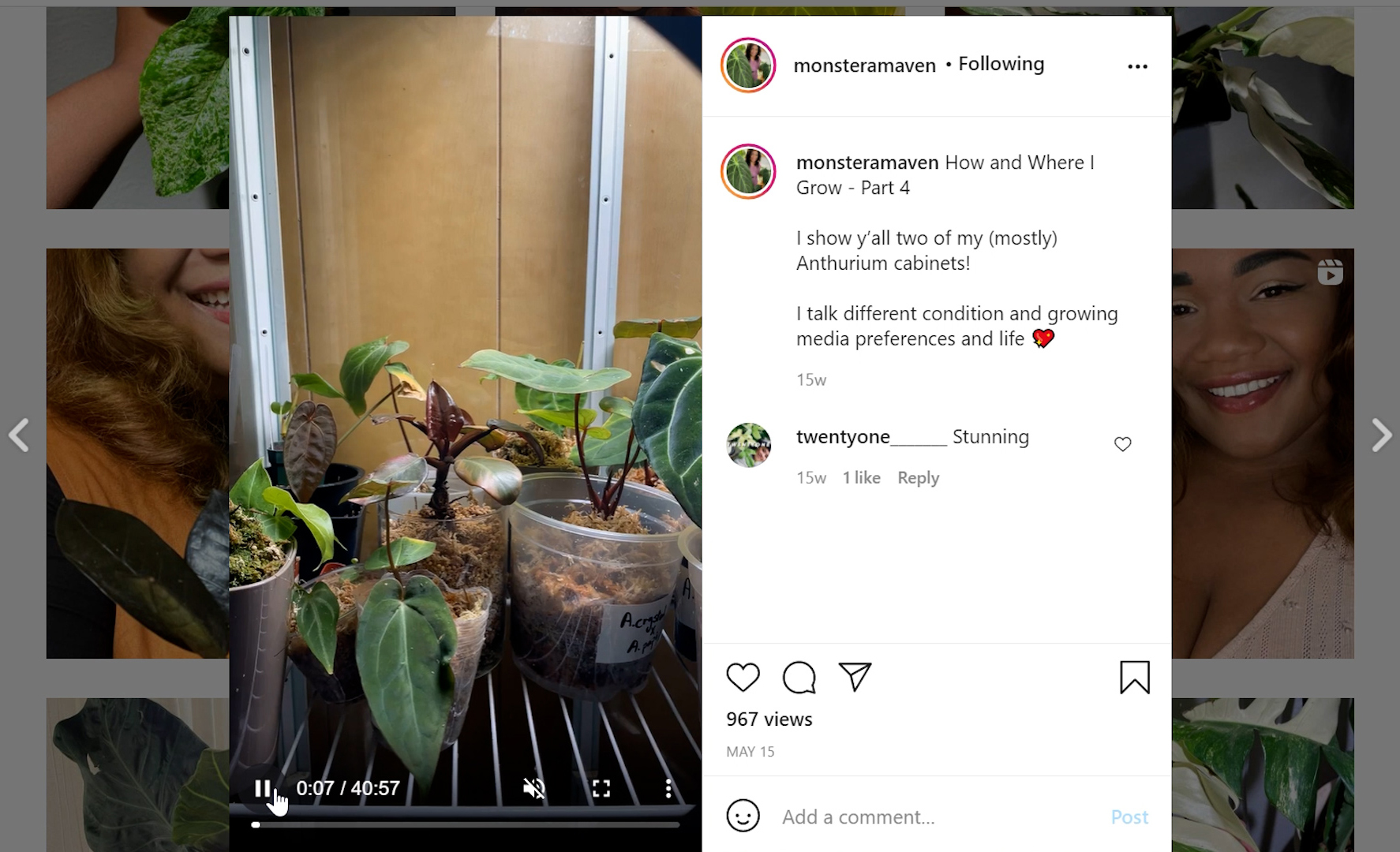 I've become a devoted fan of her tips n' tricks and personable IGTV chats where she answers plant care questions. And like any convivial conversation, it quickly becomes a spirited swap-fest on life, family, and even food!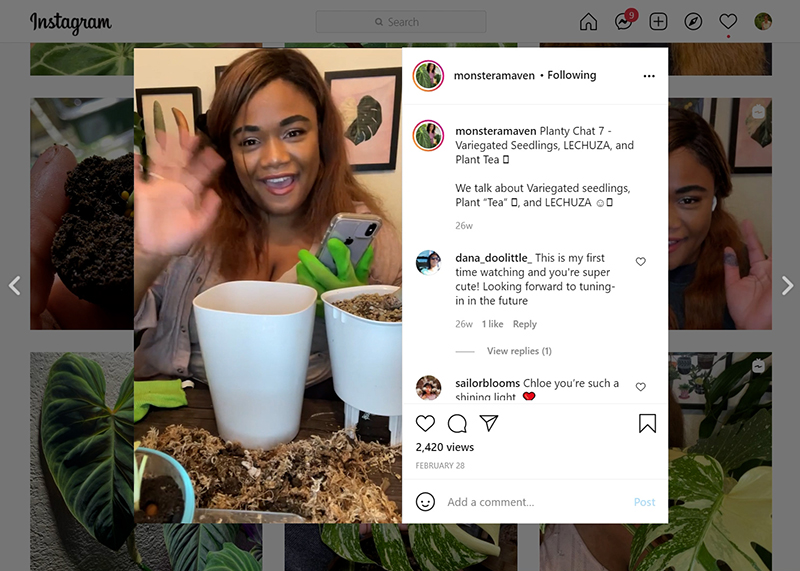 She's now taken her lifelong love to a new level as a personal plant consultant. On occasion, she holds plant sales where proceeds benefit deserving non-profits.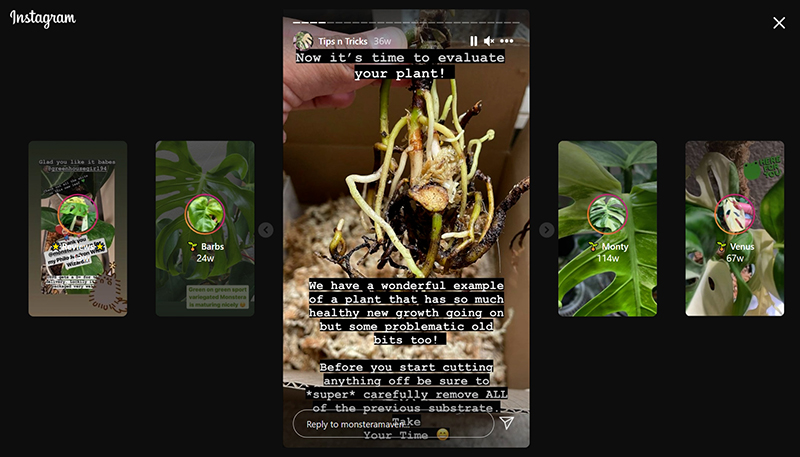 She's very close to her family, too, joining her mom, dad, and younger brother in the family's 30-year-old business, Austin Rising Fast Motor Cars.
When the day's work is done, though, she's headed to her Instagram plant pals. "In my houseplant community with the pandemic and everything, I've seen an influx of new plant parents. Just watching them use plants as a space and as a medium for peace and self-reflection and calm has been really rewarding. That's what plants have always been for me as a haven, a place of respite. And to see other people get into that, too, as an escape, has been really, really lovely."
Watch now!
Thank you for stopping by! Linda
Comments