March 15, 2022
Busy Bees
Rolling out the white floral "carpet," my Mexican plum hosted Spring 2022's opening ceremonies to welcome this year's first Monarch butterfly in my yard.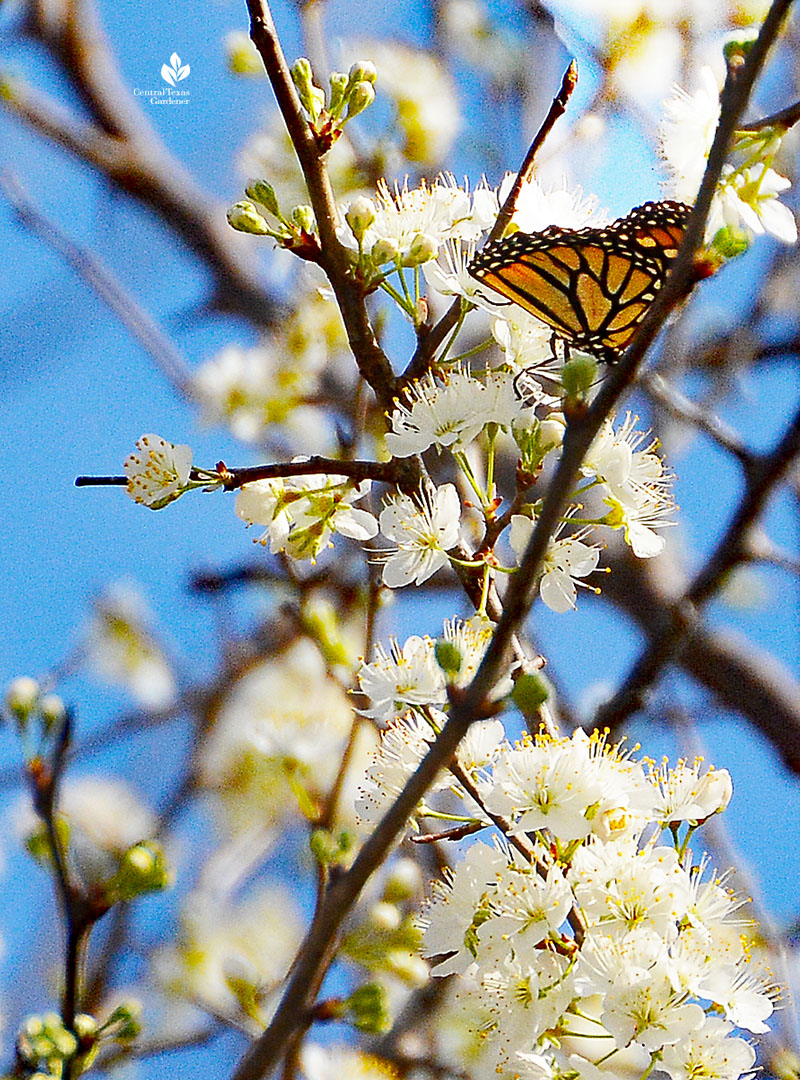 Other keynotes included a huge hummingbird moth that I spotted from a window. By the time I got outside, it was on its way, but Red Admiral butterflies and all kinds of bees fearlessly whirled around me.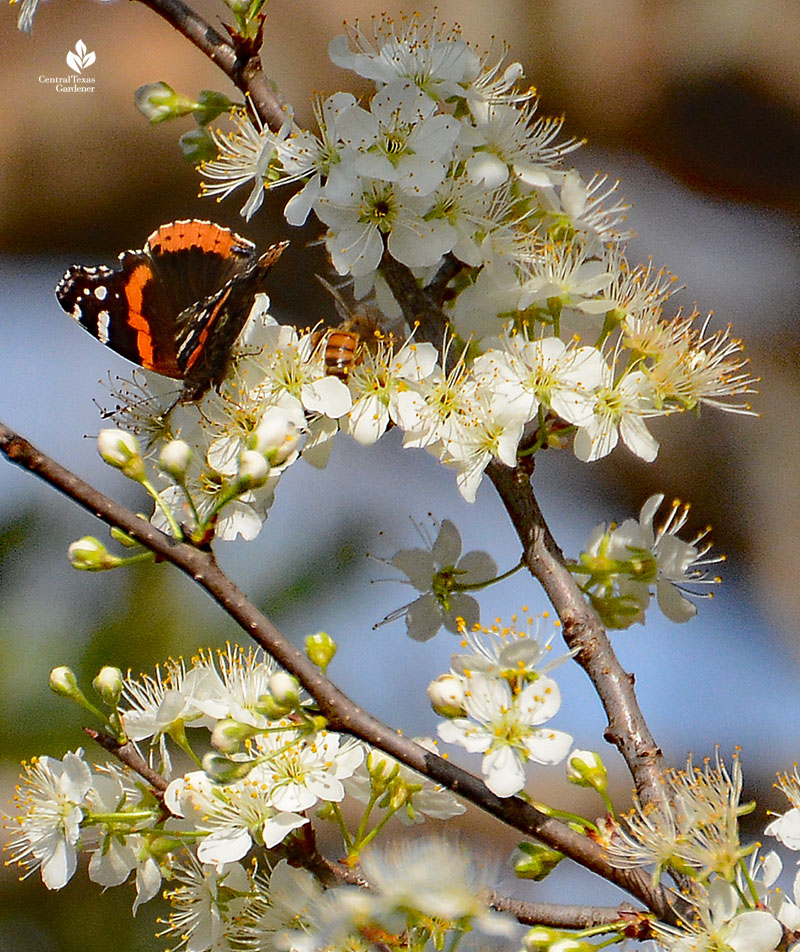 Earlier on March 3, the Austin City Council approved a resolution supporting the certification of Austin as an official Bee City USA affiliate. An initiative of the Xerces Society to bring communities together to sustain pollinators, Bee City USA provides online resources to help you attract pollinators.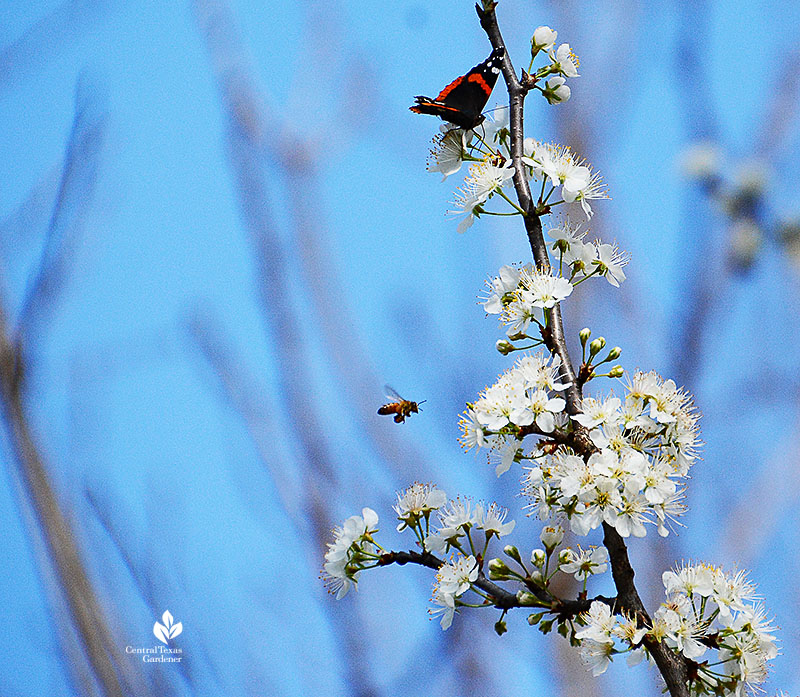 The Xerces Society provides state-by-state lists of pollinator-friendly native plants.
Pretty much all year I've got something growing on to please the bees and other pollinators. Fall-blooming fragrant mistflower is a favorite for many, including this hover fly.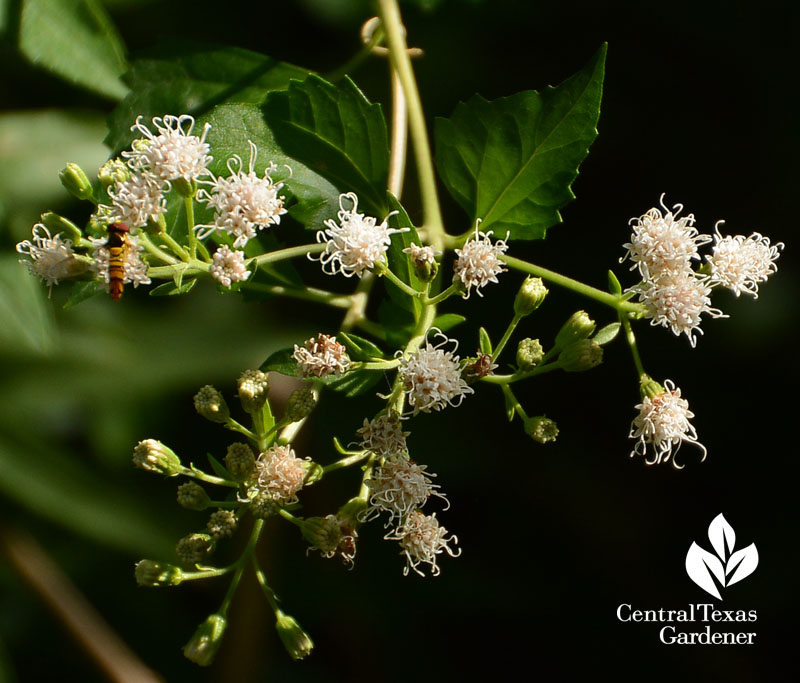 One of winter's reliable food finds is the regular old dandelion.


As kids, we delighted in whooshing away their silky, starry seed heads. And then, what happens? As adults, we are bound and determined to eradicate them with ferocity. Not only can we eat the leaves, its roots benefit the soil, and the cute yellow flowers feed those pollinators you want to attract!
Landscape architect Rachel Raise, one of the busy bees behind the Bee City initiative, joined CTG's host John Hart Asher last fall to zoom in on plants designed for specific wildlife demographics, including bees. Get planting ideas from bluebonnets to sunflowers!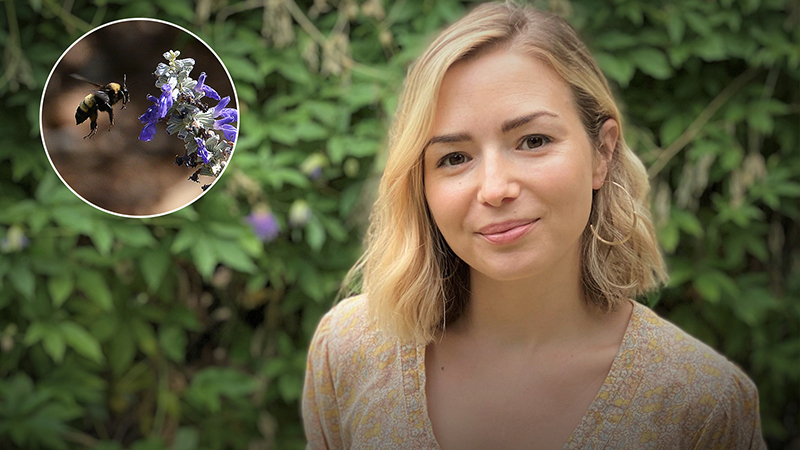 Leslie Uppinghouse, horticulturist with the Lady Bird Johnson Wildflower Center, showed us some of her easy-growing native plants for bees. By the way, the Wildflower Center's Spring Native Plant Sale starts March 25!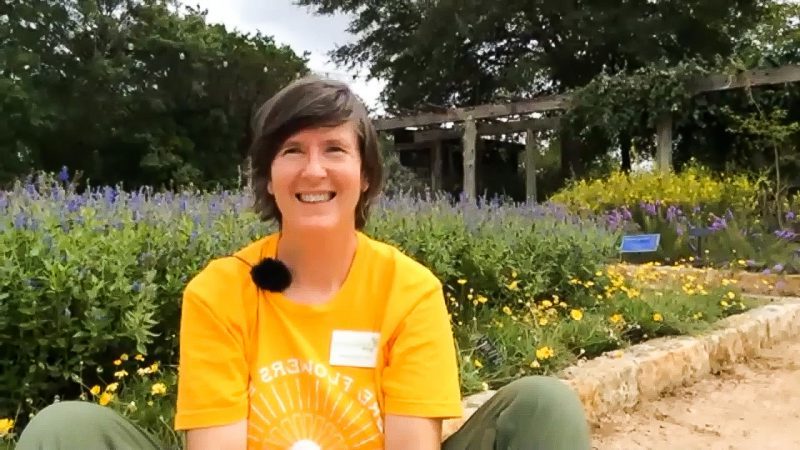 If you've got bunches of honeybees in your walls or swarms in your trees, find a bee rescue group in your community: there are many. They'll be thrilled to give these valuable pollinators a new home to do their job.
Go behind the bee rescue scene on a new PBS series, Charlie Bee Company! Energetic (and delightful punster) New Braunfels beekeeper and bee wrangler Charlie Agar takes us along with him to save bees and sweeten teas across Central Texas. Check your local listings or stream now to share the stings and the glories, the philosophies and stories—and learn a lot about bees, too!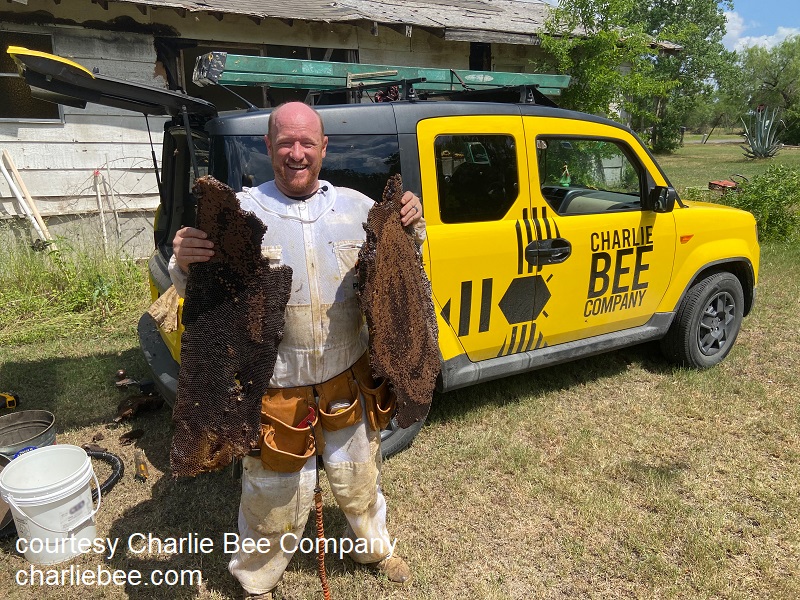 And, bee-lieve me, you don't want to miss NATURE: My Garden of a Thousand Bees. Personable and witty wildlife photographer Martin Dohrn documents more than 60 species of bees (mostly wild, solitary bees) in his small urban British garden, his refuge during the pandemic.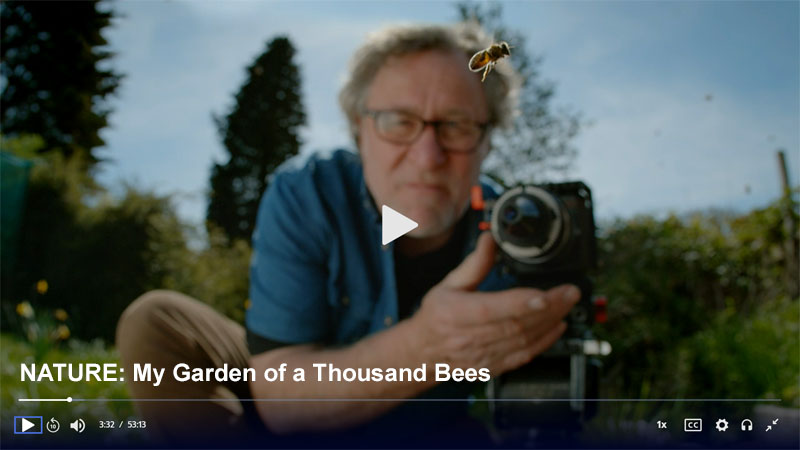 With one-of-a-kind lenses he forged on his kitchen table, Martin captures every minute life cycle detail, including bees laying their tiny eggs. Perhaps the most powerful observation is how his slightly wild flower-filled island stands out among a grid of streets and buildings—a refuge always for pollinators. Stream now.
Thanks for stopping by! "Bee" seeing you. . .Linda
Comments