May 3, 2022
New Yard, New Gardeners Starting from Scratch
Every new garden is exciting, but the first one is the most memorable.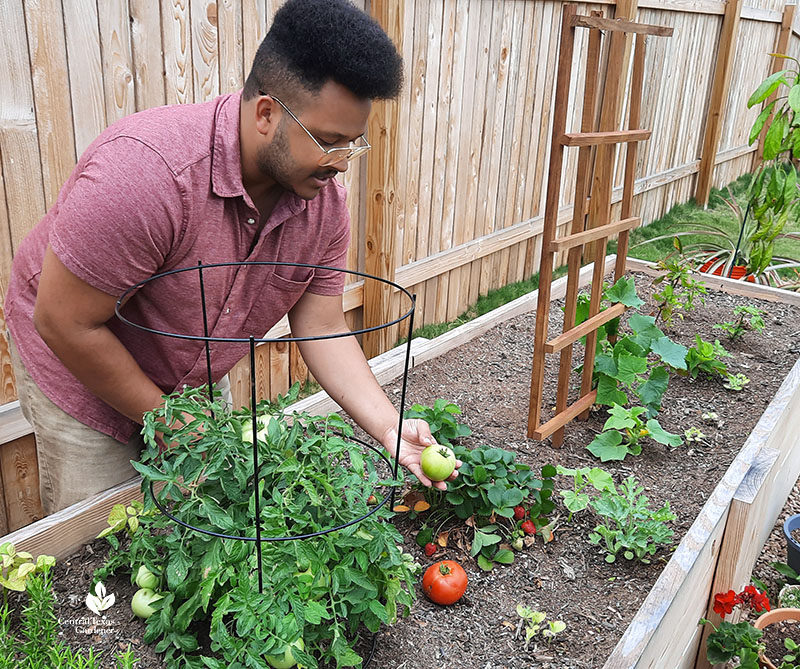 Minutes after Charity and Matthew Wottrich (and Sugar!) moved into their new Manor home in fall 2021, Matthew was planning gardens to grow up with their first baby on the way (expected due date May 5!).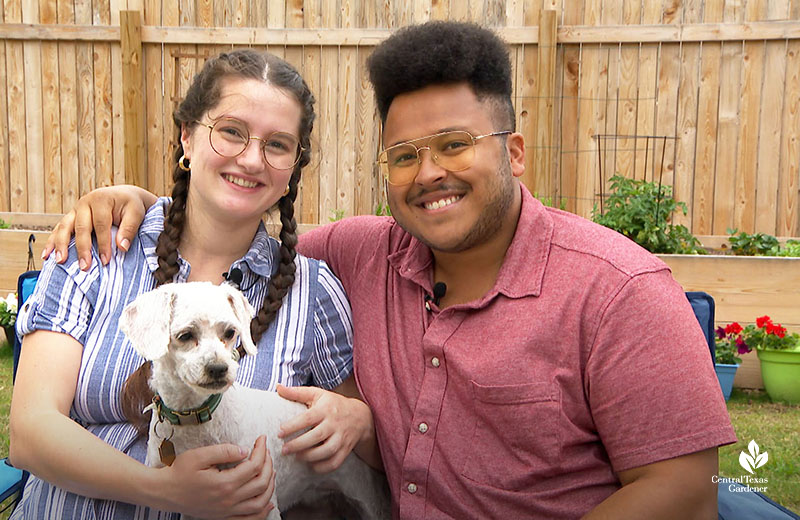 This is actually their second yard. "When we bought a home in February of 2020, I still had very low interest in gardening, but I bought a couple of fruit trees for my wife as a birthday gift," Matthew said. Then, he started watering them and adding companion plants. "And I found that gardening was just super therapeutic. I needed something to get away from my computer and just get out a few times a day."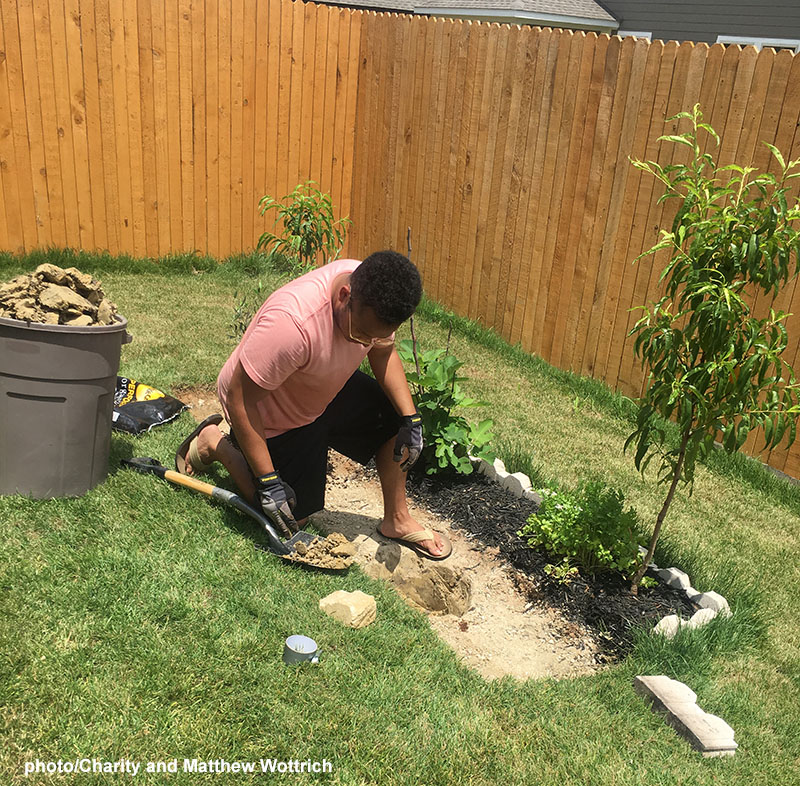 v
A software engineer, he was still working from home last fall while offices were closed. Since he didn't have the lengthy commute, he gained some pre-dawn time to tackle the new yard's big blank rectangle of freshly laid turf. He softened its fence lines with peach trees that ultimately will provide shade and fruit. Little fig trees dot each side of the yard.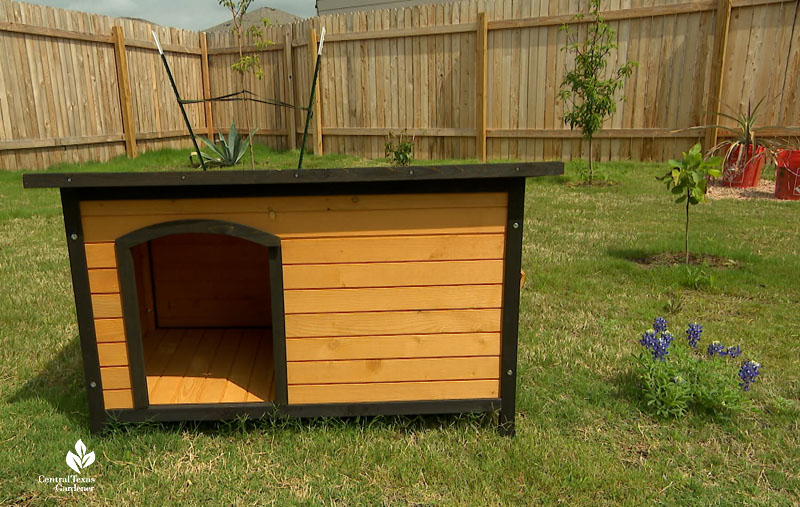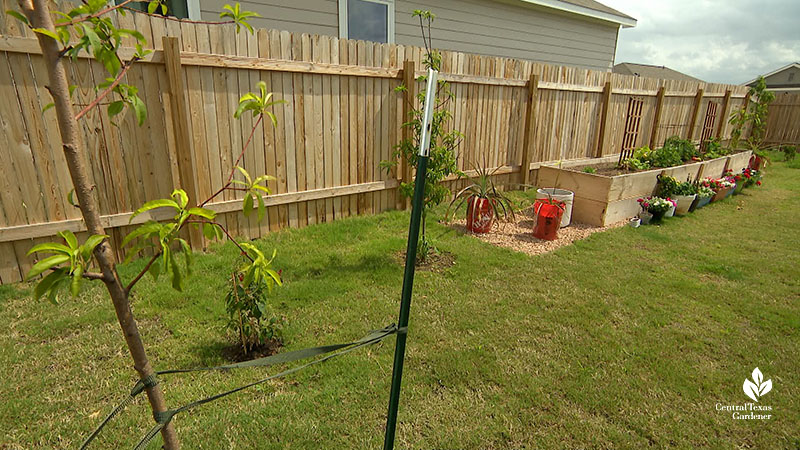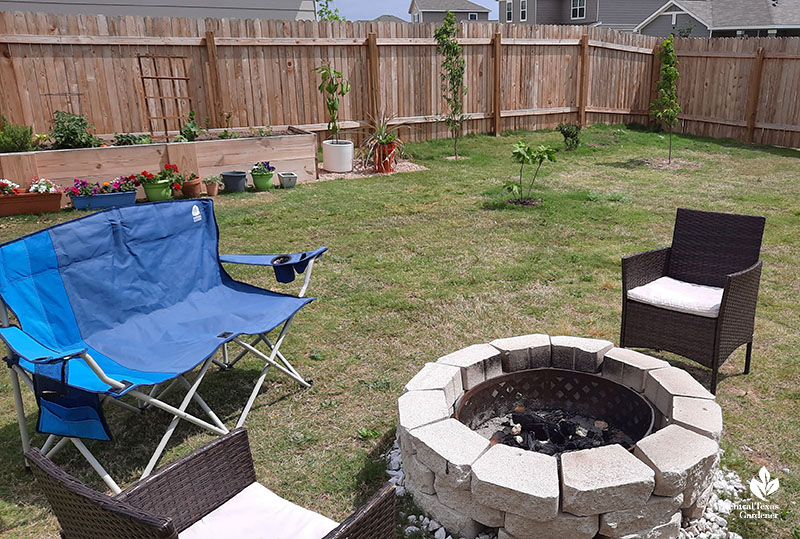 Their Manor lot sits on heavy clay soil that's poorly drained, so Matthew built a tall raised bed to grow vegetables and herbs.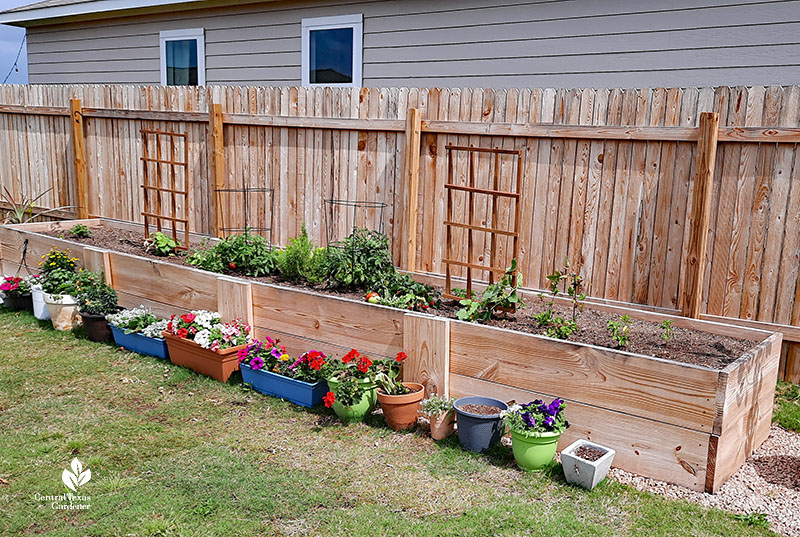 "I spent some time digging out a 30-foot-by-four section of my backyard, lifting up the turf, putting down a whole bunch of granite to improve drainage so that water isn't directly touching the pine boards. The right way to go about filling that would have been to buy high quality soil from a soil yard and cut that with compost," he said. (Soil yards often carry a well-draining blend for raised beds.)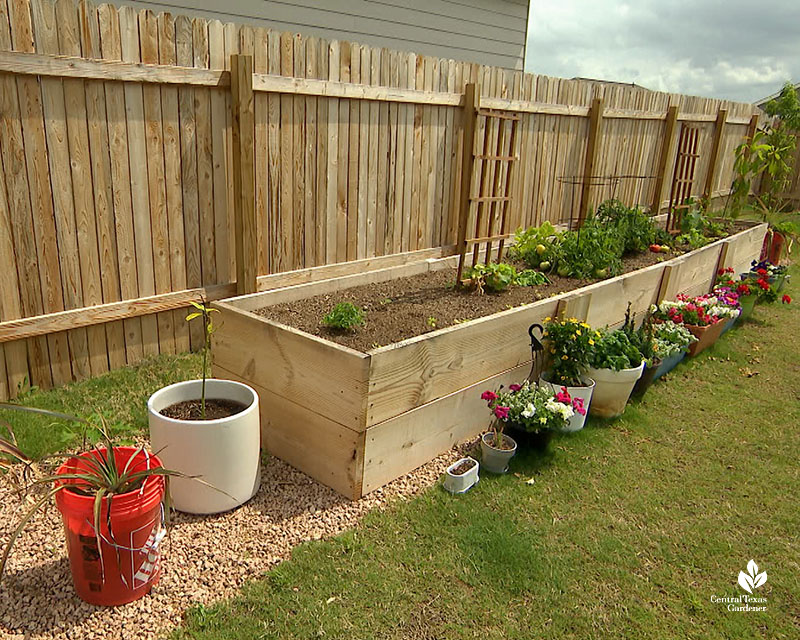 But with an HOA and houses still being shown in the neighborhood, they didn't want to dump five cubic yards of soil onto the driveway. Instead, Matthew hauled home piles of bagged garden soil and potting soil (a mix of compost, perlite, and coir) and turned in some compost.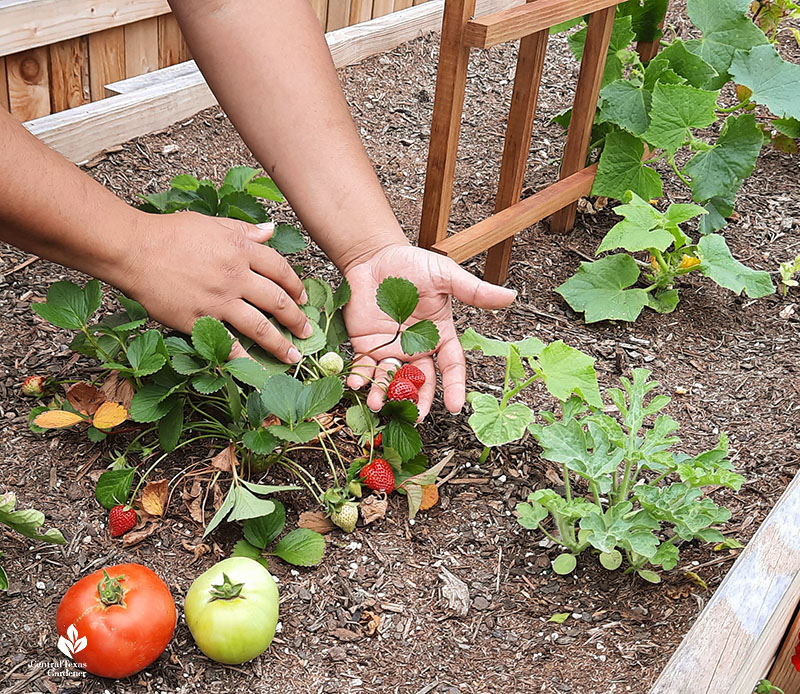 Another reason for the raised beds is that neighborhood runoff during heavy storms flows like a little river down the middle of their sloping yard. It's easy to see the gradation when throwing a ball to Sugar (sporting her new summer haircut).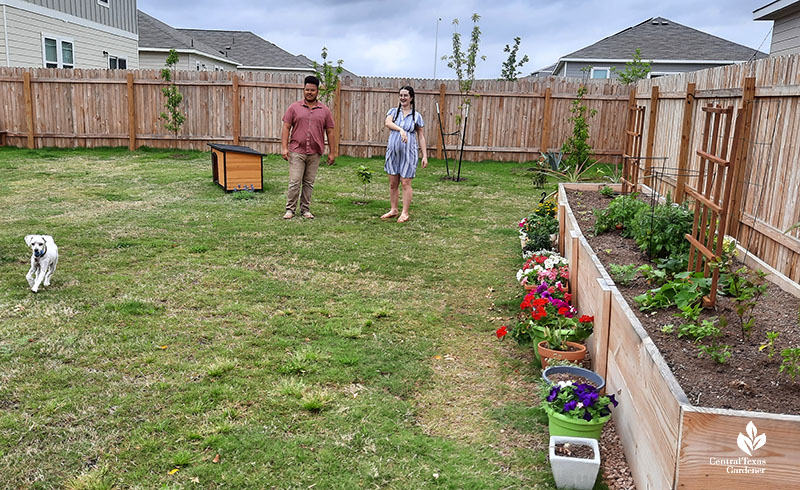 Eventually, Matthew's planning to build a French drain. For now, he wants to avoid contaminating his smaller fruit and vegetable crops with any herbicidal runoff.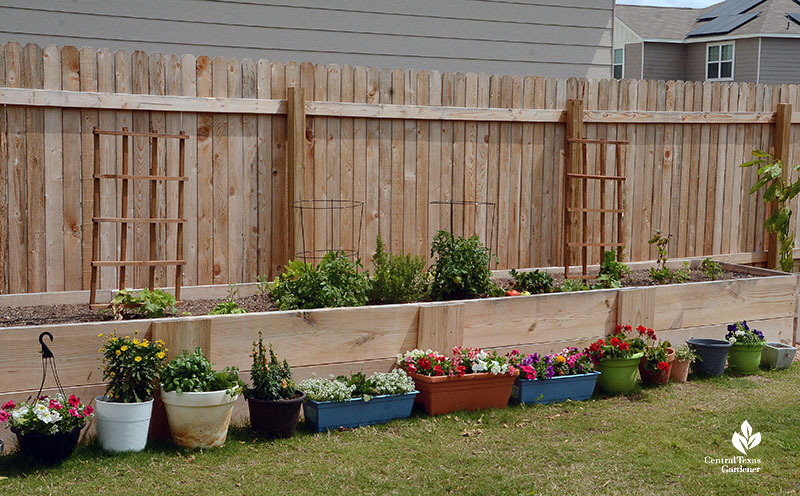 Their first house had such a small yard that Matthew grew some crops in containers. "He's grown sweet potatoes and potatoes in just five-gallon buckets," Charity said. Containers also allow him to experiment with food scraps like avocados and to bring cold-tender plants inside in winter.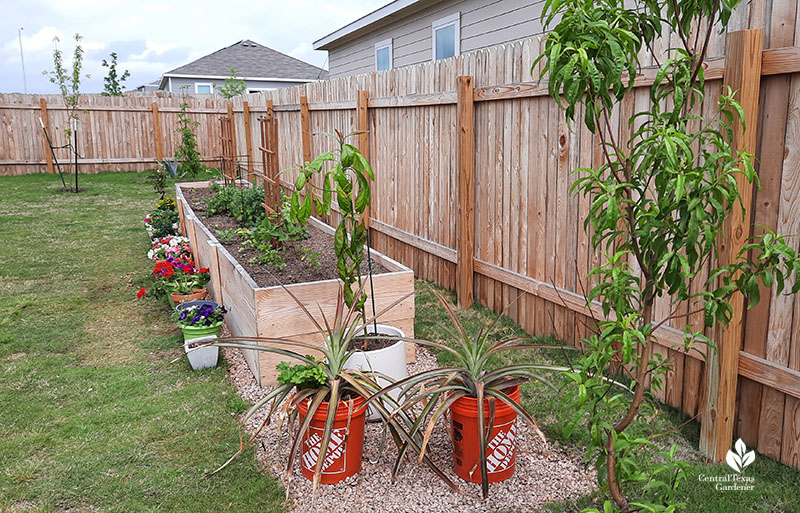 Most special are the pineapples they brought home from a pineapple farm in Maui last year. When they married in 2020, pandemic restrictions scratched honeymoon travel, so instead, they made it an anniversary/honeymoon trip in 2021. Once these pineapples grow their own fruit, they can propagate them for the wedding anniversary gift that keeps on giving!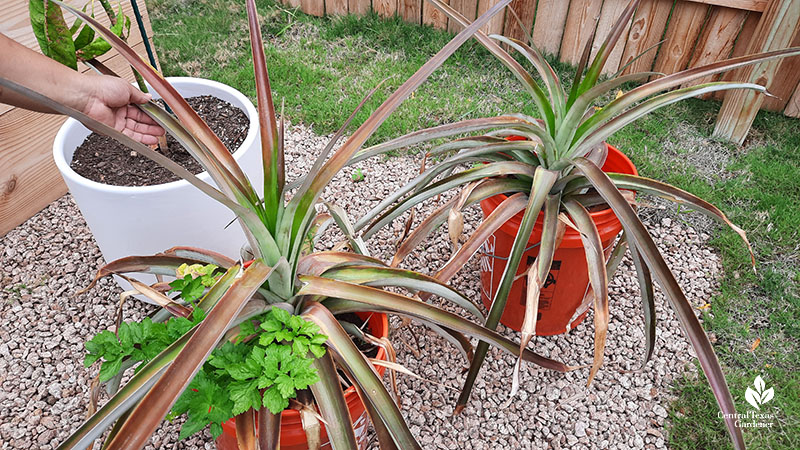 Matthew documents growing the pineapple crowns on his YouTube channel, Austin Texas Gardening, where you can also watch his how-to steps and garden progress.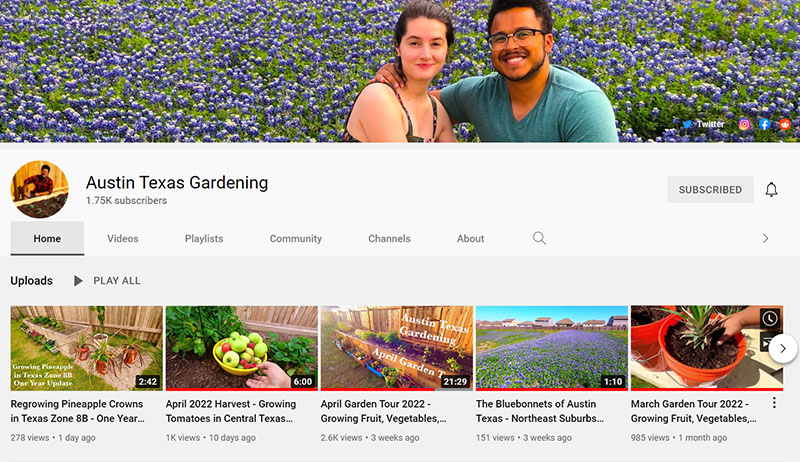 He's the first to admit that not everything works out as planned, especially since Texas weather keeps gardeners humble. Wisely, he noted, "Part of the beauty of learning as you go is that I've made so many mistakes and those have really helped me improve. . . A lot of people have this vision of it where you're like putting flowers in the ground, your trees are putting off fruit and you're just loving it and delighting in it. But gardening is such dirty and difficult work for me personally."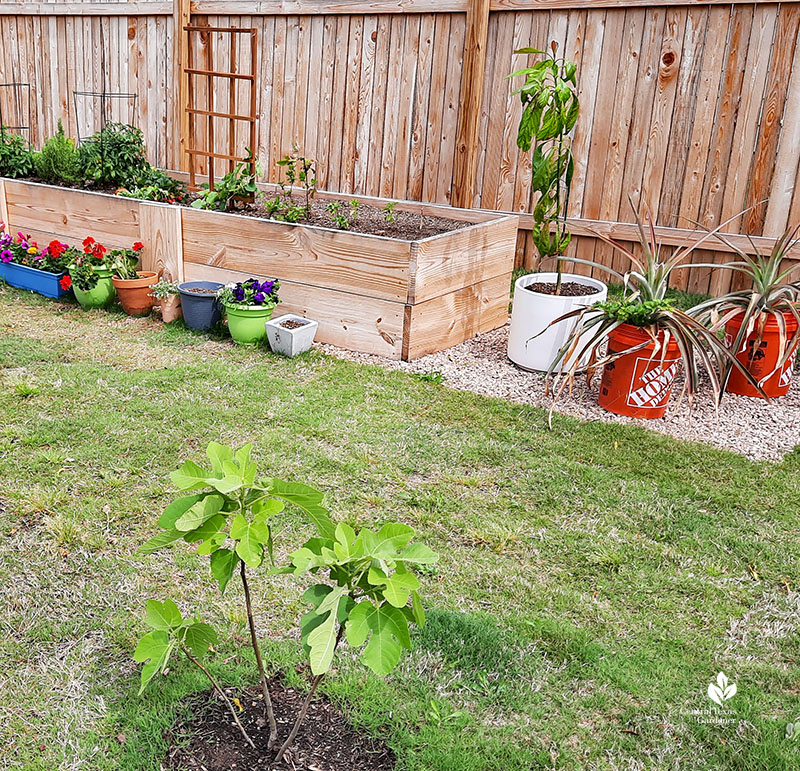 Charity's a writer and painter inspired by nature's landscapes.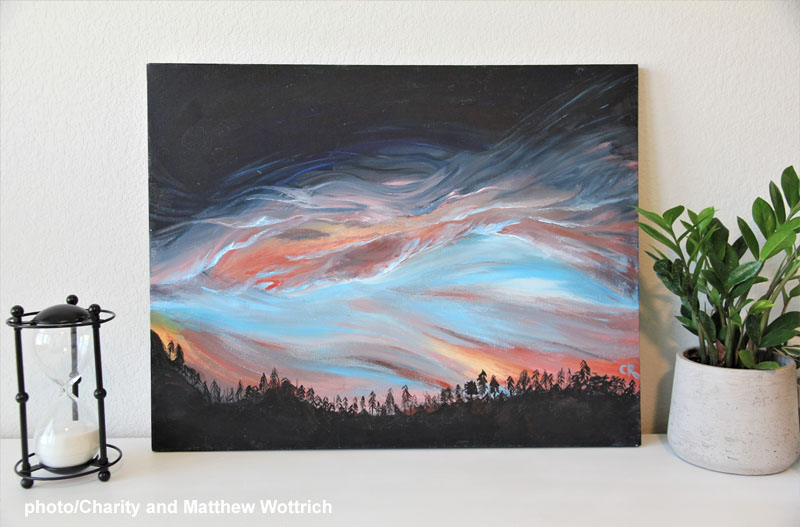 She also thinks that "gardens are such an awesome opportunity for learning and for sunshine and for exercise. So, when our little baby Eden comes, I think it'll be really awesome for her to be able to run around the yard, help her dad water and things like that. There's so much learning that can happen there."
Watch their whole story now!
Thanks for stopping by! Linda
Comments