May 18, 2022
Peaceful Island: Backyard Japanese Pond Garden
Step into a meditative journey that begins at Rajat and Lisa Agarwal's back gate. Inspired by Japanese philosophy and garden design, they explored beyond a tiny starter pond to create a peaceful island with in-ground and above ground koi ponds.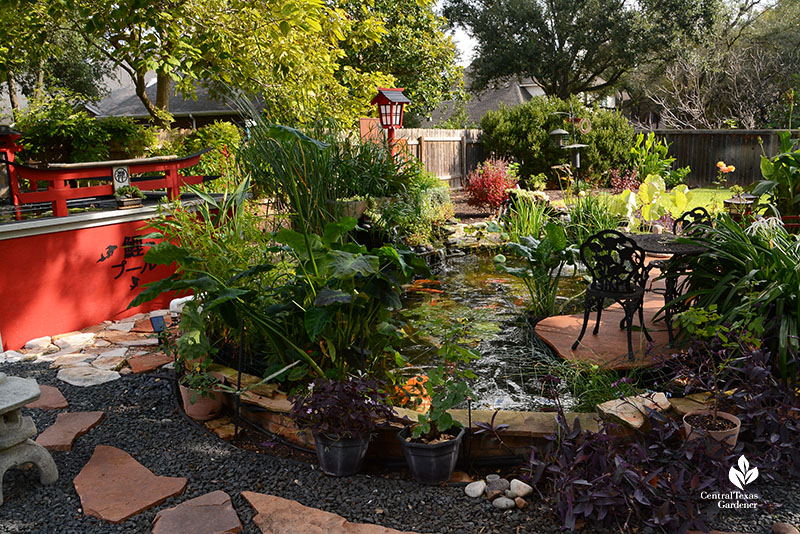 Since the CTG team met them in November 2021, they've built onto their designs with sweat equity and imagination, naming their peaceful haven "True Beauty Japanese Gardens." Sweet dog Jasper approves.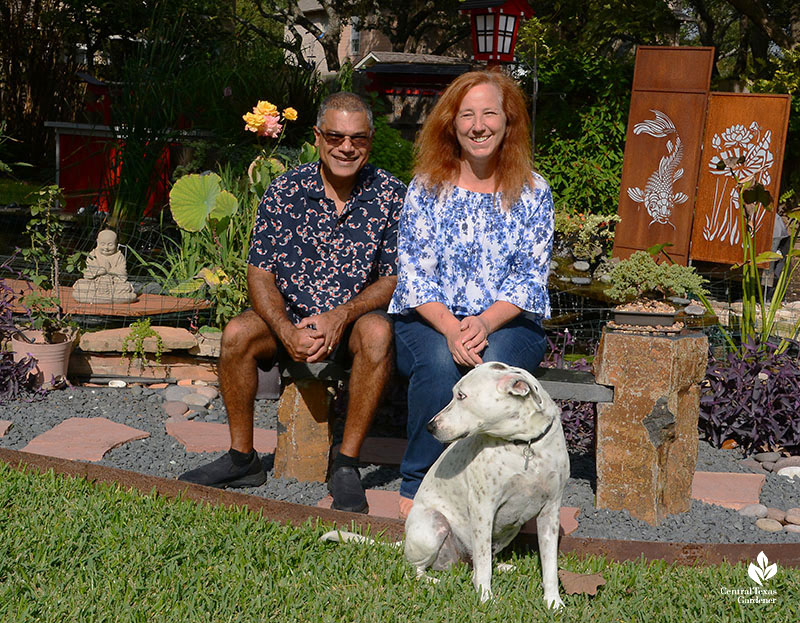 "It's actually all about feeling good and bringing a little bit of nature into our environment and feeling, you know, the feeling of tranquility in our little piece of the world. I love Japanese gardens because they are so natural and calm and peaceful and they have a property of introducing meditativeness," Rajat says.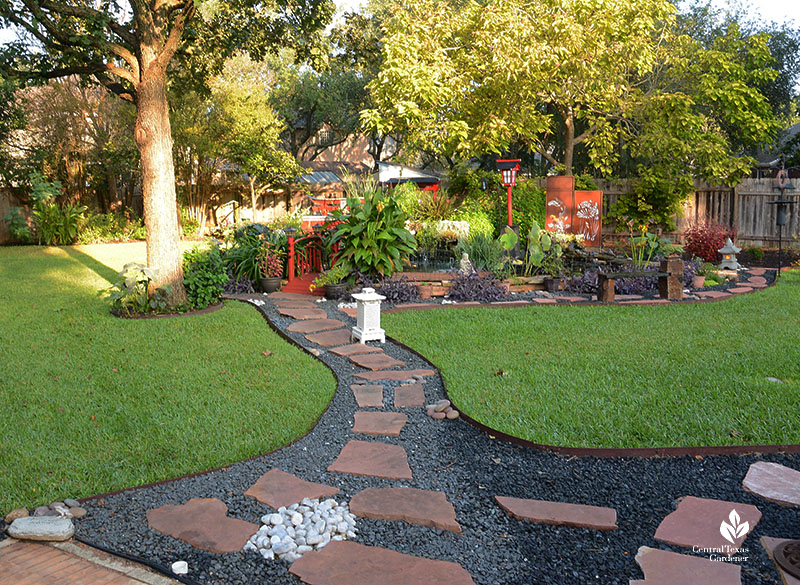 Their pond is one of 15 that you can visit on the Austin Pond Society's ZENsational Austin Pond and Garden Tour on June 4 & 5. As the director of this 27th annual tour, Rajat emphasized DIY ponds (including small ones), along with professionally built water gardens.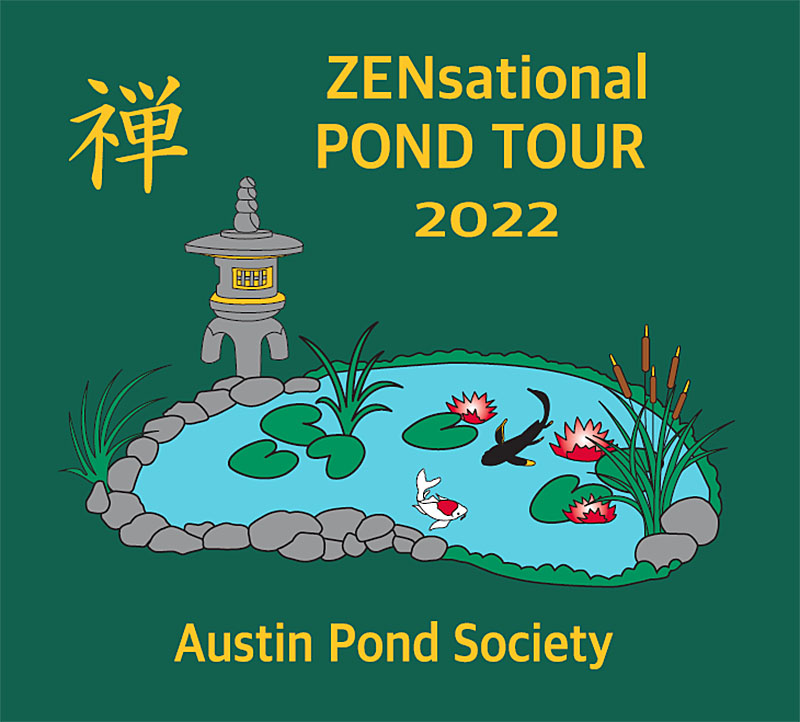 As always, you can dive in with your questions about every detail, from pond liner to pumps, filters, fish, and plants. Ponds and gardens to inspire your dreams are on tour 9 a.m. – 5 p.m. both days, with a night pond scheduled on June 4 from 6 – 10 p.m. Until June 3, tickets are $20. On tour day, purchase at any location for $25. Online payments only; no cash. Preview the gardens and order your tickets here.
Lisa and Rajat started with a preformed 150-gallon tub in 2004, so they're quite familiar with what new gardeners ponder most! Gradually, they moved up to a 6000-gallon pond and widened their philosophical horizons as they studied the concepts behind Japanese gardens and culture.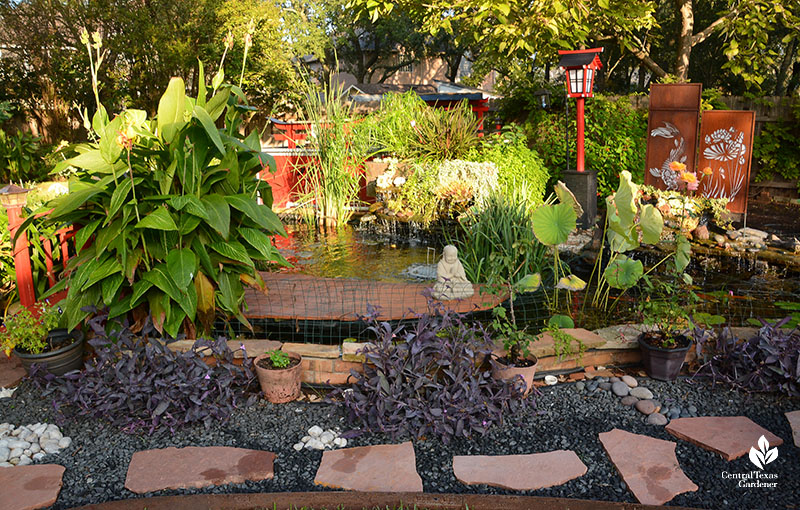 "So typically, you'll see mizu (water), you'll see ishi, which is rock, you see plants. You typically also see bridges and you'll see some representation of paths or walkways which kind of show interconnectedness with nature," Rajat says.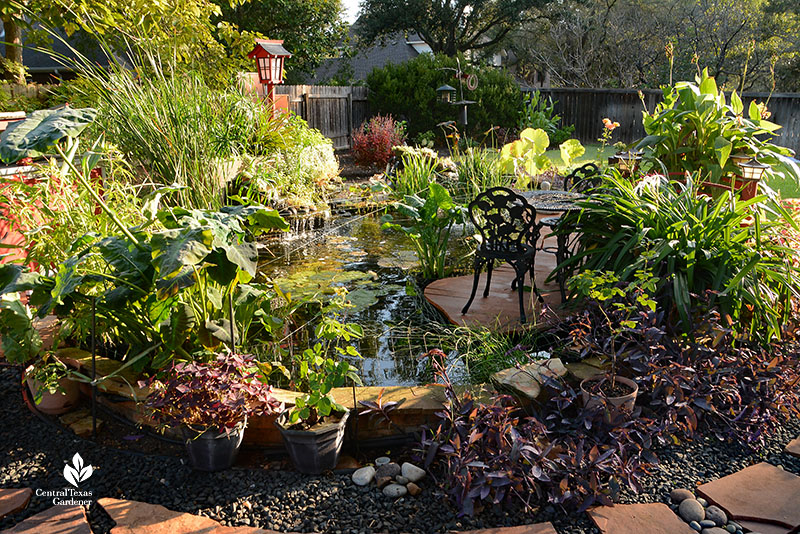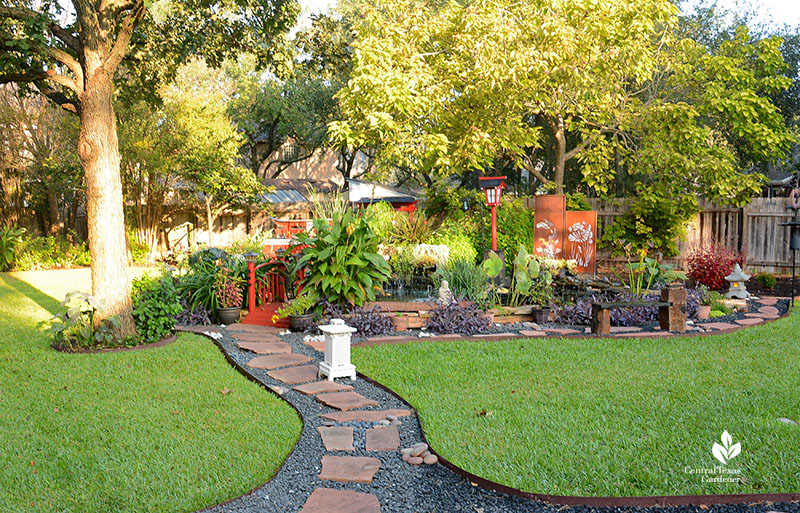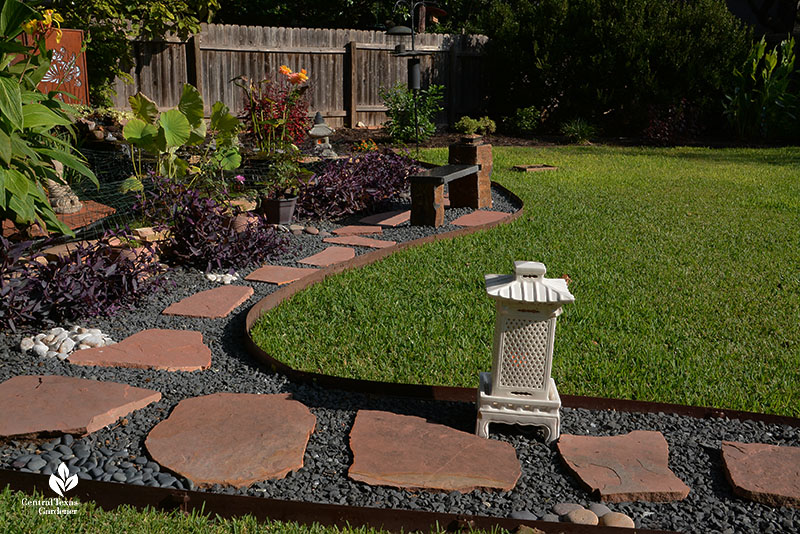 One of their daughters, an engineering student at the time, helped build the first element of their design evolution: a red arch bridge (guzei). "The characters on the bridge, they spell 'Heiwana shima,' which means peaceful island," Rajat explains.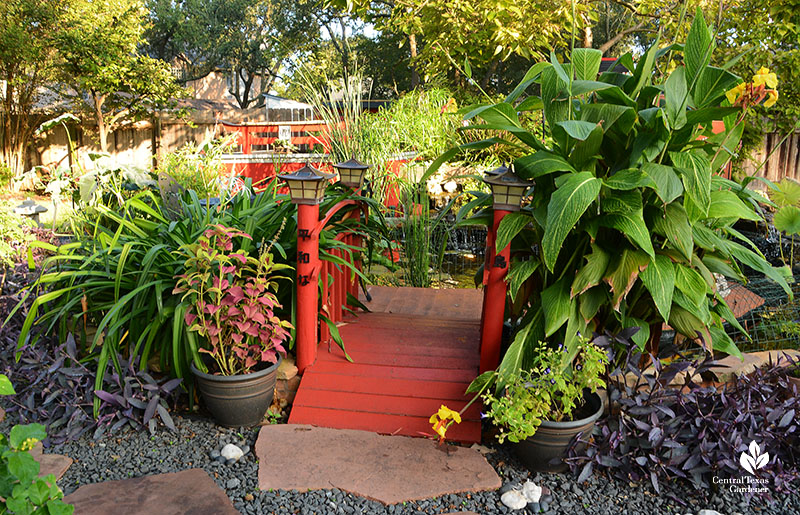 The narrow platform of the island hosts a bistro set where Lisa and Rajat can pause, reflect, and fall under the spell of gently rippling water as curious koi glide by.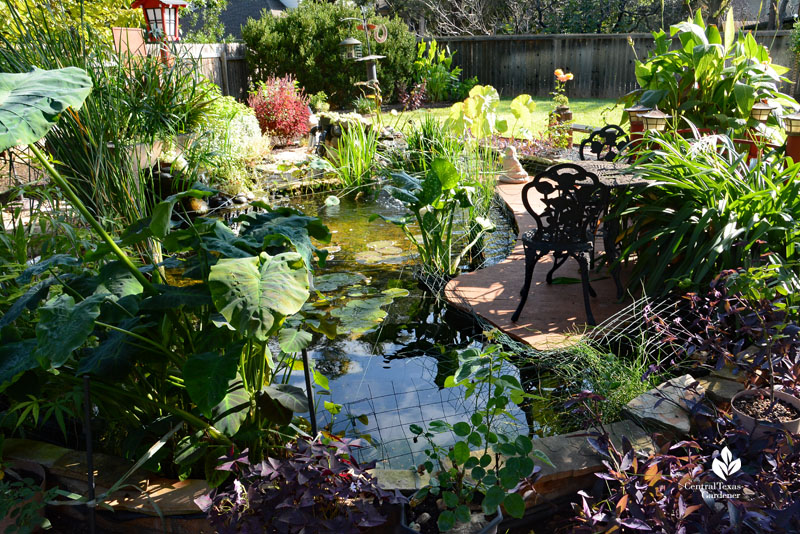 Lisa tells us why their ponds each have a black and a white fish. "Those are for the yin yang and balance. You're supposed to also have one in each pond also for warding off evil." In their case, "evil" means herons and raccoons. Rajat engineered a practical solution to protect their koi from these predators.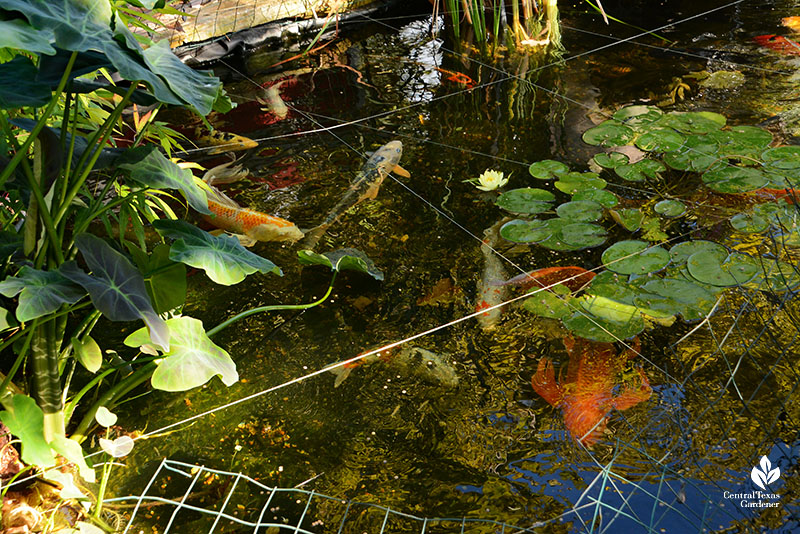 Since their yard rests on limestone, they couldn't excavate to the recommended depth of three feet or deeper to keep fish safer from beaks and paws. "And so what I did was I created a system above ground. I built a kind of a wall using just basic chicken wire, and I strung fishing lines across it," Rajat says.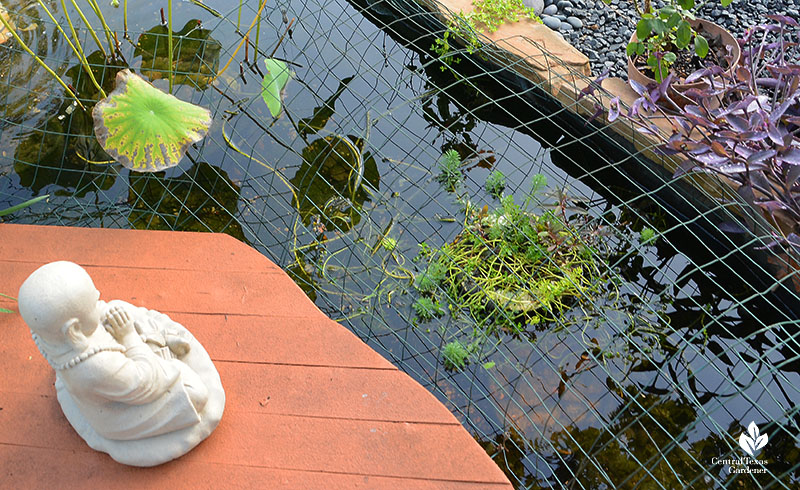 He designed his barriers to enable pond access to clean and tend to plants.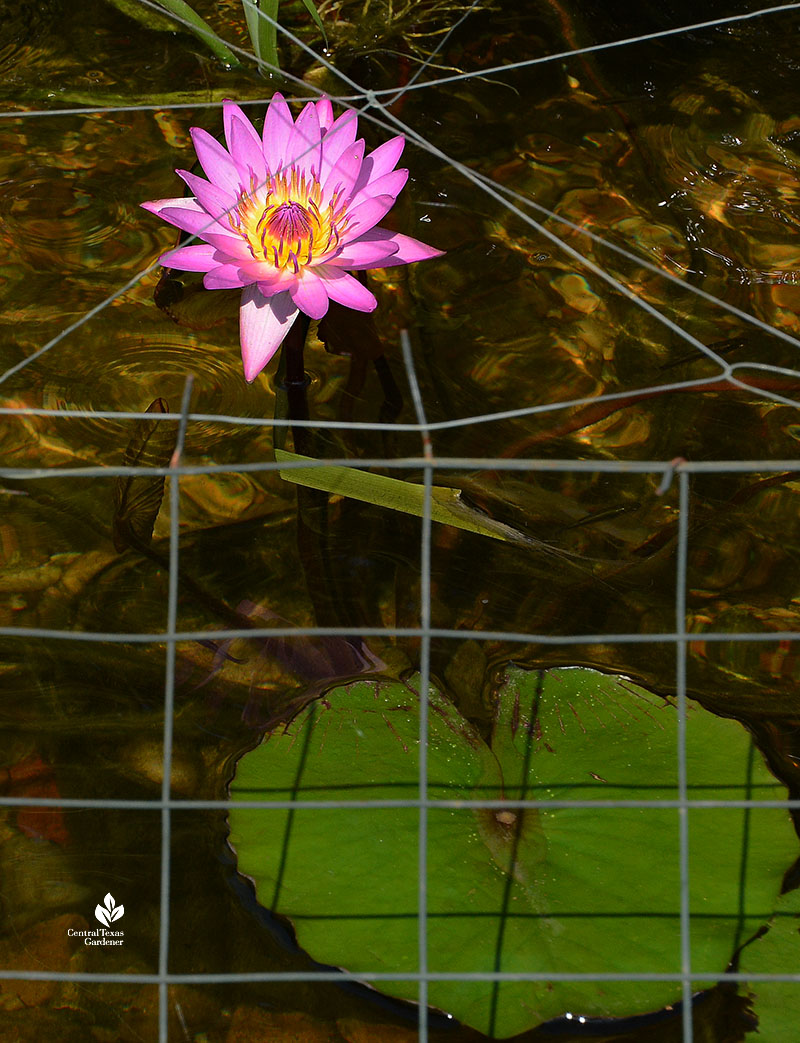 To build the waterfalls, he structurally balanced large stone slabs on top of cement blocks. He wanted them free-standing, so that if there's a shift in the ground, one waterfall doesn't cause the other one to collapse.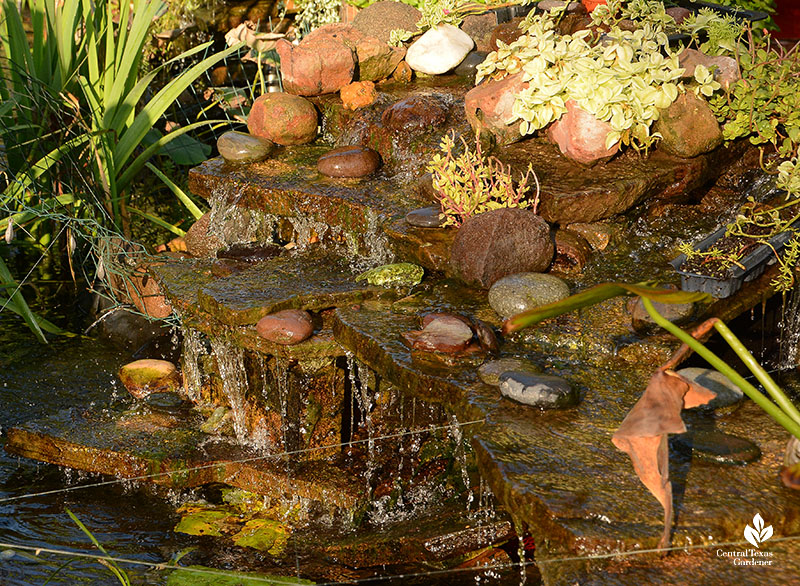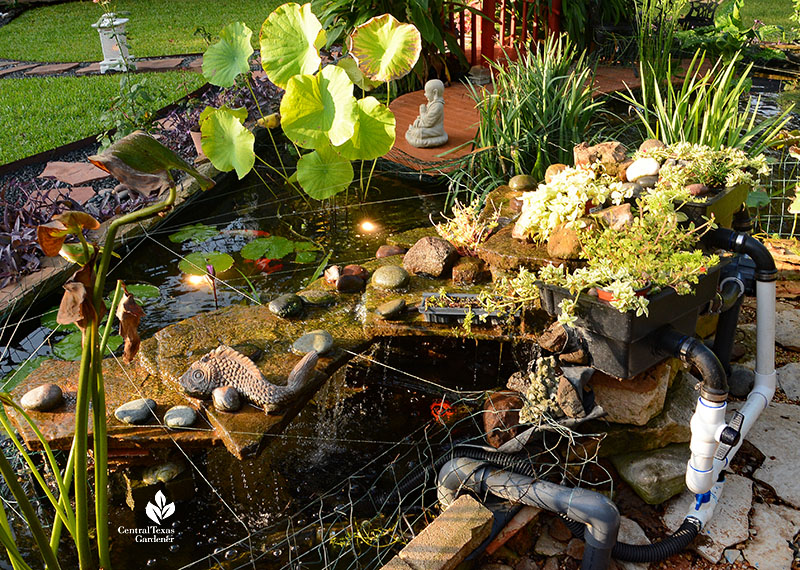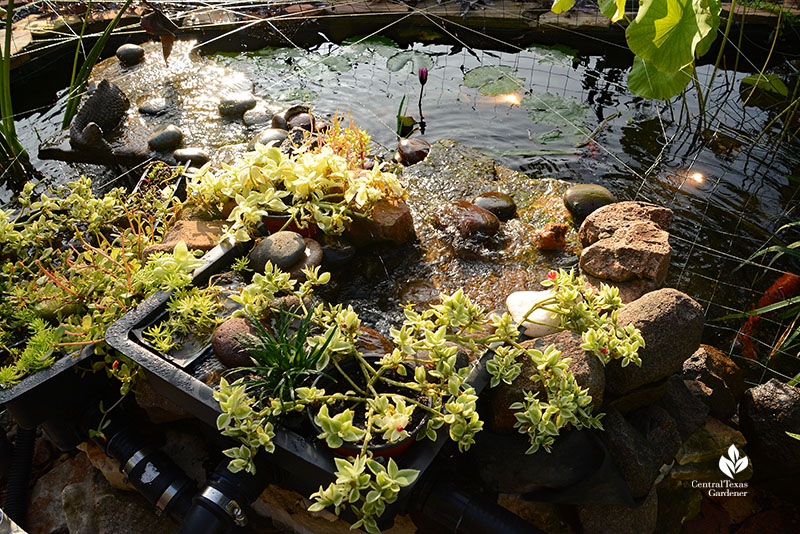 Then Rajat and his friend Ernest engineered the red above ground pool and graceful Japanese torii gates. Again, Rajat and Lisa's engineering daughter printed the Japanese characters on the white frame (Zen) and the ones below that represent koi pool (koi puro).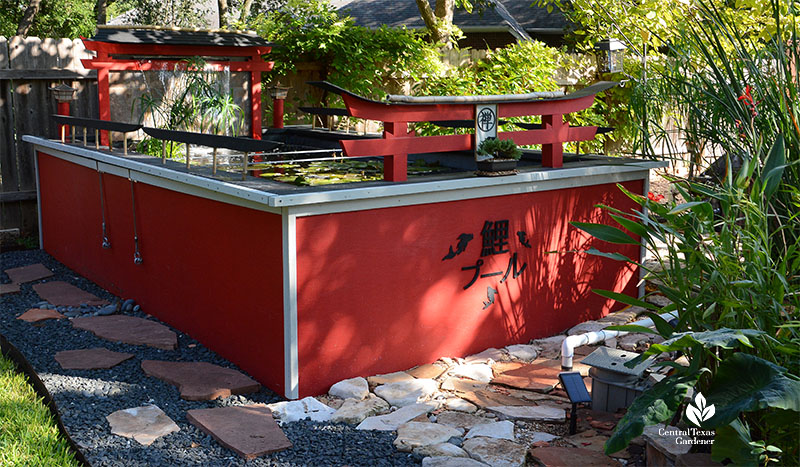 "She's been very active with us in building these the ponds and she always when she goes back on vacation, we're always doing projects around the pond and it's a lot of fun it's a family activity," Rajat says.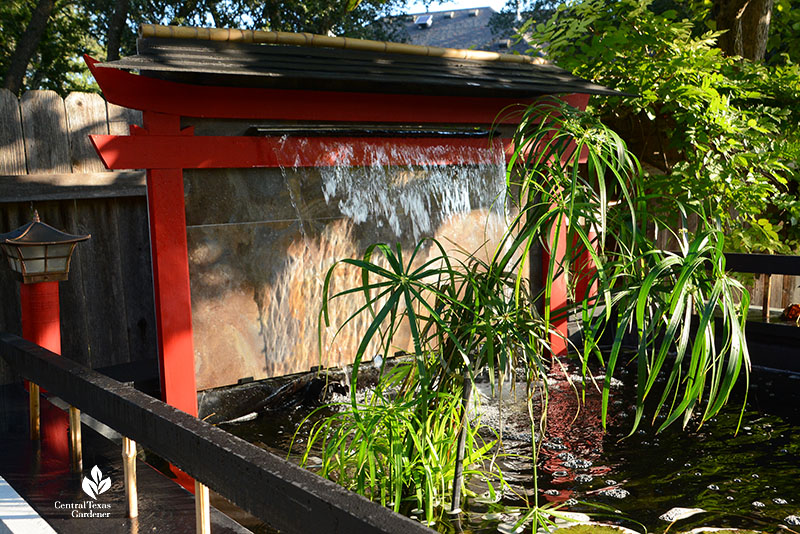 Rajat and Ernest built it out of wood, so they reinforced it with heavy duty wire across the top. The railings on the side prevent herons getting a foothold.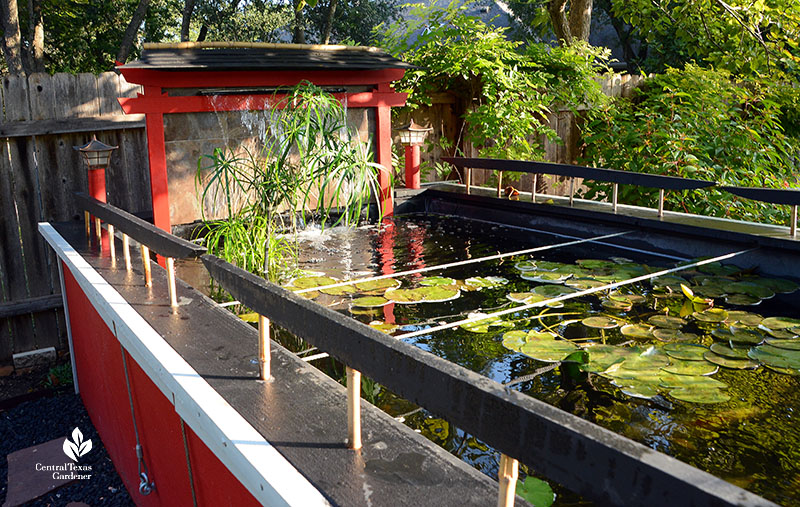 Then for Rajat's birthday, Ernest created an elegant Shinto lantern with his 3D printer. Ever-practical Rajat employs the base to hide his electrical wires!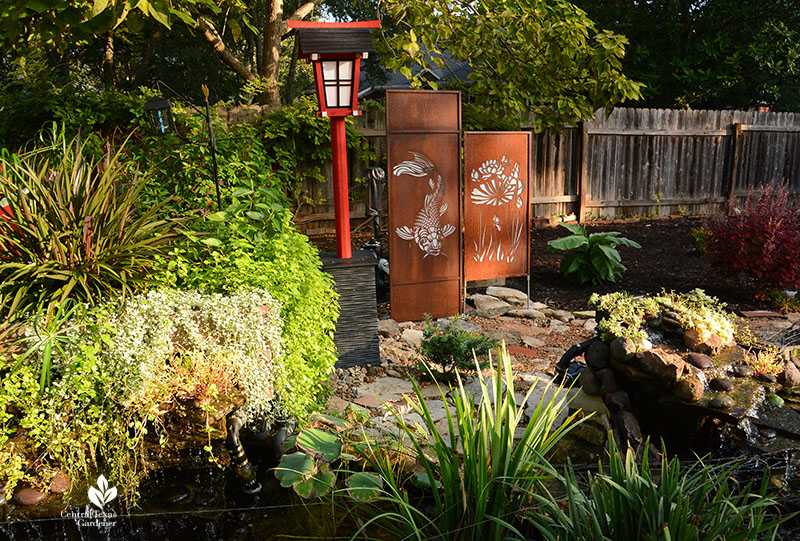 Lisa and Rajat gently illuminate the pathway with yukimi lanterns—a type of lantern which has feet—that flicker even by daylight when company's coming! They chose LED flame bulbs, which look mighty fabulous next to summertime's burgundy-flame coleus.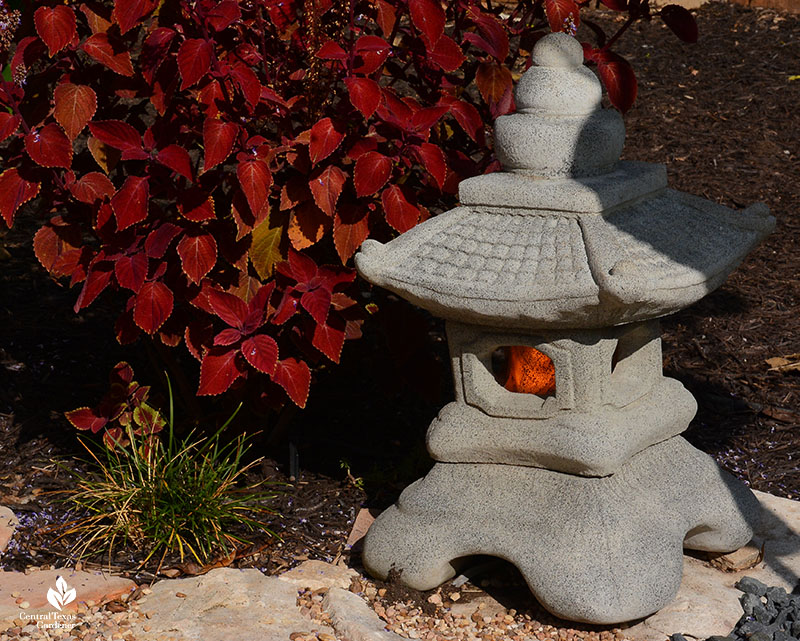 Rajat's pro tip learned in the school of hard knocks: Cover the bulb with a plastic sandwich bag if there's any chance the irrigation system will splash it.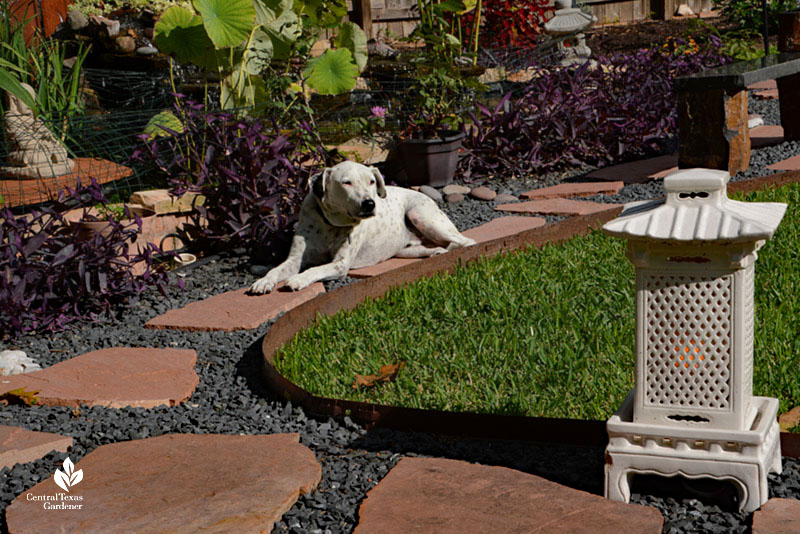 Lisa contributed another artistic touch for Rajat's birthday: cutout artistic metal panels that she found on Esty. Then she affixed paper to their backs.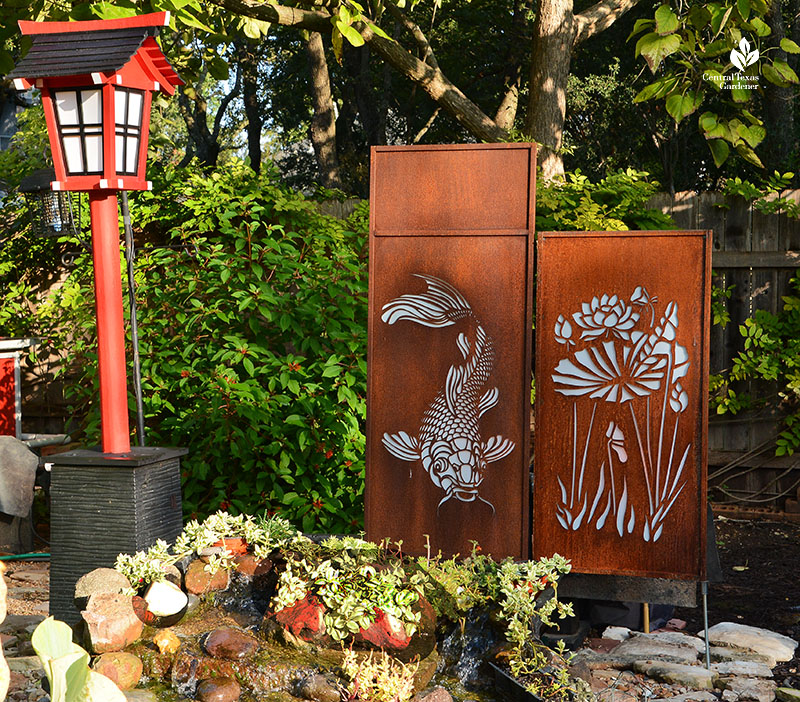 "The purpose of the panels was to cover up the filters and pumps. I would look out at our beautiful pond and for me that was a big distraction to see them," she reports.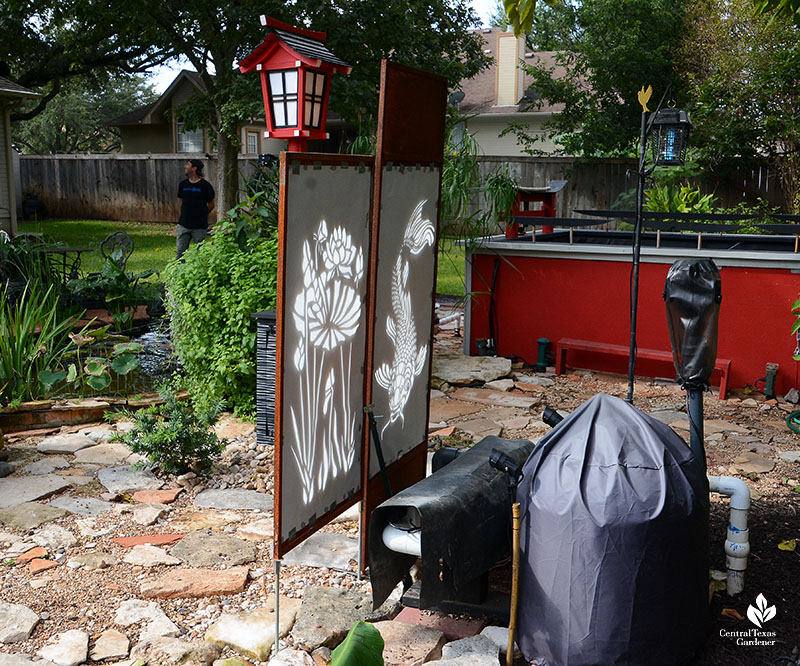 At night, it's truly a magical scene!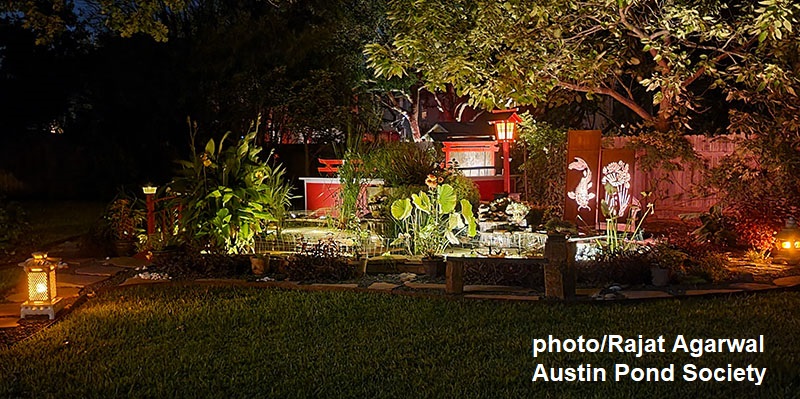 By day and night, especially during the pandemic, it's where Lisa and Rajat can step away from work—even for a few minutes—to decompress. It's a moment of introspection that we can all share to celebrate our hard labors that fulfill a nature connection just outside our kitchen door.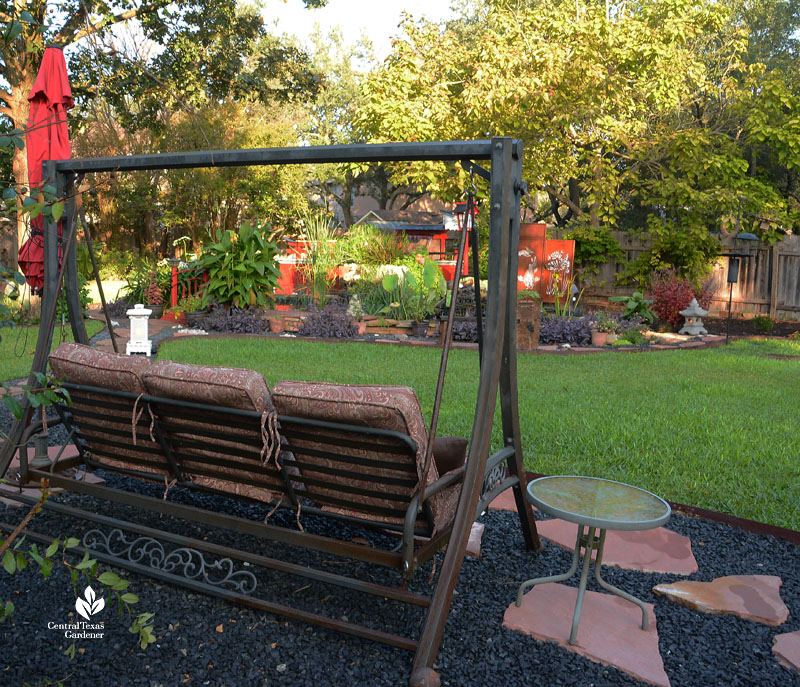 'Tropical Giant' spider lily (Hymenocallis) enchants in summer to fall. As Rajat wisely counsels, "It's meant to not be complicated. It's meant to be simple. It's about more having just enough, not too much, not overcrowding, not having too many colors. Then you feel like, yes, that's actually how it is, and that's how it should be."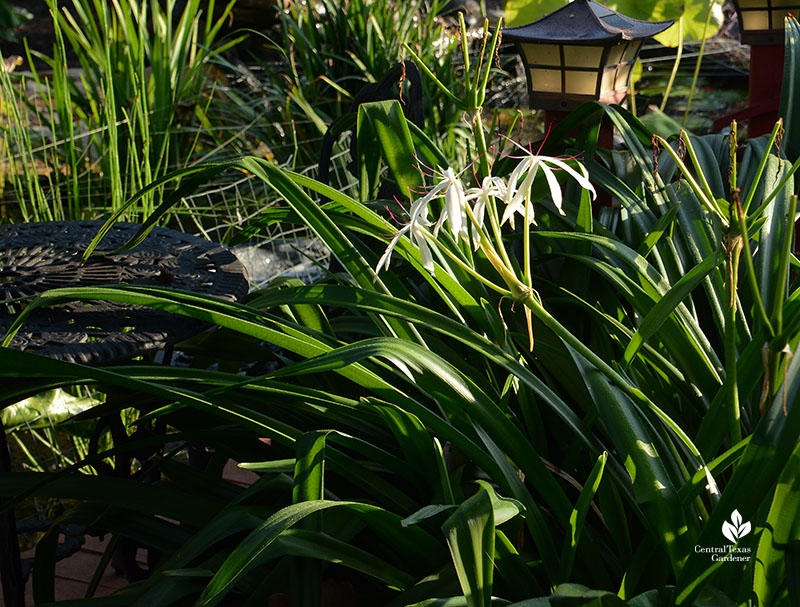 Once again, here's how to visit the ZENsational Austin Pond Tour.
Watch Lisa and Rajat's story now!
Thanks for stopping by! Linda
Comments