July 27, 2022
Finding Joy in Garden Transitions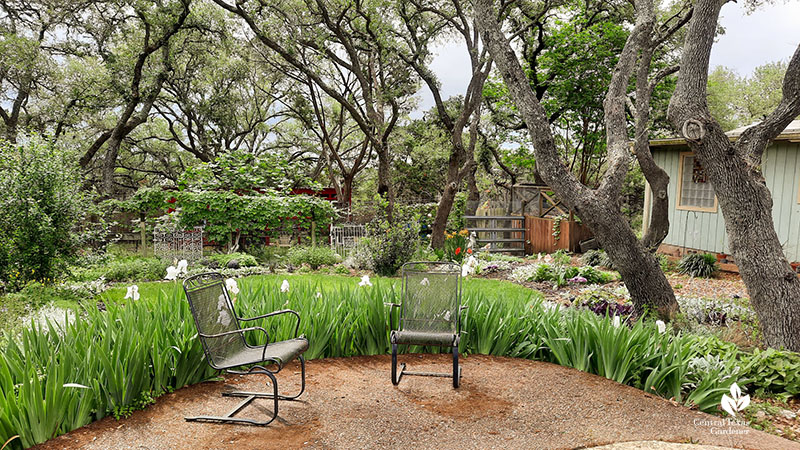 This serene view in April is just as cooling in torrid July, thanks to the embracing live oak tree in Laura and Eric Wills' garden. Of course, bearded iris and other late spring bloomers aren't flowering, but the cove's leafy structure softens the heat with minimal, weekly watering.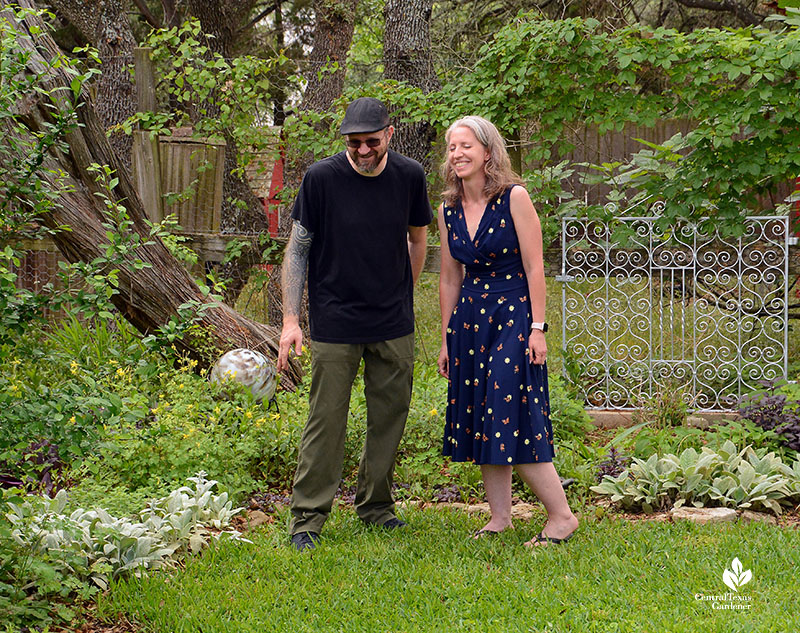 Since 2011 when they bought two acres in Oak Hill, they've responded to many weather challenges in the property's diverse spaces. Priorities changed, too, as their daughter grew up and focus shifted away from homesteading projects balanced with technology careers. One night Laura came home after a long day and knew that she no longer wanted to spend the evening canning and pickling.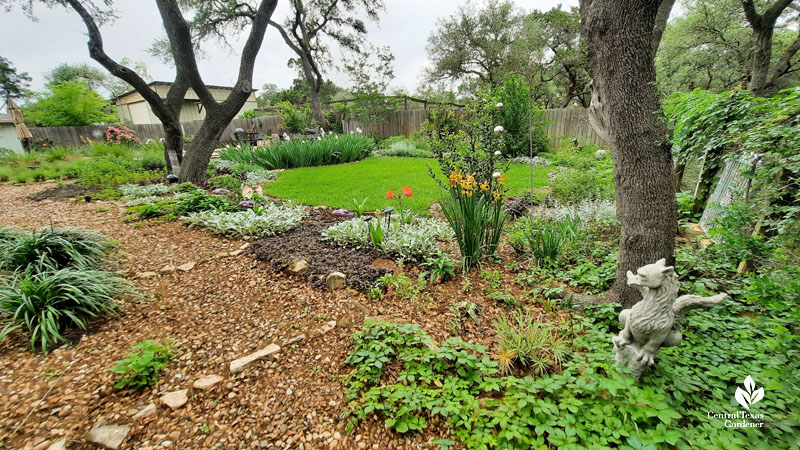 When the CTG team headed over in late April, Laura told us, "One thing I've found with the garden is it should always bring you joy. So, when something isn't, then you switch and do something else."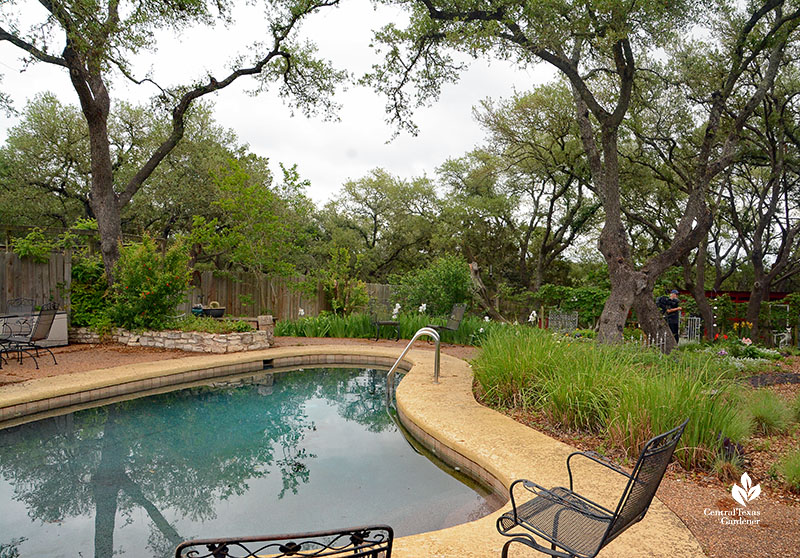 Their pool is certainly a joy right now!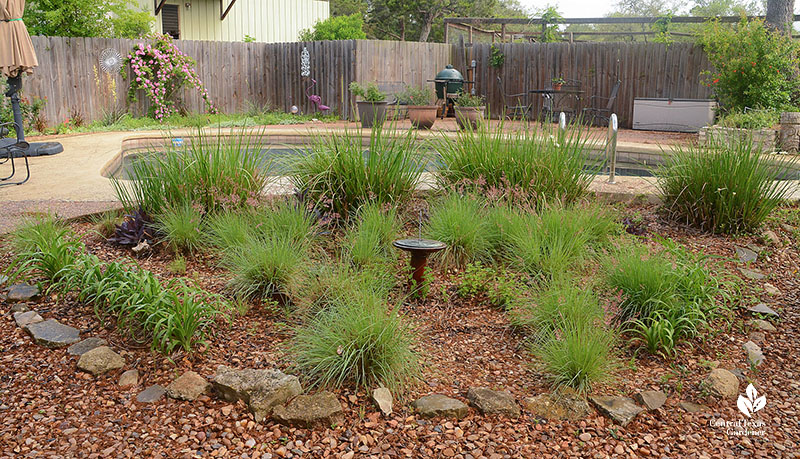 In the sunny area at its border, Laura solarized Bermuda grass in favor of unfussy bicolor iris, ruby grass 'Pink Crystals', and daylilies. None require much irrigation at all, but they do provide year-round structural dimension (except in extended hard freezes!).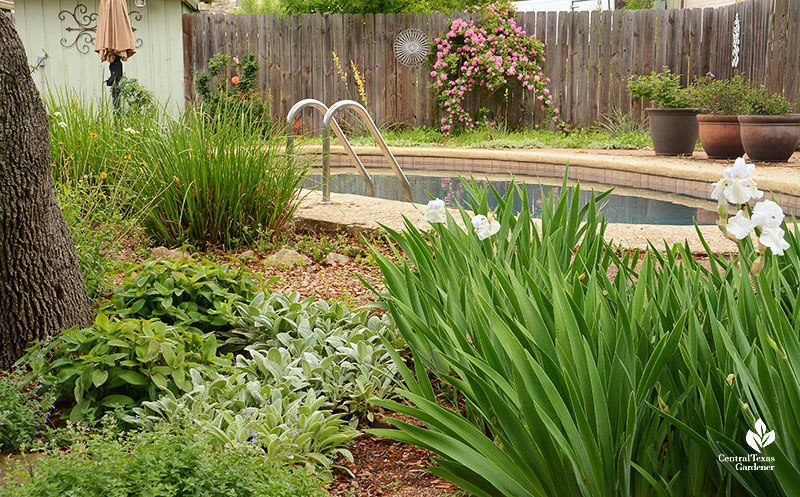 Their property is divided into many gardens. The ones in front and back share their plants with deer. So, she reserves deer-treat plants, like roses, for the fenced back areas. When they moved in, a neglected apricot-orange Livin' Easy rose thrived along the poolside fence. Later, Laura added climbing Peggy Martin rose and a Belinda's Dream. But summer's when roses go into timeout, just when the family's hanging out in the water.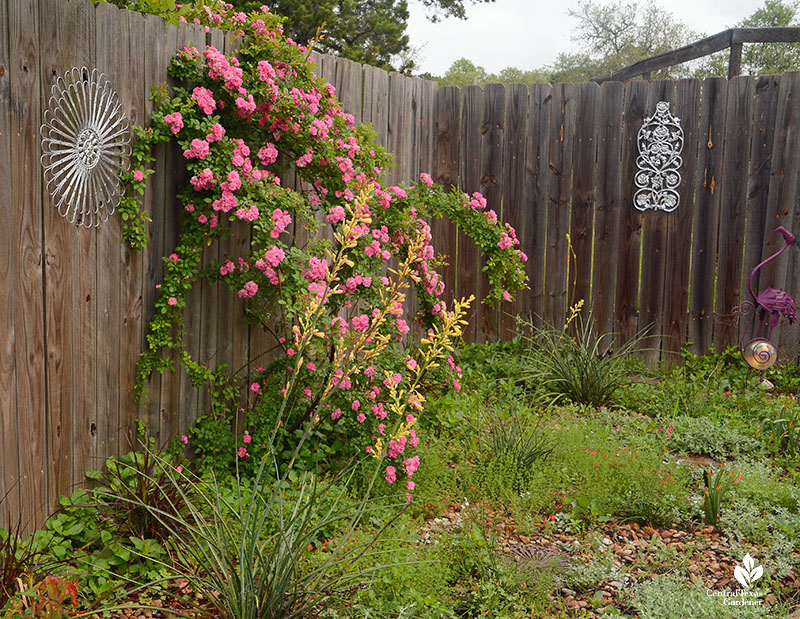 So, she kept the toughest roses and added firecracker fern, fountain grass, and Hesperaloe parviflora 'Yellow', along with other hot-weather lovers that attract hummingbirds.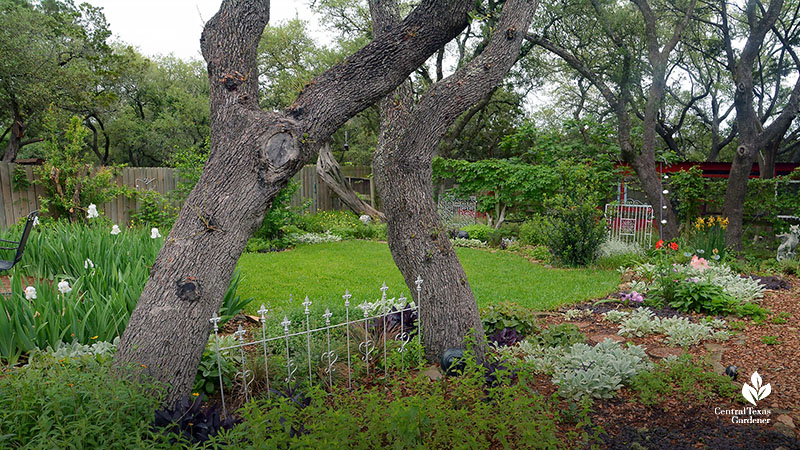 "And then in the back, it's kind of dappled shade. You come out in the heat of the summer and I wanted something soothing and cooling," she said. Even her choice of silvery garden art changes the mood.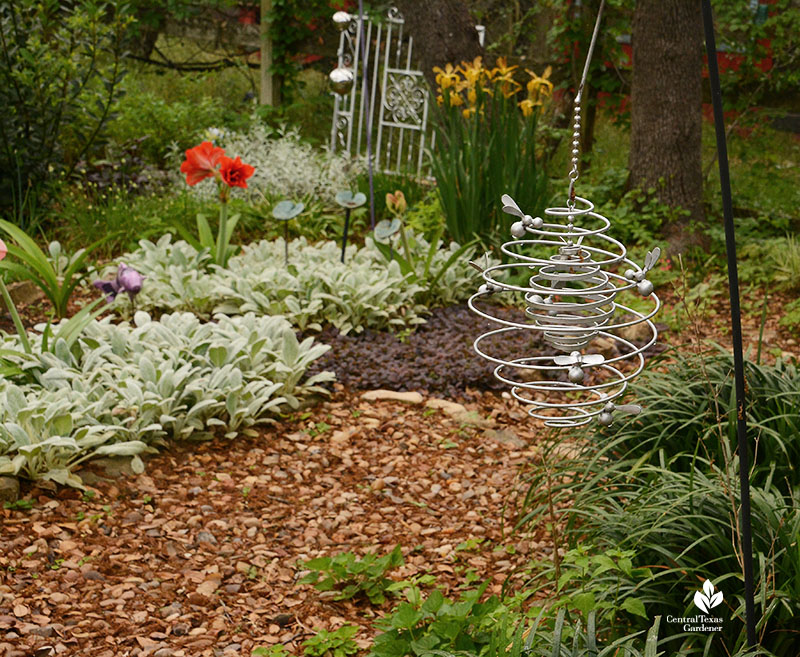 She sticks to shades of purple, silver, and white—with little pops of red and yellow—to blend with various hues of green. "It feels like the temperature drops ten degrees," she said.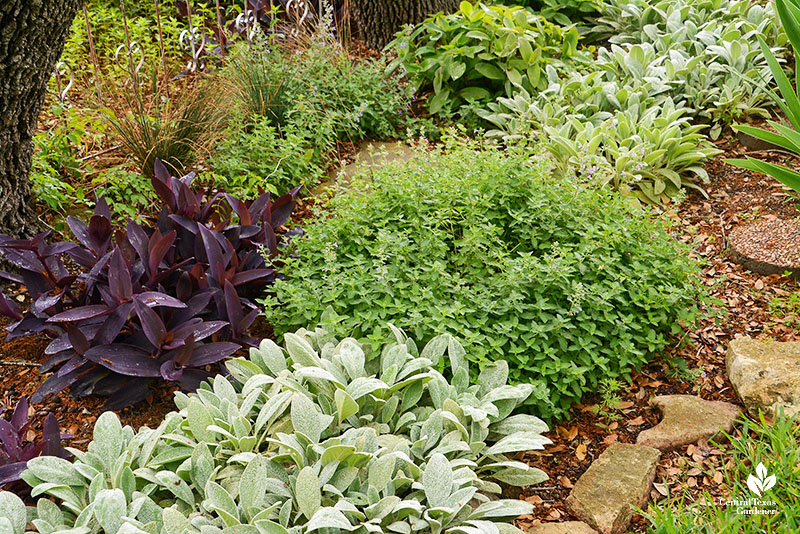 Laura loves hostas about as much as they dislike Texas. Since she can't change the soil and weather, she changed her mind. She went for the same feel with durable tradescantias (both green and purple heart), silvery lamb's ears, and blue-flowering catmint that's beloved by bees.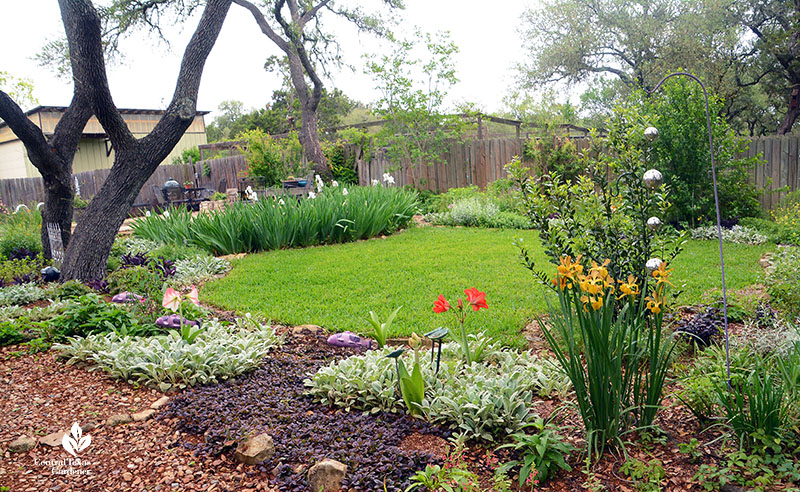 When they got the live oak tree pruned, an extra limb was accidentally removed. Suddenly this spot got more direct sunlight. It's helped the coneflowers, but the purple carpet of ajuga suffers in summer. Amaryllis and golden-flowered spuria iris go dormant in summer anyway. On the right, bay laurel can take sun or part shade.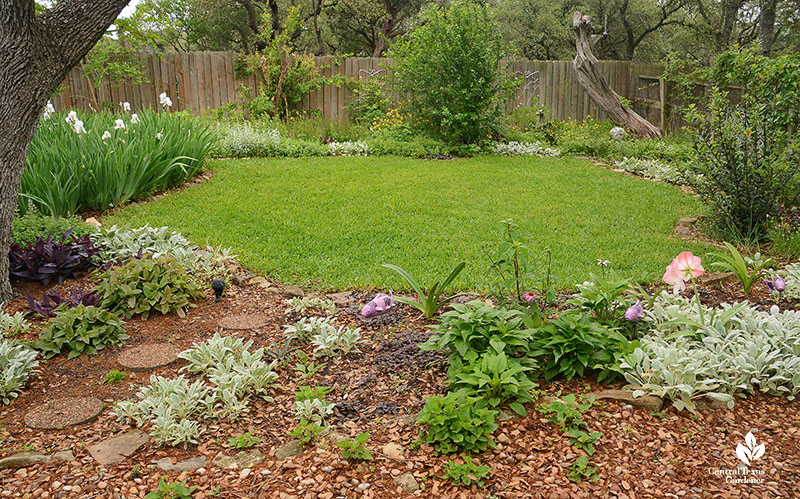 Laura kept the resident St. Augustine grass since it survived 2011's brutal summer (akin to this one). She mows it high in summer (if ever) and it only gets the weekly watering as the other plants.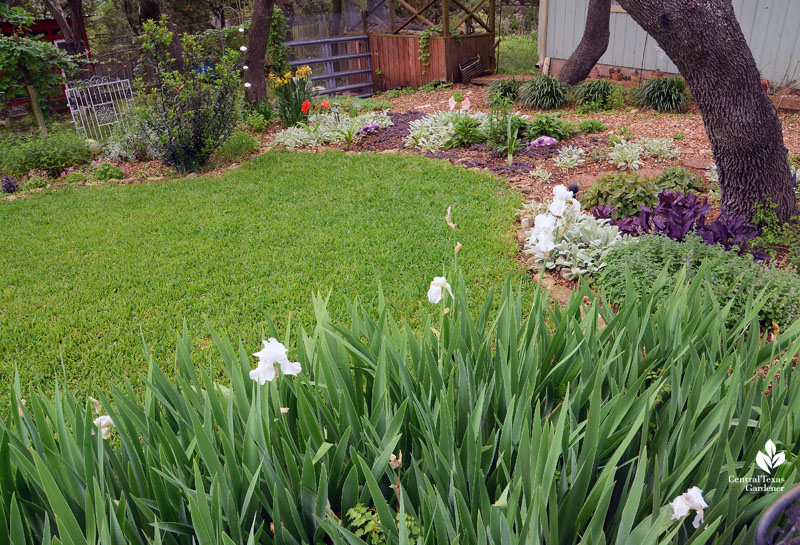 In the cove's encircling borders, she repeats some plants among beds to foster a unified, uncluttered ambience.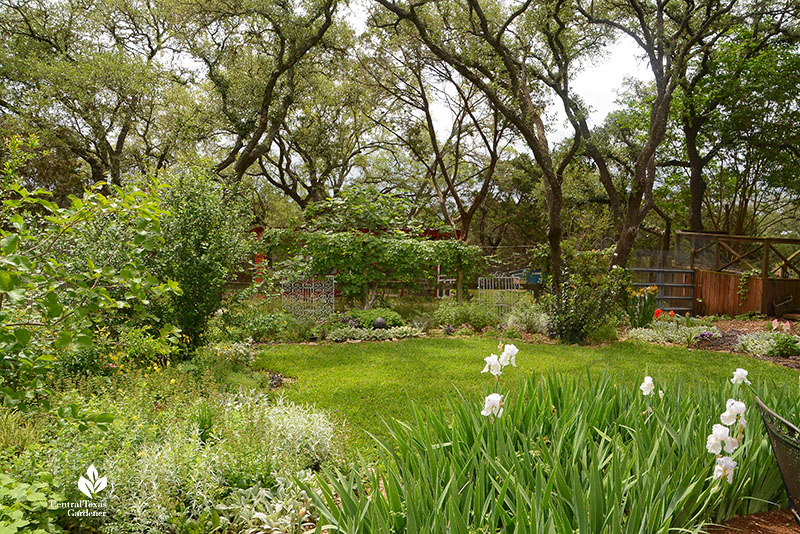 Mainly, though, it's because these are the ones that work for her soil, light, and limited time for maintenance.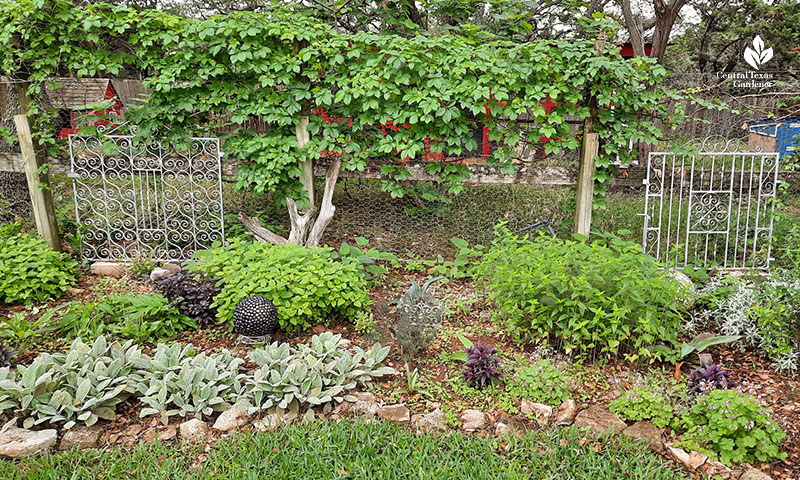 One fence separates the cove from the chicken coop and its former hens, ducks, and guineas. Once trampled by precocious guineas, Laura's brought this border back to life against a pair of charming silver gates embraced by native Virginia creeper.
Textures, colors and seasonal performance delightfully gather together, including bronze fennel, Peter's Purple bee balm, Salvia madrensis, lemon balm, crinum lilies, various spring bulbs, purple alternathera, cold-tender Persian shield and coneflowers (among others).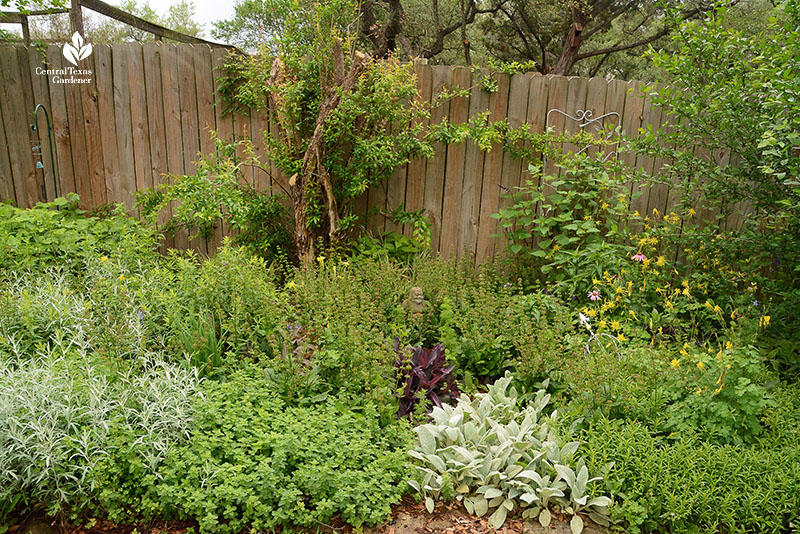 The other fence bed underwent a big transition when the February 2021 freeze damaged a mature pomegranate. It's recovering, but for now, once-shaded plants are getting more sun. 'Amistad' salvia is happy with more light, while columbine, lamb's ears, purple heart, and lyreleaf sage agreeably adapted. Native snake herb to the right of the lamb's ears does fine in sun or shade. On the left, artemisia 'Silver King' and turk's cap at the back are just as tolerant. A possumhaw holly on the right brightens winter with glossy red "berries" until the birds eat them all.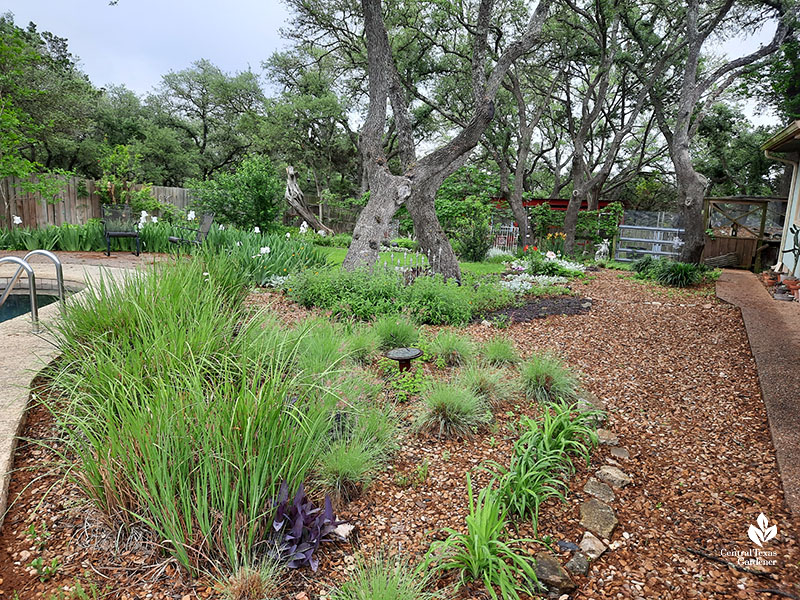 One of Laura's pandemic projects was to lay down river rock along all the dirt paths.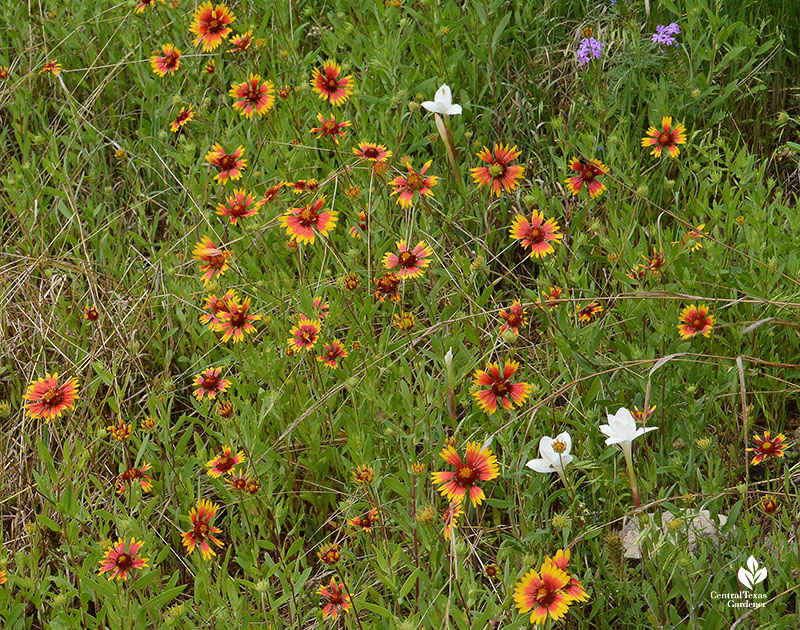 Outside the fenced areas, she's gradually added more wildflower seeds to the native plants that show up on their own. Although our arrival was a bit too early for the biggest show, bees stayed busy on gaillardia, verbena and native rain lilies (Cooperia pedunculata).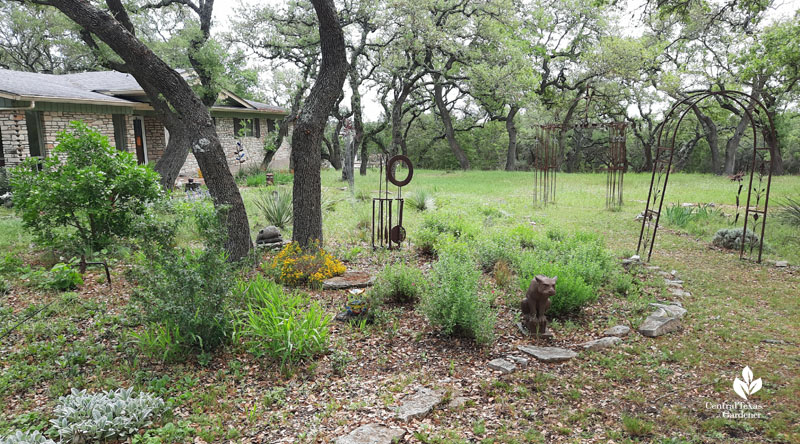 In front, Laura's gradually added native and adapted plants to the deer-resistant indigenous palette. Anything she picks must go along with dry shade, since Laura only waters in summer. By hand. With a watering can.
It's transitioned, too. At one time, they planted fruit trees. They took too much water and squirrels ate most of the harvest. So, Laura swapped them for stalwart plants—native and adapted—along with seasonal wildflowers.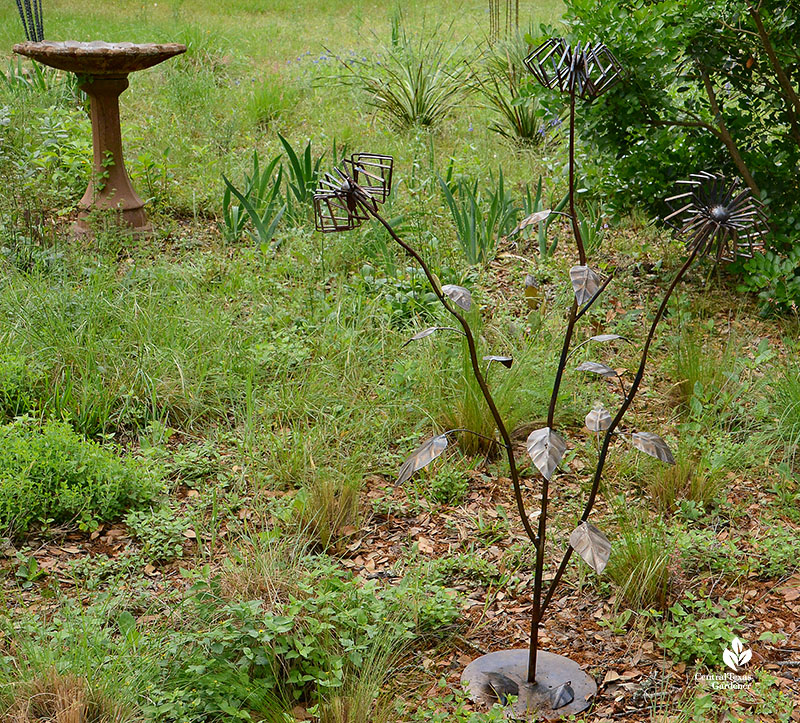 Over the years she's cultivated and culled her collection of garden art. Now, she's adding Eric's metal sculptures.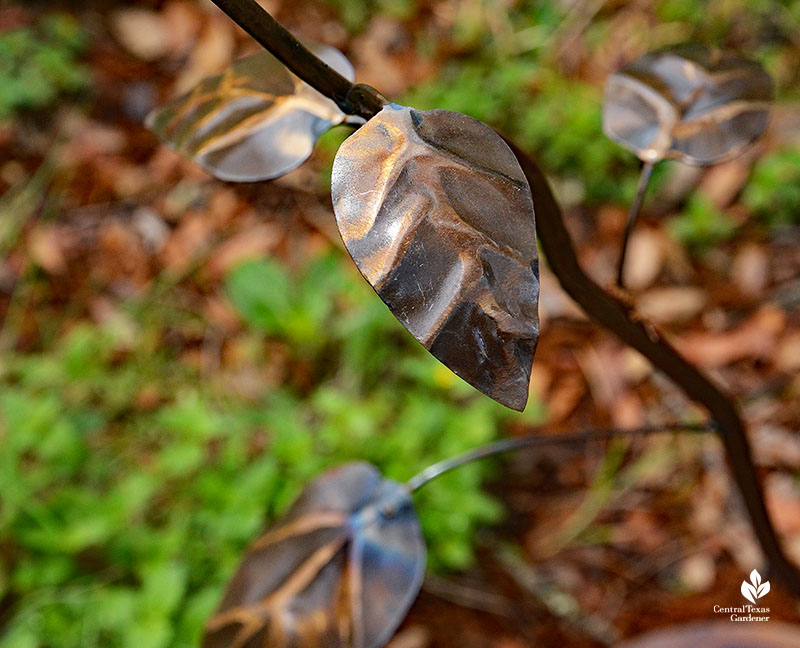 After years in the technology industry with Laura, he's taking classes at ACC in blacksmithing and metal arts. As Wills Metal Works, he's focused on creating permanent nature. "Flowers and plants, that's really his passion when it comes to metal art," Laura said.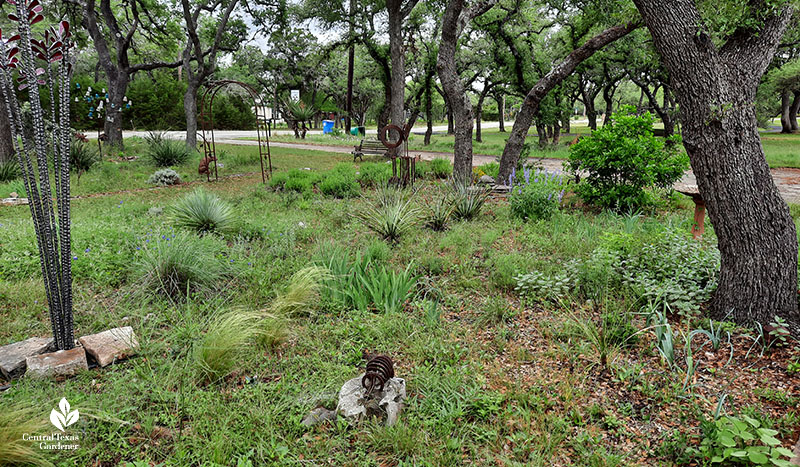 Here at the far left, you'll see Eric's ocotillo sculpture that he was finishing even as we arrived!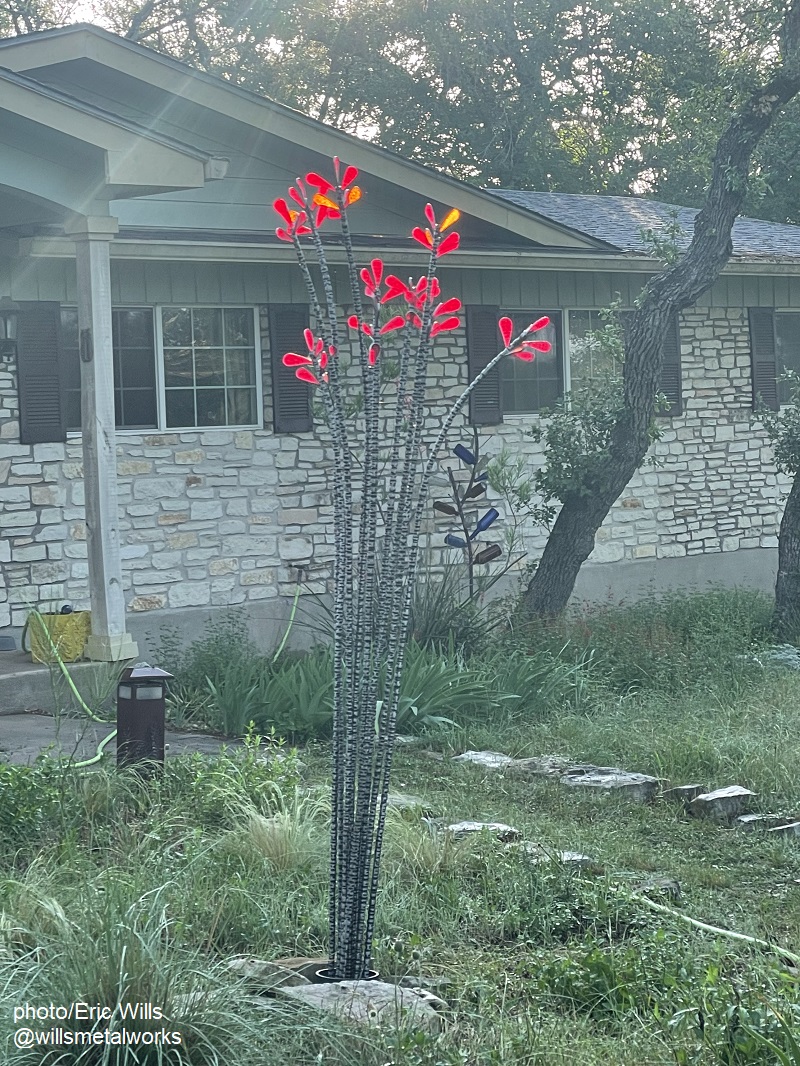 Laura grew up in Arizona where she loved its desert ocotillos. Rather than force a plant to grow against its wishes, she asked Eric to sculpt her a metal version that "grows" anywhere. He designed it with the light in mind, both morning and evening.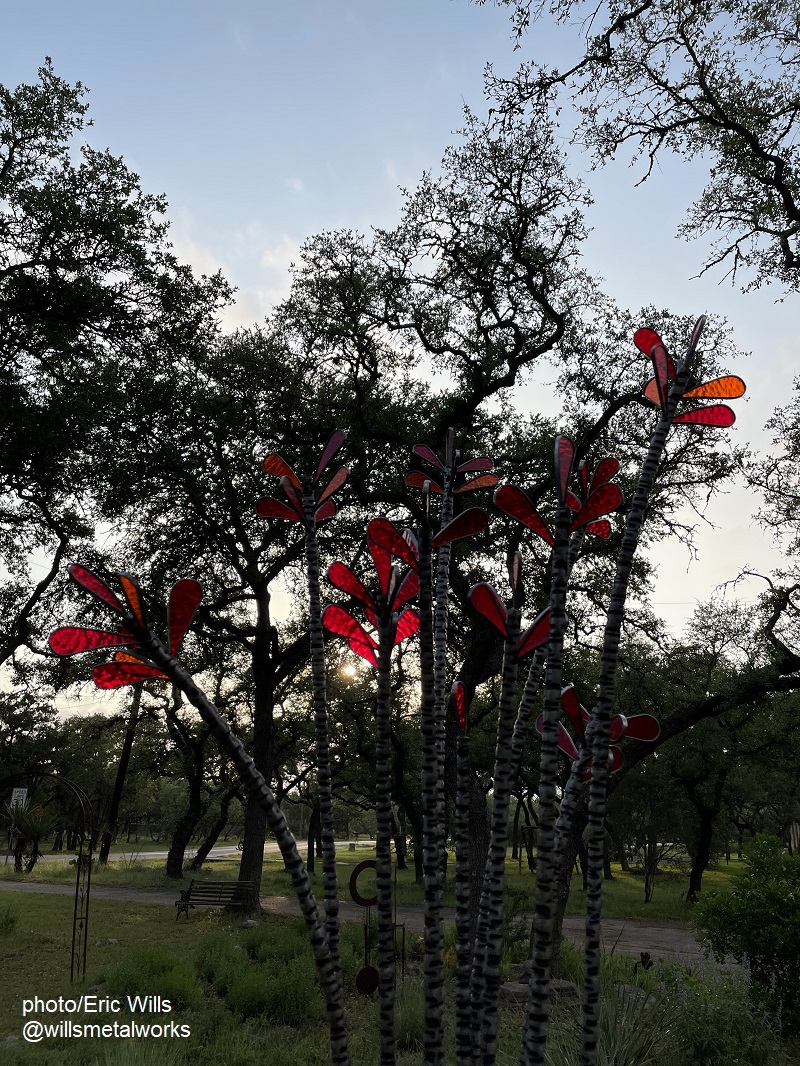 Appropriately, Eric called it "The Ask".
Right now, I know we're all asking for a break from the heat and drought. Yes, we may go through transitions as we see what comes through when rain and a new season bring revival. We'll always face weather challenges. Microclimates in Central Texas vary dramatically with soil, sunlight, wildlife, rainfall, and even wind.
So, I leave you with Laura's wise philosophy: "You might have something that just doesn't work for you. And it doesn't say anything about your ability as a gardener. It just means try something else."
Watch her inspiring story now!
Thanks for stopping by, Linda
Comments