November 9, 2022
Flaming Flowers, Shade Design, Rose Planting, Grow Local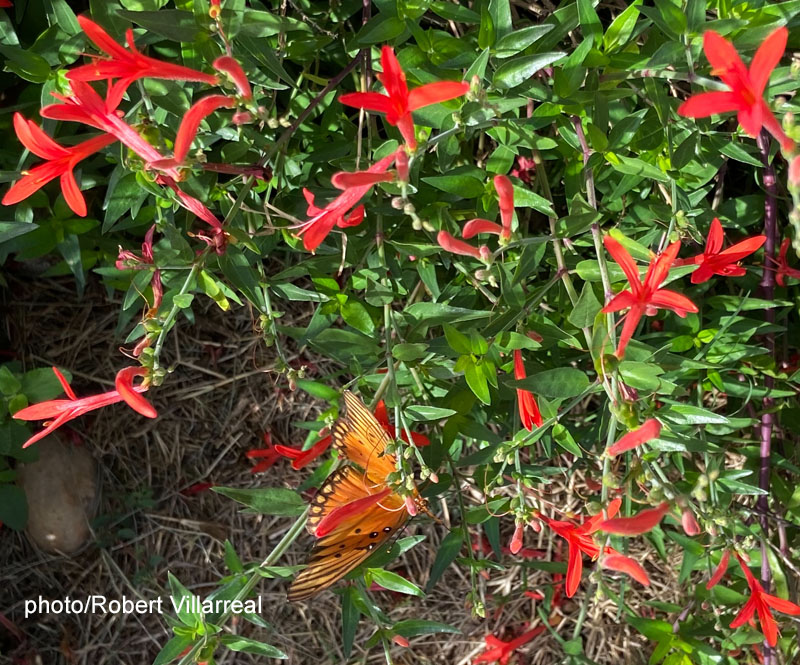 In recent weeks across Central Texas, flame acanthus rolled out a royal welcome to hundreds of butterflies, including this queen butterfly visiting Robert Villarreal's east Austin garden.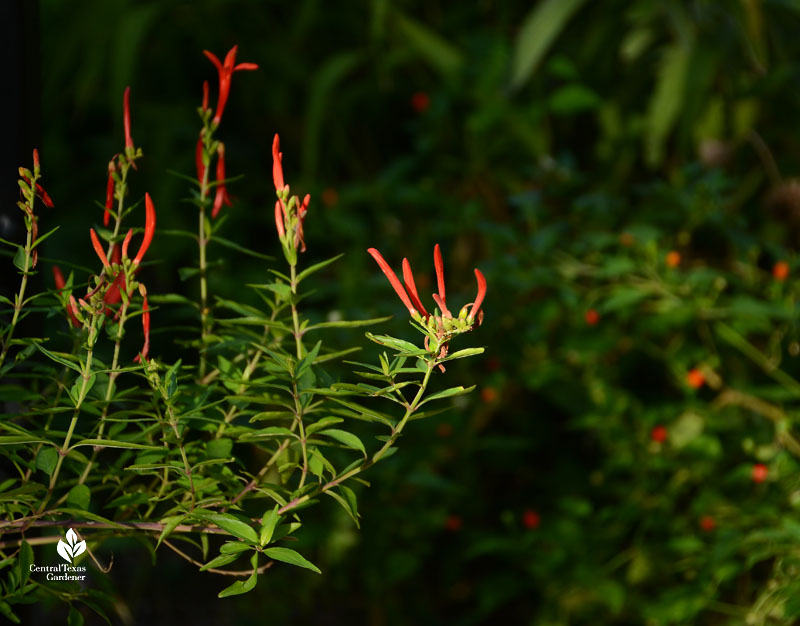 I discovered flame acanthus many years ago when native plants attracted garden center attention. This winter-deciduous shrub quickly caught on with growers since it's waterwise, drought-tolerant, adapts to many soil types, and is fairly deer resistant. In my garden, the hummingbirds that sipped from those tubular flowers have moved on, but it still beckons butterflies. By happenstance, chile pequin popped up across the path to feed the birds that planted it a few years ago. This spot gets early morning sun, and then shade until late afternoon/early evening when sunlight turns on the high beam. It can also take full sun.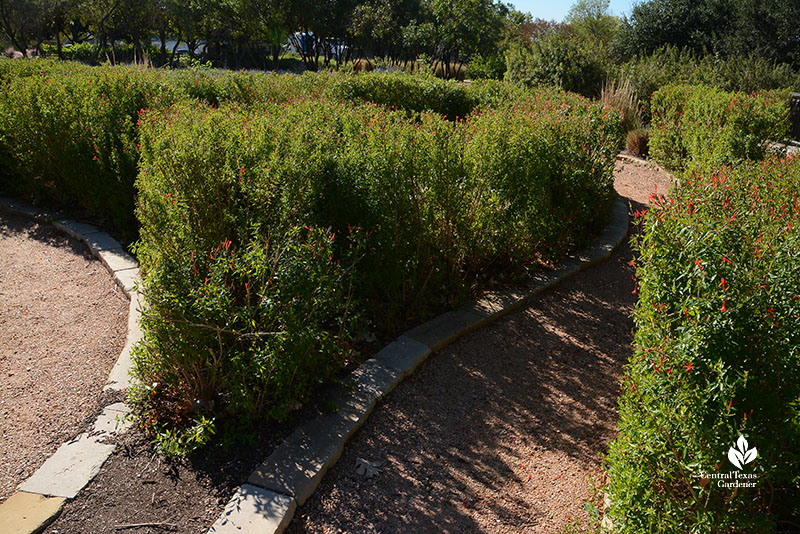 The Lady Bird Johnson Wildflower Center notes that rain triggers those flaming red-orange blooms. On CTG's Facebook page, viewer Barbara Stansfield Terry recommended cutting back a little at the end of summer (like we do with salvias) to prompt a new flush of growth. Cheryl Baranjas pruned hers twice this summer and it's already 5' tall! At Mueller's Southwest Greenway, tidily-hedged plants line a labyrinth for delightful strolling and wildlife-watching.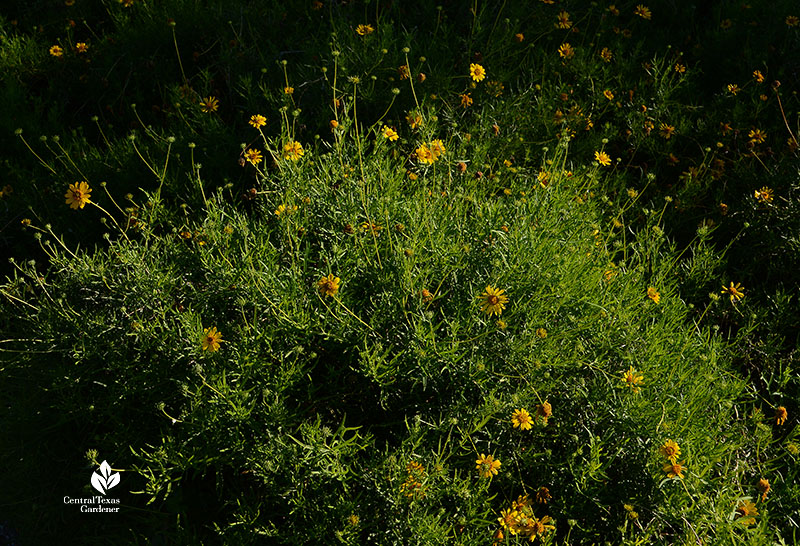 Now's a great time to plant shrubs and perennials, though I'd mulch them to protect new roots this winter. In sun to part shade in just about any well-drained soil, skeleton-leaf goldeneye daisy is a treat for butterflies, moths, bees and other insects on summer-to-fall flowers, especially in fall. Usually evergreen for us, deer tend to avoid, but they may have missed your memo!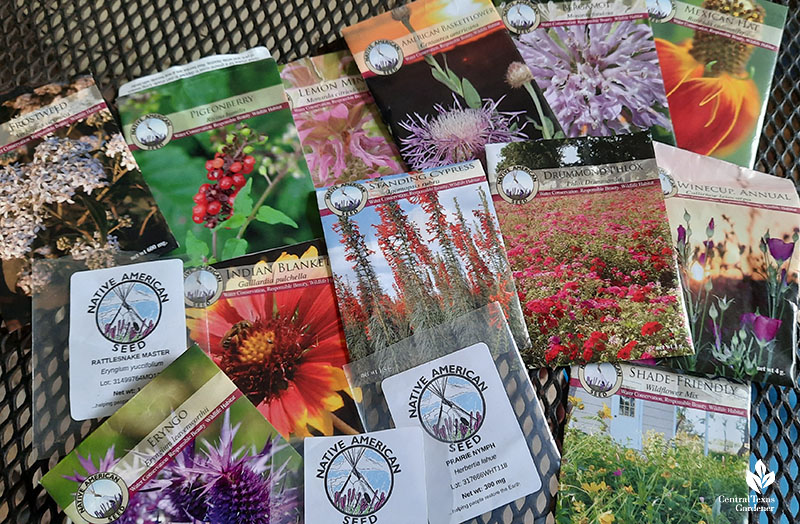 Last Sunday, with the soil moist from Friday's rain, I planted a slew of native wildflower seeds.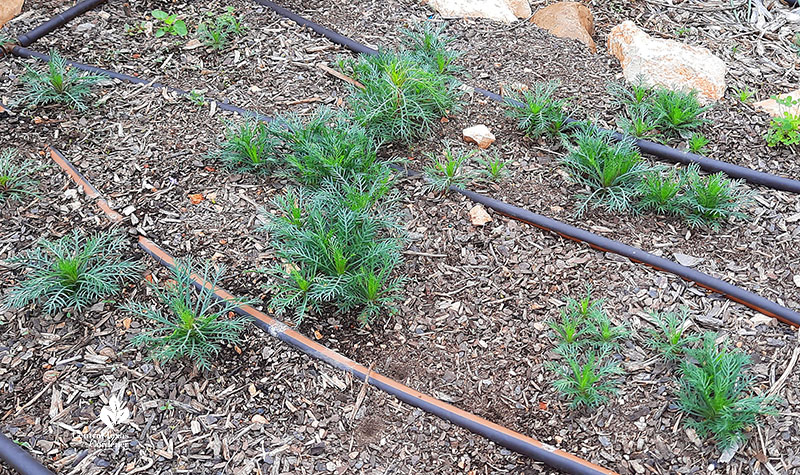 In our New Braunfels visit to Kathleen Scott's native plant garden, I admired her stand of standing cypress rosettes.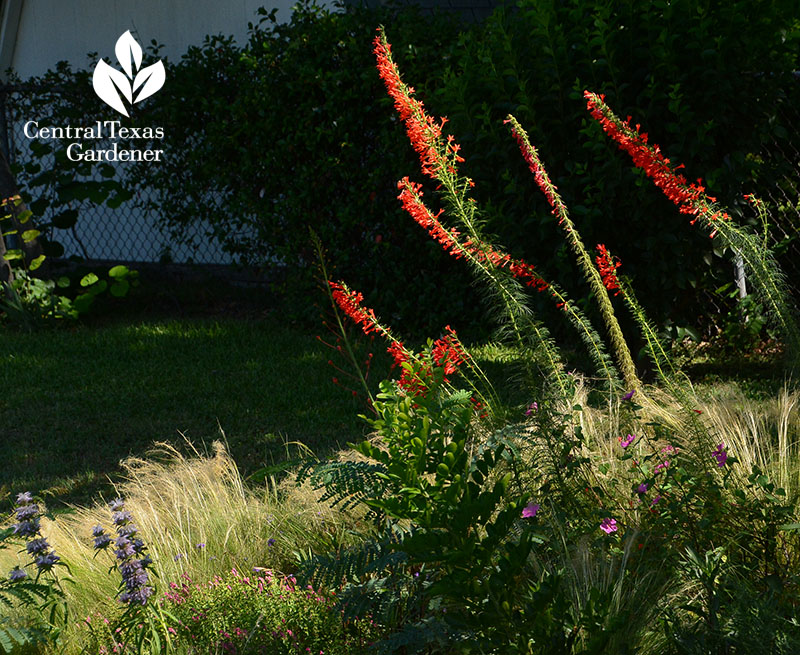 By early summer, they'll pop spikes of bright red flowers, a hummingbird's delight. So, I sure
hope that my seeds make it up!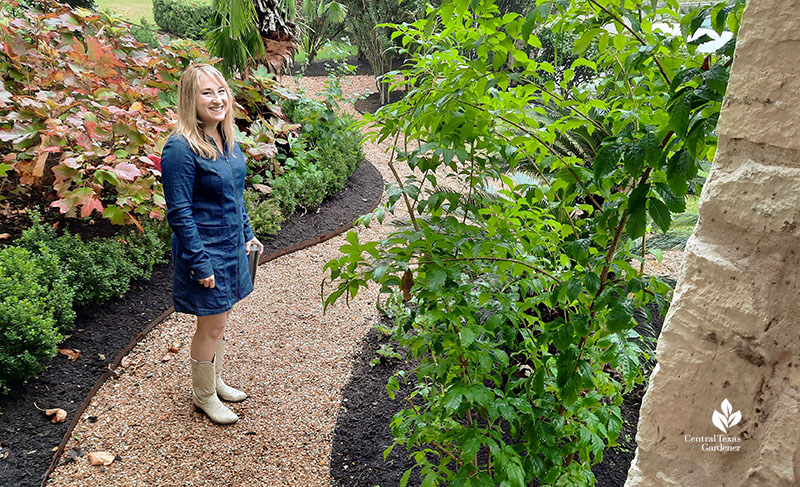 Since gardens of all styles and goals reflect our Central Texas community, this week on our fall premiere, we meet landscape designer Kim Beal who went for casual style with formal lines to complement a 1930's Tudor-style home.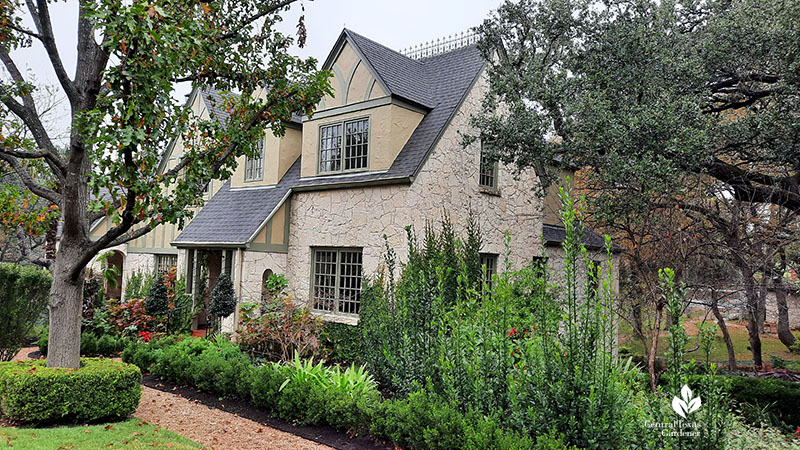 Selecting hardy, resilient plants for shade, pops of seasonal flowering join diverse evergreen textural foliage that defines paths to outdoor living destinations. Even after an early freeze right before our visit last December (and after February 2021's winter storm), the gardens kept their gracious form.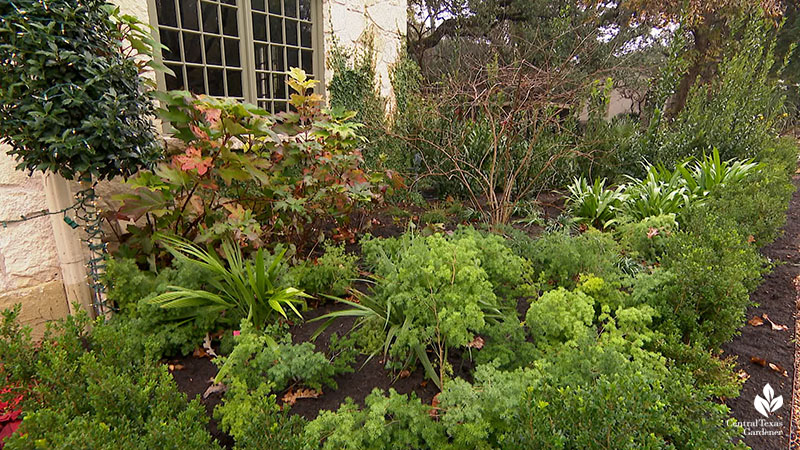 Strolling neighbors love to watch seasonal changes as fall bloomers give way to spring surprises.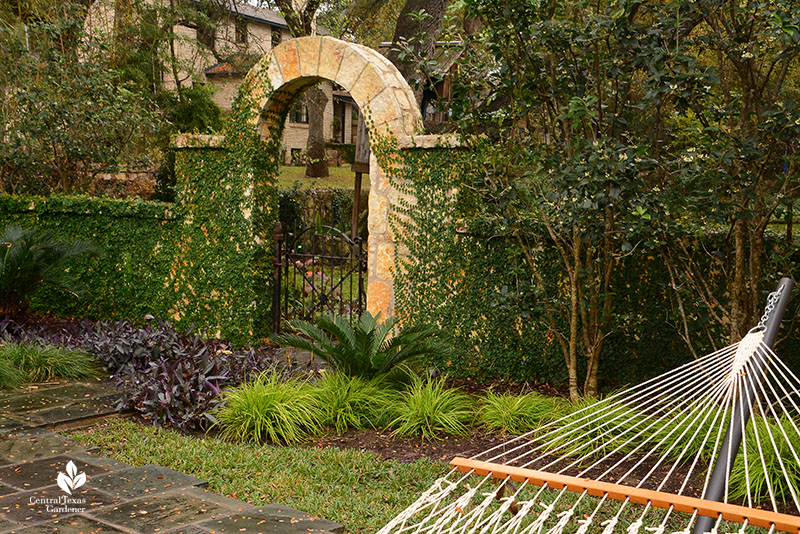 Kim romances every destination for the family that she's watched grow up. "Our biggest weather foe is the heat," she said. "And so, if we can't create spaces that are cool and inviting, then we're not going to go outside. And then from a design perspective, I'm always trying to create rooms when I go outside because that's what makes you feel cozy and private and hidden away."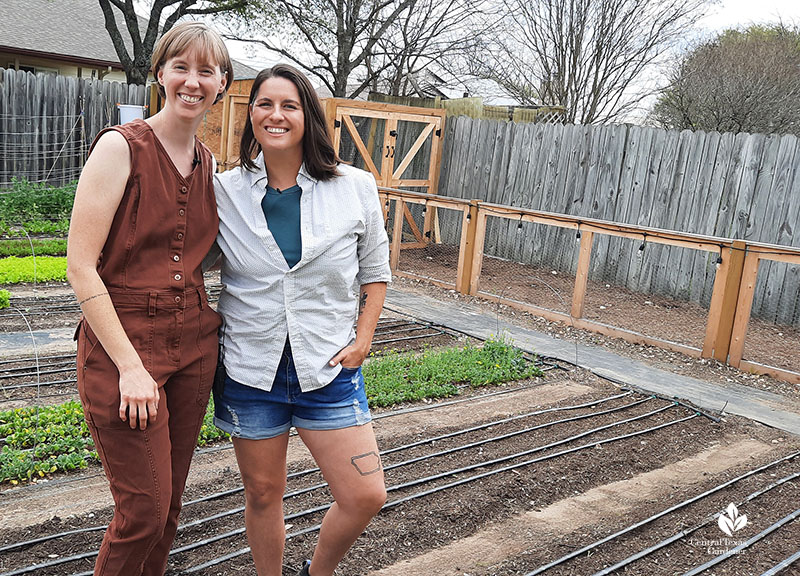 Then, we head to Kyle to meet Leigh'Ann and Jordan Andrews of Billie & Jean's Farm, named after their grandmothers.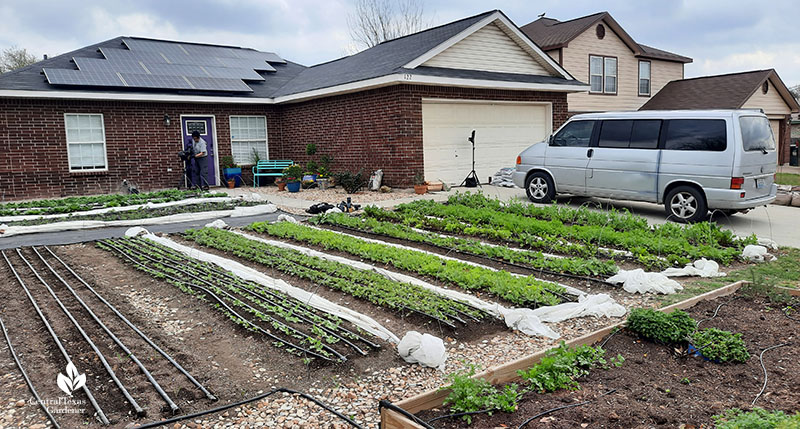 After 12 years in theater management, they turned the spotlight on a dream cultivated since grad school: growing healthy food for their community.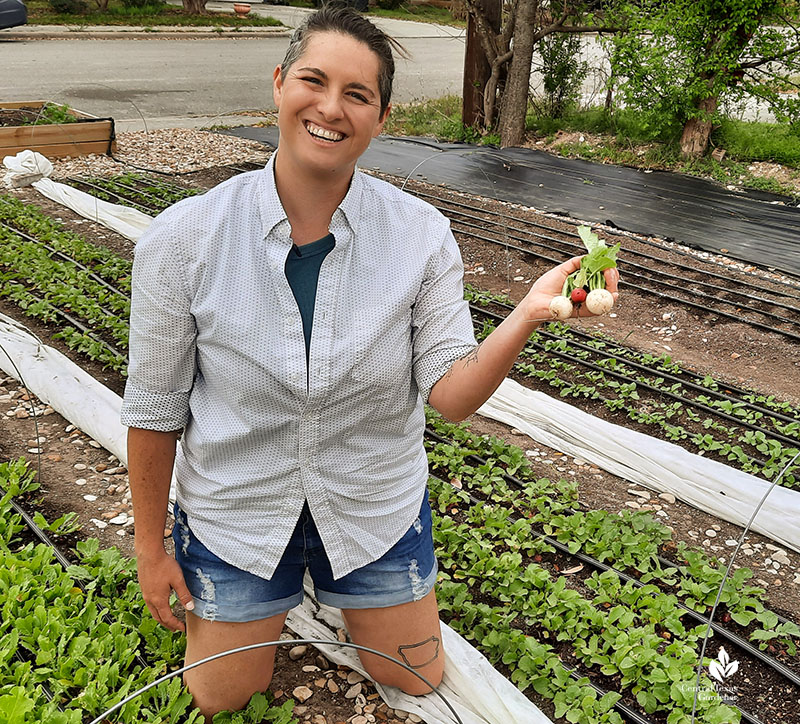 During the pandemic, they headed back to their Texan roots and bought a house in a suburban neighborhood.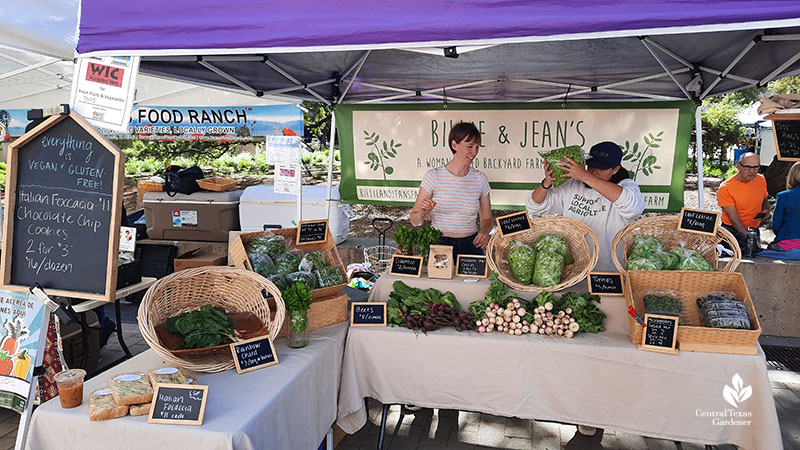 They painstakingly scrapped the Bermuda grass lawn to plant seasonal crops for farmers' markets, where Leigh'Ann also features her signature gluten-free baked yummies!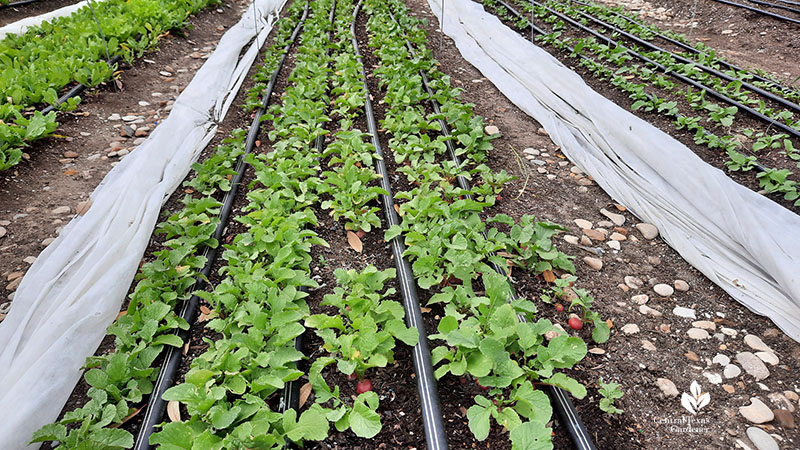 Here's what they're planting right now!
Radishes (Sora & French Breakfast)
Turnips (Hakurei)
Beets (Boro & Golden)
Swiss Chard (Bright Lights)
Arugula
Leaf Lettuce (Green Saladbowl)
Cabbage (Caraflex)
Carrots (Napoli)
Kale (Winterbor)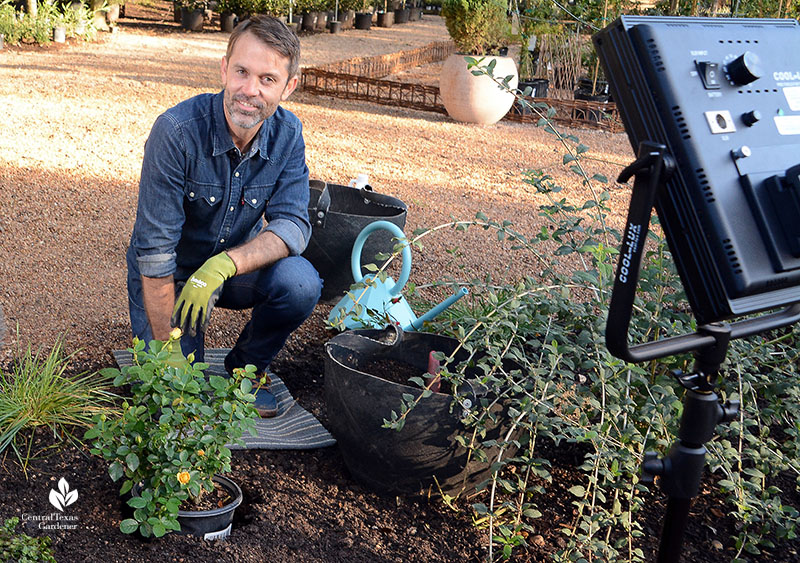 And, since fall's the best time to plant roses, William Glenn at Barton Springs Nursery shows us how with techniques that apply to all our plants, including native shrubs, perennials, and seeds.
Watch now!
Thanks for stopping by! See you next week, Linda
Comments