January 14, 2010
Peckerwood, East Side Patch, scat cats from plants, roses
Gardeners won't soon forget the "winter of 2010."  Indeed, it will be in quotations for years, like "the drought of 2009" and the "2007 floods." Gardeners forget where they put their pruners, but they never forget weather events. It helps us remember significant life events. "Oh yes! It was 2005. That was the year of the grasshoppers. Now I remember when we had the baby!"
Seriously, it shows that we are actually connected to the real-life reality show, as opposed to the ersatz version. Our concern for our gardens connects us to what weather events mean to the farmers who provide our food, and to our wildlife.
In our heartbreak over plants that may be lost, there is beauty in the "winter of 2010." I thank viewer Don Baker who found these sculptures in ice while wandering a field with his grandchildren.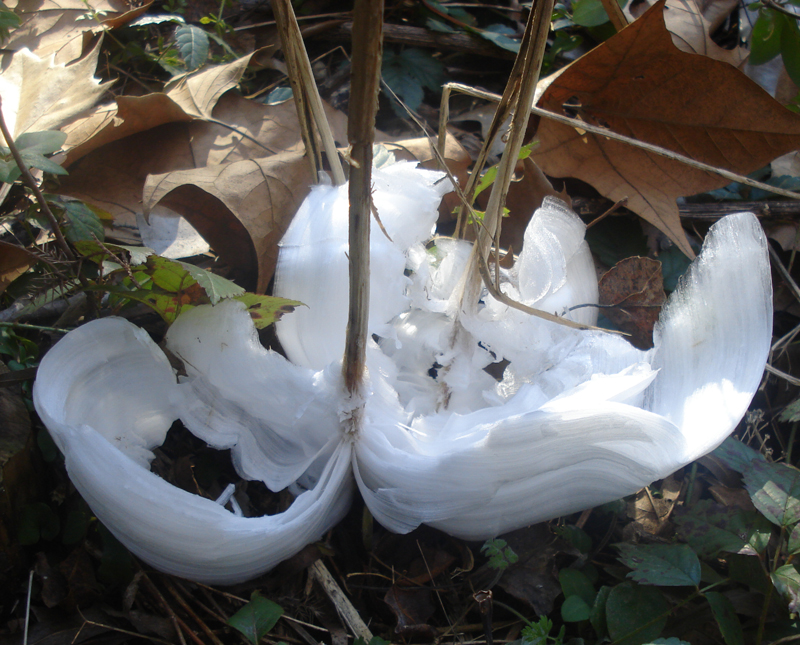 What a moment to share. Long from now, his grandkids will remember the day they found the crazy ice things with their grandpa.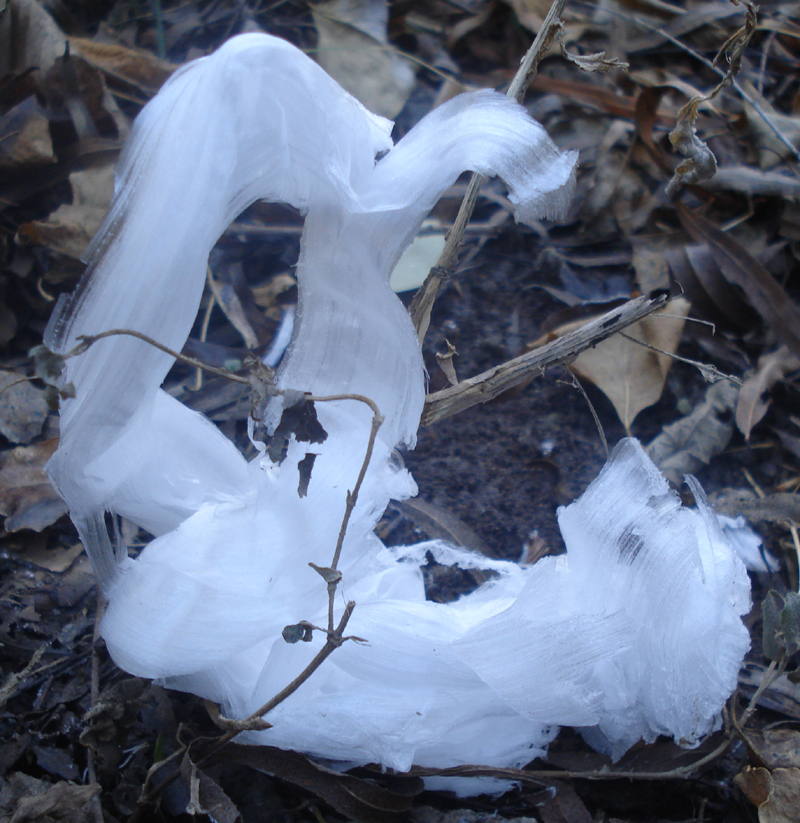 Essentially, frost flowers or ice ribbons or ice flowers happen when sap in the stem freezes and breaks it open. Thank you, Don!
I'm not ready to count anyone in or out in my garden. I can tell you that I fearfully peeked under the Satsuma's cover and saw green leaves! Some lettuce was a little wilted but not ready to give up. The Agave celsiis: not sure. I'll report later. It's too early. For all you eager, anxious beavers, don't clear out or dig up.  That includes the sago palms.
Mine doesn't look too hot.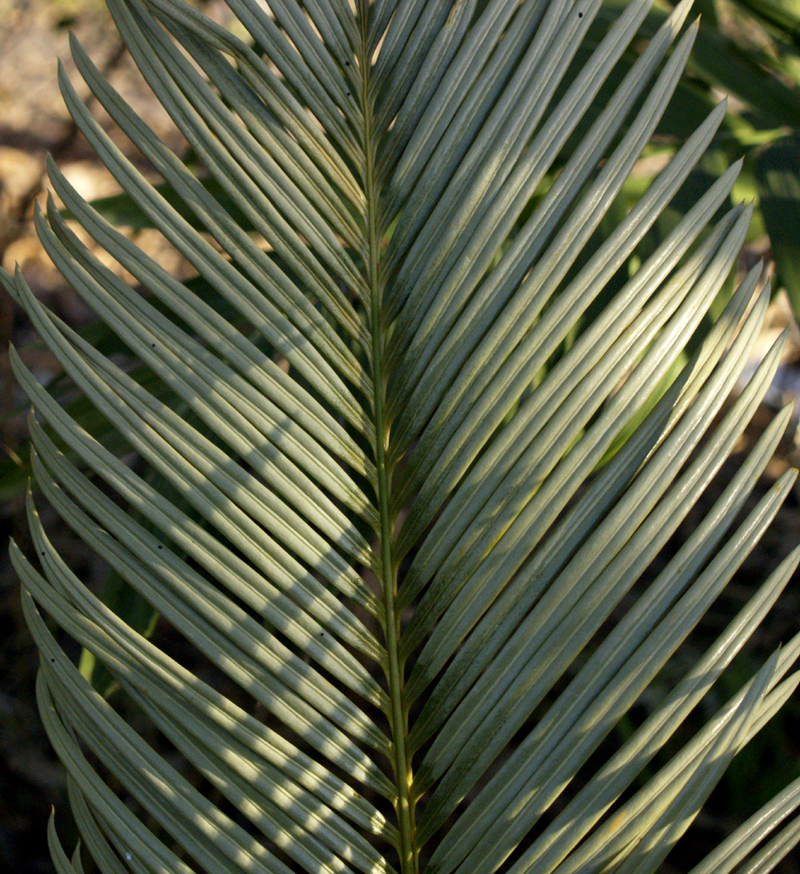 Neither does the one I gave to CTG's director, Ed Fuentes.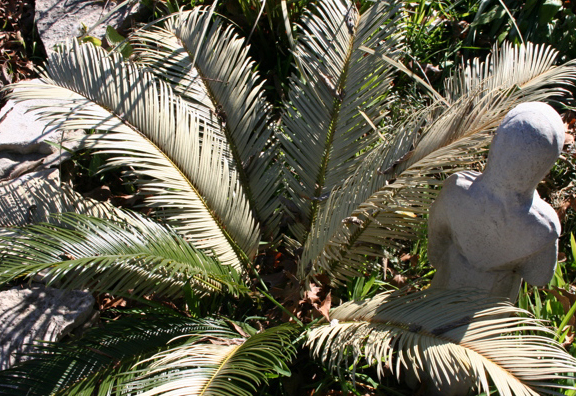 The story behind this: I dug up that cycad last year and moved it. It lost all its fronds, so I decided to replace it. But I couldn't bear to toss it, so I stuck it in a pot, threw a shovel of soil on it and stuck it behind the shed. One day it had new fronds coming out. To make it up to it, I gave it to Ed, who treasured it. Like a rescued pet, the cycad was so grateful that it grew into a beautiful plant in just a few months. Lesson here: this spring, we'll cut off the foliage and see if the root ball made it through. This time, I won't be so hasty to sign off on it. (Greg pointed out that sago palms didn't survive since the Prehistoric days by being wimps.)
Here's a surprise for you:  a Salvia coccinea in bloom!  A few months ago, I told you that I dug it up and put it in the patio "greenhouse."  Is that fun or what?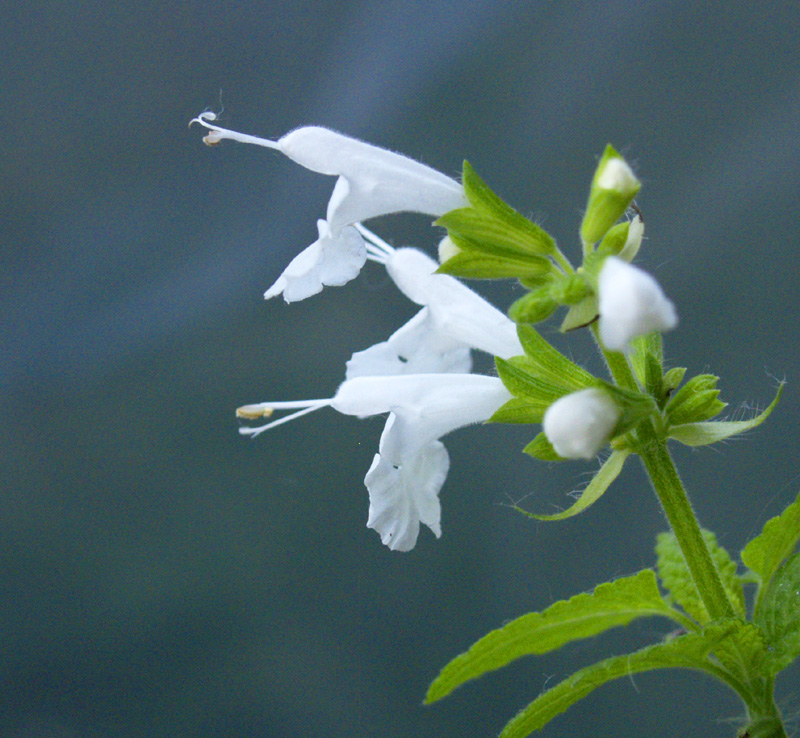 This week on CTG, we highlight a Texas treasure, Peckerwood Garden. In 1971, John G. Fairey dedicated his land in Hempstead to explore his ever-growing collection of rare plants native to the southern U.S., Mexico, and Asia. Thanks to his endeavors, many of us have plants that were strangers to us just a few years ago.
Garden manager Chris Camacho joins Tom to show off a few of Peckerwood's spectacular winter performers, like this Magnolia tamaulipana. The entire list will be on CTG's website, where you can also watch the show online.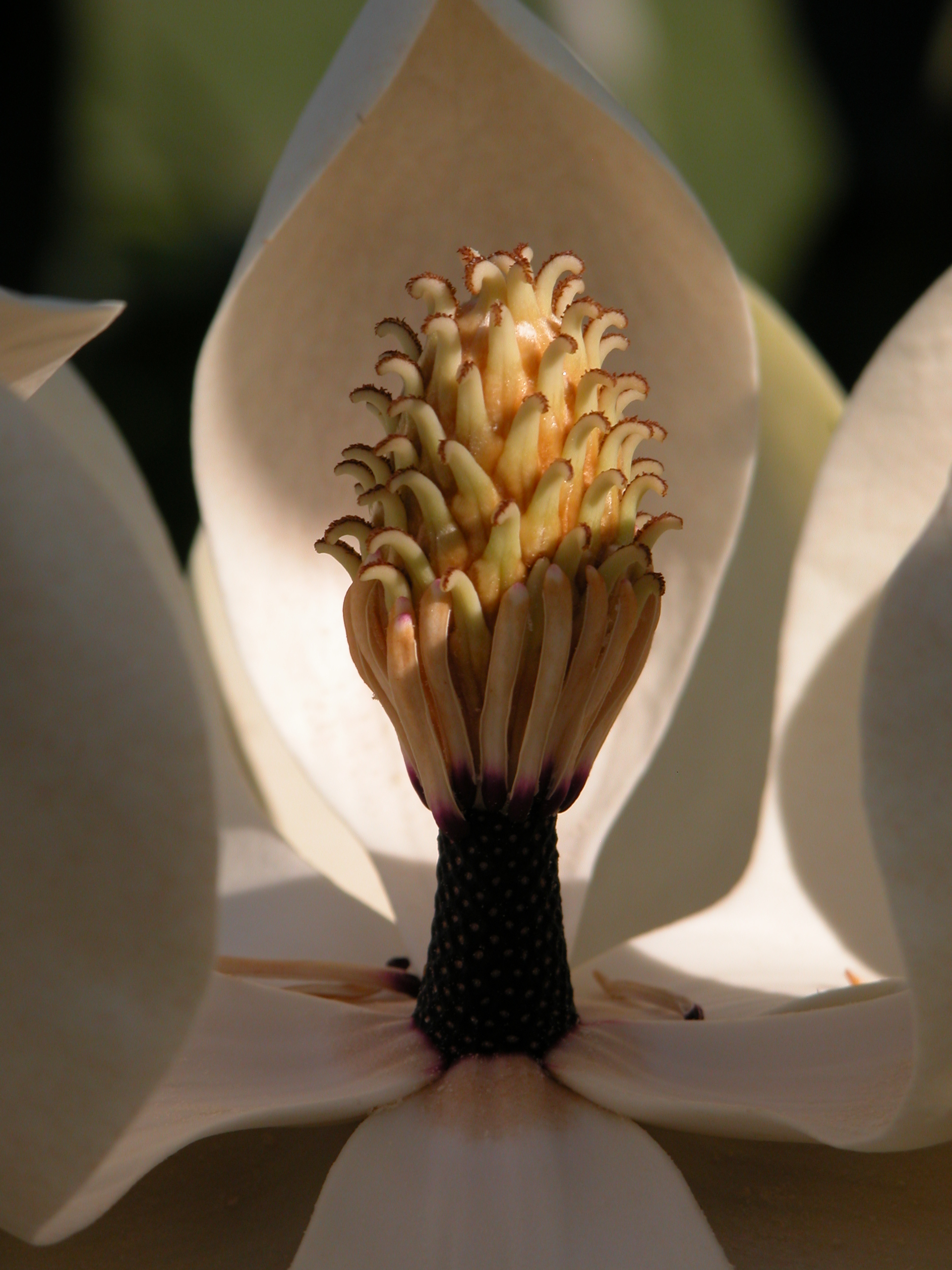 Along with their Open Days tours, this year Peckerwood invites you to attend their Winter Lecture Series in January and February.
On tour, meet Leah & Philip Leveridge from East Side Patch!  In "Fall 2008," (momentous event), I got to visit their garden on a Garden Bloggers tour. As we approached taping in "Fall 2009," I feared that drought, heat, and a month away to visit family in Scotland would end up in yet another cancellation. "Fall 2009" goes down in CTG records as the most cancellations ever.
Instead, their garden was a paradise and testament to tough plants. See how they started from scratch to turn grass and overgrown shrubs into a family destination of discovery. Especially, I love how their children are growing up in the garden. Generations from now, their stories and "weather events" will encourage the gardeners of the future.
Got cats that tear up houseplants and garden beds? Trisha responds to viewer Billie's question about how to keep their little paws off.  Thanks, Billie! 
Daphne explains why we want to get bare-root roses in the ground soon. It's also a great time to plant container roses, too. The heat will be back before we know it!  Check CTG's website for lots of info on the best rose varieties, pruning tips, and how to deal with problems.
Until next week, Linda
Comments