September 20, 2012
Keyhole gardens, Oak leaf galls, Gabriel Valley Farms, Drying herbs
First, I have to admit: I'm a bulb freak. I'd buy a thousand more if I could. Instead, I divide my naturalizing wealth and then forget where I planted them. That's okay, because garden surprises like these oxblood lilies are treasures every year, especially abundant this September, thanks to the rain.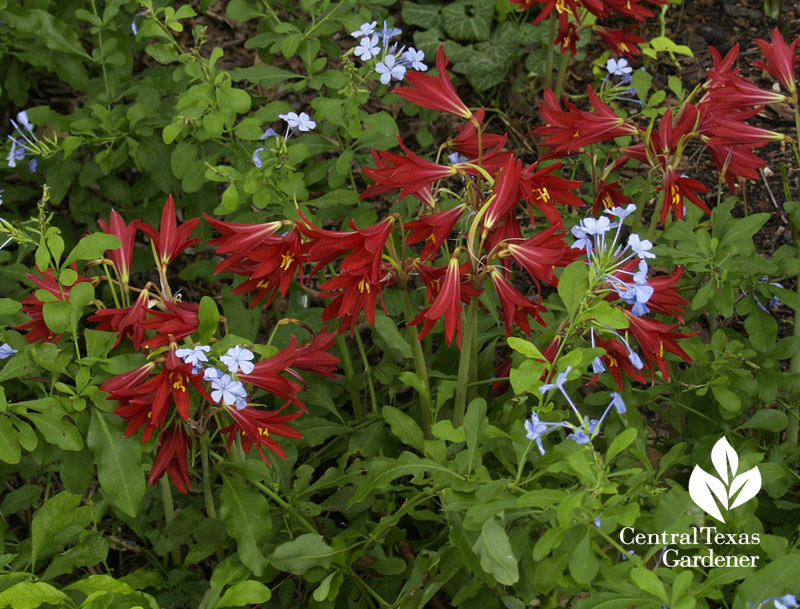 I walked out last weekend to find this red spider lily (Lycoris radiata) peeking out in the turk's caps.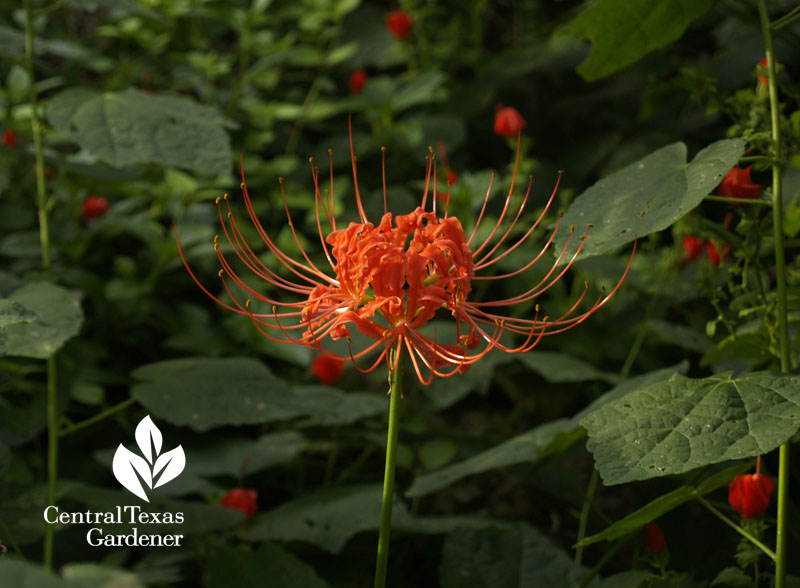 Red is a color that many gardeners are seeing this year from oak leaf galls.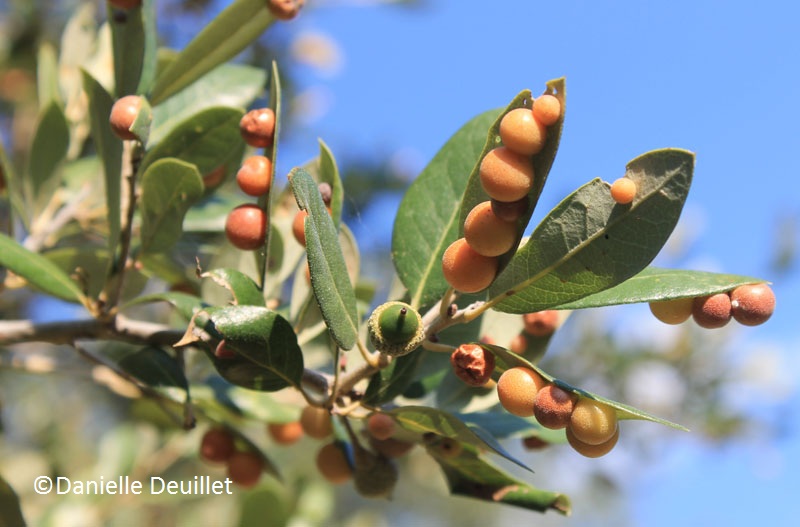 This week, Daphne explains what's going on: "The small, reddish galls on the undersides of our oak leaves right now are caused by tiny wasps.  They lay their eggs on the leaves and the tree responds by forming a protective structure, the gall, to contain the wasp eggs while the insect larvae grow into adults."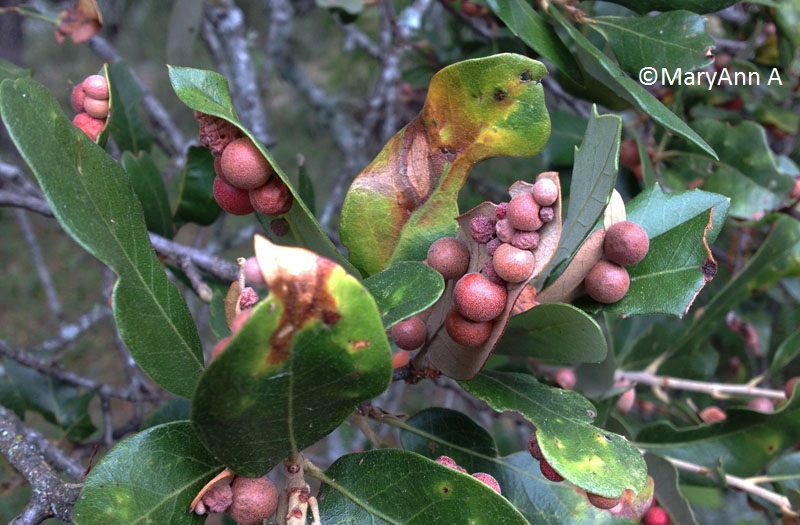 You'll probably never see these non-stinging little wasps. As Daphne tells us, there's no reason to treat. We have them every year and they don't harm the trees.  This year was just insect-crazy, so they've become especially noticeable.  Thank you, Danielle & MaryAnn, for sending us your pictures!
Soon, I expect to see some yellow in my garden. I have high hopes that my young Skeleton-leaf goldeneye will look like this!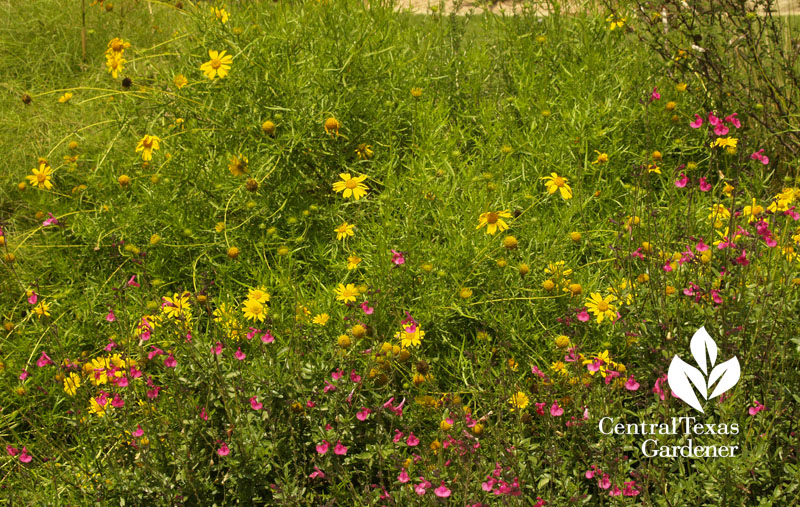 This native, evergreen drought-tough perennial is Daphne's pick of the week. Its flowers from late spring to frost attract many beneficial pollinators, like this tiny wasp.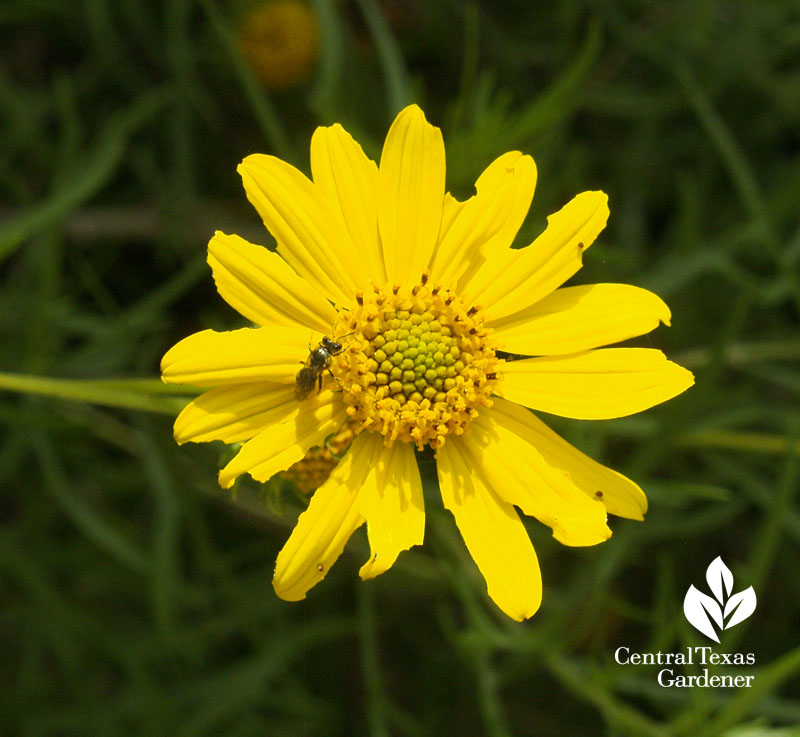 It requires sun and good drainage, so in my clay soil garden, I amended with compost and decomposed granite.
Our first gentle cold front reminds us that soon we'll need to snag some of our cold-tender herbs to dry or freeze. So, this week, Trisha shows how to dry herbs in any season (including our evergreens) for homegrown flavor and tastefully beautiful gifts. Get her tips for your files.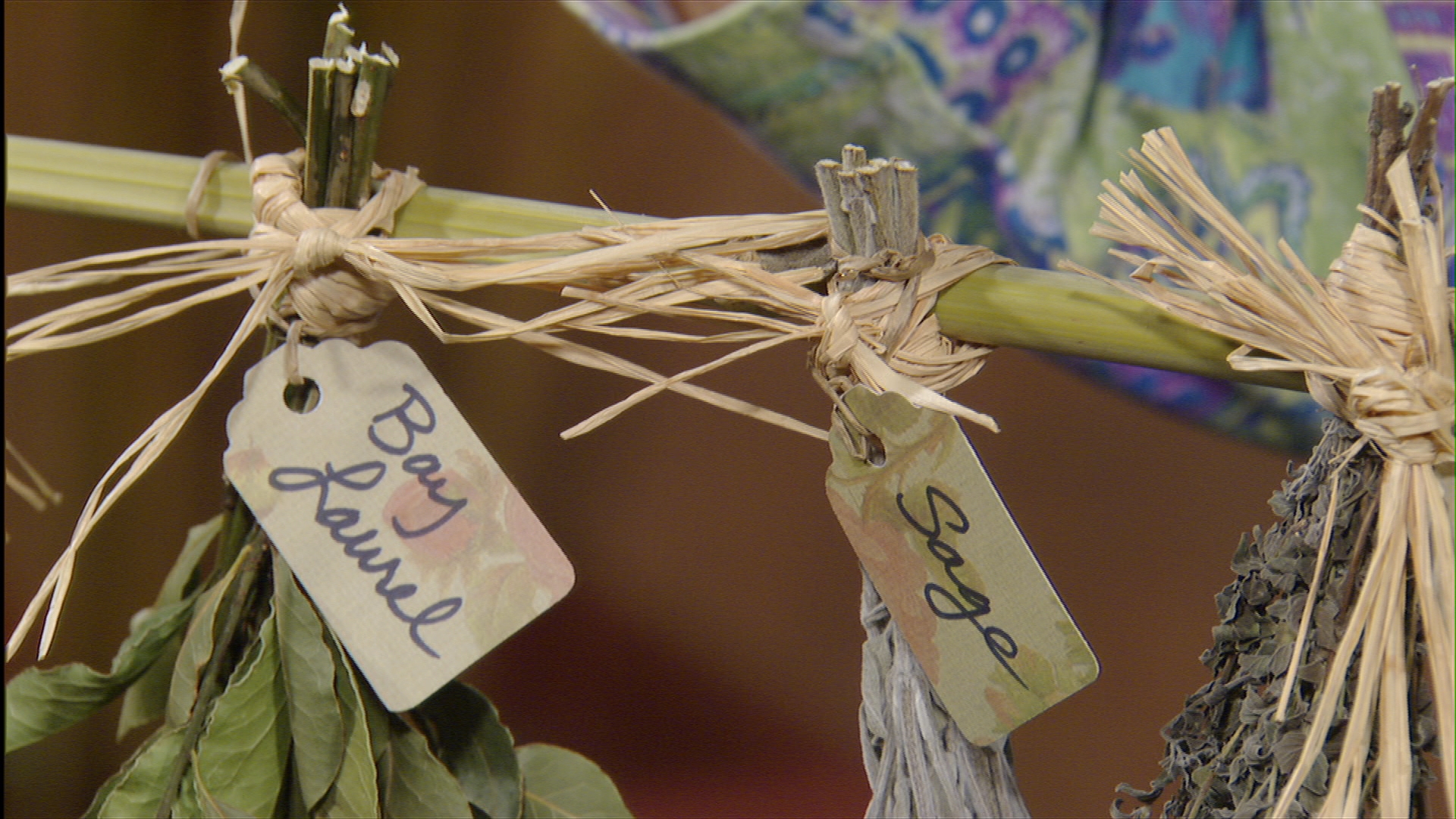 Next week, get her tips for freezing herbs, like basil, that don't stand up well to drying.
Now that I've tidied up and revised my plant list, I'll be hitting the nurseries soon. I respect a tag with Gabriel Valley Farms' name on it.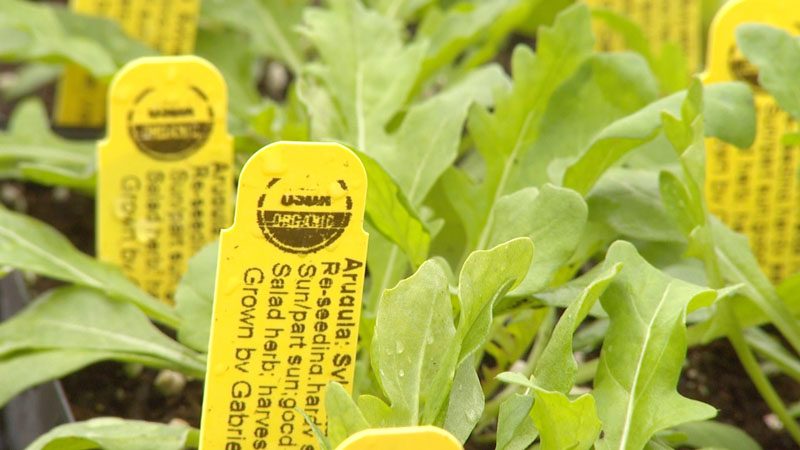 On tour, we visit this innovative wholesale grower near Georgetown to see how Cathy and Sam Slaughter grow tried and true Texas plants organically, starting from seed.
The KLRU crew with Ed Carter and Chris Kim had a blast! Here's director Ed Fuentes documenting the babies that will head to nurseries and your gardens when they're grown up! If you grow seeds in a few pots or flats, imagine planting thousands!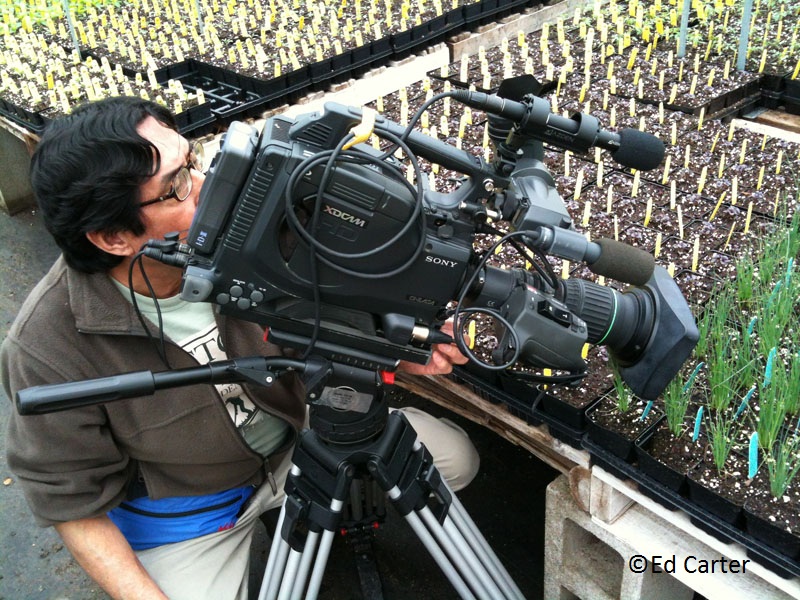 Cathy and Sam also share their tricks to fool seedlings to germinate when it's too hot or too cold to plant, and why it's important to get organically grown plants when possible.
Keyhole gardens are the hot topic this year! Tom meets with Deb Tolman to explain why these sustainable vessels are perfect to grow vegetables, fruit trees or ornamentals.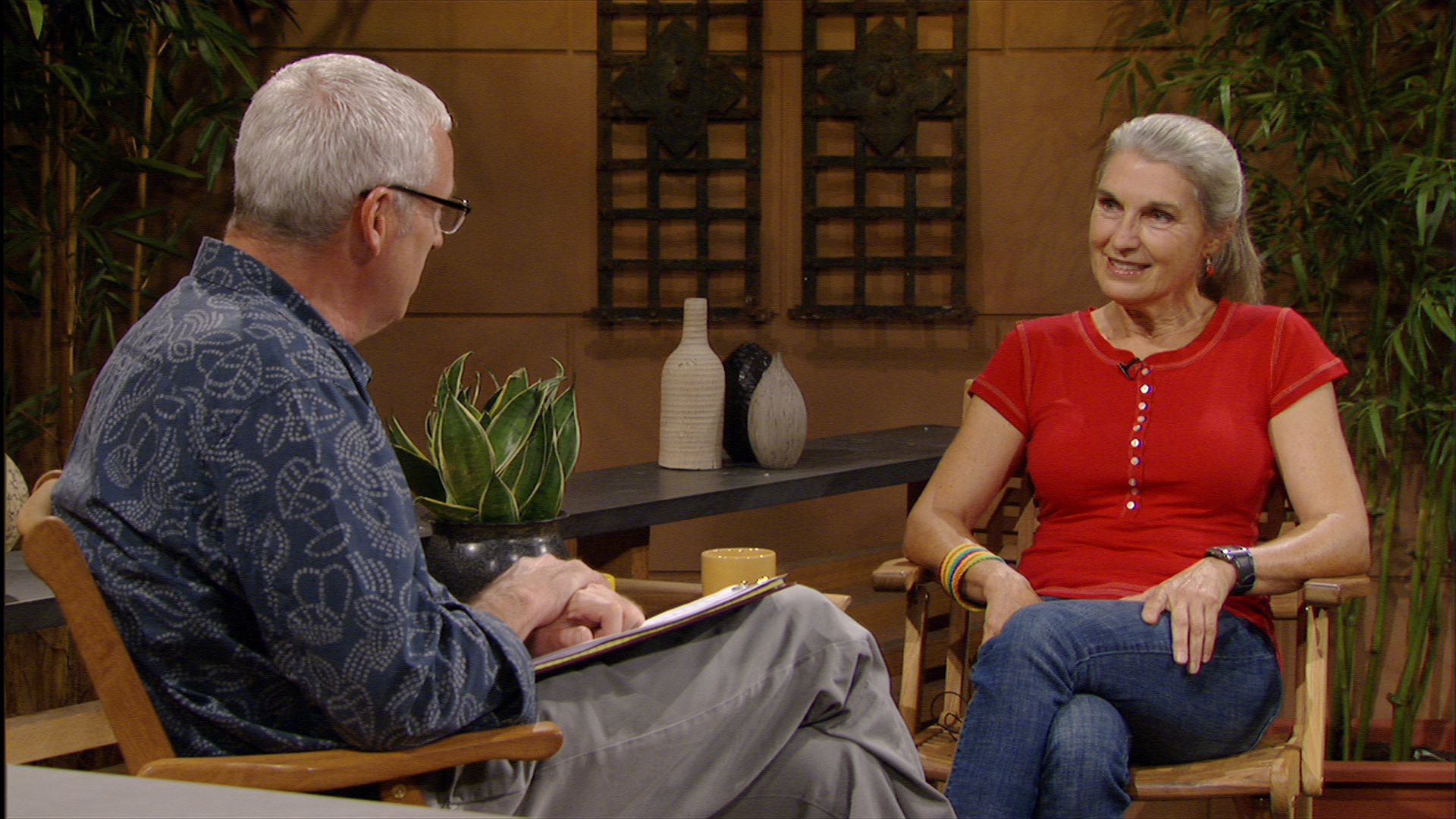 Deb explains how to do it for abundant crops, even in small spaces and in thin or dense soils where it's difficult to grow food. Along with saving water, keyhole gardens are the ultimate design to recycle/reuse cardboard, phone books, newspapers and kitchen vegetable scraps.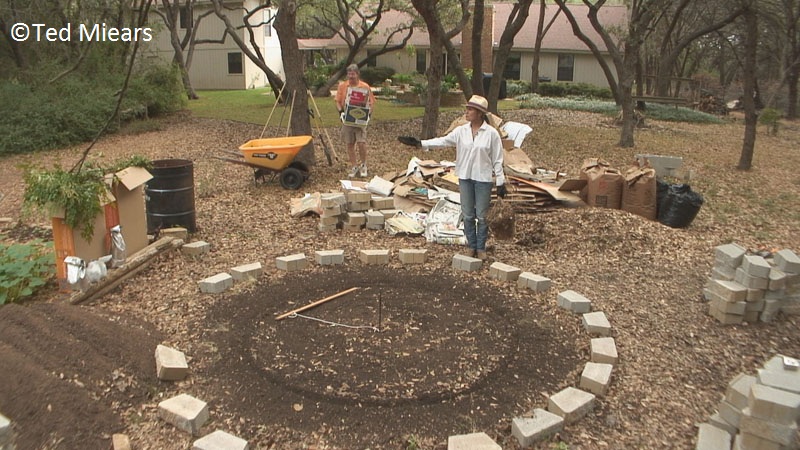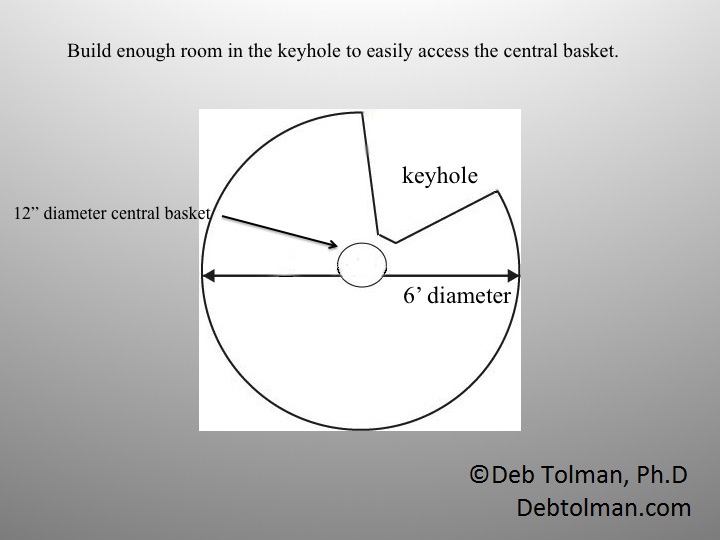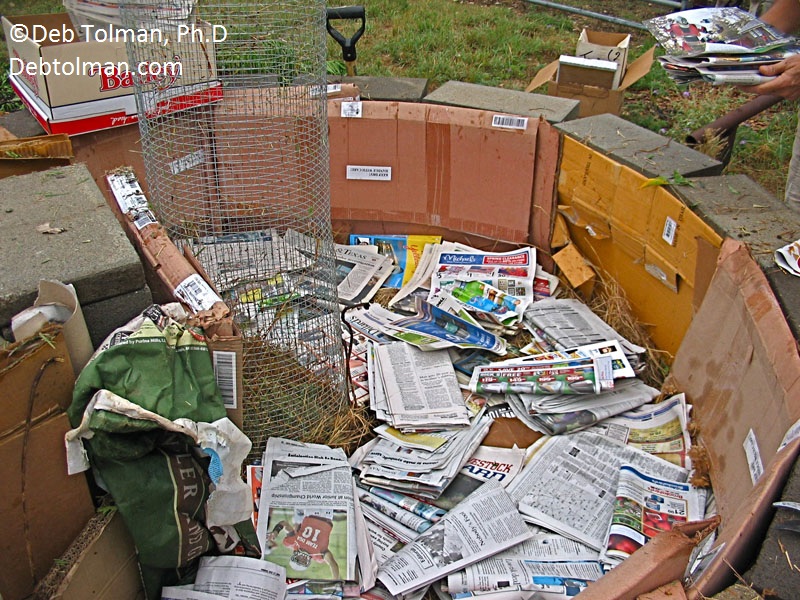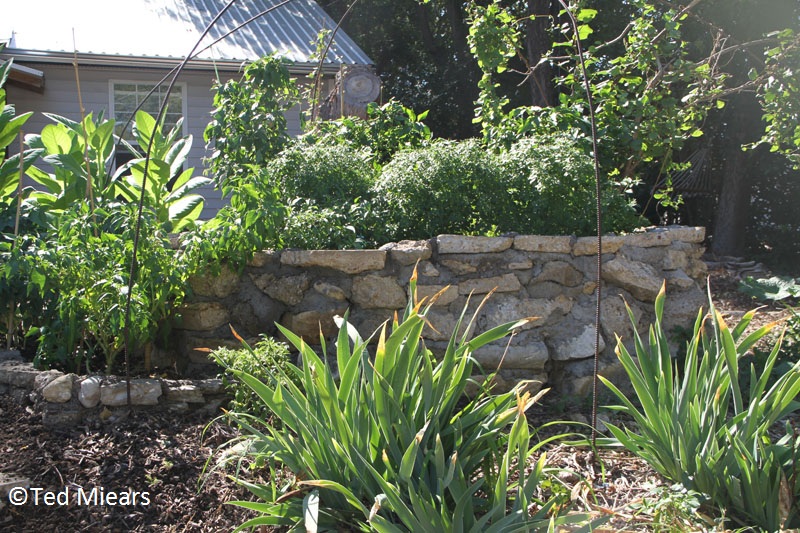 Find out more on Deb's website and get her DVD, shot by videographer Ted Miear, which documents the entire process that you can do in one afternoon!  I thank Ted for his support on this segment. Long ago, he was a KLRU freelancer, who went on to launch his own video production company.
Finally, the garden events are gearing up, but here's one for the whole family! From Sept. 22 – Nov. 18, head out to Barton Hills Farm in Bastrop for a corn maze, live music and more. Family fall fun, for sure!
Happy planning and planting until I see you next week!  Linda
Comments