April 11, 2013
Like taking risks? Hey, you're a gardener!
It's natural to be a little wary when treading on new ground, especially when it means keeping something alive. My young Copper Canyon daisy (Tagetes lemmonii) gave me a scare last summer. Oh yes, we ARE taking risks if we don't water even drought-tough plants their first year. This one forgave my negligence by blooming this spring. I was lucky.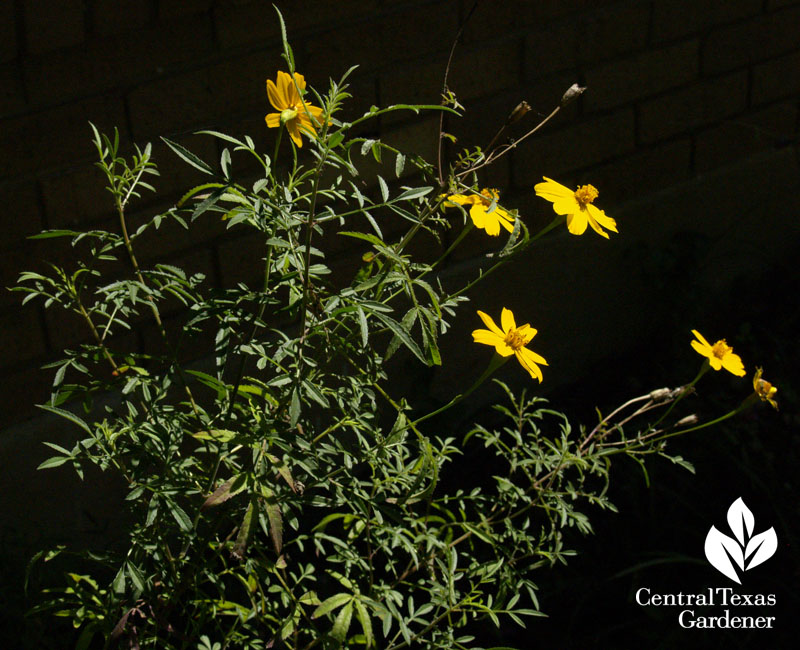 I finally cut it back several inches, since I want it to lush back out: not just for my visual preference, but to cover itself in flowers for migrating and resident butterflies this summer and fall.
Weird years (and that's most of them), keep us coming back for more. Many weird years ago, I took a risk when I dug up a huge stretch of lawn. At one end, I decided to have a rose arbor. I couldn't decide between New Dawn or Buff Beauty, so I took a design risk and put one on each side. Well.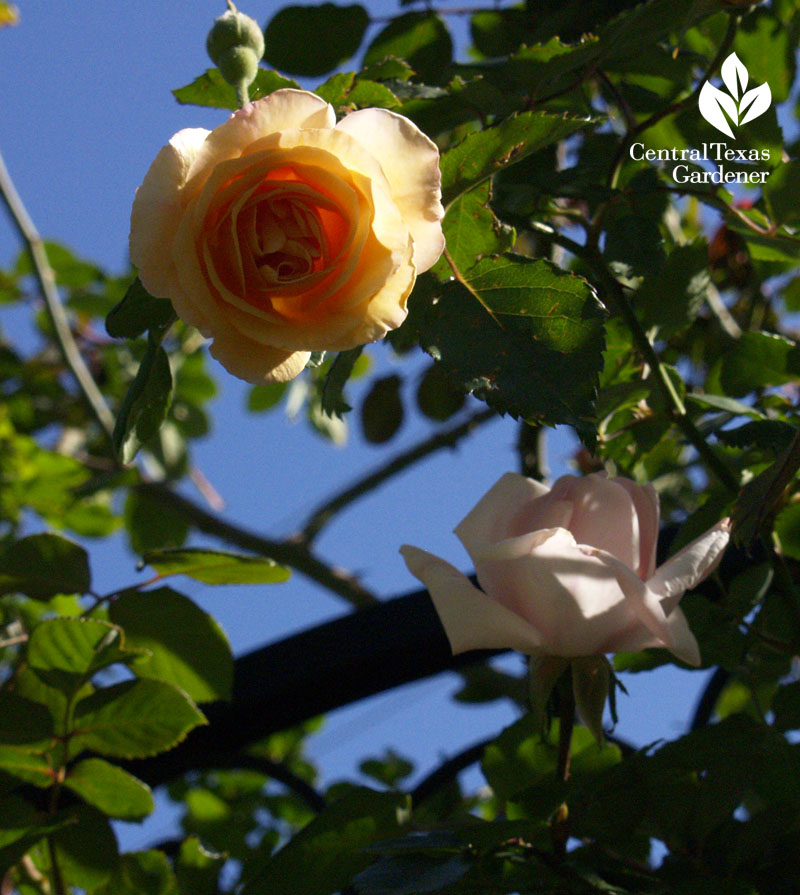 I wasn't so lucky when I planted an Iceberg rose in the den bed, where I figured it would get "just about enough" sun. Nope. I moved it to a really hot spot that I rarely water and never fertilize. Now, it's almost always in bloom. It reminds me: the odds are better by following SOME of the rules.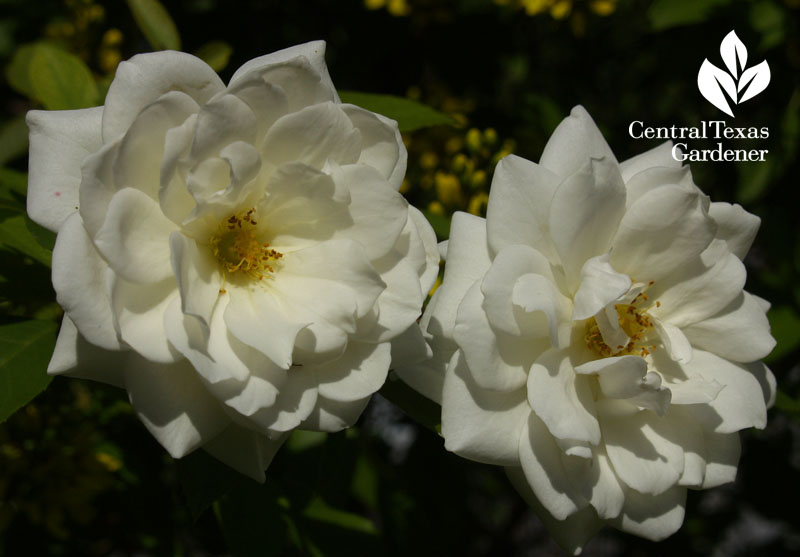 Peggy Martin loves her hot spot trellised on my chain link fence as a little privacy and to share with our beloved neighbor.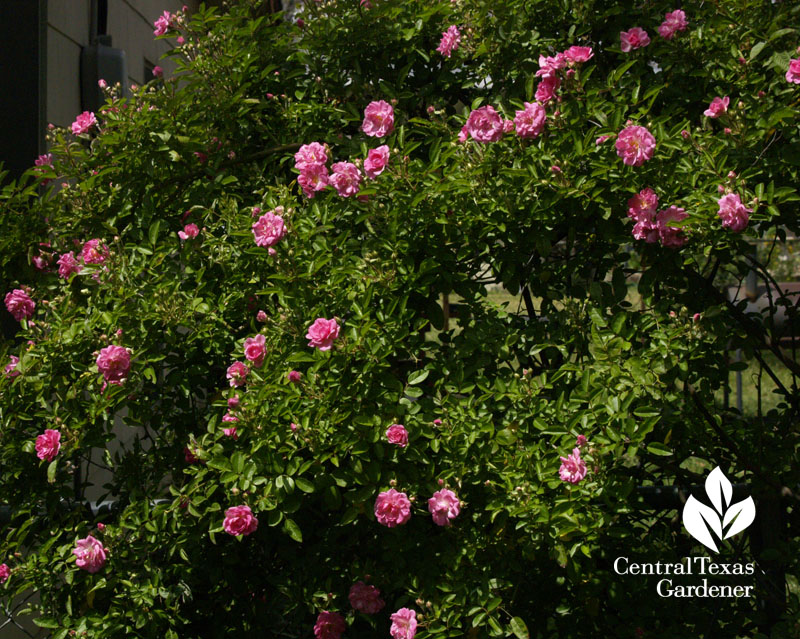 Known as the "Katrina rose," here's the story of how Dr. William C. Welch brought us this intrepid rose, since he's a man who thrives on a good plant risk.
Recently, Saliva farinacea 'Henry Duelberg' joined Texas betony in the island bed. I found it in a nursery, thanks to horticulturist Greg Grant, who collected seeds in a La Grange cemetery and named it for the headstone nearby. I also thank the Texas growers who took a risk to take it public.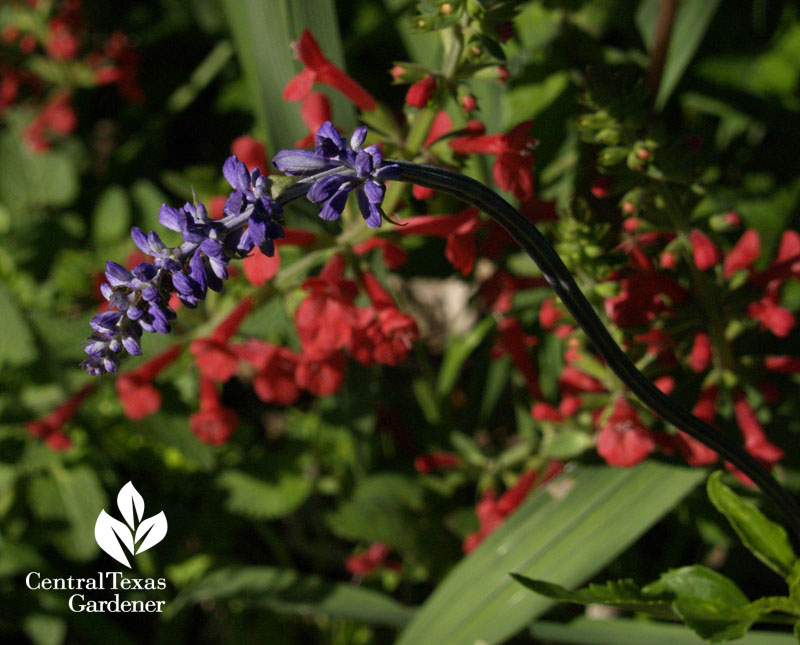 And what about avocados, allspice, cinnamon, hibiscus for tea, and other tropical edibles? Amanda Moon from It's About Thyme joins Tom this week to entice us to follow this delicious trek.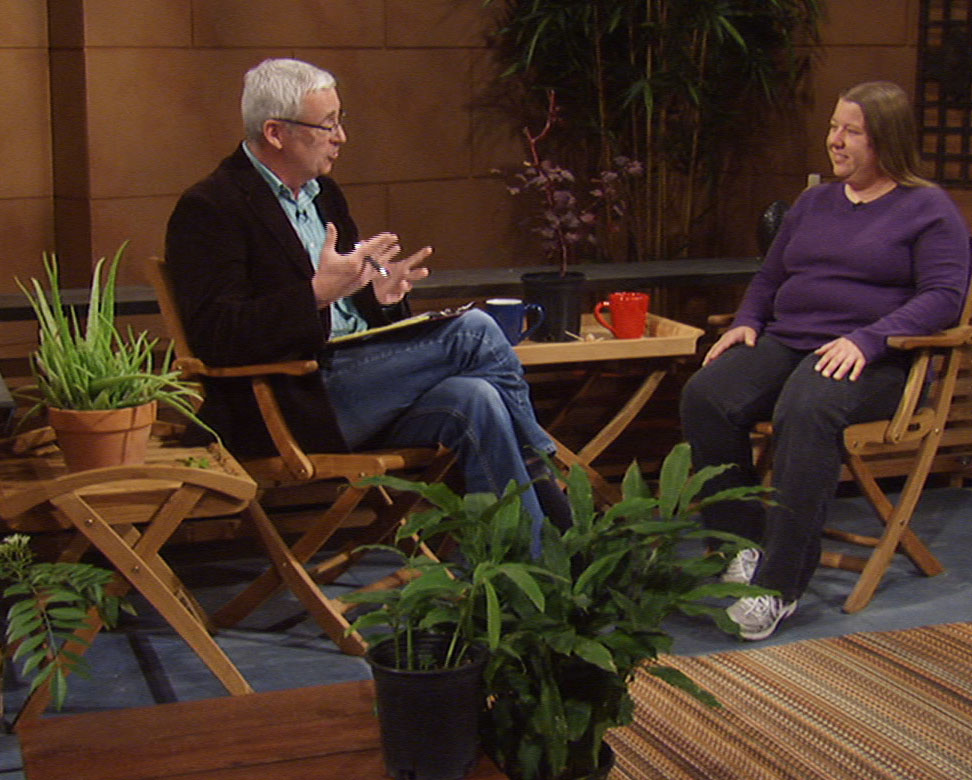 Amanda gives us the few simple rules to take this risk for yummy rewards. Here's her list for your future adventures.
I snagged this picture of allspice in Lucinda Hutson's garden last fall. She does overwinter its container in a garage with a Grow Light when she remembers to turn it on! Like all plants protected in a garage, gradually bring them back out into the light to avoid sunburn.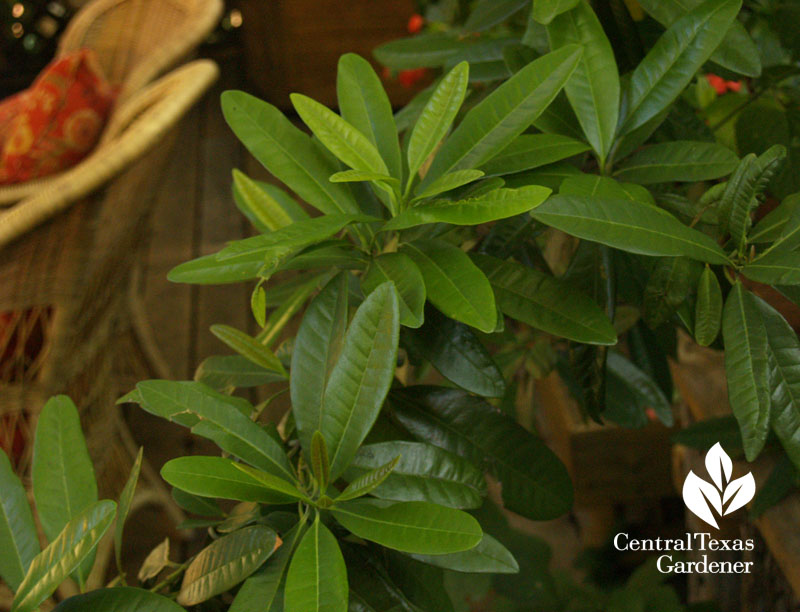 On tour in San Antonio, Ragna and Bob Hersey are all about risks in a glorious garden that Ragna rescued from total boredom with scavenges,  invention, and many passalong plants. Thanks to Shirley Fox, gardener and blogger at Rock-Oak-Deer, for this connection! Take a look to be dancing all day.
Ragna went totally organic since butterflies and other beneficial wildlife matter more than a few pests. Oh, and since then, she doesn't have many pests! One way to attract butterflies is with summertime annual, Mexican tithonia, Daphne's pick of the week.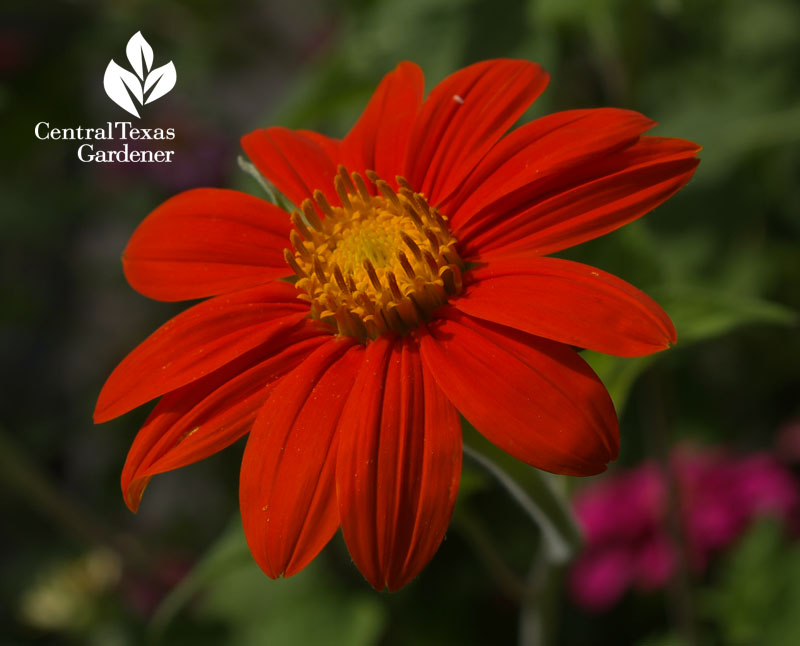 Our viewer question this week comes from garden blogger Robin Mayfield who wants to know if she can mulch over live oak leaves.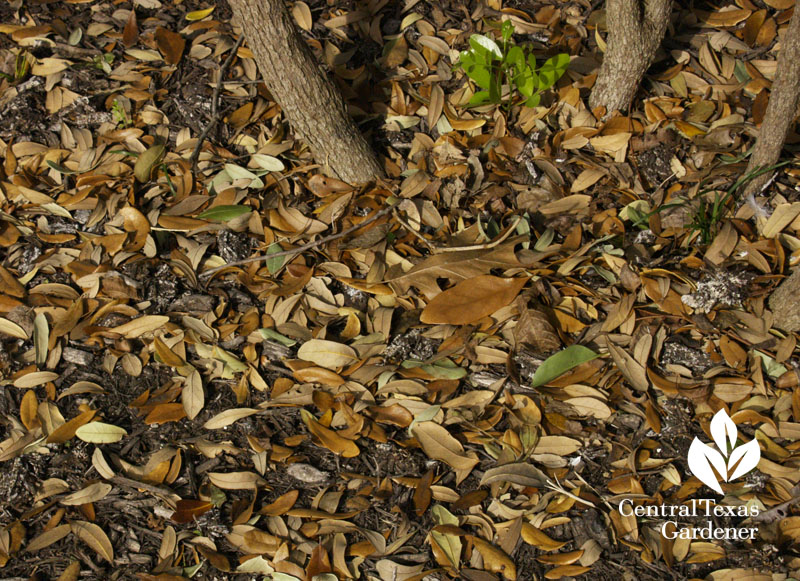 Yes, says Daphne, unless there's been a past problem with oak leaf rollers. She also explains why oak leaf drop happened earlier this year for some of us. Have we mentioned watering trees in drought?! Don't risk your trees: do water.
Not every plant wants the same kind of mulch. Andrea DeLong-Amaya from the Lady Bird Johnson Wildflower Center explores the pros and cons of several options to keep everybody happy.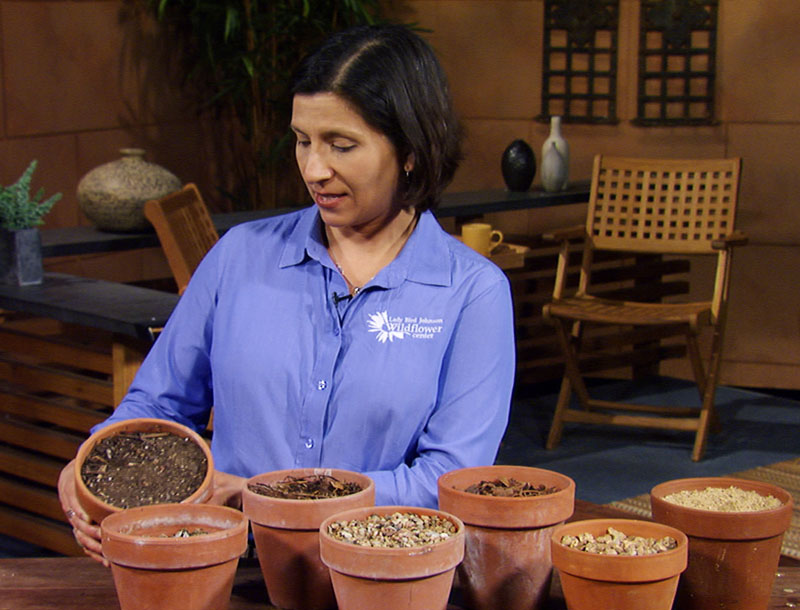 From Central Texas Gardener's Face Book page, heads up to Tamara Dextre on the best advice ever: "I am getting fearless…after all, it is about gaining experience and having fun." Well said!
Thanks for stopping by and be sure to have some risky fun until next week! Linda
Comments