June 20, 2013
Catching rain, aquaponics, squash pollination & nematode control
First, here's something to cool down the dog days!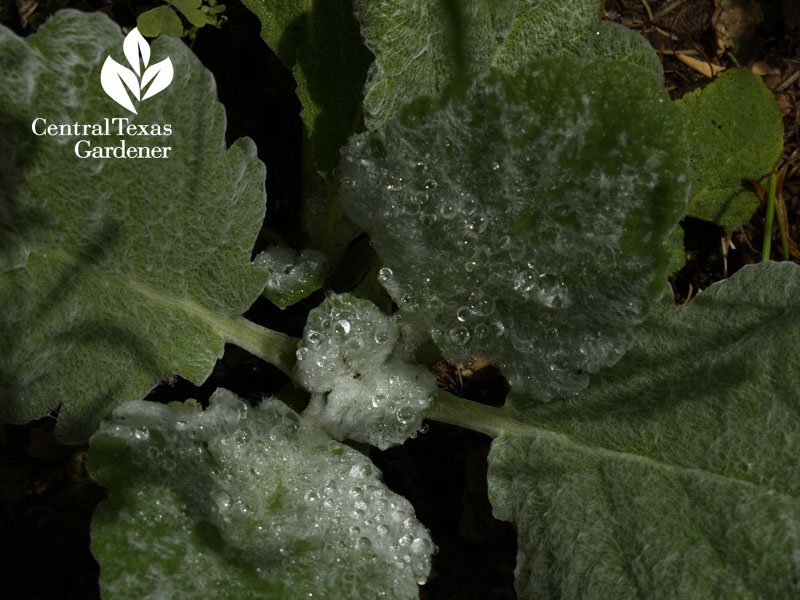 It's Salvia argentea, my first try at this low-growing fuzzy silver in the grinding hot cat cove, now well-amended with decomposed granite.
In the front bed, I'm going for tall drama with equally new Beschorneria yuccoides 'Flamingo Glow.'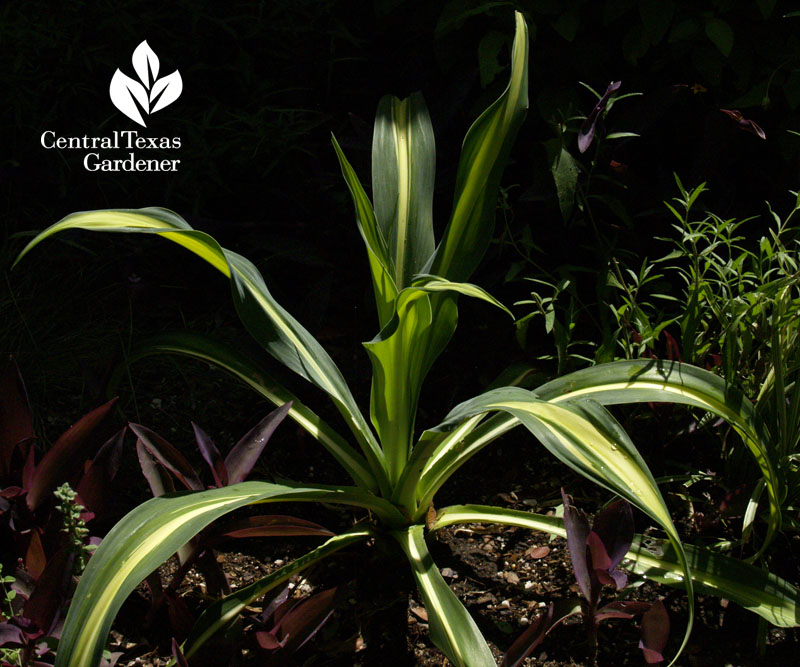 An agave relative, it can beat the heat and drought. Again, I improved drainage with decomposed granite. It gets just the shaft of sunlight it needs in psycho light, which in morning sun leaves its background companions in shade.
So, on to CTG! This week, Daphne answers a question from our Facebook page: "Why are my squash flowers and fruits falling off?"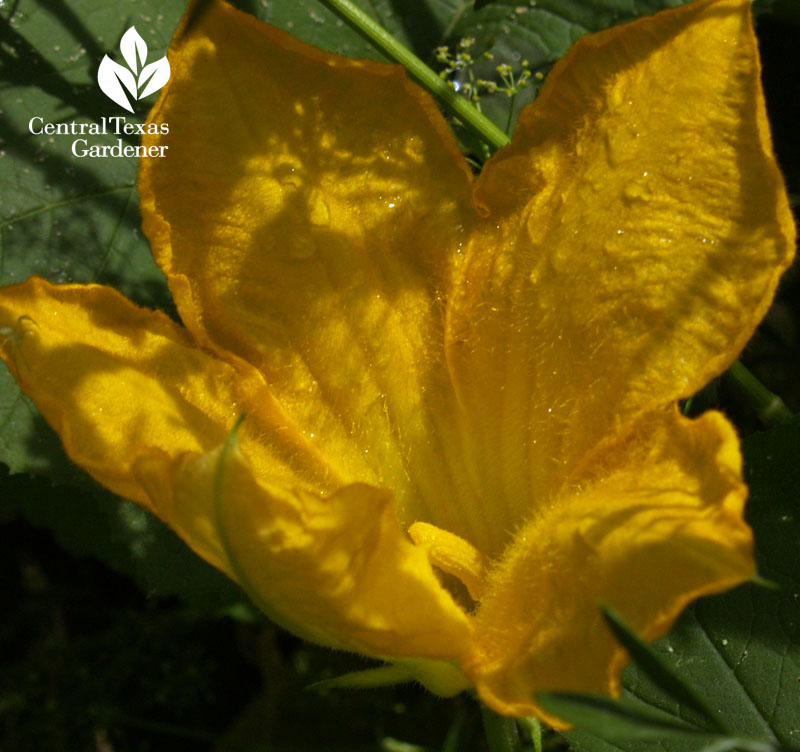 Well, it's lack of pollination from that male flower to a female. Thanks to Master Gardener Patty Leander (and husband Bruce) for Daphne's broadcast pictures.
And thanks to Jay White who sent pictures of how to pollinate by hand for Daphne's explanation! Get more of his fabulous step-by-step instructions at The Masters for Horticulture. And certainly, don't miss Patty and Jay in Texas Gardener magazine for their on-target expertise!
Troubled by squash vine borers? Check out Trisha's past CTG segment on tackling those moths that lay eggs inside your plants.
This week, she goes underground after root-knot nematodes. The plant in the middle is healthy: the others show the damage that stunts the plant.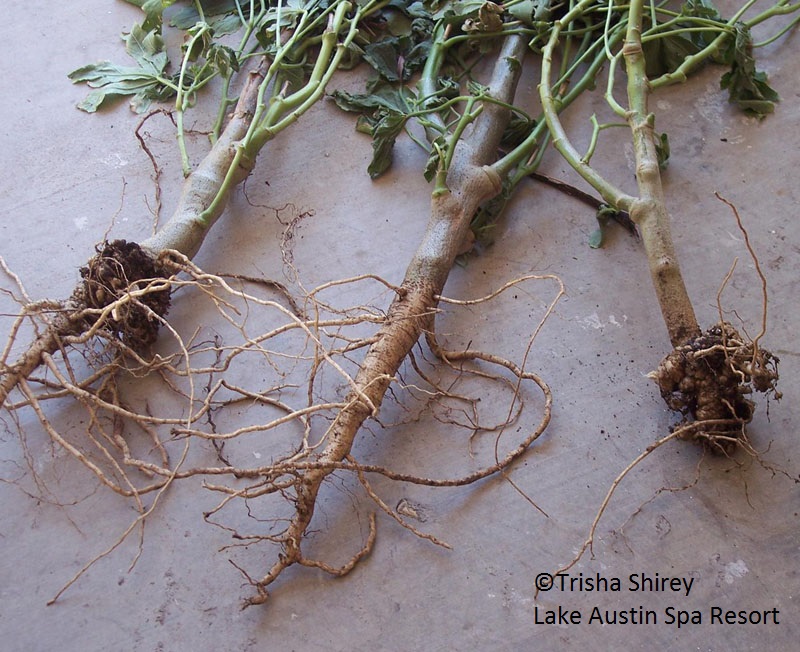 Here's her list of organic control options to fend them off in your garden.
A trouble-free shrub for summertime glamor is Duranta, Daphne's Pick of the Week.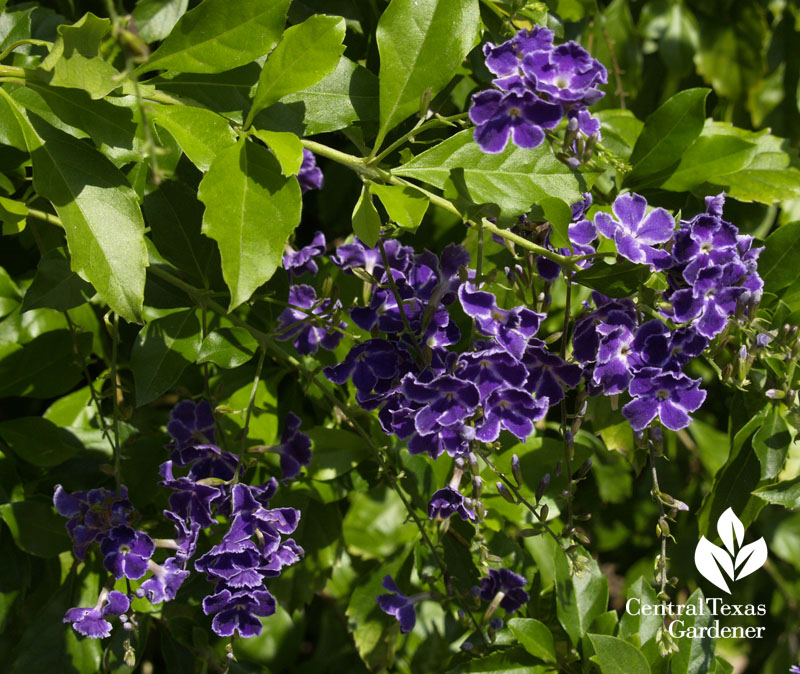 In harsh winters, it can freeze, but a clip in spring will bring it right back. At Travis Extension, it's usually evergreen in its microclimate against a wall.
This Texas Superstar attracts butterflies to the flowers, and birds for the yellow fruits, often at the same time!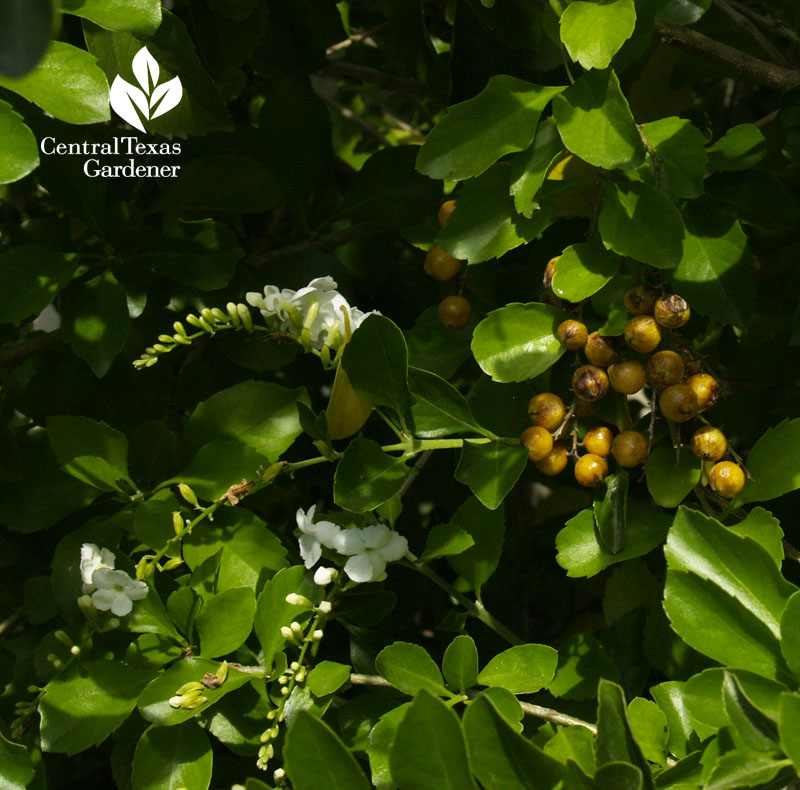 When rain DOES come, like our little surprise Tuesday, we want to keep it (and our irrigation) right where our plants need it. This week, ecological designer Adams Kirkpatrick from Sunflower Design joins Tom for a few easy ideas.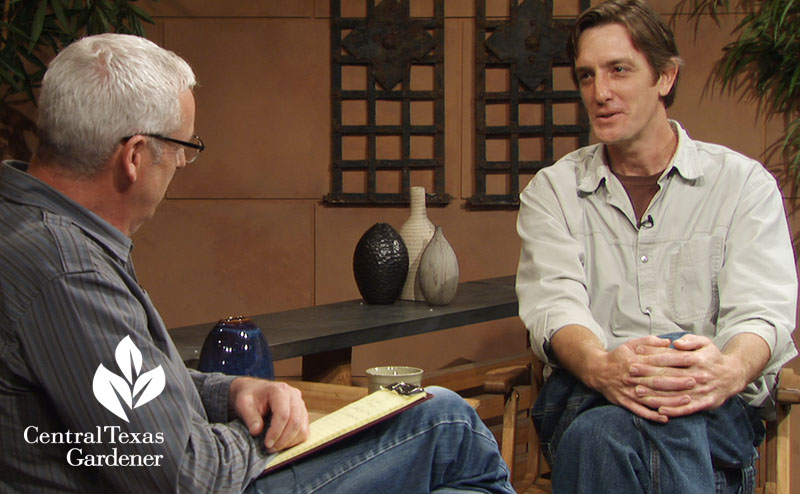 As a designer dedicated to sustainable gardens, Adams explains how to make simple berms and swales, along with rain gardens, to direct irrigation and rainfall to plant roots, rather than losing it to the street or flooding your house. Get his underground story of the swales that irrigate his cute raised bed design.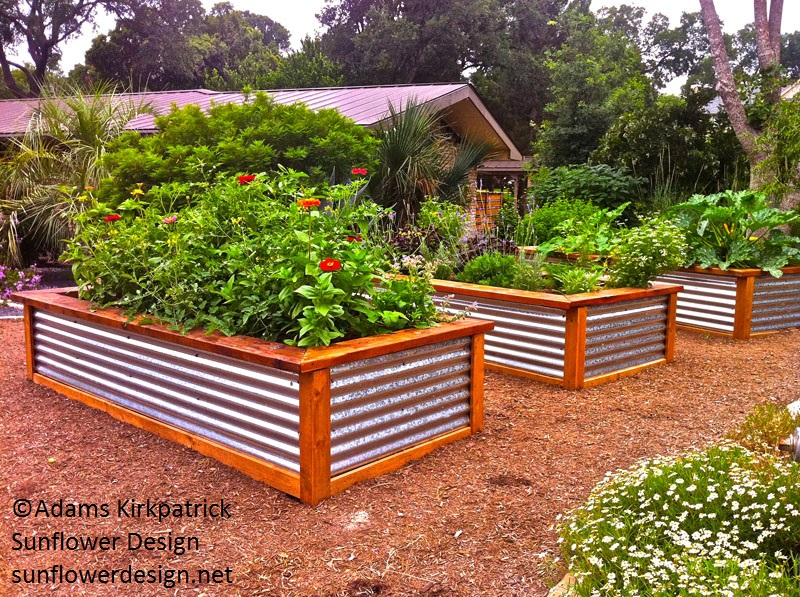 At the Texas Gas Service office, they're using berms and swales, along with dry creek beds, to control water.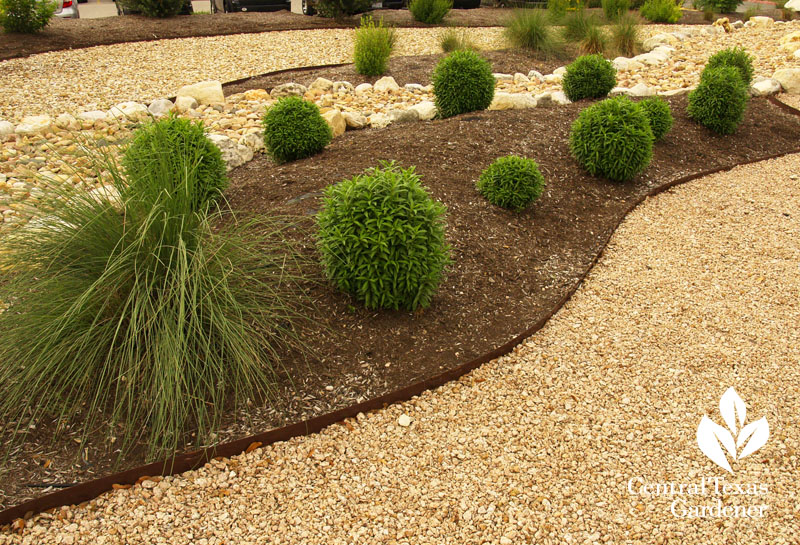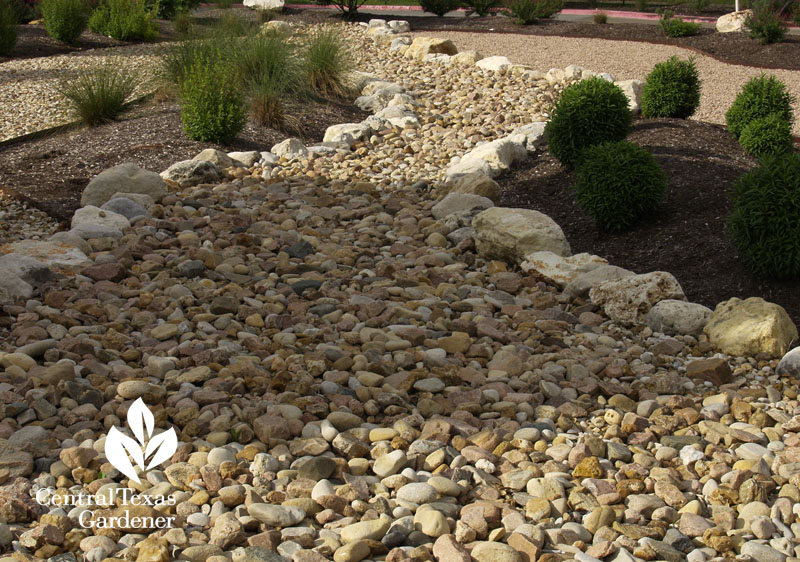 It's easy to adapt at home: I make small versions to keep water right around my plants and off my paths.
Here's something special! To support CTG, Adams is donating 10% of his design fees to Central Texas Gardener until August 1. Thank you, Adams!
Now, how about conserving water to grow food? On tour, find out what aquaponics is all about at Austin Aquaponics, where Rob Nash uses less water for his crops than most people use on their gardens. Director Ed Fuentes documents one of the raft beds.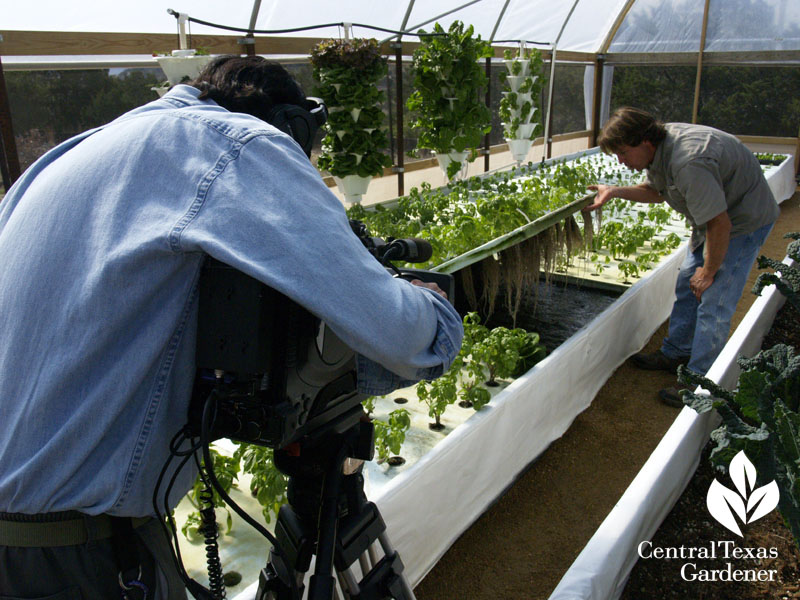 Like all farmers, Rob's family is right there with him, including another daughter who missed this picture!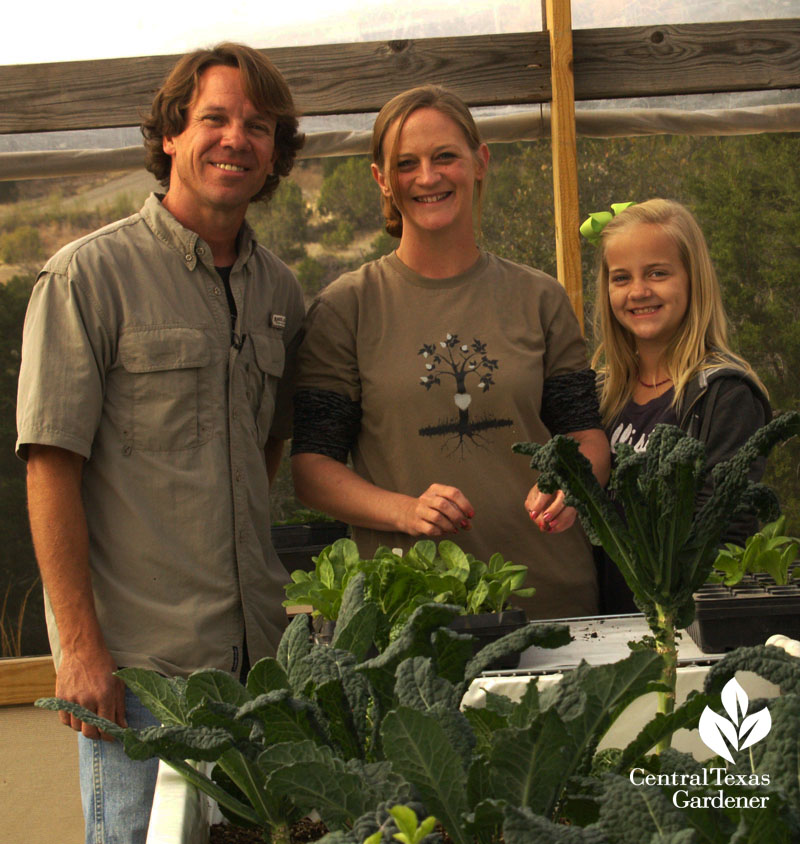 Meet Rob at the Lone Star Growers Farmers Market and at Austin Aquaponics for his workshops to learn to do it at home or to get an on-site design.
Here's a sneak preview!
Thanks for stopping by! See you next week when we visit with Sharon Lovejoy on some dirty birdie fun.
Linda
Comments