June 8, 2017
Reel in Rainwater with Plants & Rain Gardens
Between rain bursts and blasts this week, the sun popped out to sparkle on sunflowers that planted themselves quite comfortably. Eager birds await the feast.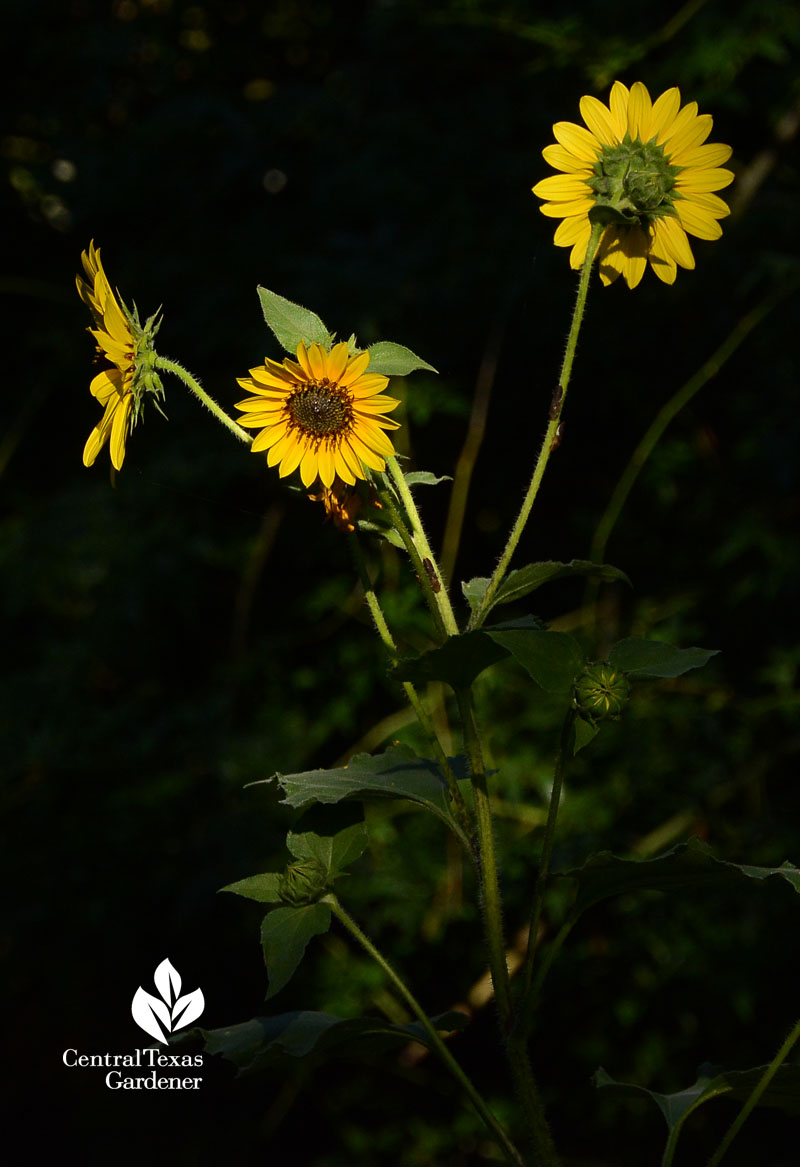 Ladybug larvae and pupae (like these pupae in Jason Wisser's garden) are chowing down on pesky aphids. Daphne reminds us that our gardens are truly living eco-systems where we are personally in charge of their protection.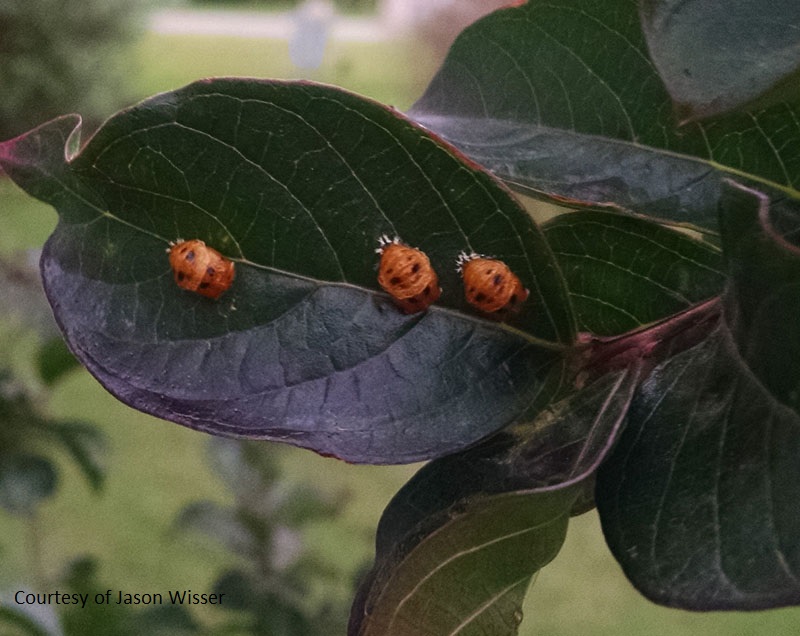 Rain lilies keep on coming, though now they're forming plump seed nurseries to "deliver" in a few weeks.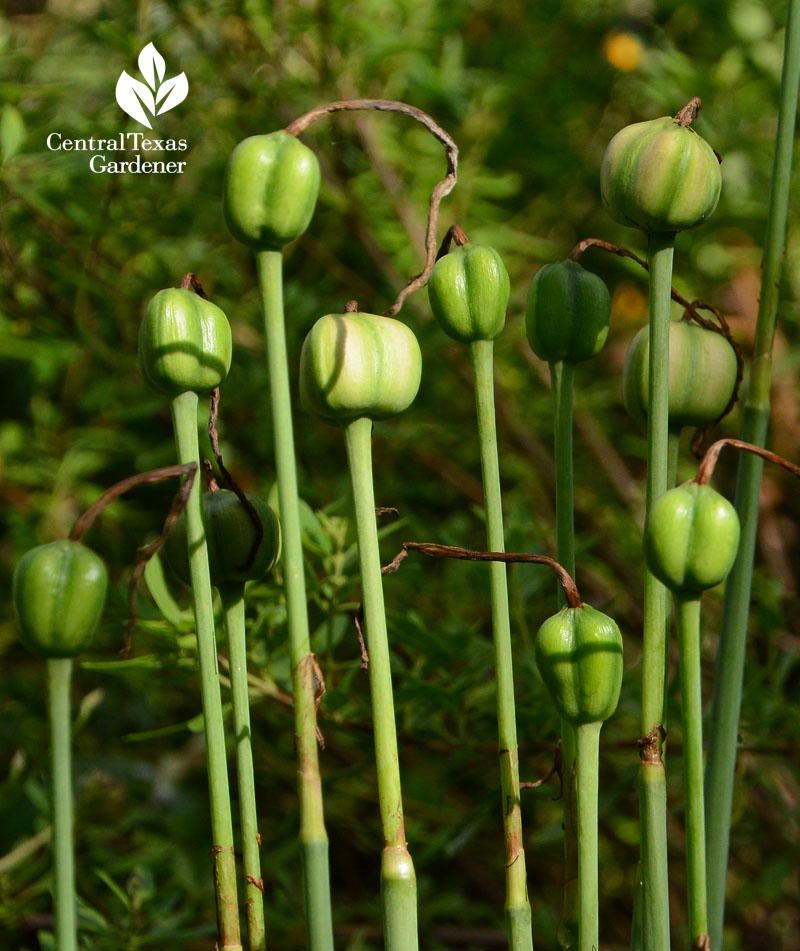 I don't have a rain collection system, but last summer Greg snagged this 26-gallon container for less than $10 at Sam's. Since we positioned it under the patio's rain gutter, I haven't used hose water on containers since then.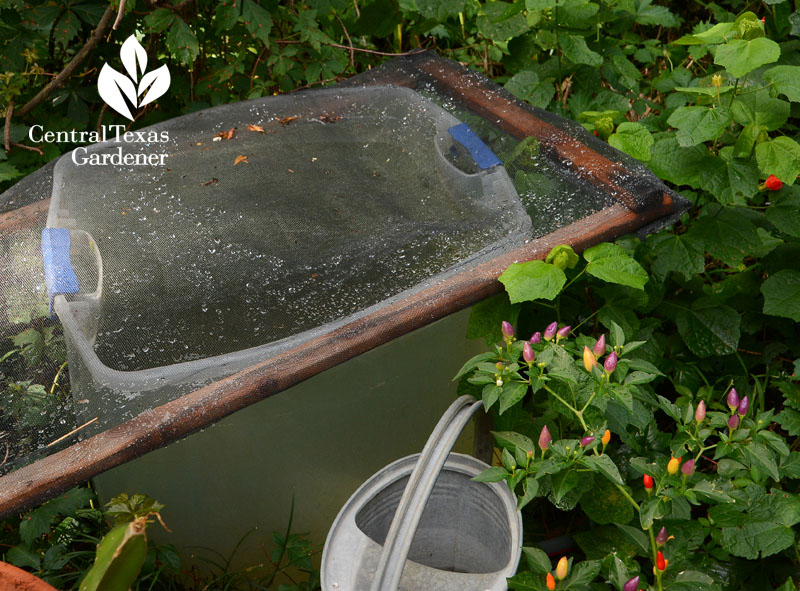 In the shed, I found my long-ago screen and wood device for who knows what. I positioned it over the tub to let roof runoff flush it, keep mosquitoes out, and prevent beneficial insects from drowning. It's not cute, but gets the job done.
Anoles played "tag" until leaping after other diversions.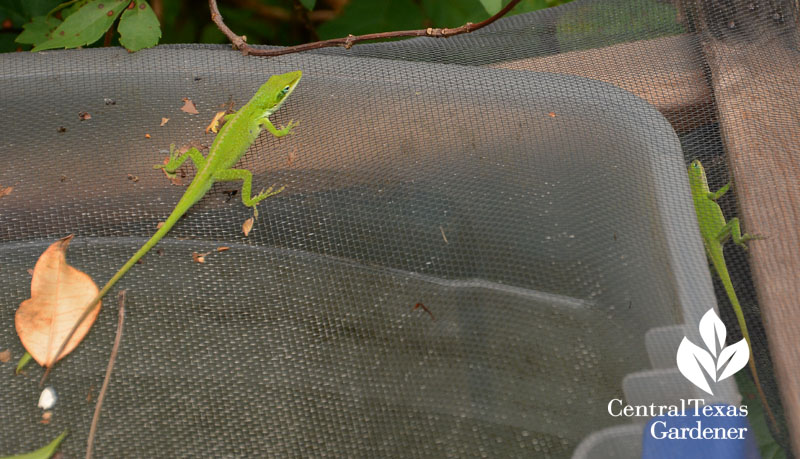 Along that patio runoff alley, native Turk's cap thrives with flooding-to-dry conditions, enticing hummingbirds straight to our eye-level.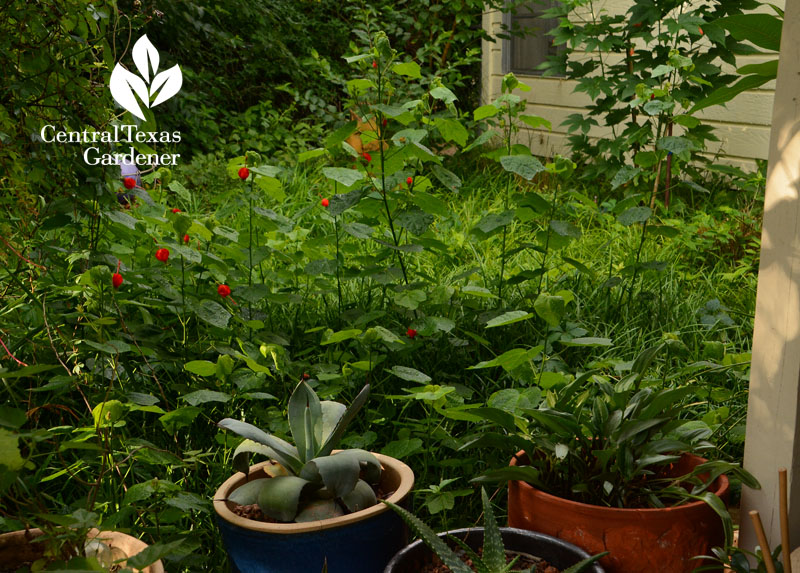 Beyond is lirope I started years ago from 3 passalong plugs. We had dogs then who wanted to hang out with us near the patio. It was a quickly multiplying, inexpensive dog-proof way to deal with a mound of poorly drained soil in shade. A few bamboo muhlys along the back (also good wet-to-dry plants) are making a slow comeback after winter's hard freezes.
Centered on the wall, 'Patrick' abutilon popped its first orange lanterns.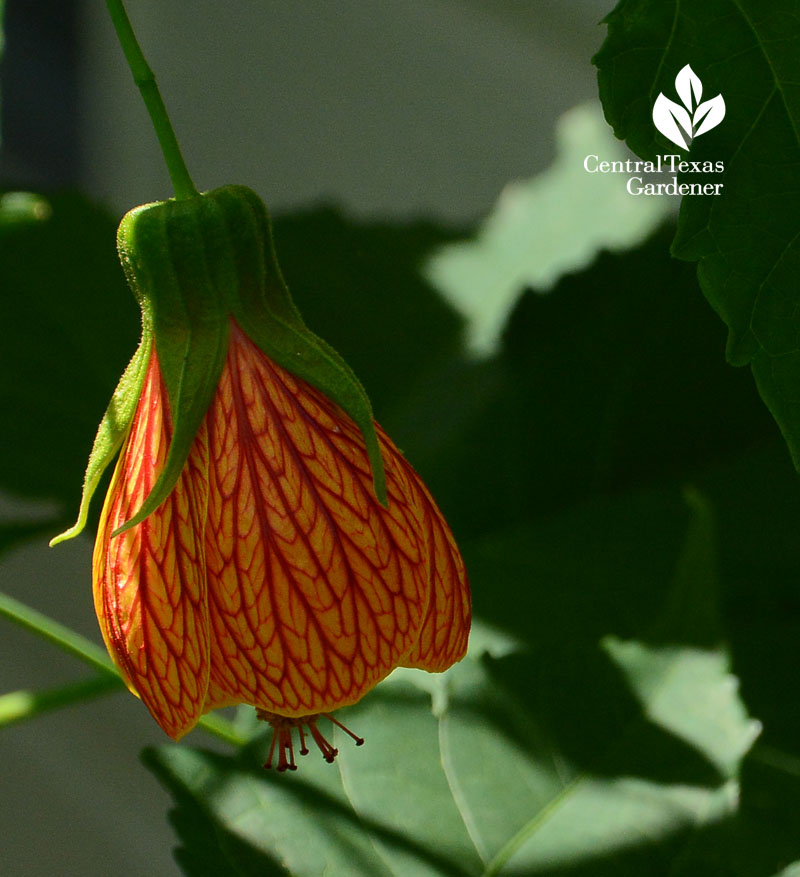 Rainfall for only a few minutes sends precious gallons gushing to the streets. Or, straight towards our house! This week, Jessica Wilson from Austin Watershed illustrates easy ideas to control and contain rainfall.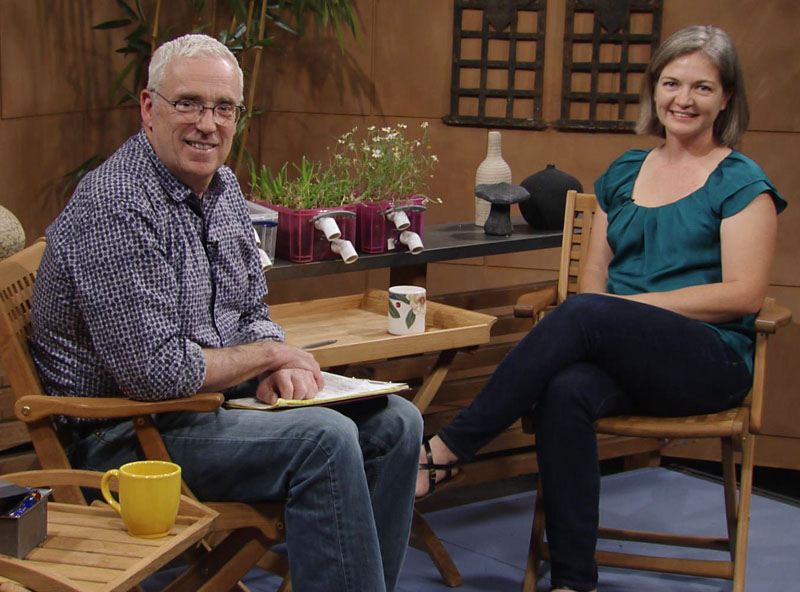 She explains how to create rain gardens—depressions in the soil—to install plants that can handle wet-to-dry swings. Bamboo muhly and sedges are among many candidates, from small trees to flowering perennials.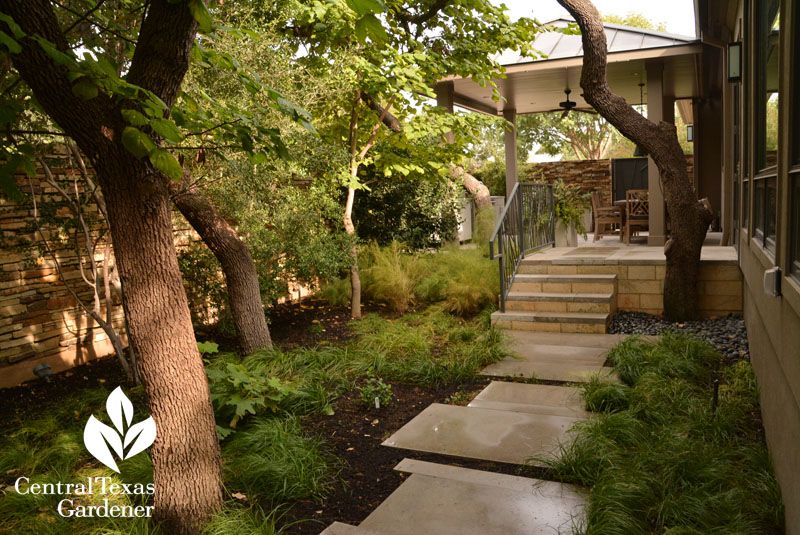 You can also dig a simple swale to let water infiltrate. Watch Jessica's interview.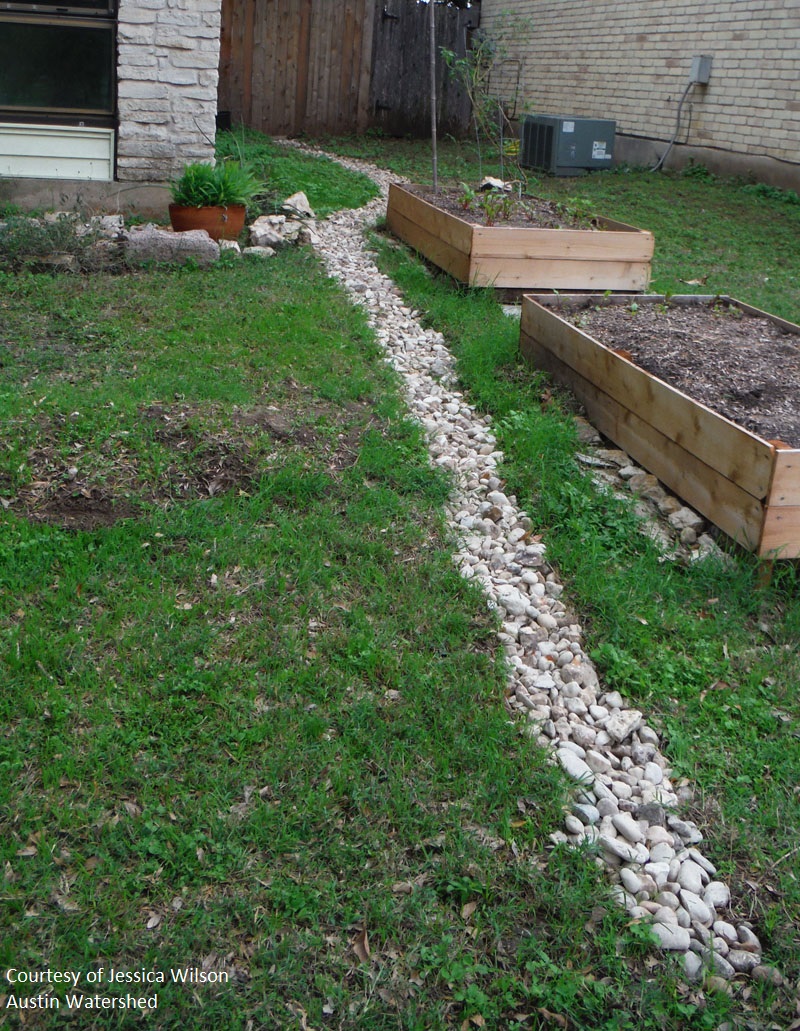 Find out more about rain gardens, berms and swales:

Get Watershed Protection's rain garden details from construction to plants.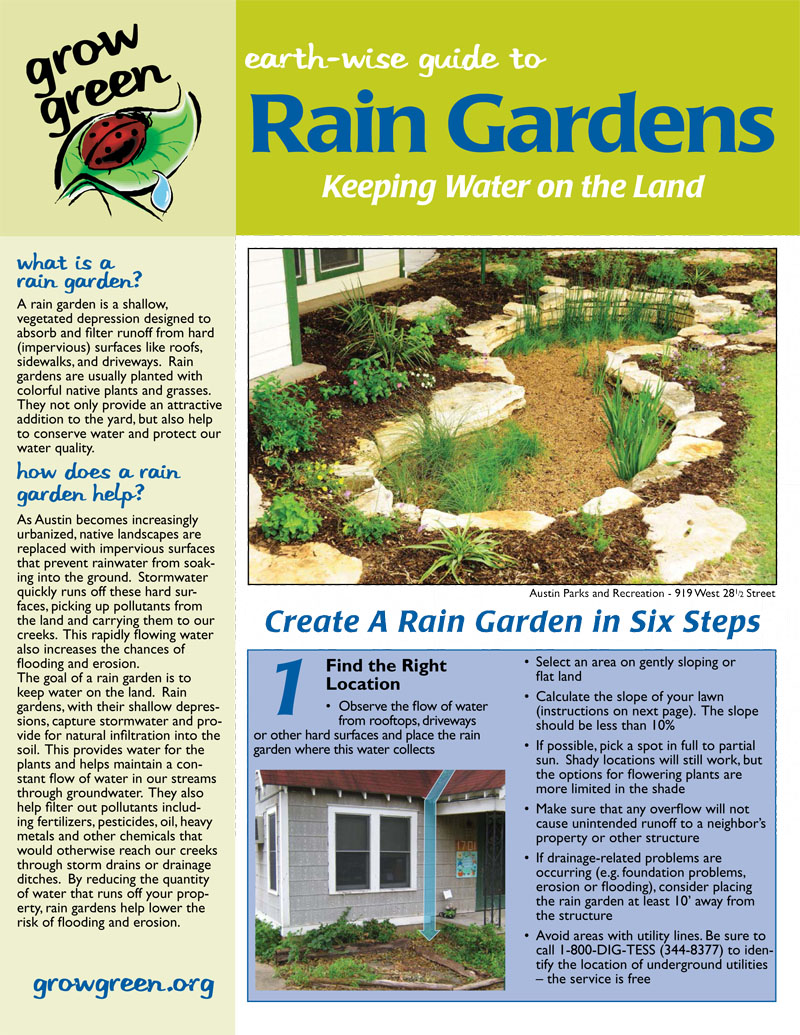 • Watch our visit to Becker Elementary for watershed concepts and rain gardens.
• Designer Elizabeth McGreevy details how to create berms and swales.
• Designer Adams Kilpatrick explains how to keep every drop in your garden.
• Syd Teague built a series of dry creek beds to prevent flooding water.
• Daniel Cunningham from Texas A&M AgriLife—Dallas—shows how to make a rain barrel from a recycled food storage drum.
• Ben McConnell built his vegetable garden with berms and swales to control flooding and nourish crops.
Crinum lilies work well in rain gardens, as I know in my runoff "alley."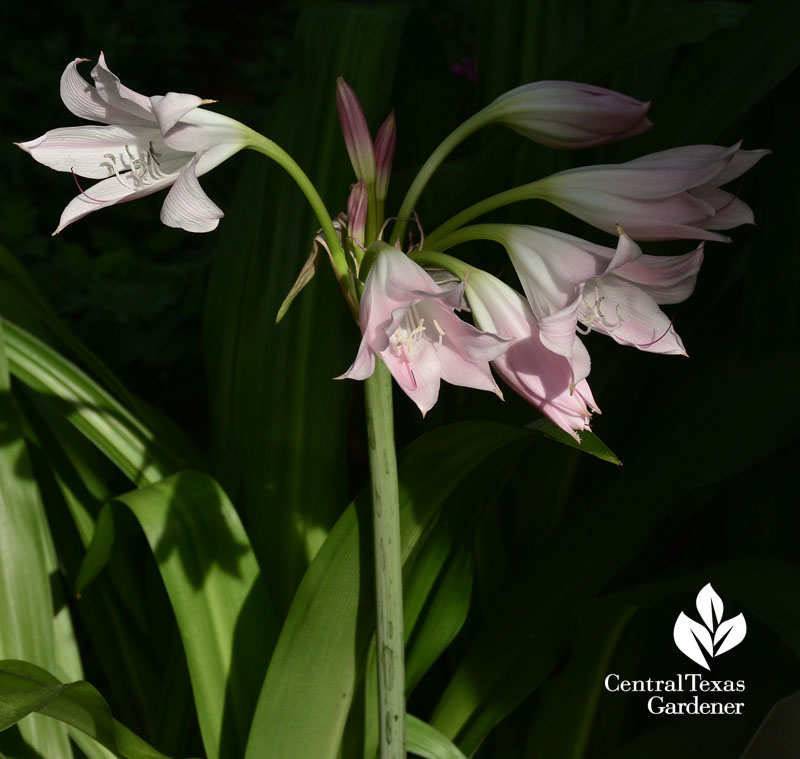 Daphne explains how to grow and divide these drought-tough heirlooms that delight summer with bold, glossy leaves and romantic fragrant flowers. Find out more.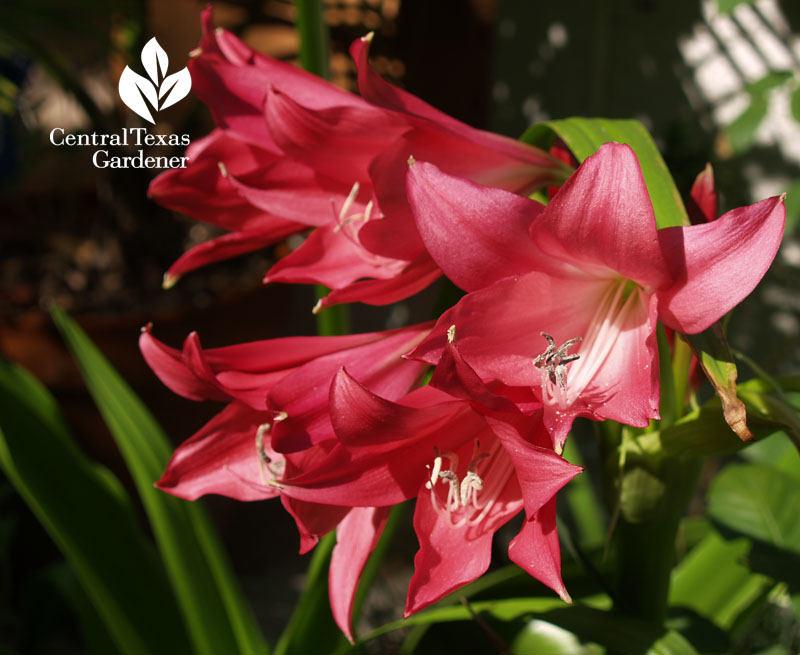 As heat and humidity flag our energy, it's time for little projects! Trisha teams up with designer Colleen Dieter to make your own plant pots with hypertufa. Watch now.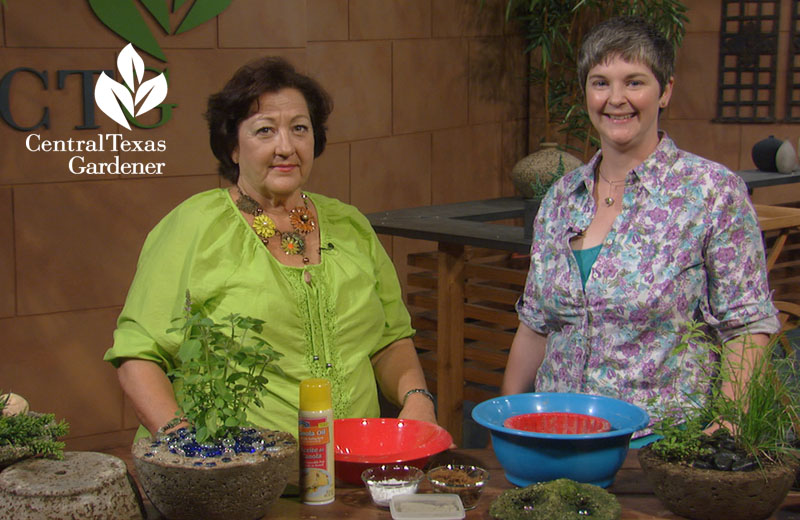 Summer also means–ROAD TRIP! Why not head to historic LaGrange to the Texas Quilt Museum where two arts unite: gardens and quilting.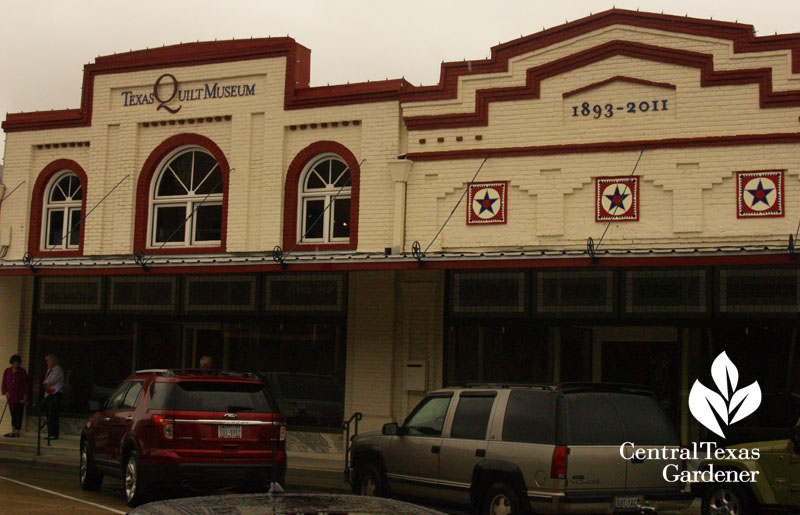 In the historic building lovingly renovated, the quilt display rotates. On our visit, we swooned over tiny stitches and designs from the last century.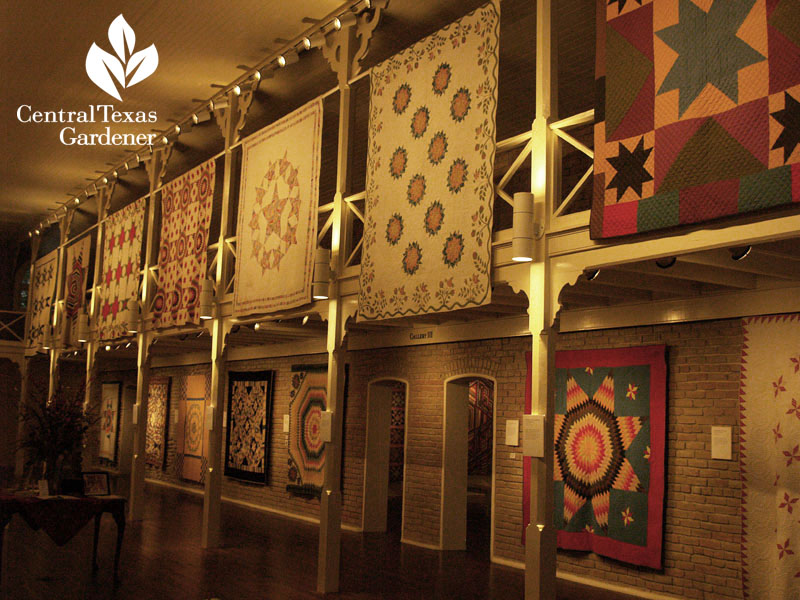 To re-create a drought-tough garden from the early 1900s, patterned after a Depression-era quilt, designer Mitzi VanSant researched plants.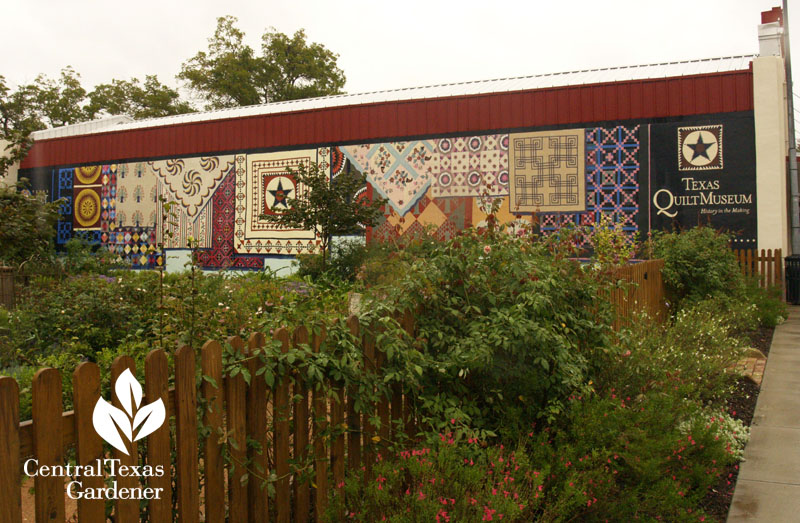 Many were no longer available, but she found their latest cultivars that are just as tough.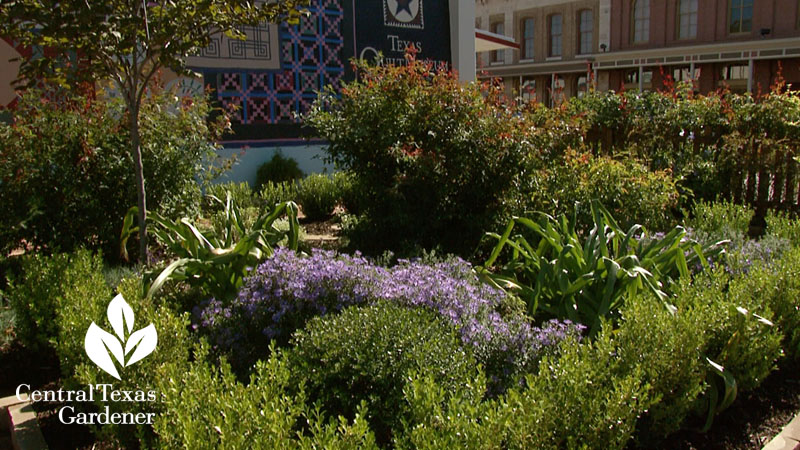 Watch the whole story now!
Finally, do you love CTG? This week we're reaching out to raise $1000 to support our weekly broadcast and 24/7 website to watch and learn whenever you want.
When you give, you'll be entered into a drawing for lots of great books, a year-long membership to the Wildflower Center, and much more! Here's how.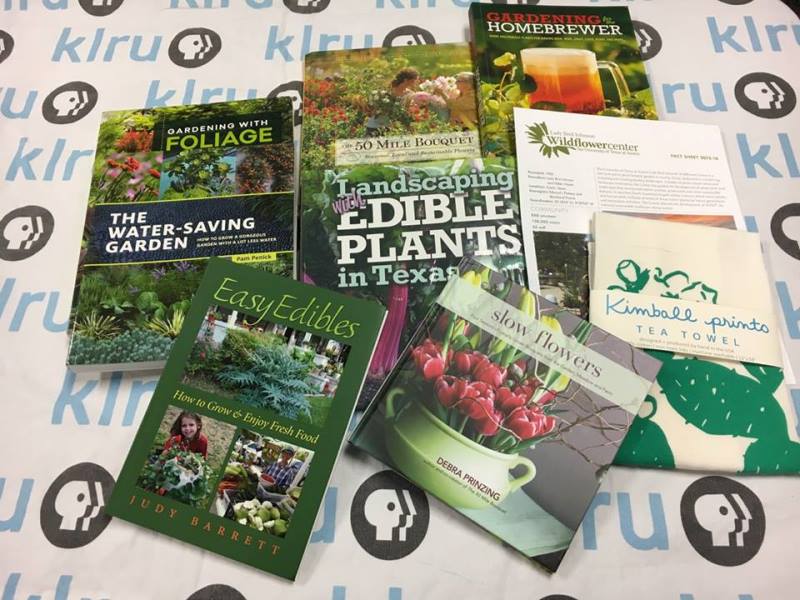 The whole CTG team thanks you so much! We've got so many more stories to tell and viewer questions to answer.
And thanks for stopping by! See you next week, Linda
Comments