September 21, 2018
Design Challenges + Saving Seeds
Nothing like a little rain to energize even drought-tough plants! My native Tecoma stans (also called esperanza and yellow bells) finally popped a flower, though the cultivars have been blooming like nuts for months.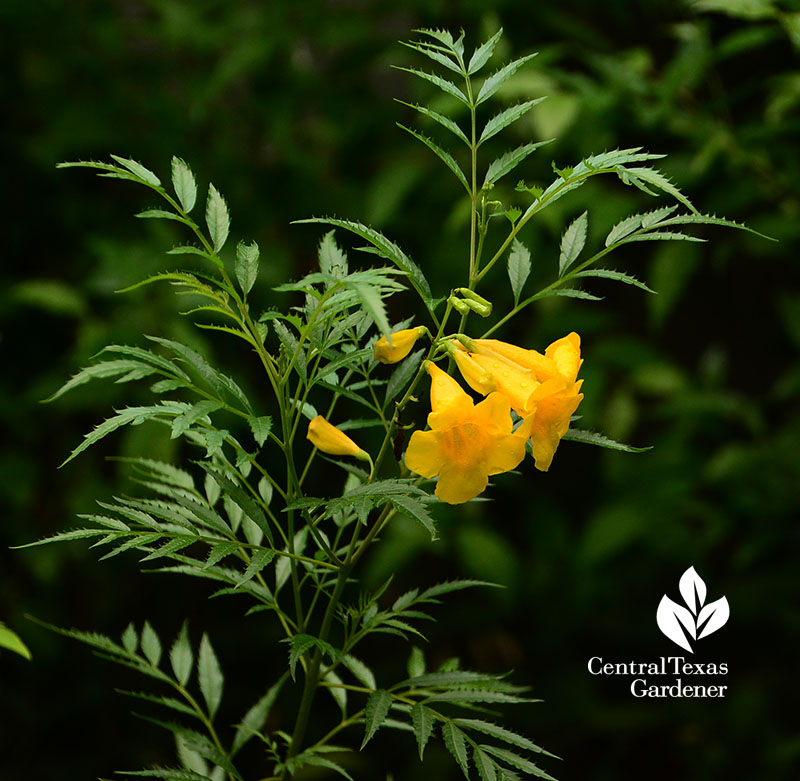 We're jumping onto the design bandwagon, too. More about that in a minute.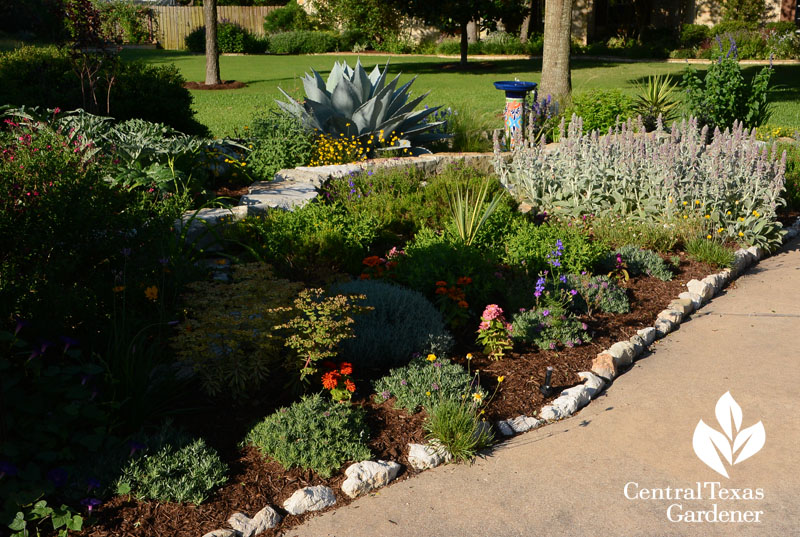 First, it's time to collect summer's seeds for next year. Designers Leah Churner and Colleen Dieter team up to show you how. Leah deserves a bouquet for hanging in there despite a horrendous cold!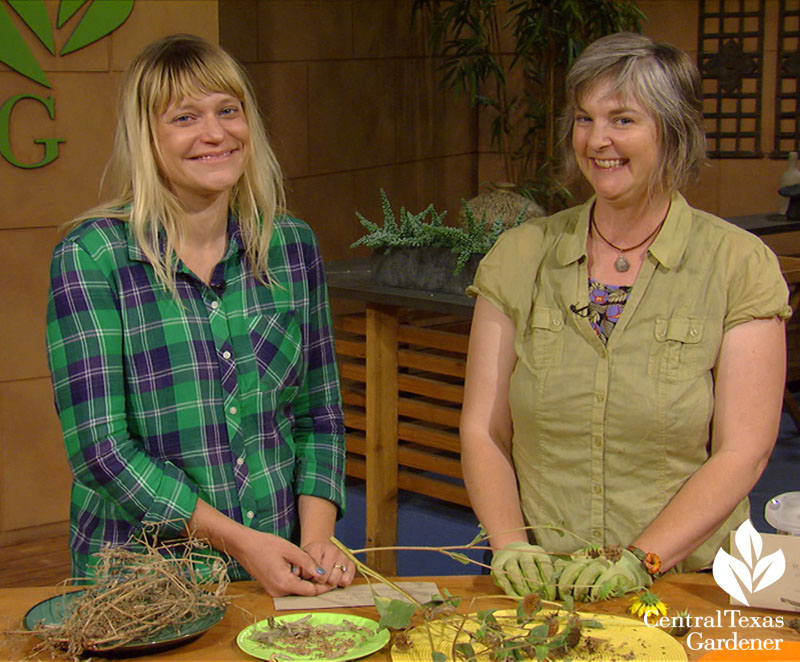 I aspire to label seed packets like Colleen's thorough and legible collections. Sigh, I actually have seeds with no name or provenance. Watch now!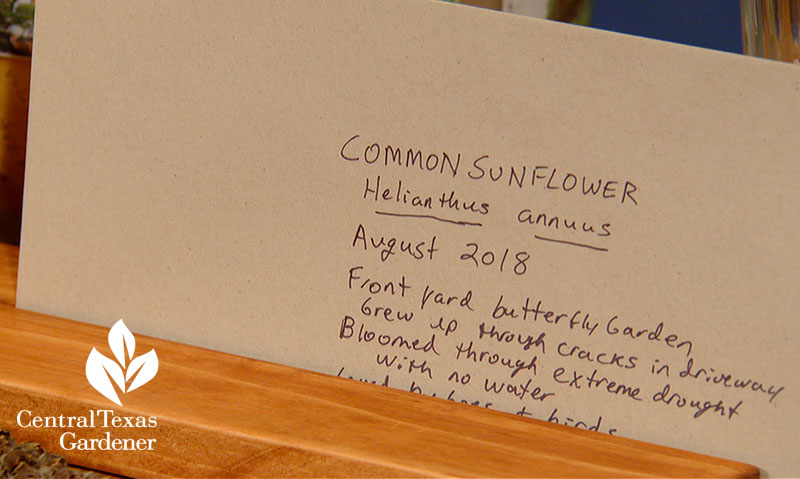 Detailed info comes in handy to share the wealth, especially now that Colleen's launched the Central Texas Seed Library with other local seed saving advocates. Soon, they'll have a seed library at the main Austin library downtown, but for now, check out their talks and seed swap events.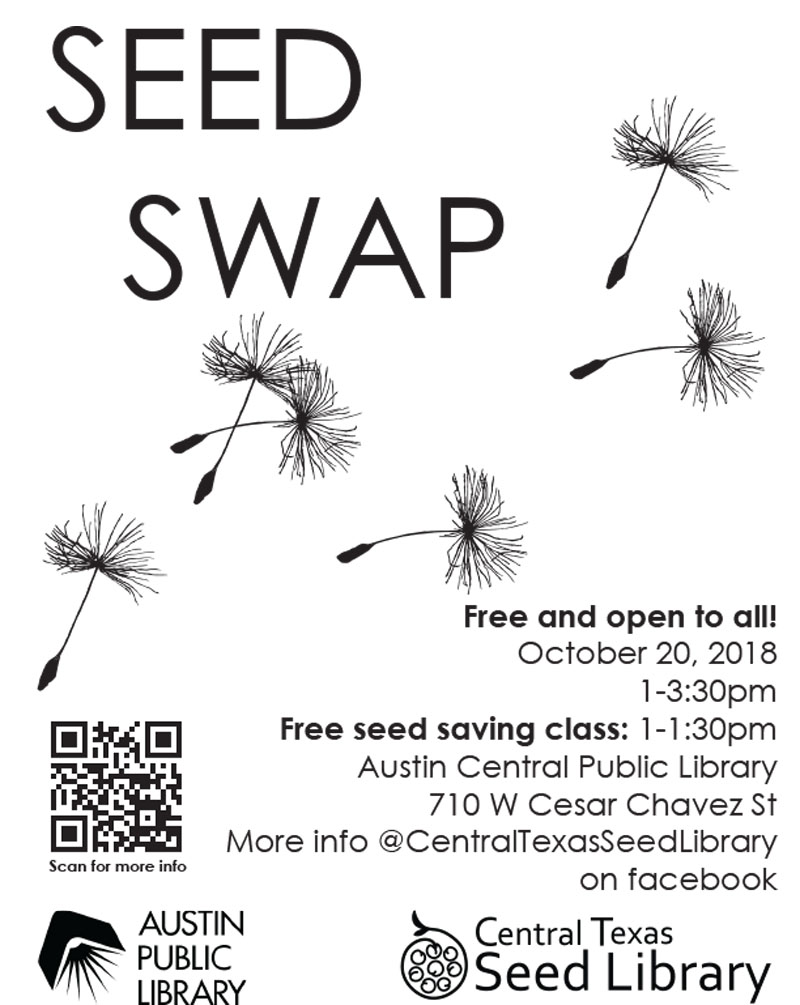 And check out Leah's Hothouse podcast where she and Colleen discuss the project's germination. (Coming soon)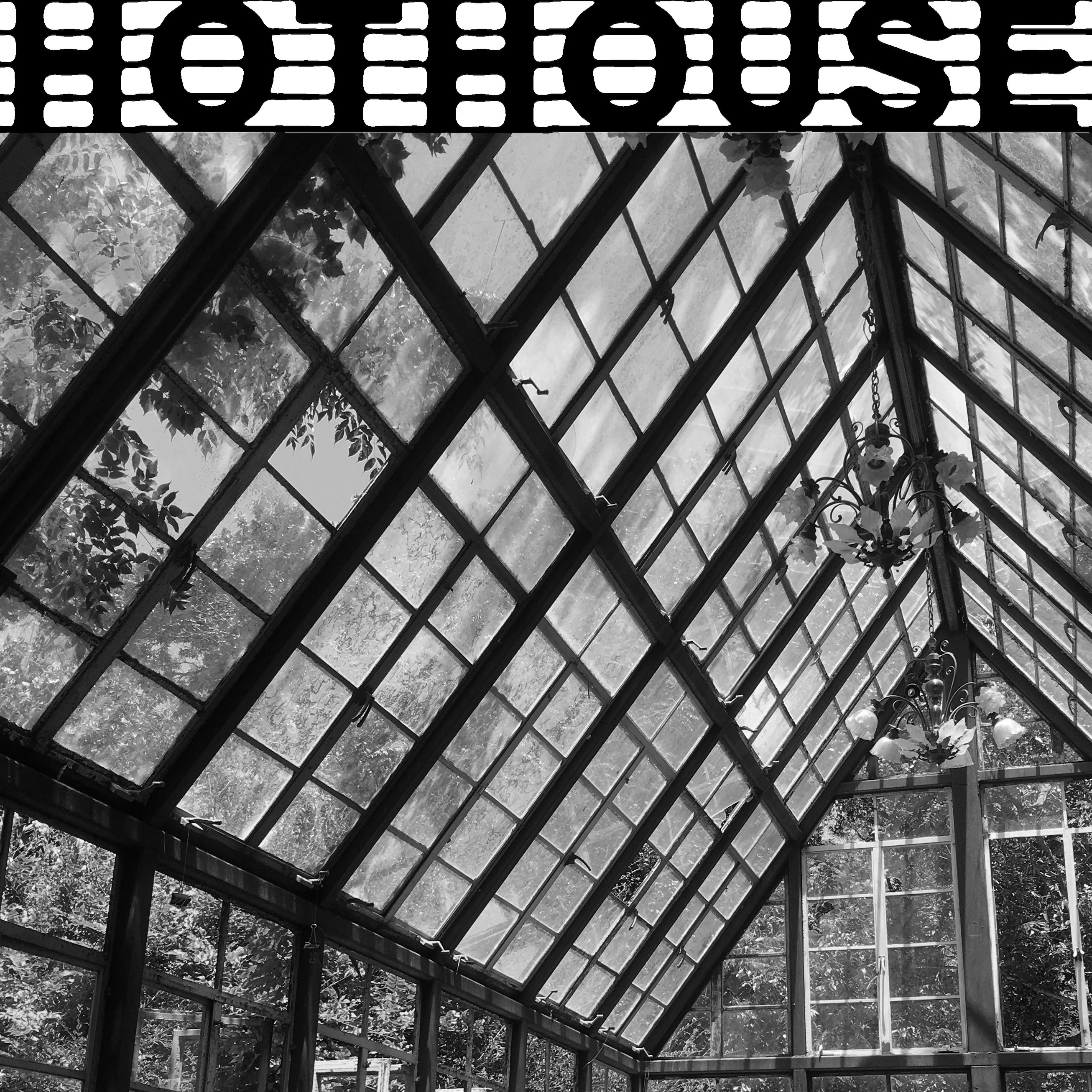 Watch Colleen's CTG segment with Trisha to craft hypertufa containers.
Here's Leah's segment on pruning rehab for overgrown or sorely neglected plants.
On design: small yards are without boundaries on wishful design and purpose, including ecological sensitivity.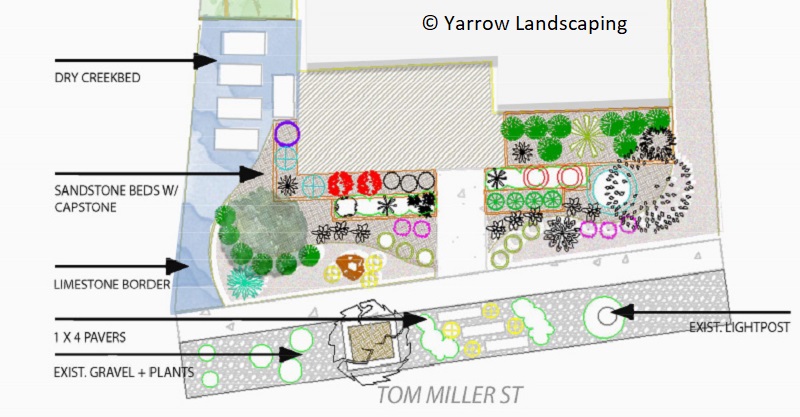 Mandi Golman and Jade Florence from Yarrow Landscaping scope out ideas for privacy, living spaces, water retention and floodwater control in small, contemporary gardens. Watch now!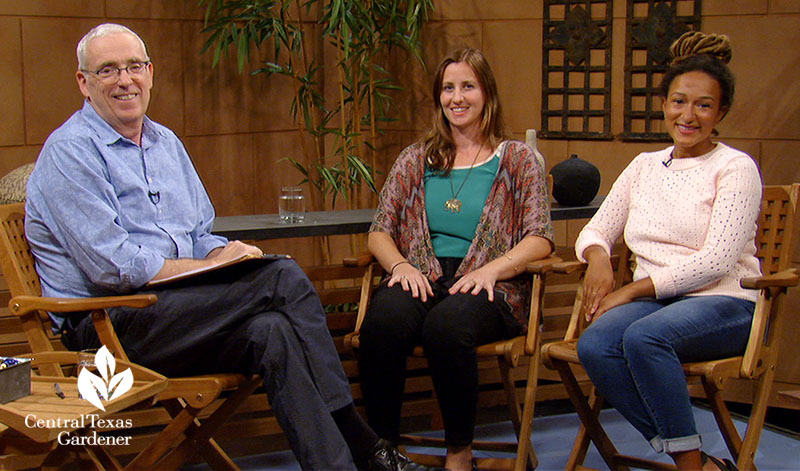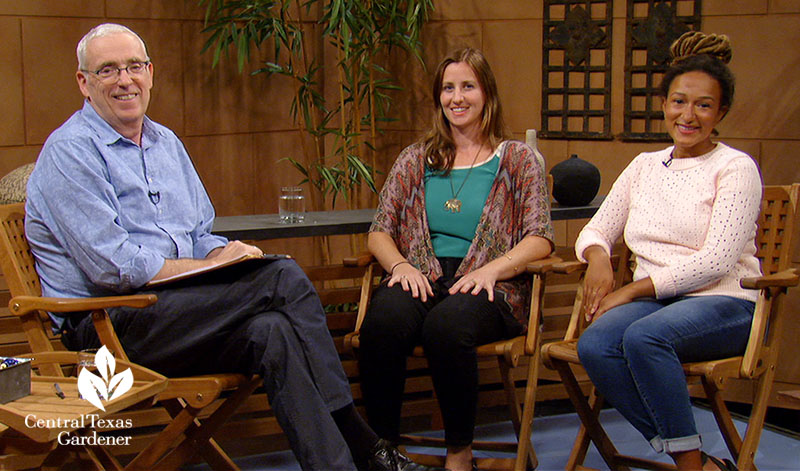 New fun CTG segment! North Carolina gardener and photographer Tonya Peele from plant + shoot will join us a few times a year to show how to cultivate your creativity with a camera.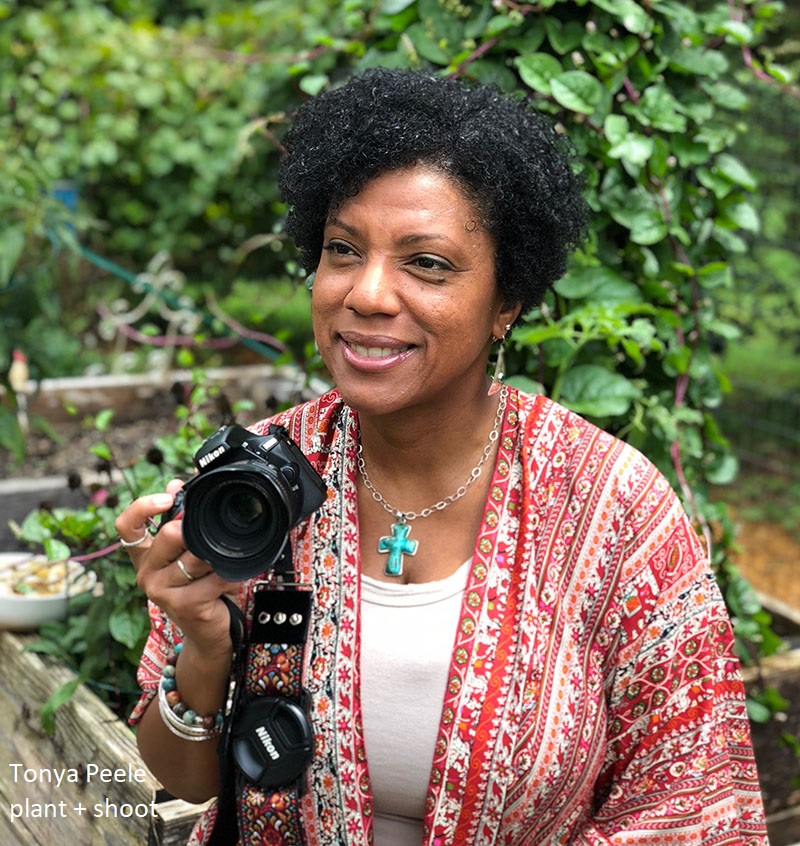 This week, she illustrates how to frame your garden pictures to guide the story you're telling. Watch now!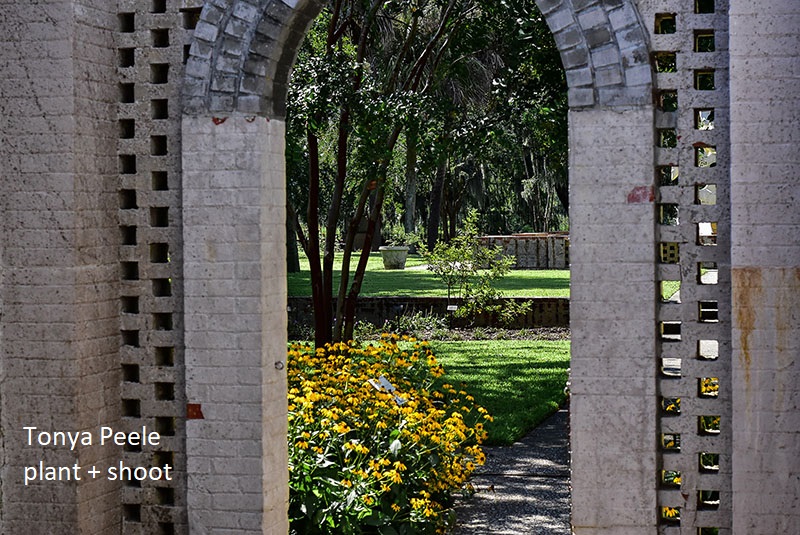 On tour, it's not often that you'll catch designer and garden coach Diana Kirby lounging around with Max and Fletcher, even though her house-side patio is a favorite spot for contemplation.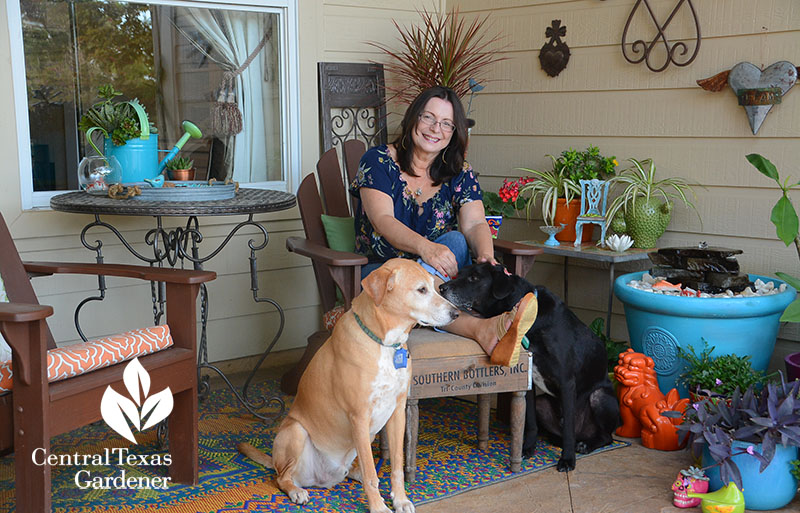 Her garden's changed a lot since she and husband Jeff Eller bought their house in 2003 when daughter Kallie was an infant.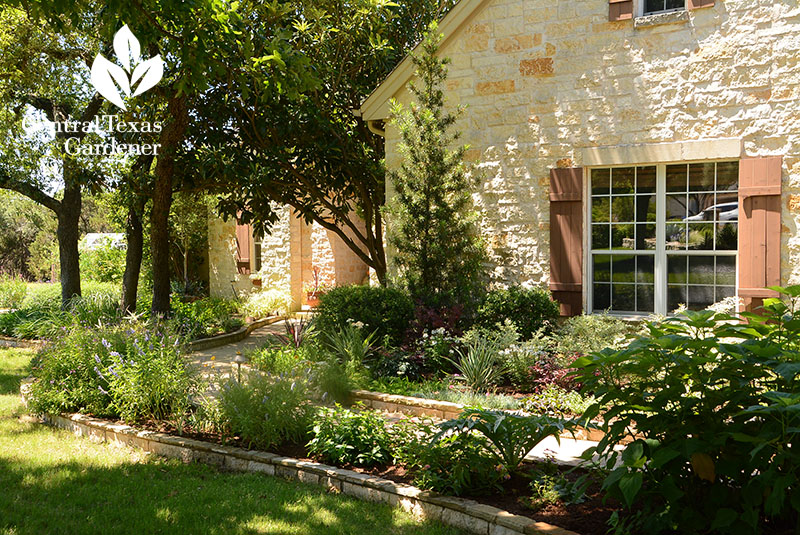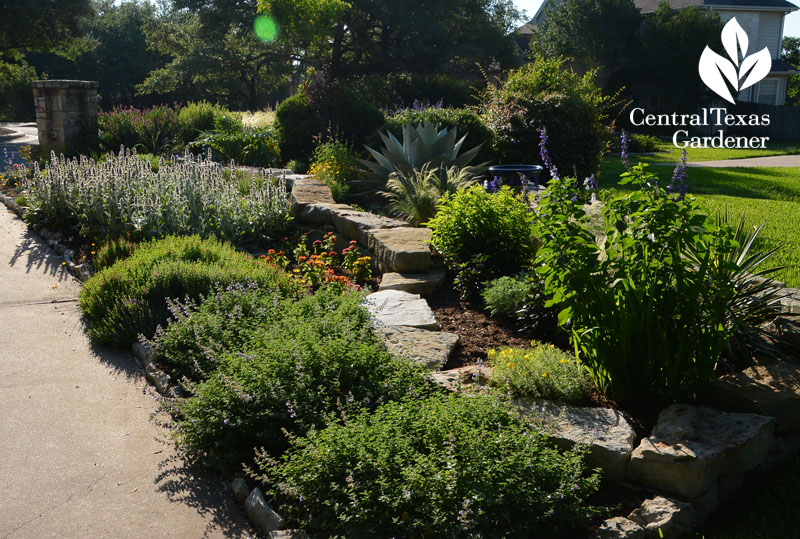 The property came with lots of challenges—including deer and brutal curbside sun. She's learned which plants withstand both while attracting pollinators and birds.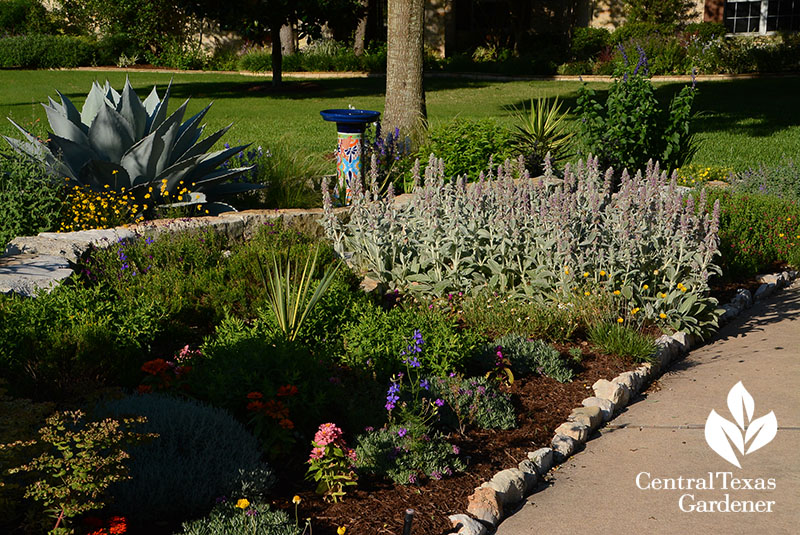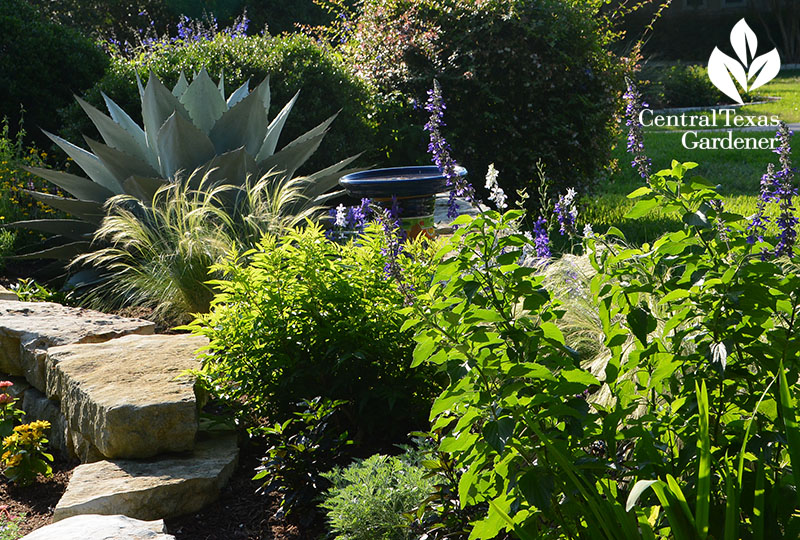 Other spots are tricky because sunlight sneaks into generally shady beds. Although Diana pops in some flowers, mainly she works with foliar color and textures to enrich depth.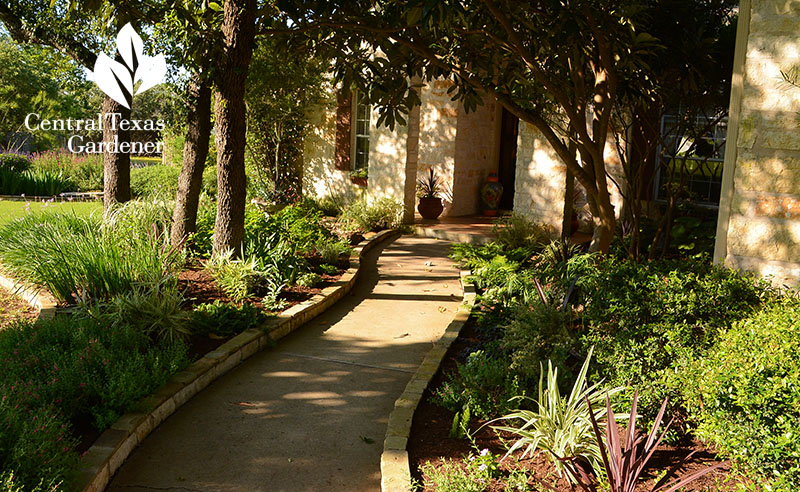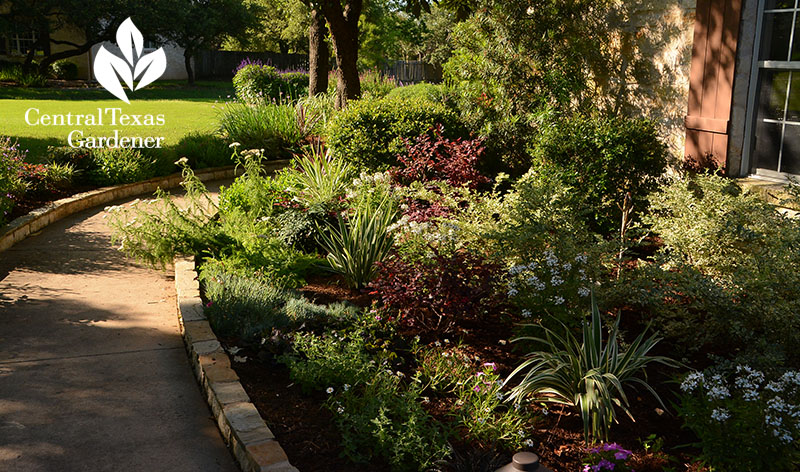 Flooding was a huge issue, since the hilly neighborhood sends rainfall runoff straight down their driveway to the side of the house. French drains under a dry creek gravel bed solved the practical challenge. Her woodland design took care of aesthetics.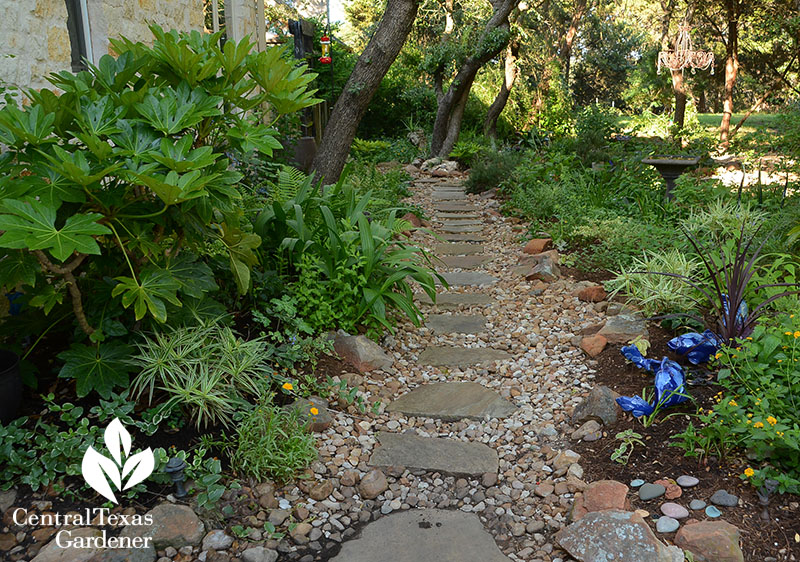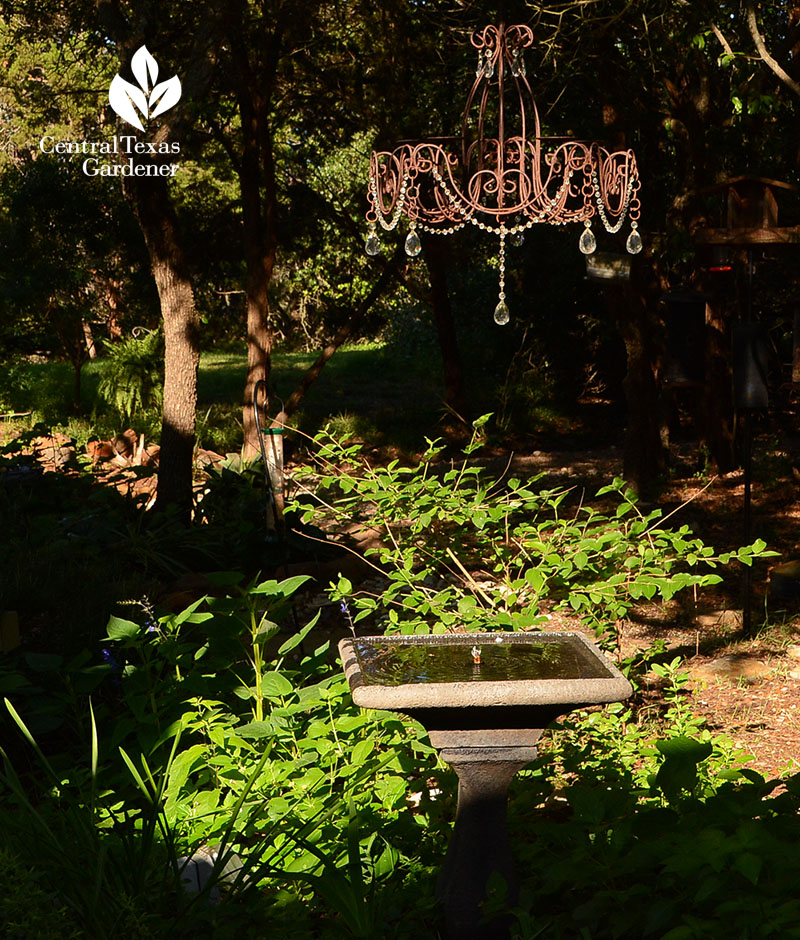 Wind is a big deal on their hilltop. At the backyard pool patio, Fletcher and Max are noses up to check the weather.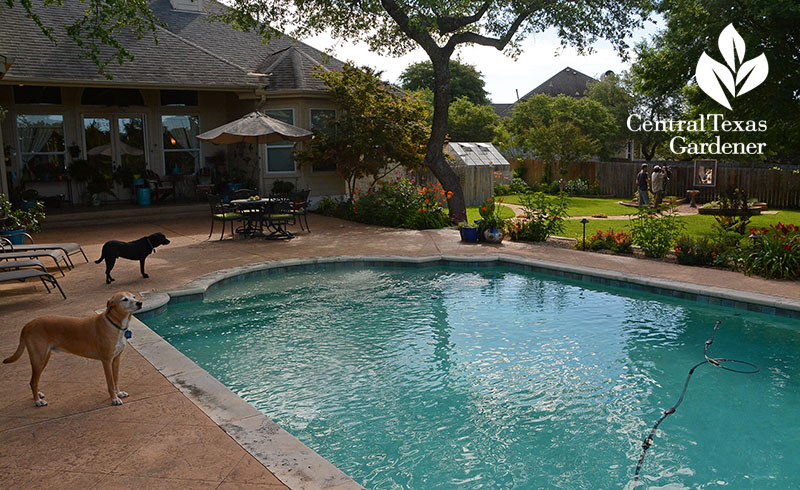 To add dimension to the flat yard (formerly scrub), Diana lined the pool patio with raised stone beds.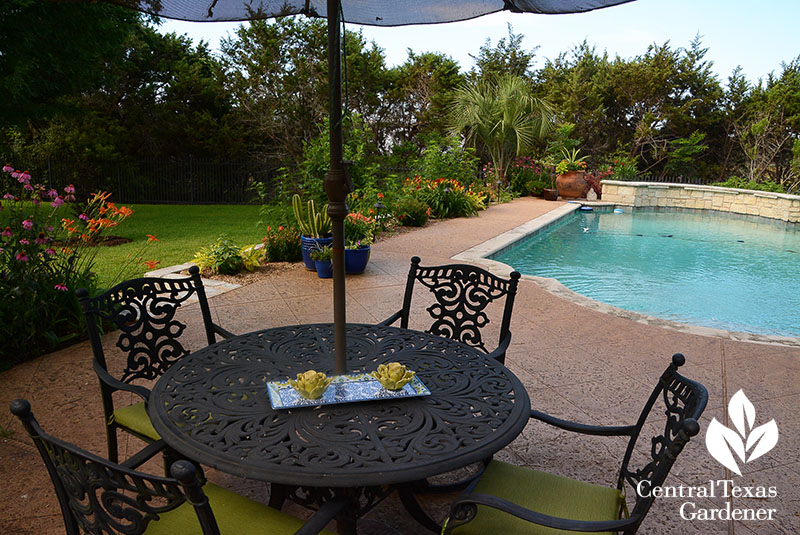 Rather than fight messy plants blowing blossoms into the pool, Diana chose easy-care perennials offset by a Pindo palm.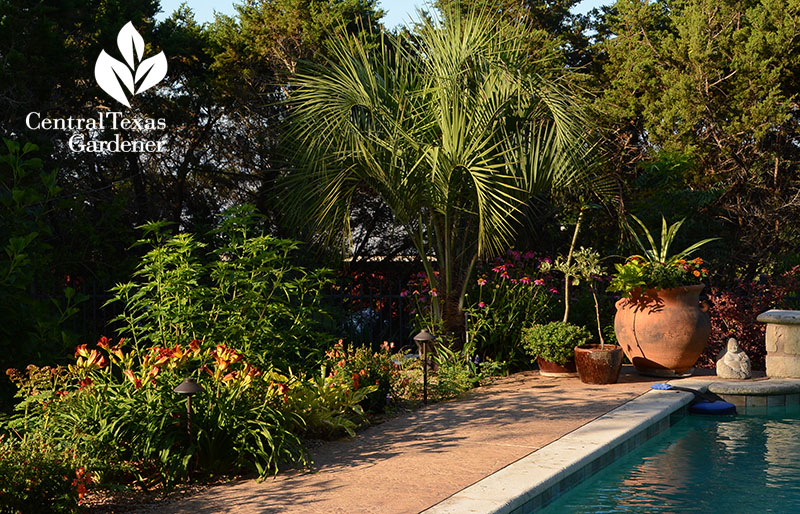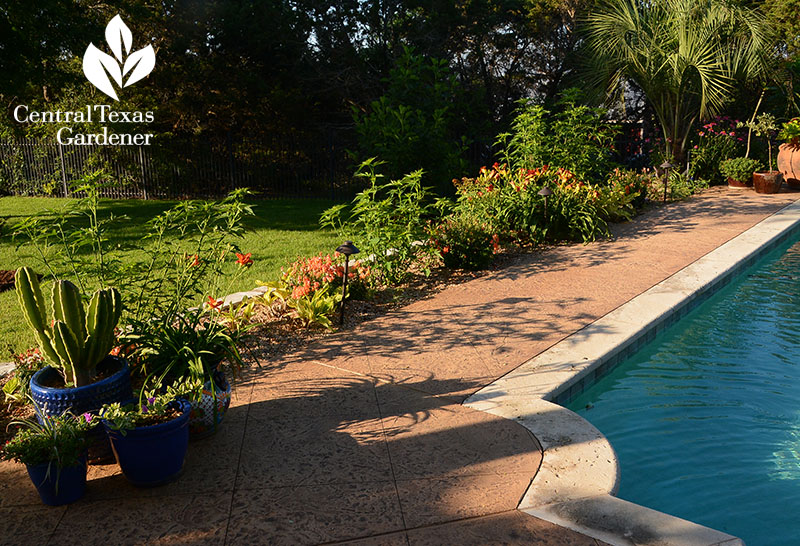 In the cabana where family and friends often gather for meals, pick your view.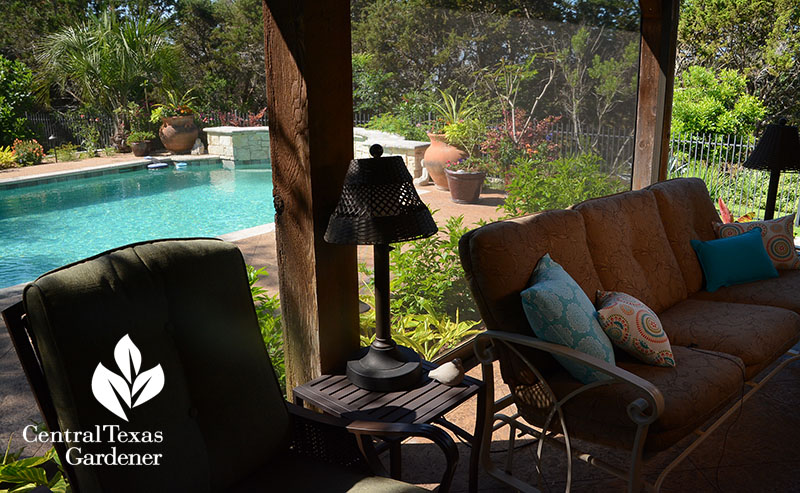 Garden or "Go Spurs?"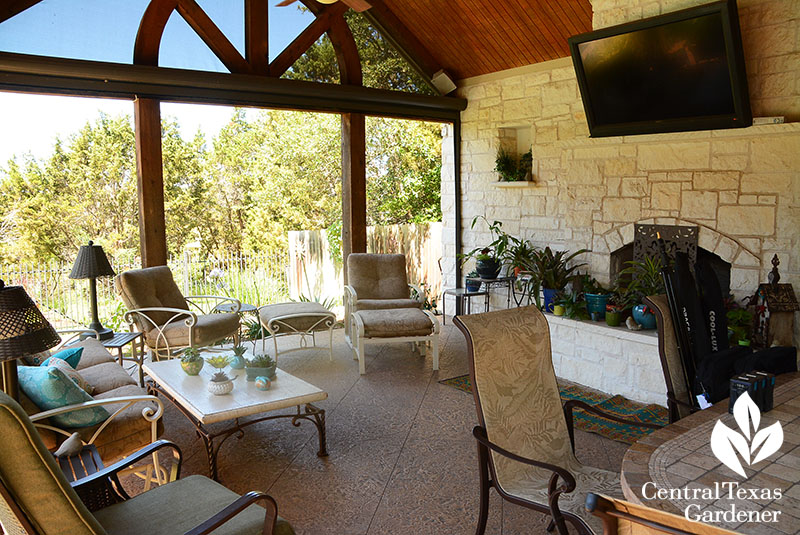 Step in for a look at one of Diana's passions: container design.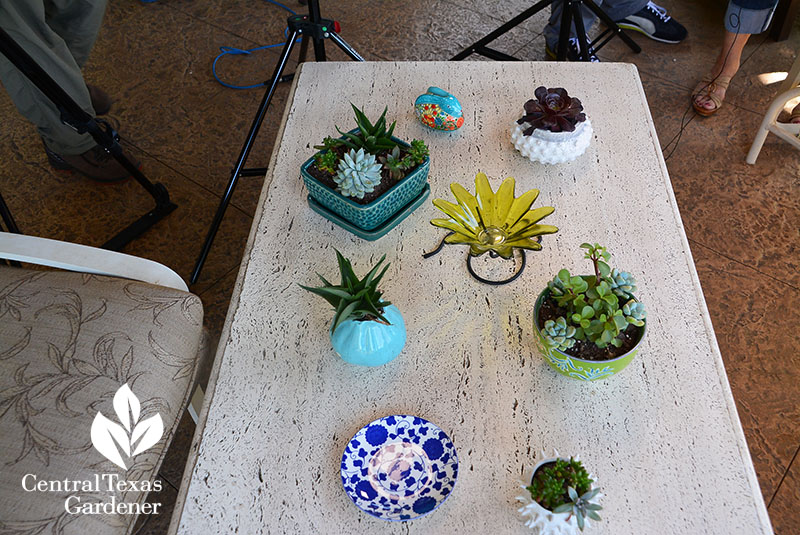 When we taped Diana's garden years ago, Kallie's playscape was still a hit. Now that she's a teenager, Diana and Jeff had another idea.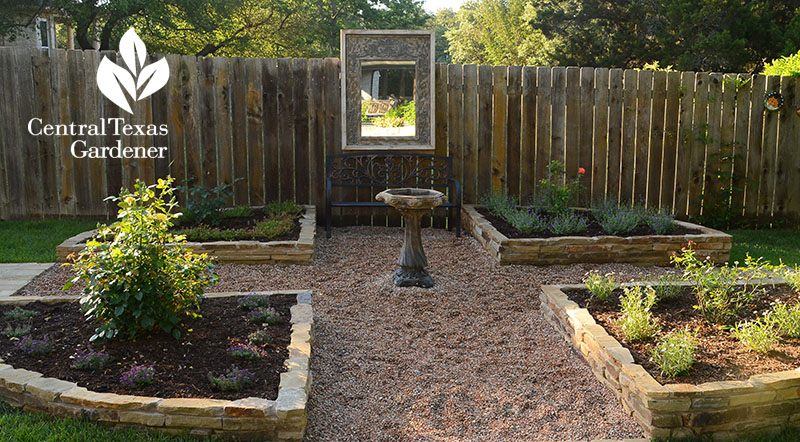 Using the playscape's gravel, Diana built a traditional formal design where she can grow roses in raised quarters.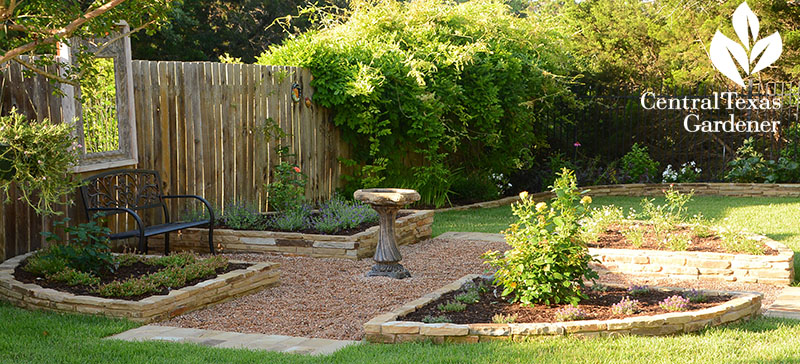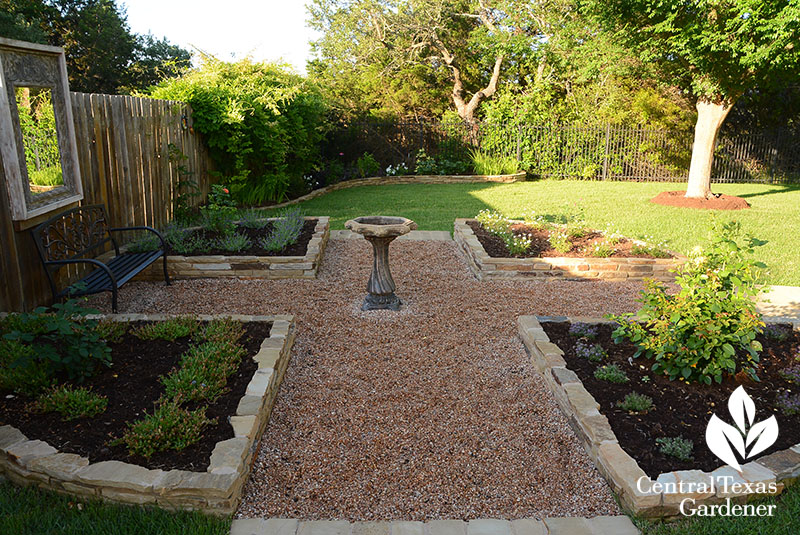 Formerly, there was just one decomposed granite path to the back. Diana added an intersection and used this chance to replace the labor-intensive (weed-attracting) gravel with stone.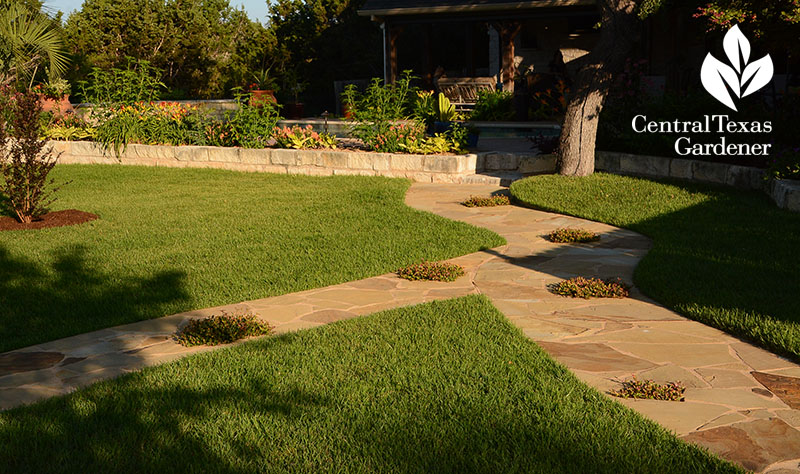 She left gaps for low-care plants like drought-tough purslane.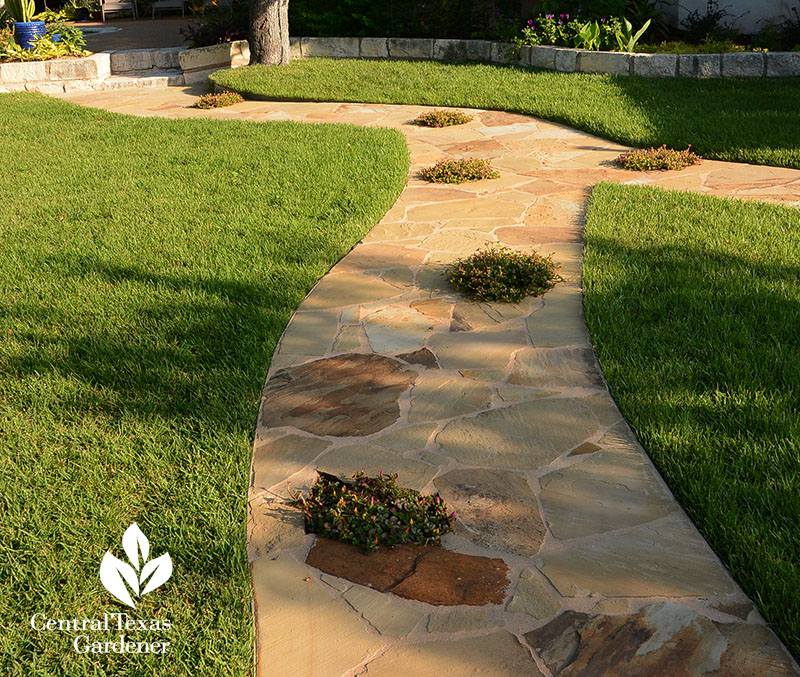 A greenhouse protects cold-sensitive containers in winter.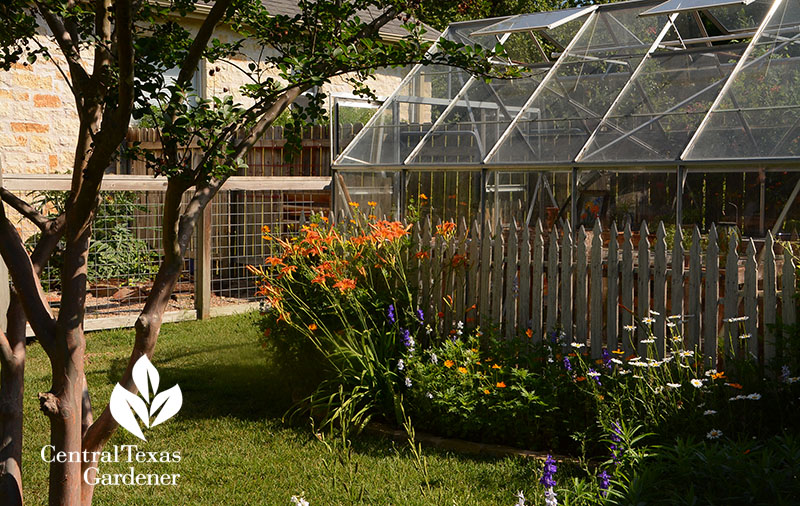 Perennial daylilies line one side, while perennials and annuals for cutting and pollinator nectar weave along the fence.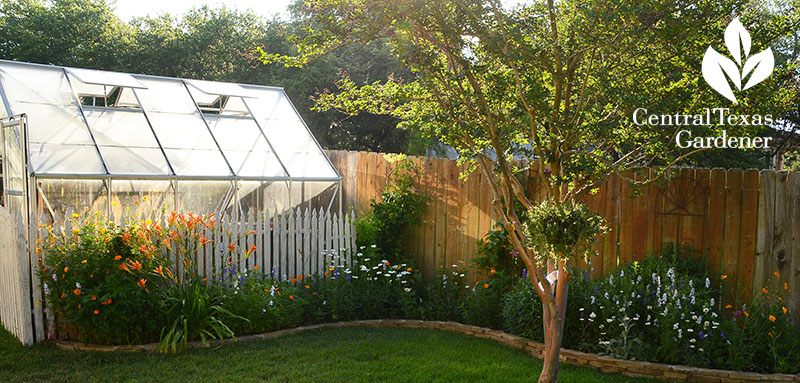 Diana also starts vegetable seedlings in the greenhouse. Although deer can't get to the backyard, a cute fence and gate protect vegetables from energetic dogs.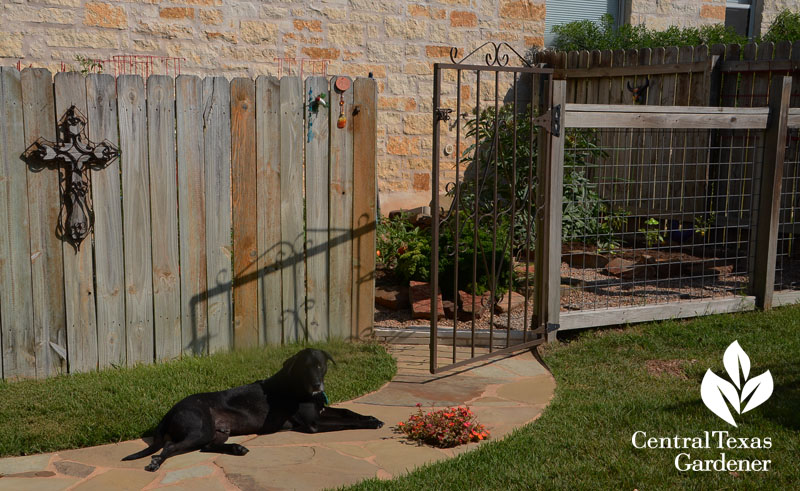 A big change for Diana is acknowledging the gateway to making things easier. As you know, that's the biggest challenge for us all in our garden ambitions!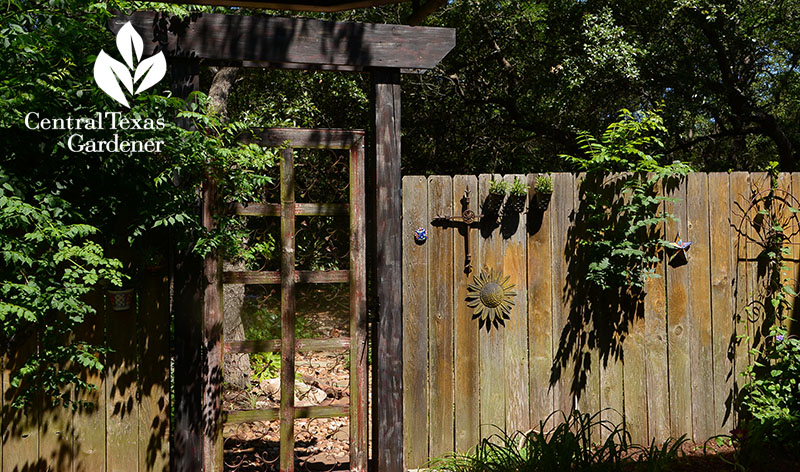 Watch now for Diana's own words.
And thanks for stopping by! See you next week, Linda
Comments