February 16, 2022
Enclosed Raised Bed Garden Design
"If I had a dollar for every plant that I killed, I would be a rich woman," Peggy Jones admits. Everything looked pretty lively, though, on CTG's November visit, a testament to try and try again experience.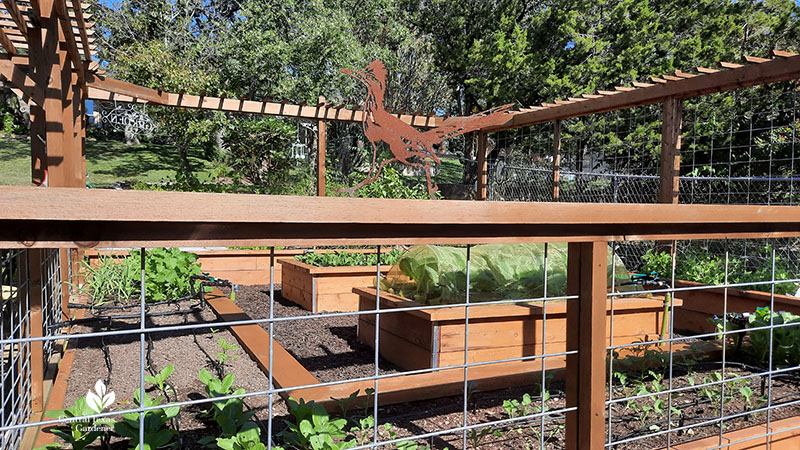 When she and husband Jim bought their Southwest Austin home in 1985, they chose it for the spacious, sloping lot that invited run-around-like-crazy adventures (some quite daredevil) for their young sons.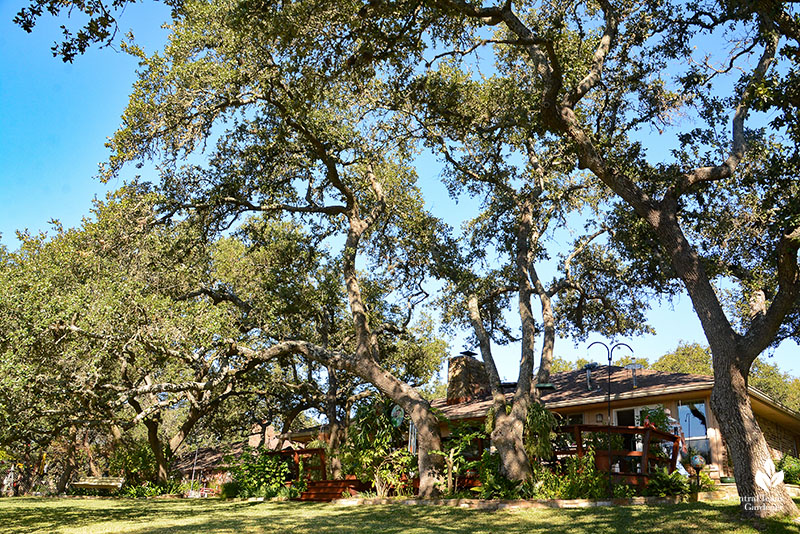 On weekends and after work, Peggy and Jim worked side by side to modify their grounds and gardens when new ideas, successes, and failures prompted yet another project.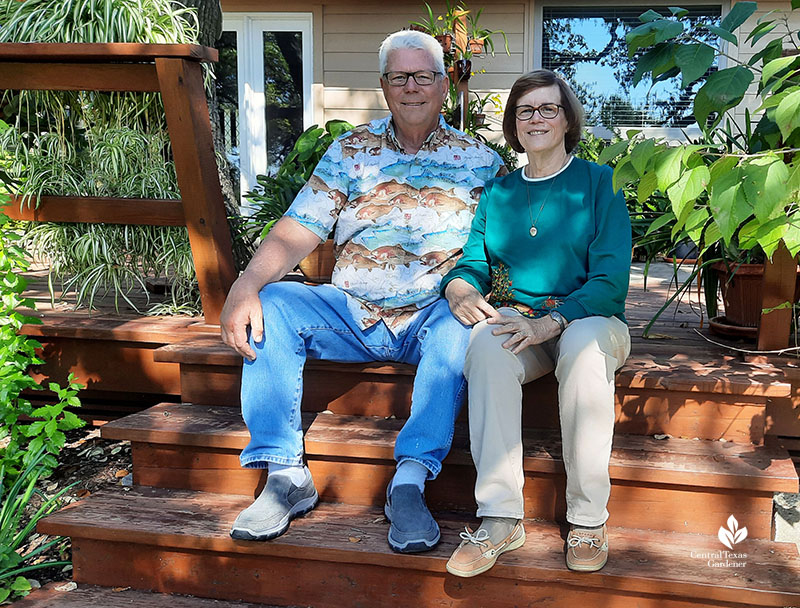 Native and adapted flowering plants for wildlife—along with part shade foliar additions—border a spacious deck, a favorite family hangout under heirloom live oak trees.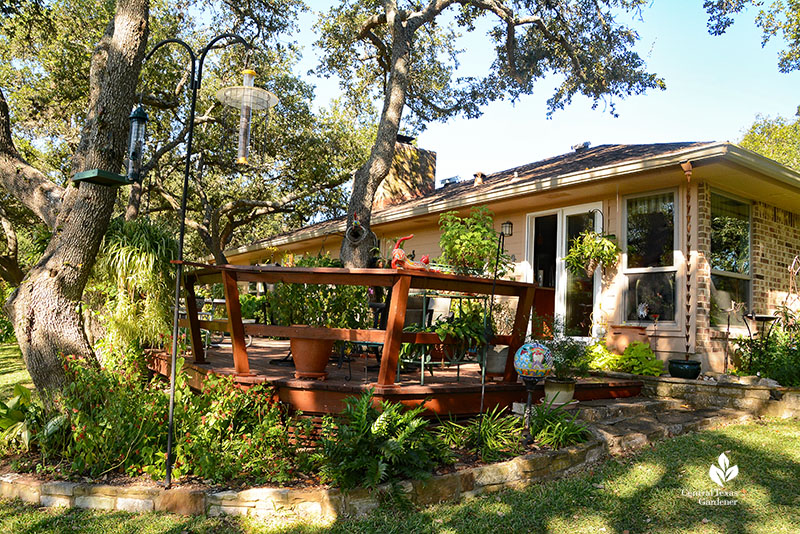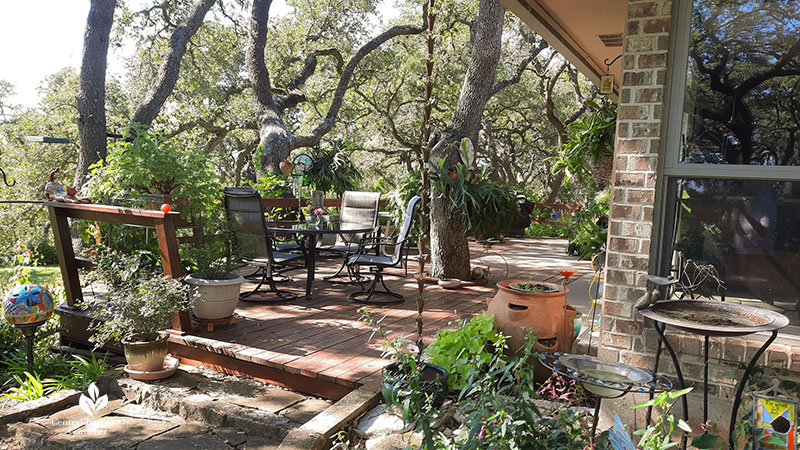 "I've made a lot of friends because of gardening. A lot of these plants are plants I've had 30 plus years and some of them like the staghorn ferns I had when we moved here. A lot of them are plants that I've traded, either with my mom or with my sisters," Peggy said. And I've got to extend a big "thank you" to sister Donna Bracewell who prompted this visit!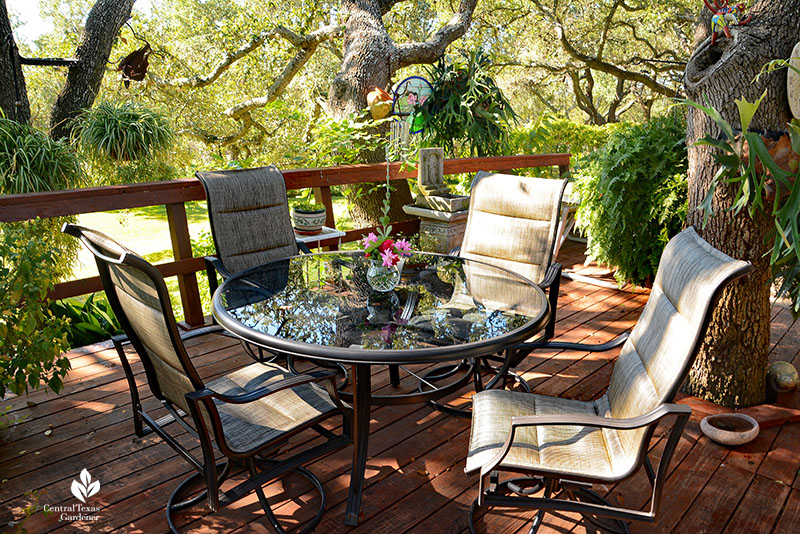 "We're all big into plants and so they have a lot of history. In fact, some of these plants came from my grandmother."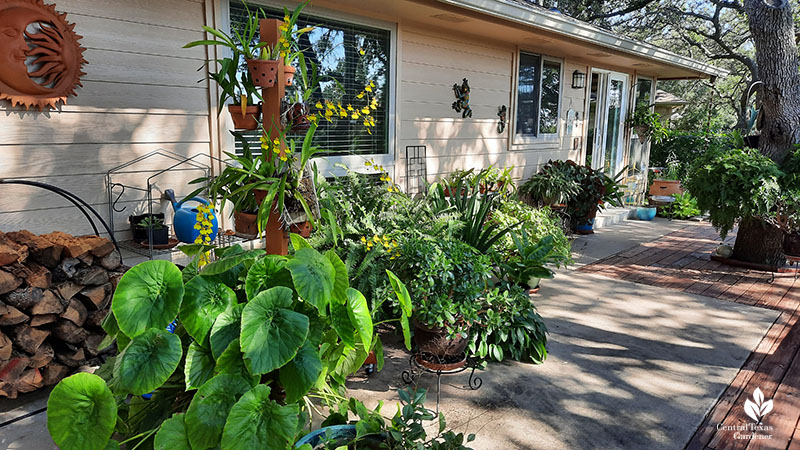 "Rabbit foot ferns are very interesting because you can see they look like they have little toes, little rabbit toes," she said. "This one was my mom's I started for her and then when she passed, it came back to my house."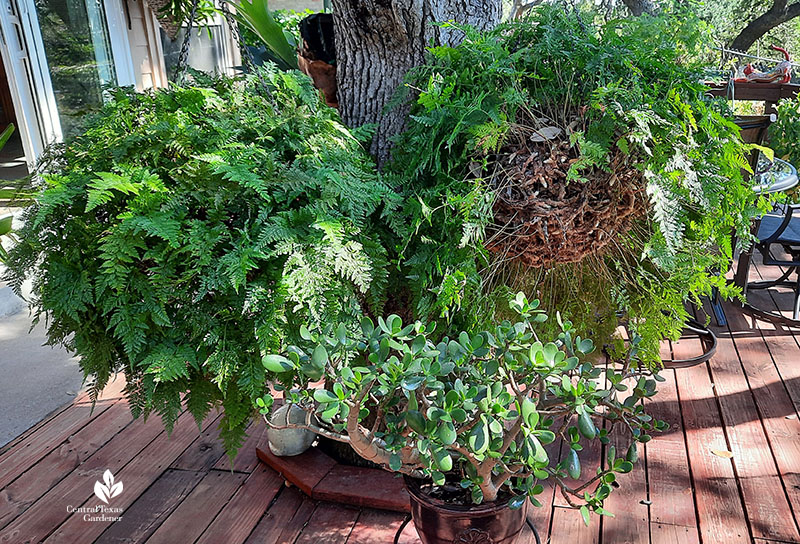 In winter, she and Jim haul most of the planters down the slope to the greenhouse.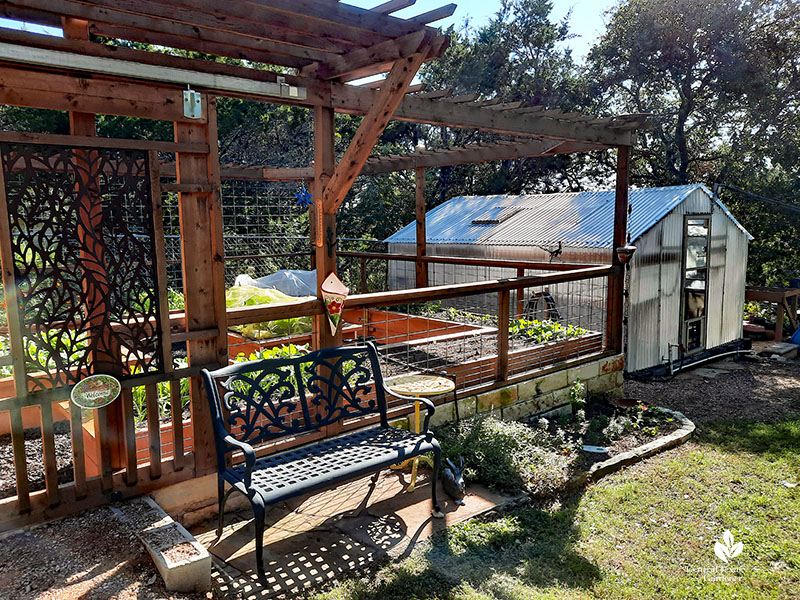 Since one of their staghorn ferns weighs about 200 pounds, they use a block and tackle to move it over to the central tree in winter, though in February 2021's freeze, they managed to winch it into a cart and lug it into the greenhouse.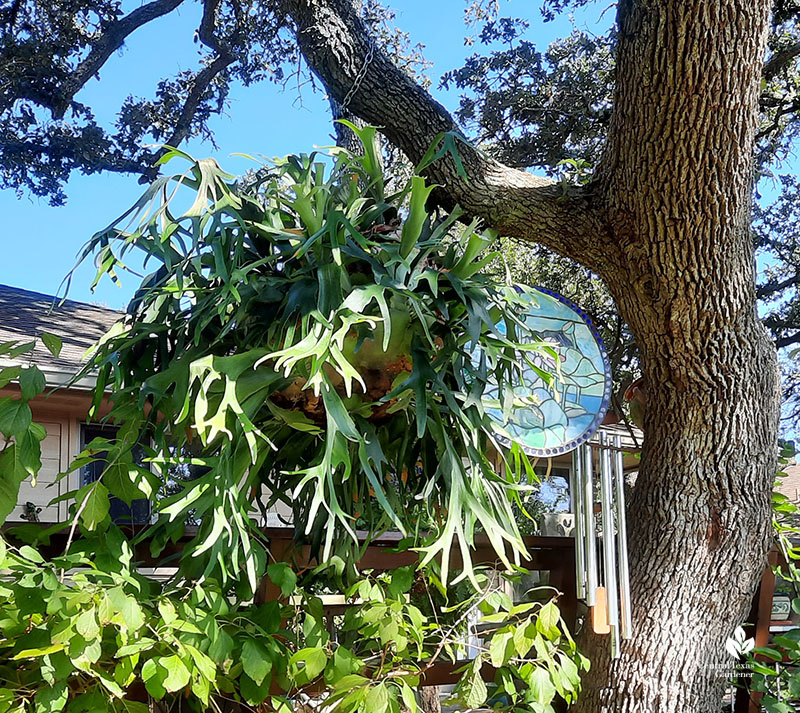 Normally, though, it shares quarters with the baskets on the central tree. Peggy and Jim throw a big tarp over them to make a tent and then install a small space heater underneath. Along with keeping the plants nice and toasty, geckos snuggle in, too, exploding out in spring.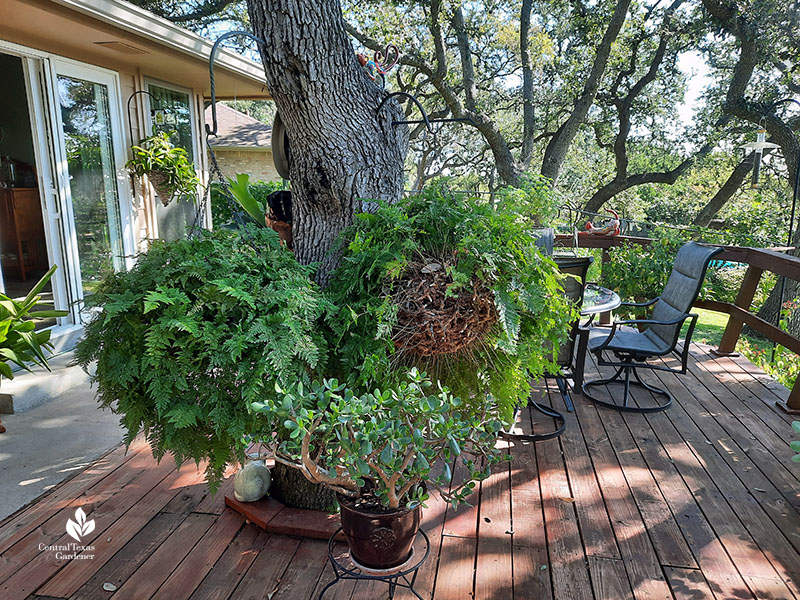 Peggy worked in environmental companies for years, but took early retirement when her dad was very ill. When he passed away, he left her a little money. "And he told me he wanted me to use it for something for me. And so I decided that I wanted to redesign my garden for me because I'm hoping to be able to garden as long as I can," she said. So, she worked with Lone Star Home and Outdoors to build the base walls and square up the plot of earth she'd tended for 30 years.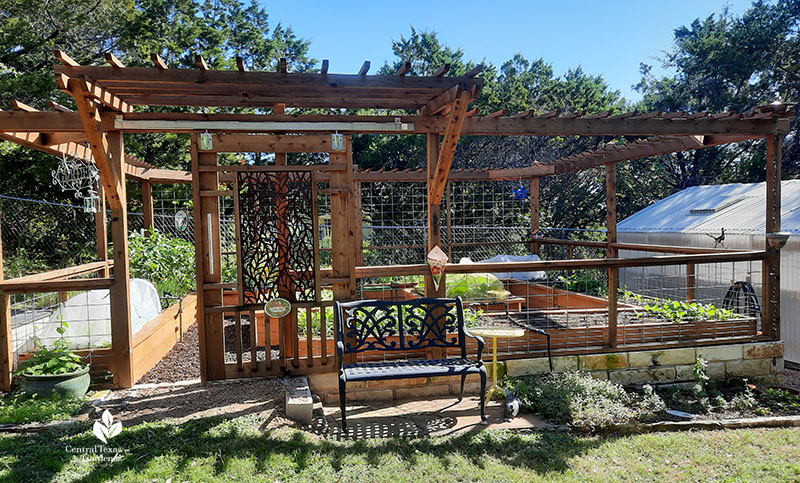 After adding more good soil, they laid heavy duty weed block on top. When they built the cedar beds, they cut out the weed block underneath so that larger plants could root into the ground. They attached the cut weed block to the insides of the beds to keep the bed's soil from seeping out.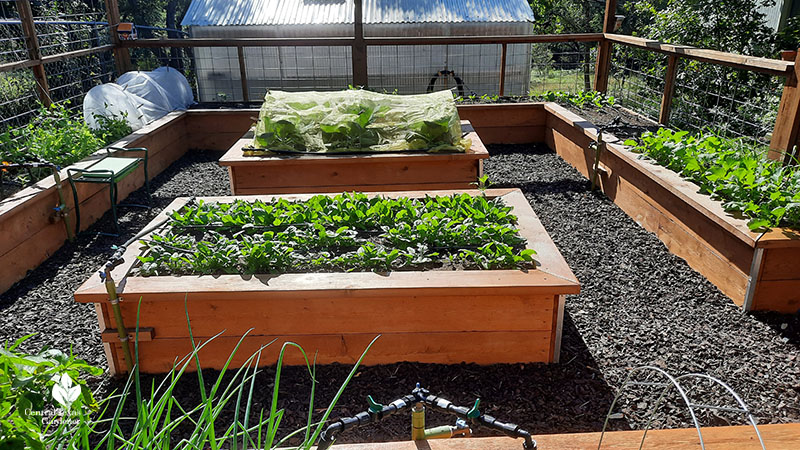 She made the paths wide enough to accommodate a wheelbarrow, walker, or even a wheelchair.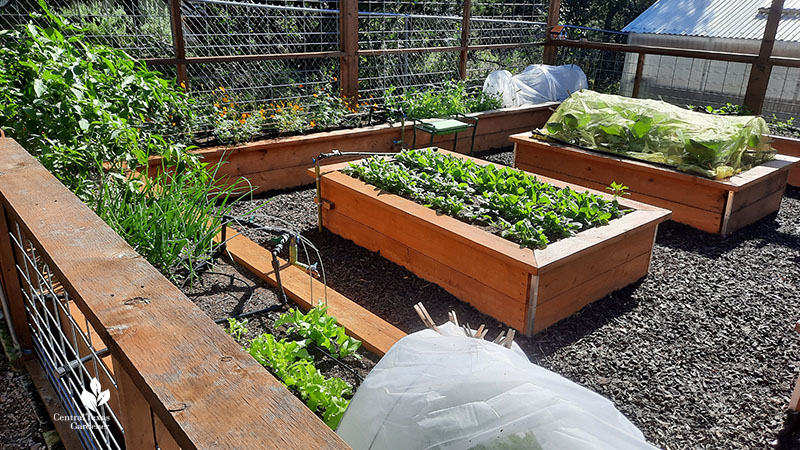 The beds feature deep enough edges to sit while working.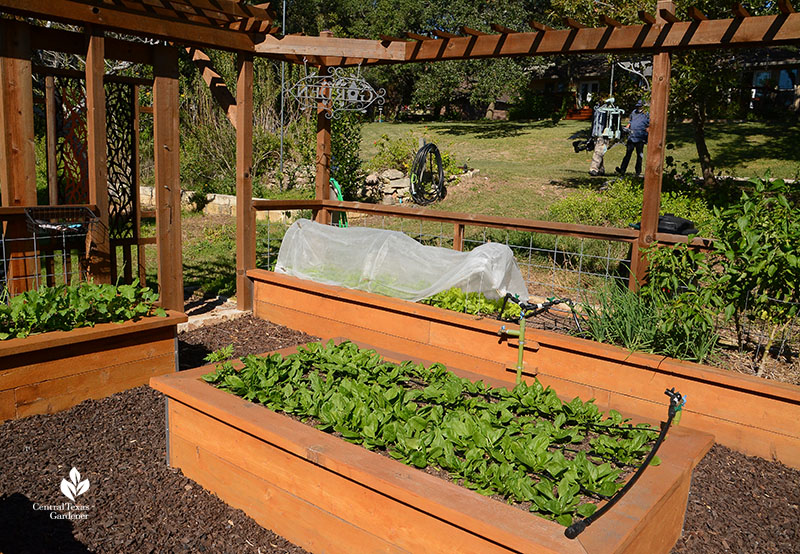 Then Jim went into high gear on a front end loader to fill the beds with 30 yards of good soil.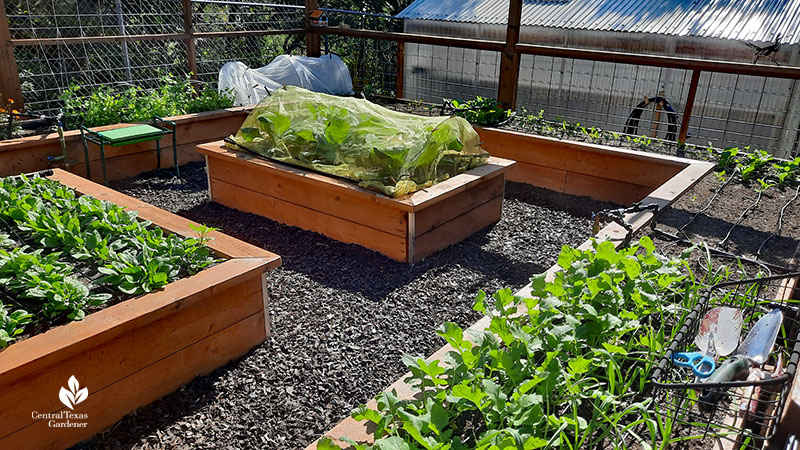 Once the soil was in, they finalized the exterior, including a striking lattice pergola.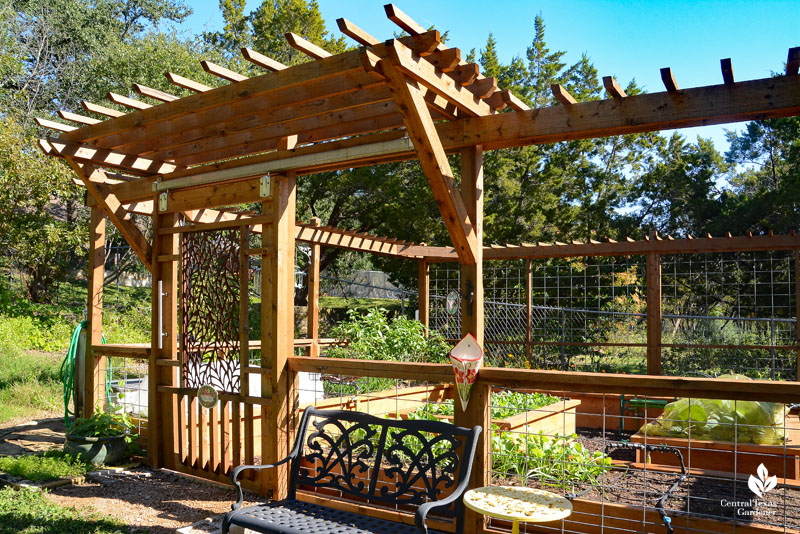 The yard is fenced against deer, but on three sides, they installed cattle panel at waist height to keep out frisky dogs. At the back, they took it to the top for climbing flowers, green beans, and fun gourds.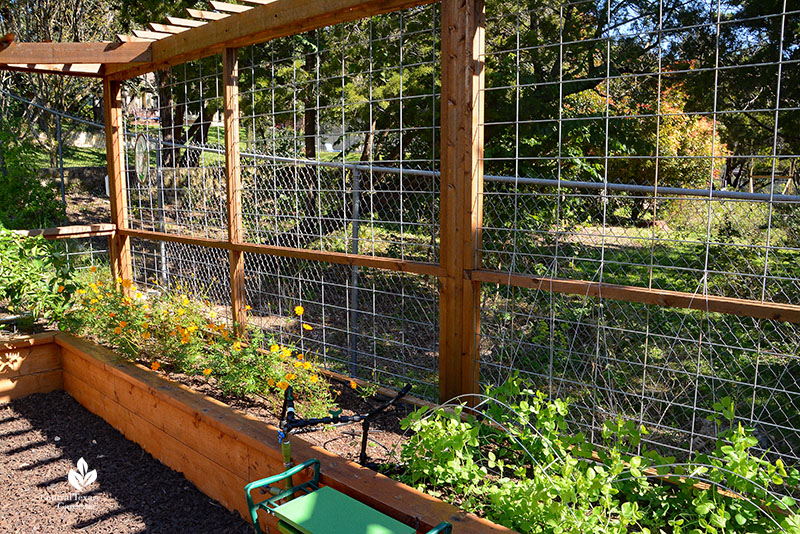 Rather than a hinged gate, they picked a sliding barn door, using hardware purposed for outdoor use. "So now it's really easy, even with your elbow or whatever you want, to just scoot it out of the way to open and close, and it makes it easy for kids to if they want to go in and out and pick things," she said.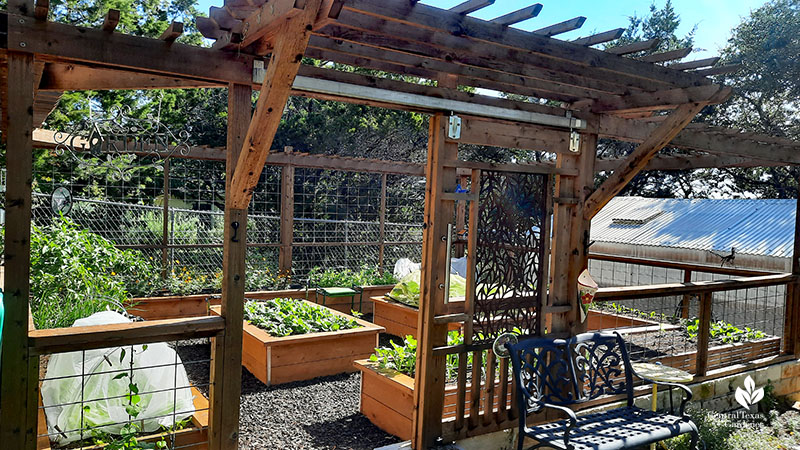 Peggy and Jim already had the decorative metal panel. She and the builder swapped creative ideas and came up with a stylish insert, framed with leftover cedar.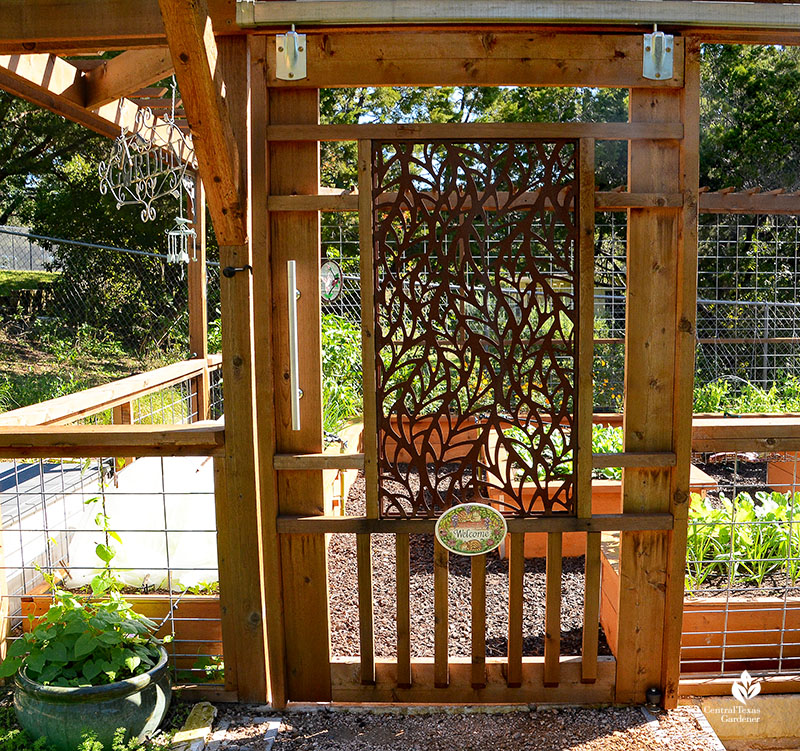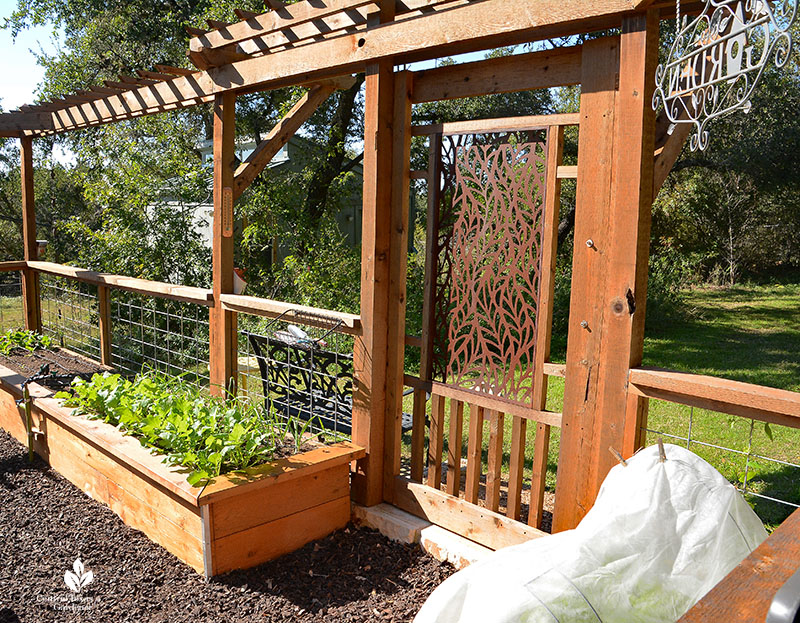 From the get-go, she planned irrigation infrastructure for water conservation, plant health, and ease. Each bed is regulated by faucets and valves to turn sections on or off, depending on need.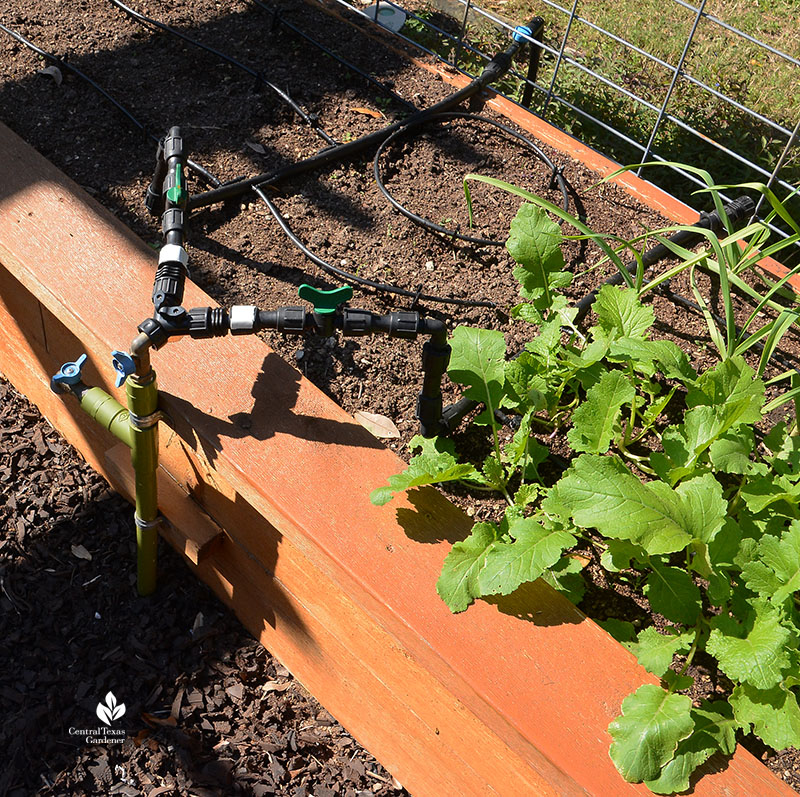 To the main lines, Peggy attached drip emitter tubing of various spacings (6", 12", and gallon-sized) to accommodate what she's growing. For lettuces, she uses the 6" spacing.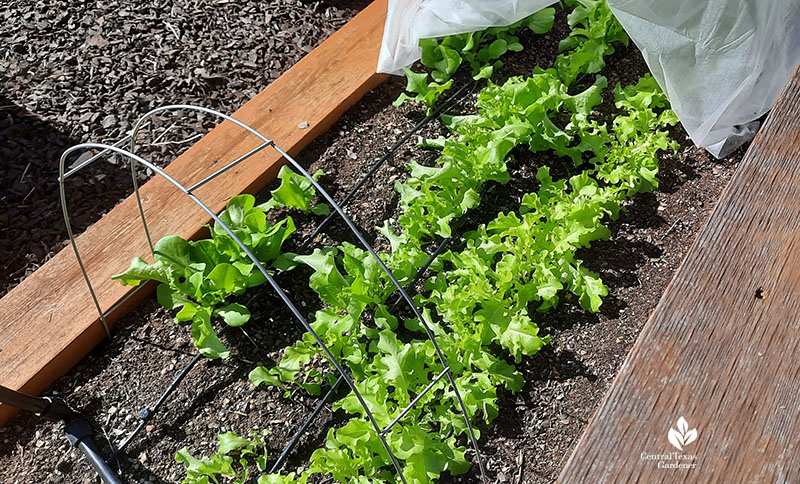 She uses floating row cover across the year, since this spun polypropylene garden fabric lets in sunlight and rainfall. She uses thicker, heavier weights for cold protection in winter and lighter weights to fend off insects in spring.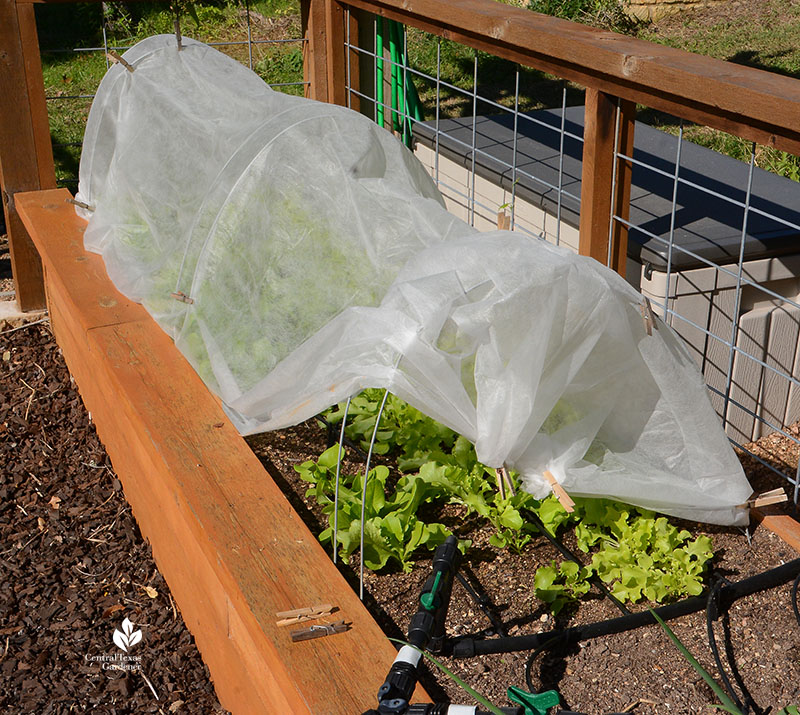 Rather than apply pesticides, she goes for barriers. One is micromesh that keeps cabbage moths from laying caterpillar eggs on her brassicas (broccoli, cabbage, cauliflower, collards, kale, mustard, turnips, and radishes). She suspends it and the row cover over metal hoops, secured with thrifty clothes pins.


Since Texas temperatures rocket up and down in a flash, she posts thermometers in the vegetable garden, greenhouse, and deck. She monitors them remotely to keep track of rapidly changing conditions. To fend off raccoons and weather, she secures one mounted to the structure in a food storage container. She punched holes in the side and bottoms to release heat and allow it to register humidity percentage.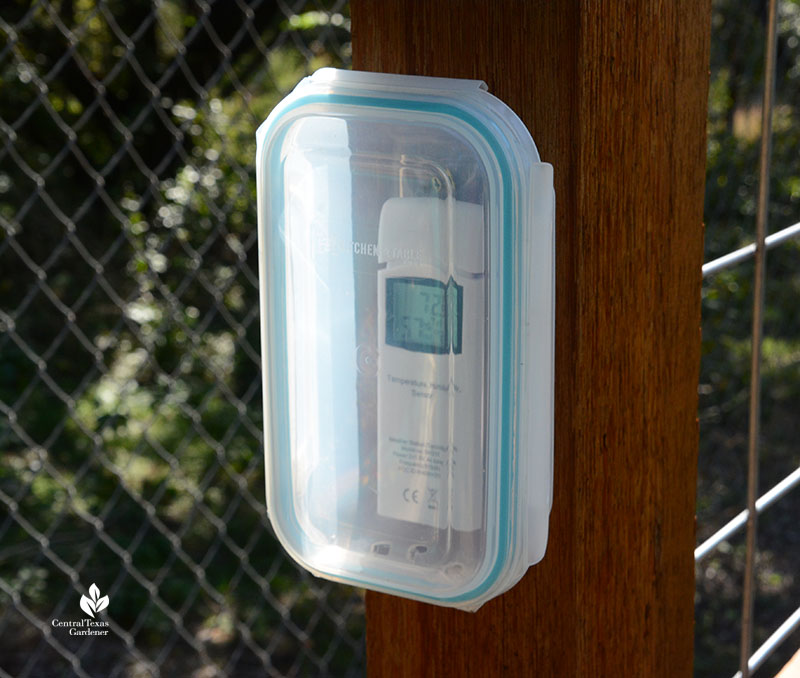 Over the years, from their children's elementary school to her office, Peggy's germinated new gardeners of all ages by passing along cuttings, seedlings, knowledge and passion. "I think that connecting with the natural world is a really important thing for all generations to do, because it's one thing we have in common and there's no way that you live without it."
There's a whole lot more, including their construction pictures, so watch now!
Thanks for stopping by!
Linda
Comments