May 16, 2023
Create Backyard Adventure with Vignettes: Jo Ann Glanz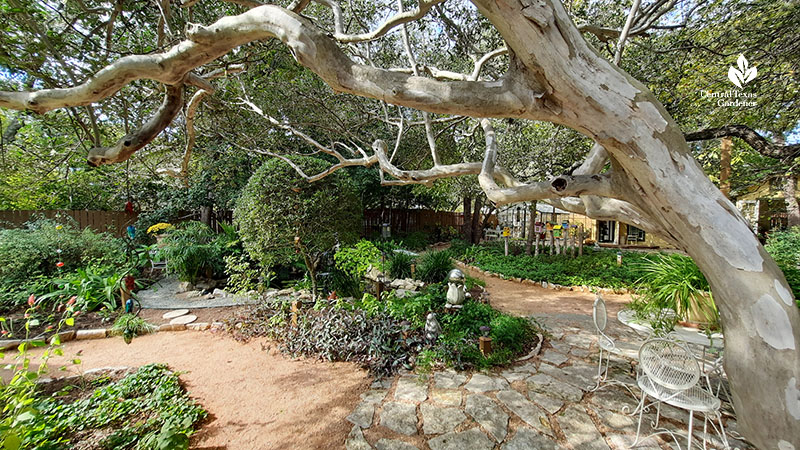 Surprises and experiences: That's what Jo Ann Glanz wanted in her garden when she and husband Jeff bought their house 38 years ago. "I taught English for 42 years at high school and middle school, and I like stories. There's lots of stories in the garden," she said.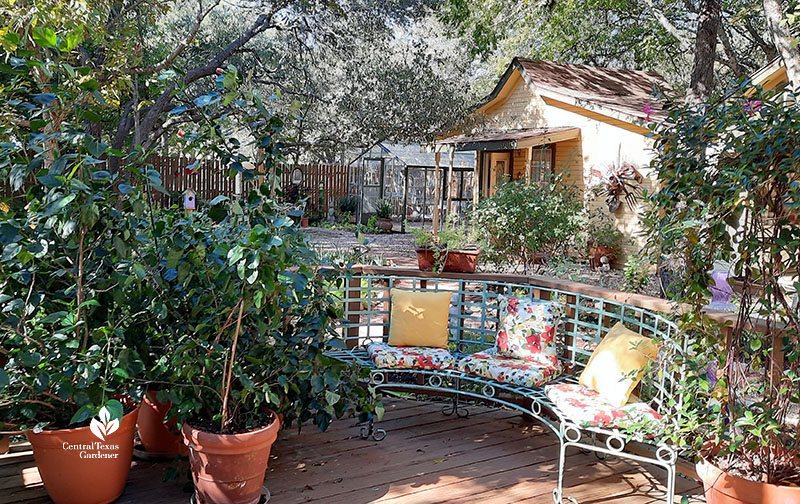 Starting with a vision, they spent nights after work and weekends measuring, hauling, digging, and building.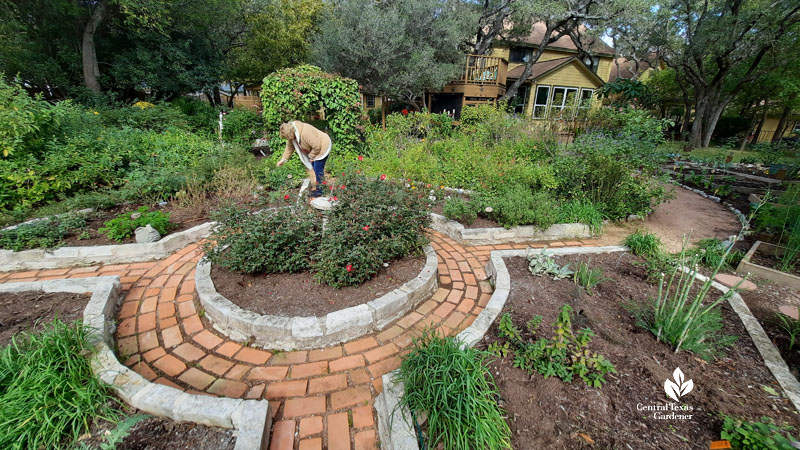 Every pathway beckons exploration: from atop a treehouse and through rose, herb, and butterfly gardens. Then she added a pond, a mosaic she-shed studio, a teahouse playhouse, and a greenhouse. On our visit in early November, the gardens were still aglow, merely bruised by a dip into the 30s.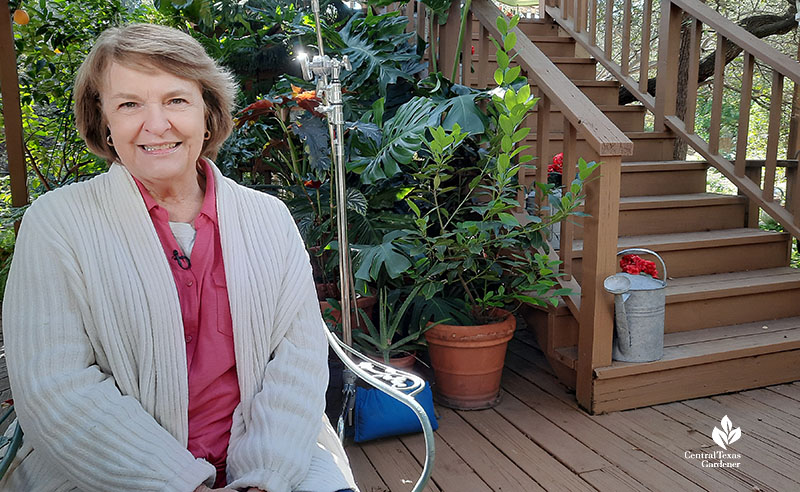 "I really like the concept of wandering," she told us.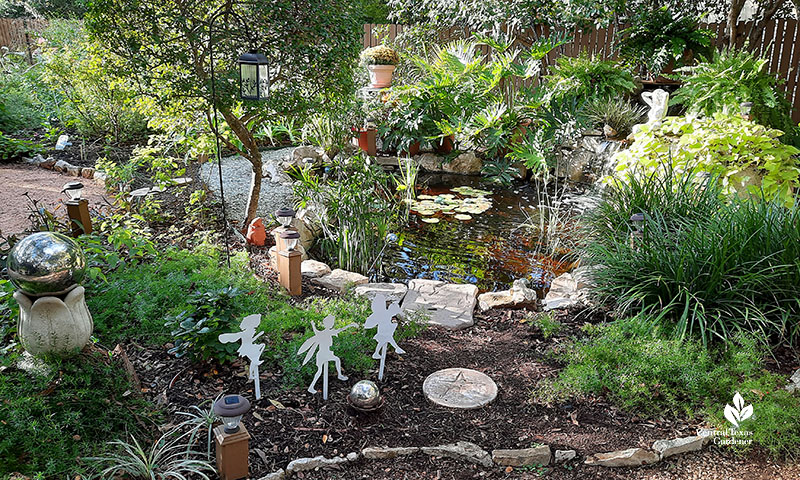 "I think a garden should be an adventure and I really like staging vignettes. And so every section has a different feel."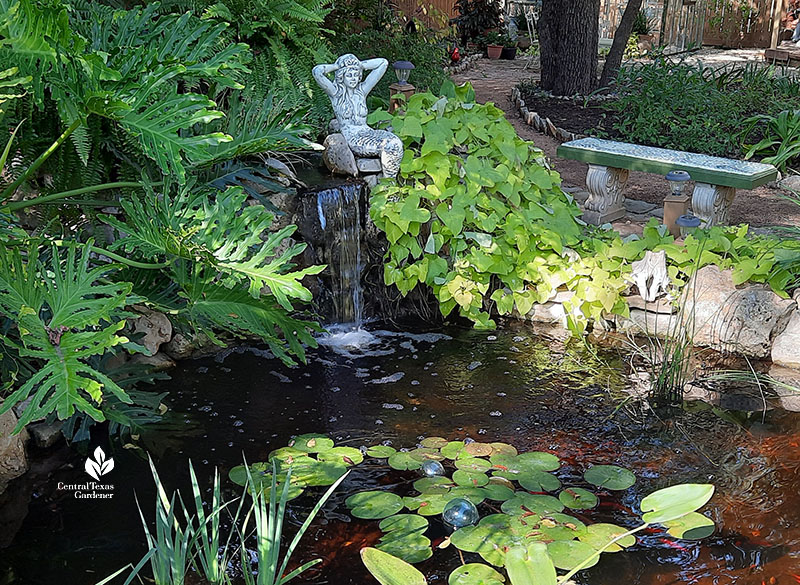 Footsteps always lead to a small pond's alluring waterfall where dragonflies dance.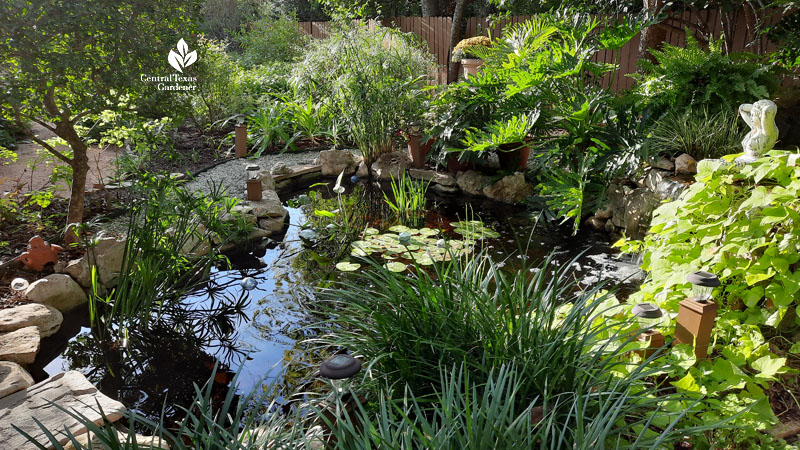 See it in person and meet Jo Ann on June 4, part of this year's Austin Pond Society tour. Get complete details for the two-day tour, June 3 & 4.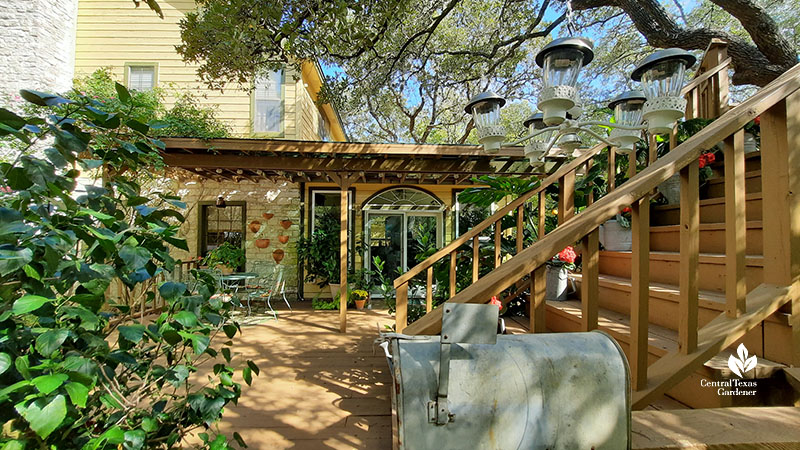 Their first project was to build a deck for outdoor dining, relaxing, and Jo Ann's collection of container ornamentals and small citrus trees. A salvaged mailbox holds hand tools, seed packets, mosquito spray—whatever she needs that day.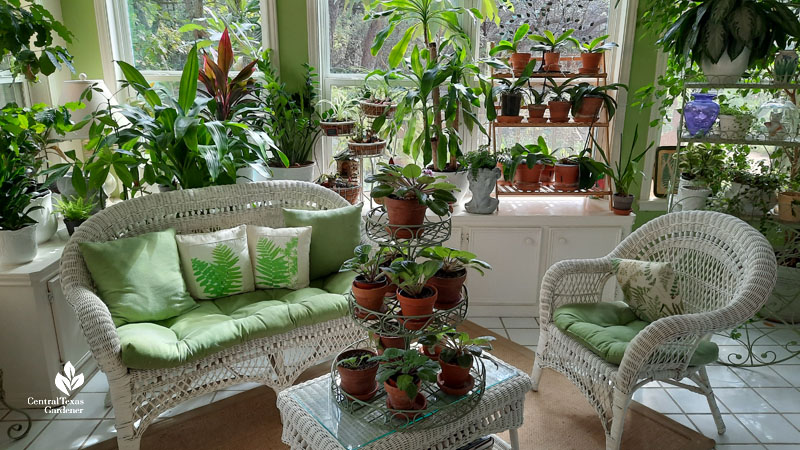 They added a pergola topped with shade cloth for outside comfort and to soften the light in Jo Ann's shield charming garden room.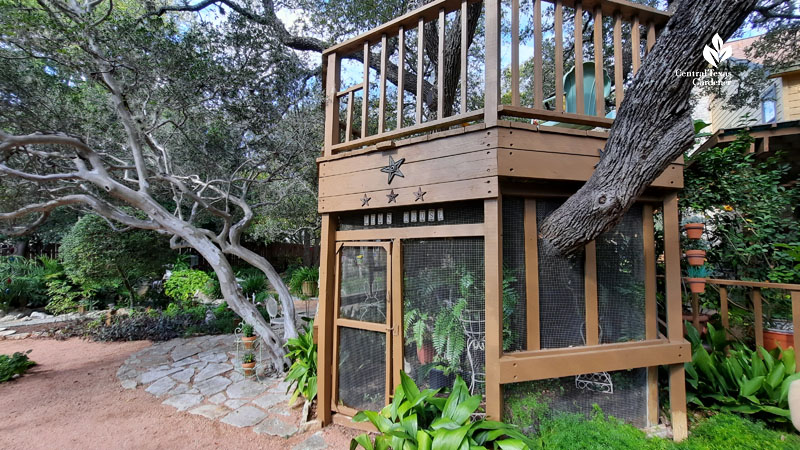 Then they built a staircase to a star-gazing treehouse above the deck. To take advantage of the space below, they enclosed it: initially for their daughters' bunnies and later, chickens. Finally, Jo Ann got to fill it with something less demanding: ferns!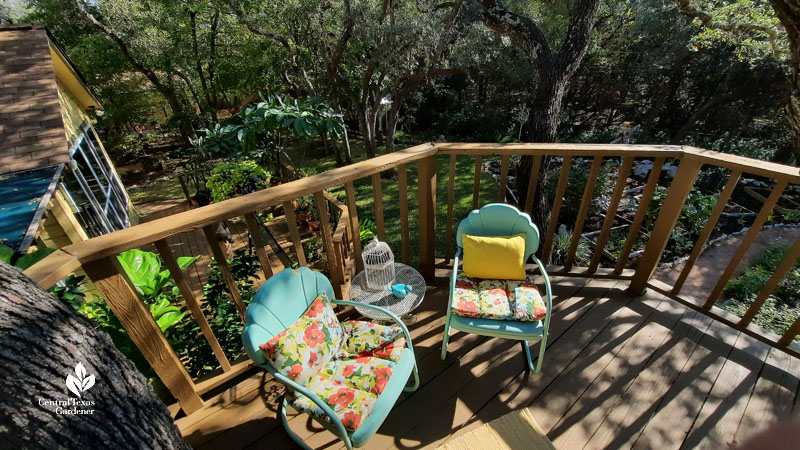 I suspect that it's always been a favorite serene adult retreat to stay on top of things. For Jo Ann, of course, it's a bird's eye view for planning her next garden conquest.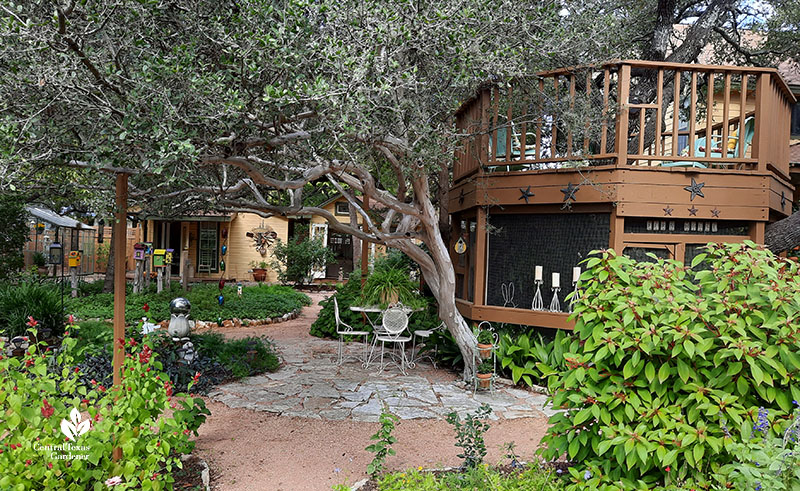 A Texas persimmon graciously overlooks a flagstone foyer between decomposed granite paths.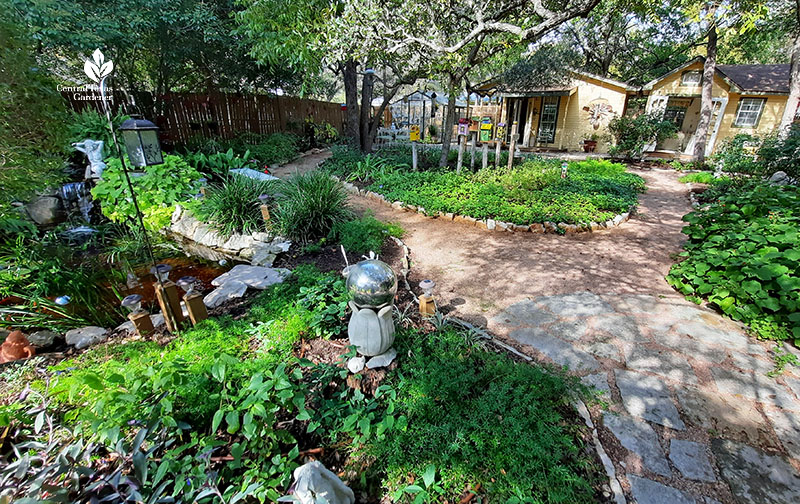 Jo Ann and Jeff spent many back-breaking hours creating paths to define spaces.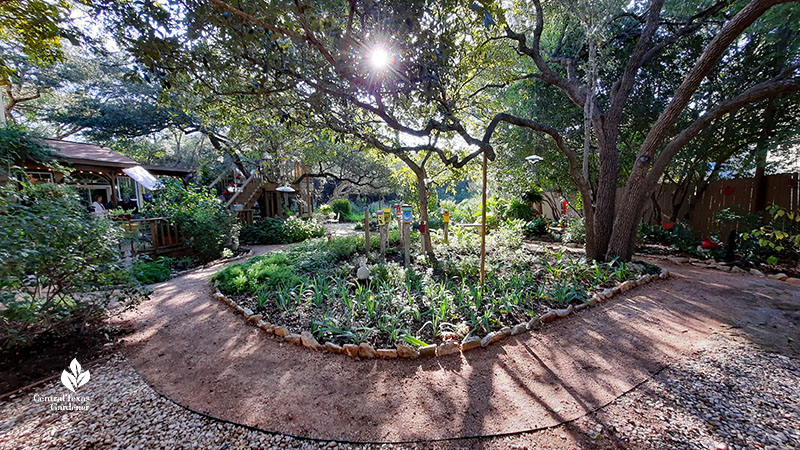 Ultimately, they hauled 10 tons of decomposed granite. At first, they worked around a massive live oak tree, but when they lost it to oak wilt, they planted this pecan. In this shady island bed, Jo Ann planted amaryllis and wedelia.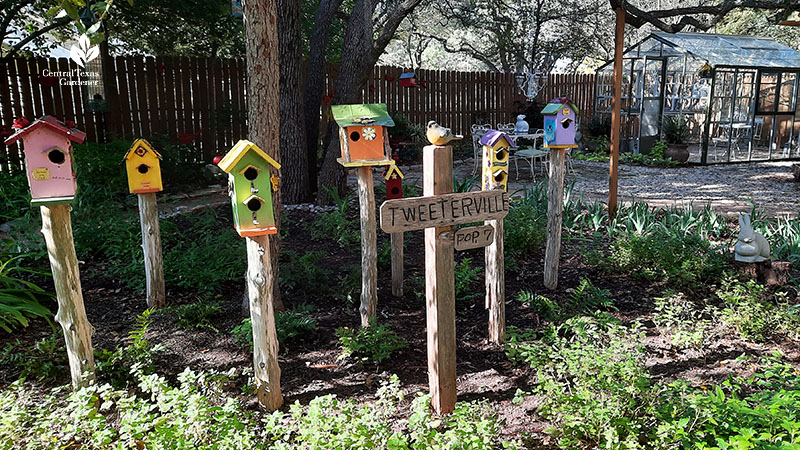 They dubbed it Tweeterville for the cute and colorful birdhouses her brother built.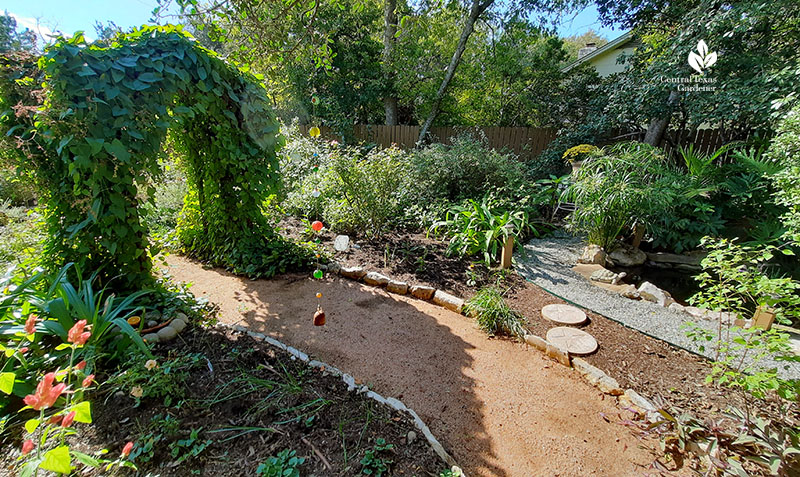 Another path leads though an arbor wreathed in coral vine to sunny gardens for roses, herbs, and pollinators.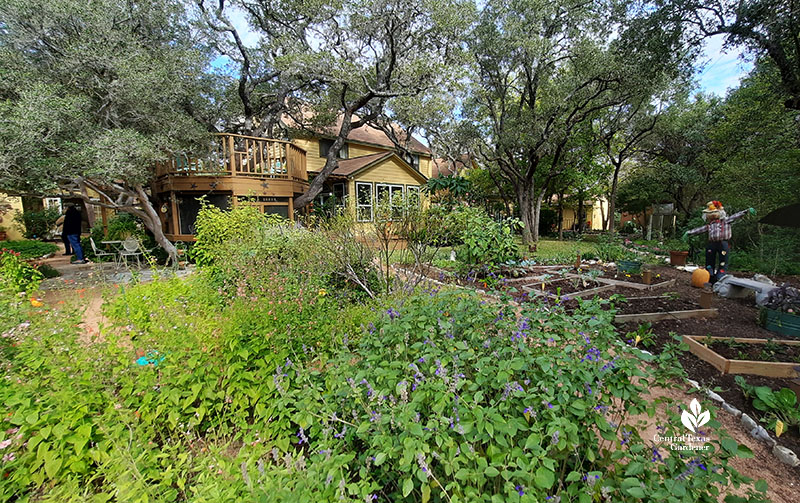 In the butterfly garden (also for bees), Jo Ann orchestrates blooming most months of the year. In November, 'Mystic Spires' salvia was one of many perennials still in flower. Over the winter, annuals popped up to keep the pollinator buffet going. Seasonal vegetables grow in raised beds along one path.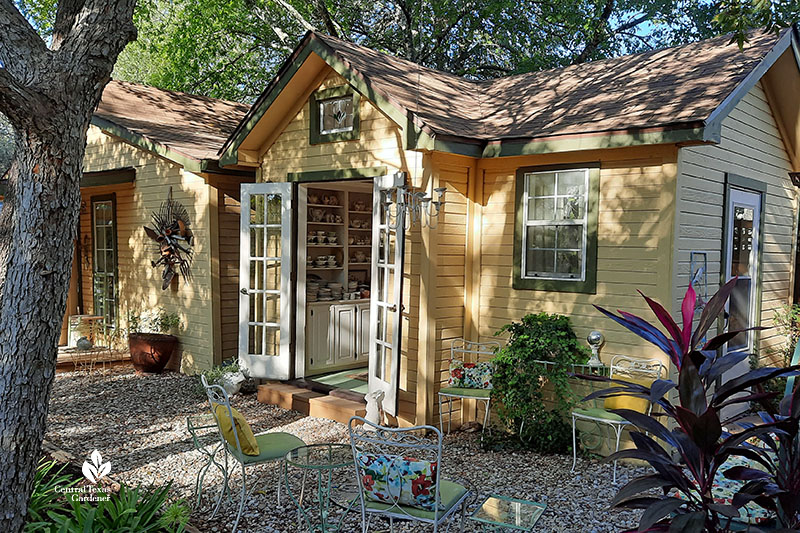 When their daughters grew up, she turned their playhouse into a magical teahouse where she hosts tea parties for all ages.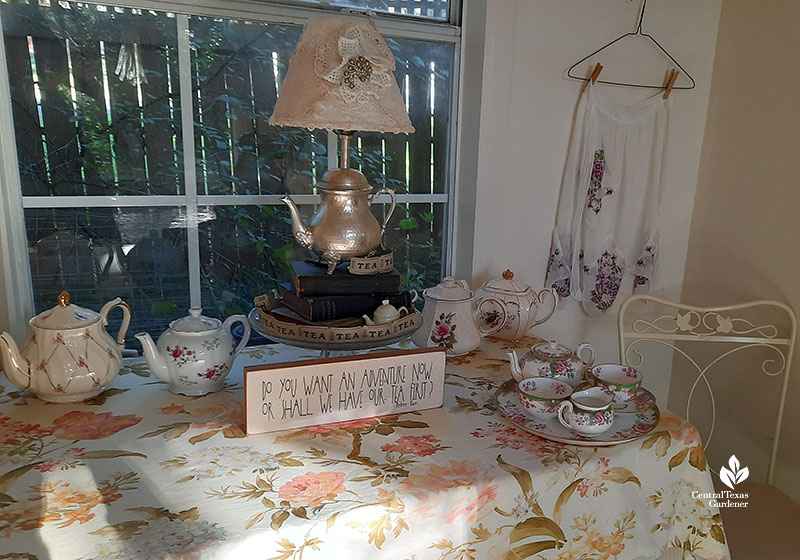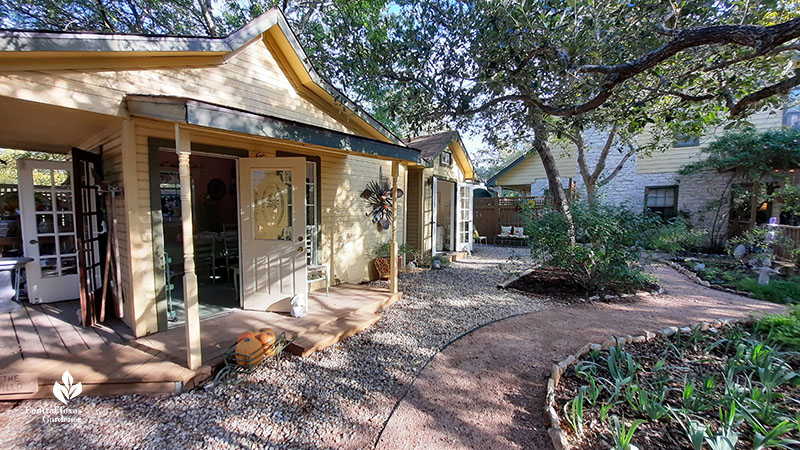 Then, they built another she-shed as a mosaic studio, ornamented with some of her farmer grandmother's tools.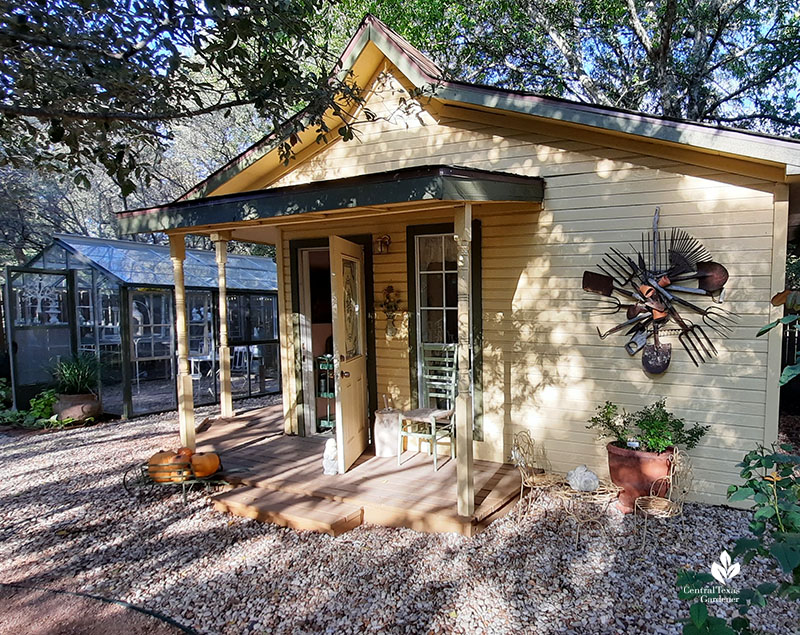 That all started when she created a mosaic sink for her mom, created from some of the china.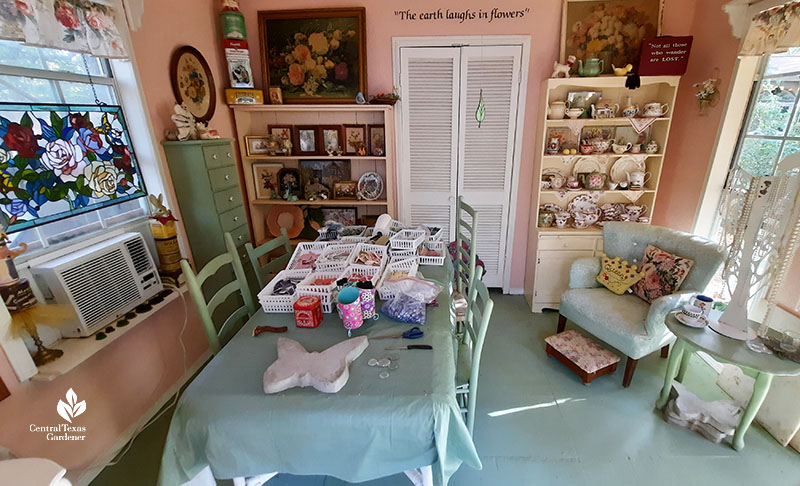 Jo Ann delighted in this new creative project where she smashes up old dishes and turns them into something new.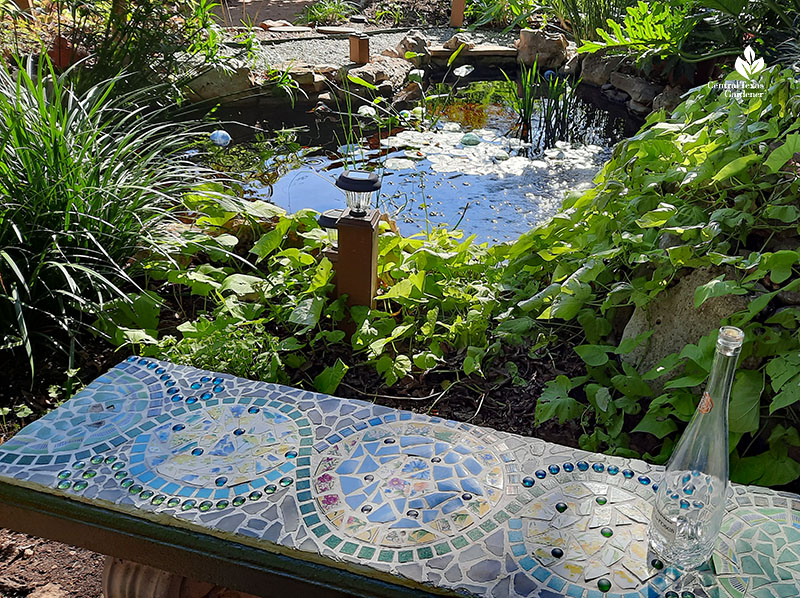 I'm in awe of this ordinary bench she styled up with a mosaic pattern!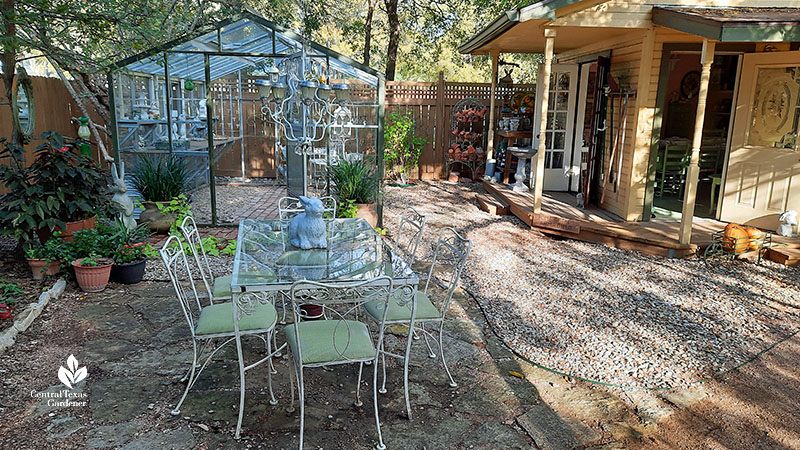 Then she got a greenhouse for the tropicals and citrus trees in winter (she started moving them the minute we left!). A glass-topped dining table hosts frequent gatherings, overseen by a bunny sculpture. A neighbor's child loves to hunt for all the bunny garden art. One day he found 30 and then told Jo Ann, "I can't count any higher!"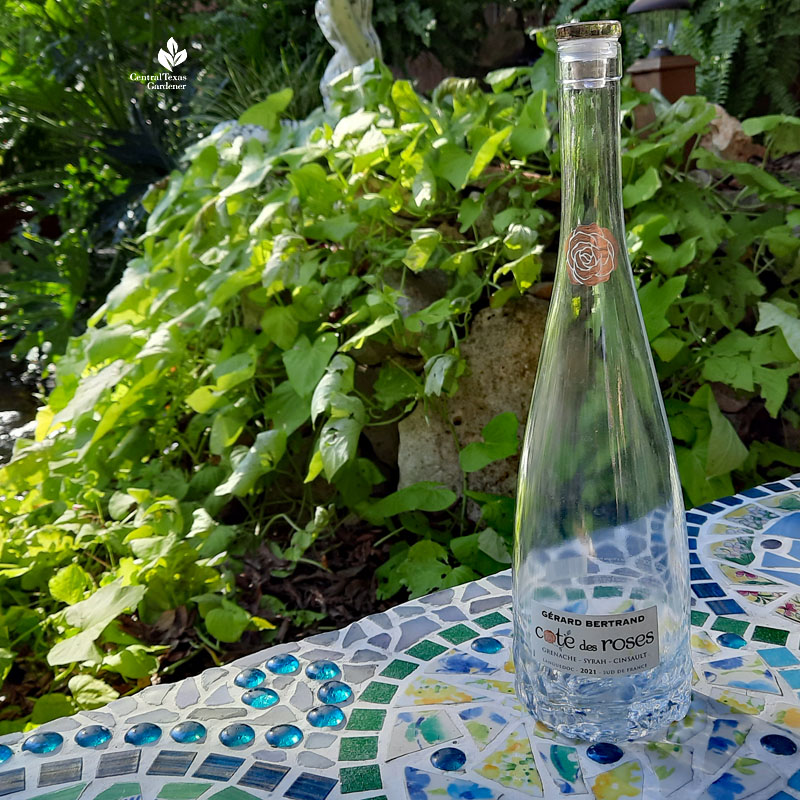 And I bet you know a gardener (I sure do) that buys something just for the bottle!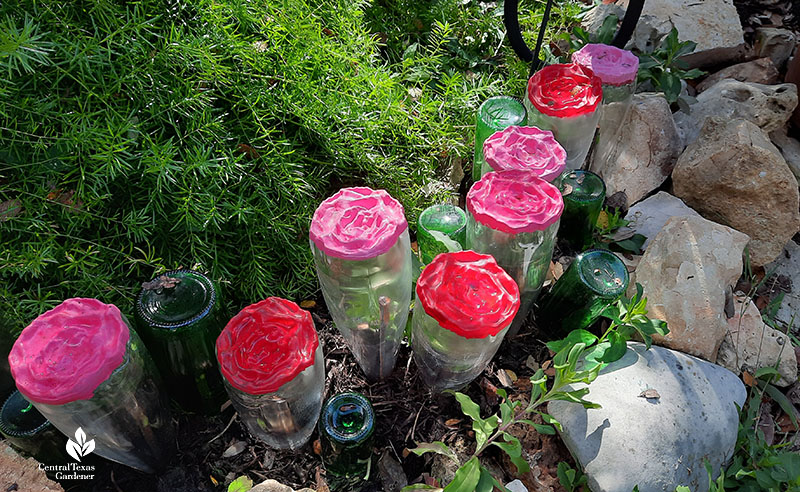 Jo Ann put a rosy spin on it when she found a French rosé wine with a rose-embossed base (and even a glass cork!). After collecting for four years, including from friends, she painted them with acrylics mixed with a little ModPodge and sprayed with a clear varnish. Green water bottles form the "leaves" in a spot too shady for real roses.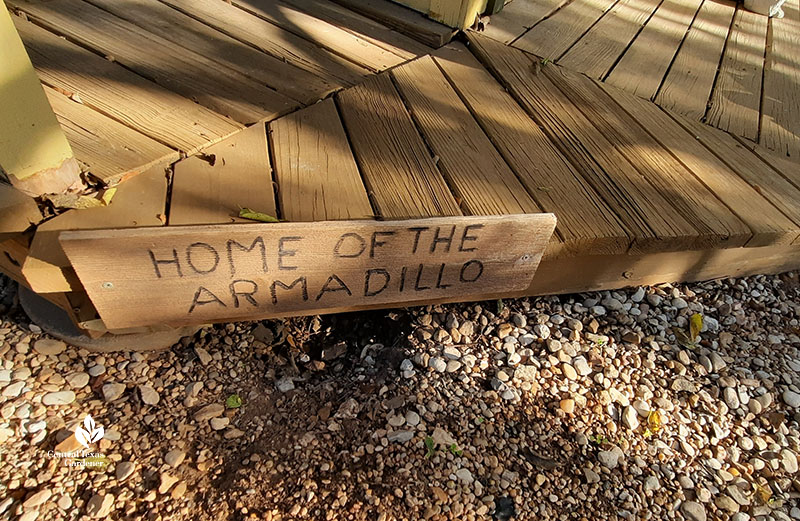 One of the many, many things that endeared me to Jo Ann is her take on wildlife. She understands that we can't host a wildlife party and only invite a favored few. Instead, she cleverly circumvents raccoon pond frolics and with wry wit (and possibly a sigh), signs on with a laugh.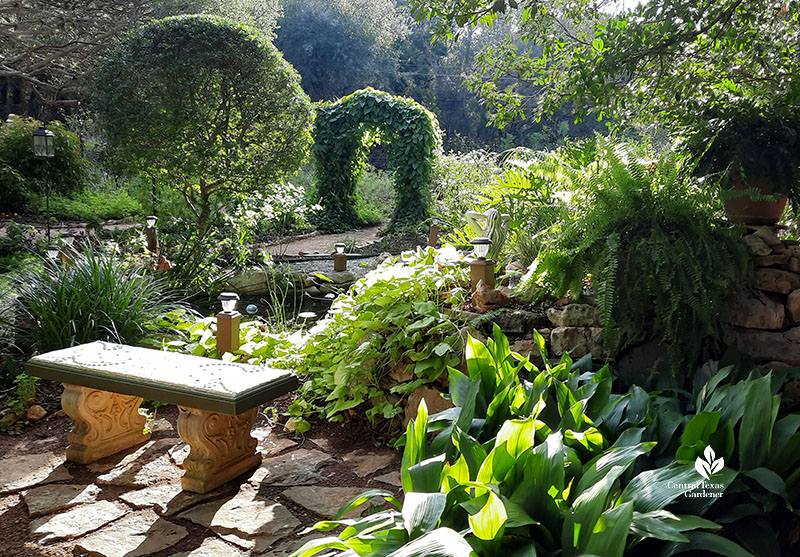 Creative, joyful, and energetic, she revels in new projects: "I was born and raised on a farm. I guess it shows dirt under the fingernails that never really goes away."
Watch her inspiring story!
And thank you for stopping by! Linda
Comments