July 20, 2017
Creating Anew: Life and Garden
In a garden, you don't have to go far to be wowed. Heading to the recycling bin one evening, I spotted a bee dancing around a passion vine flower. I dumped my cans (thank heavens, I wasn't carrying glass) and dashed for the camera!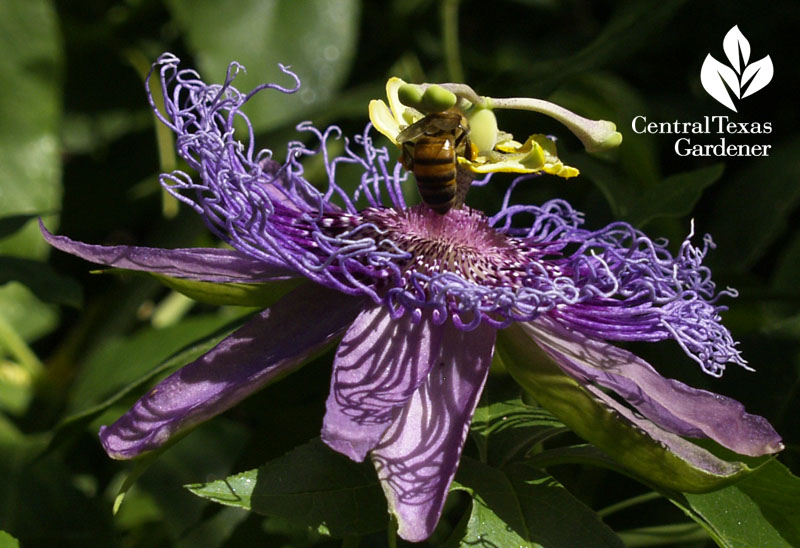 Recently one Sunday morning, I was slow watering some young plants when I spied this nifty "garden weaving" tucked under leaves.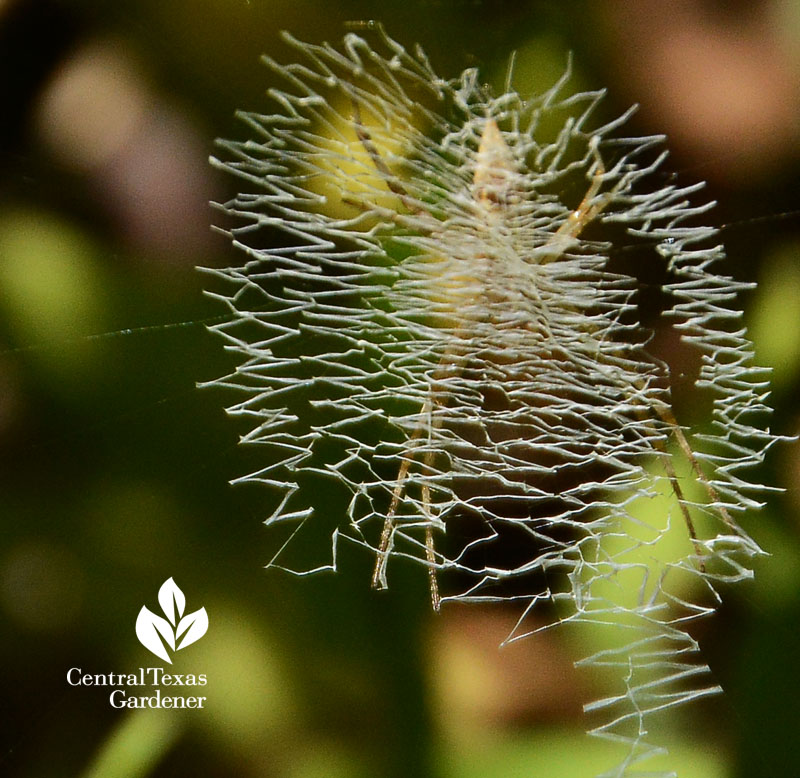 And sigh, in humid weather—especially in spring—we find unwanted life on our plants: fungal disease.
Last spring, fungal problems on Rita Schiferl's new Gregg's mistflower and 'Henry Duelberg' salvias had lots of company, since everybody faced the same thing.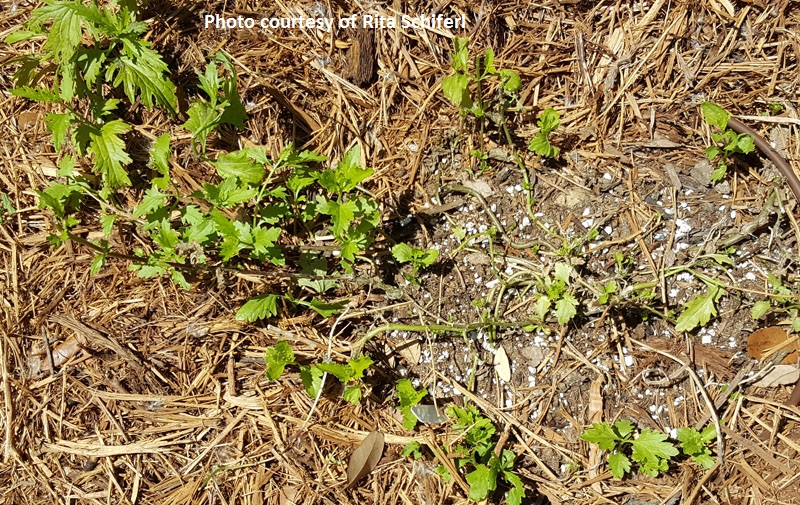 Daphne explains what to do. For sure, right now in this heat, don't apply fungicides: simply prune off damaged leaves and scoop up any that have fallen and put them in the trash.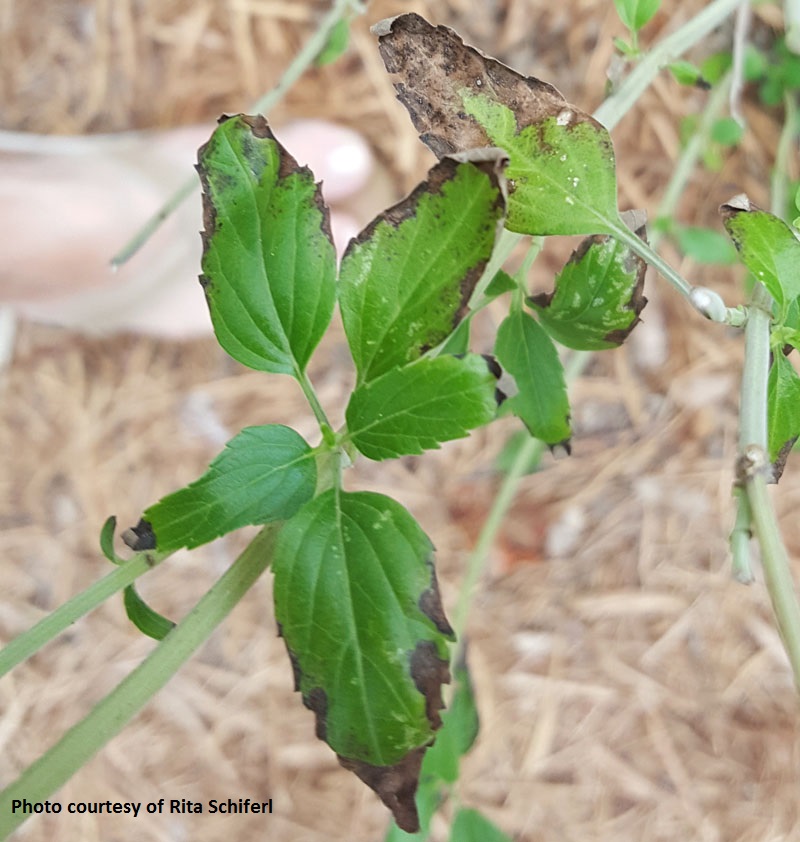 A serious disease that many face is cancer. When it tagged garden designer Jenny Peterson, she realized that she could help others. In her book, The Cancer Survivor's Garden Companion, she "chats" with us like pals through stories, therapy tips, recipes, and how her garden (and others from around the country) played a powerful role in the healing process.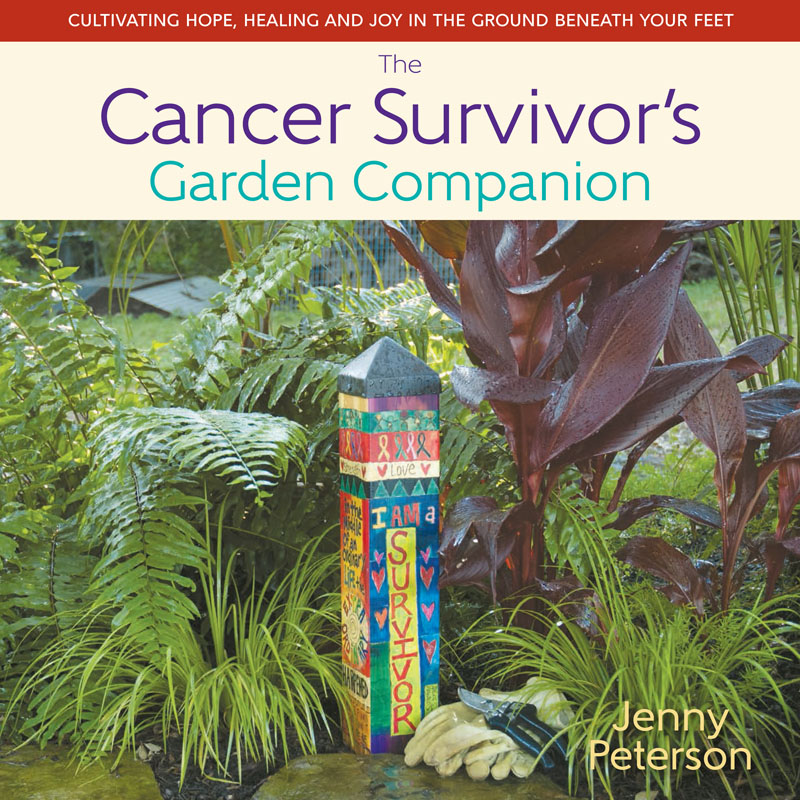 AND, congratulations to Jenny and St. Lynn's Press for the GWA| The Association for Garden Writers 2017 Silver Award!
This week, we repeat our segment of her poignant and spirited journey that applies to whatever life challenge you face.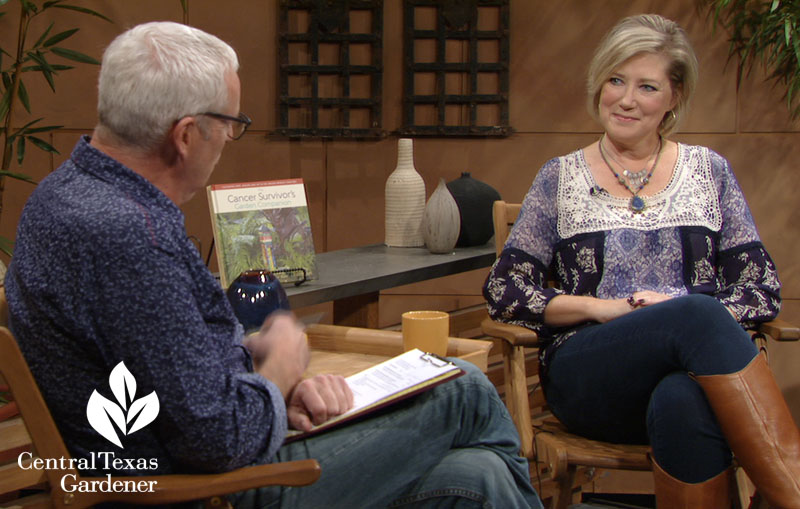 Jenny encourages us to take time—no matter how frazzled or daunted we are—to refresh with simple pleasures outdoors. In summer, blazing hot bougainvillea guarantees "swoon diversion." Get Daphne's tips on how to grow this tropical favorite.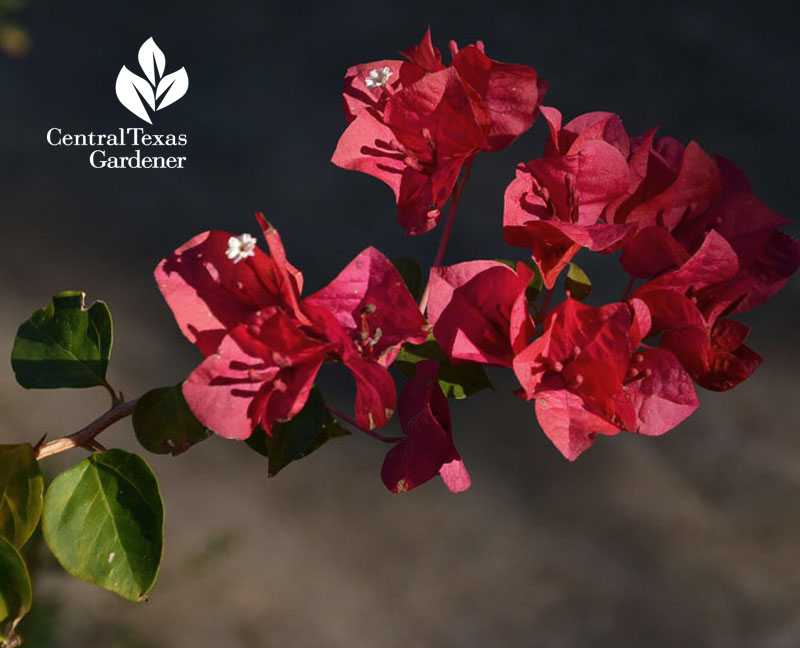 Get John Dromgoole's tips to keep your bougainvillea blooming.
Certainly, in summer, cooling popsicles instantly renew our sweaty souls. Trisha peps up healthy pops with fruit, yogurt, and even coffee and green tea! Watch now.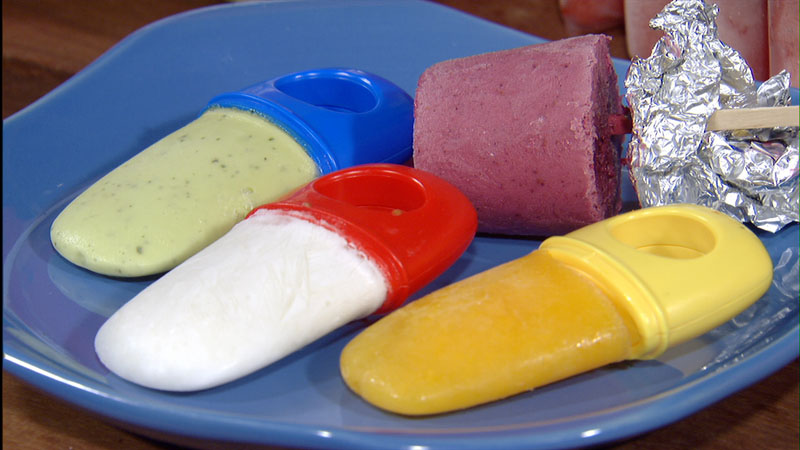 Get Trisha's popsicle recipes!
Do you all know The How Do Gardener, Rick Bickling? A techie by day and a gardener in his spare time, Rick combined his know-how into a very helpful website.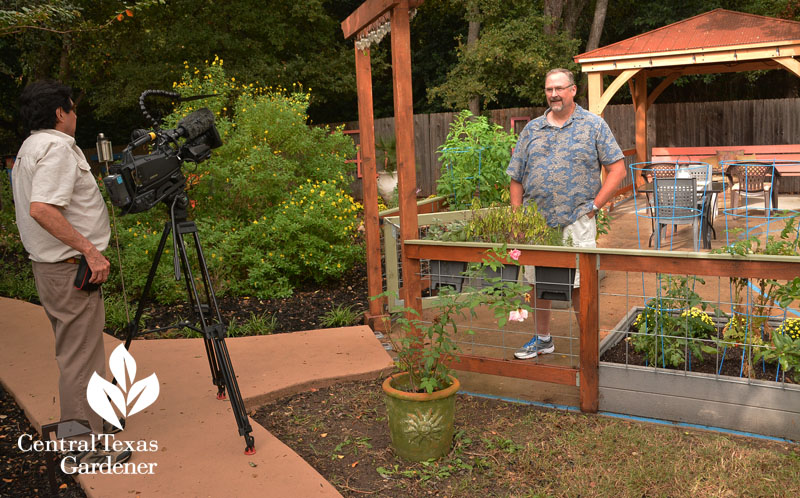 So, it was a real kick to visit him and wife Ellen in Leander for the "how do" behind their garden makeover.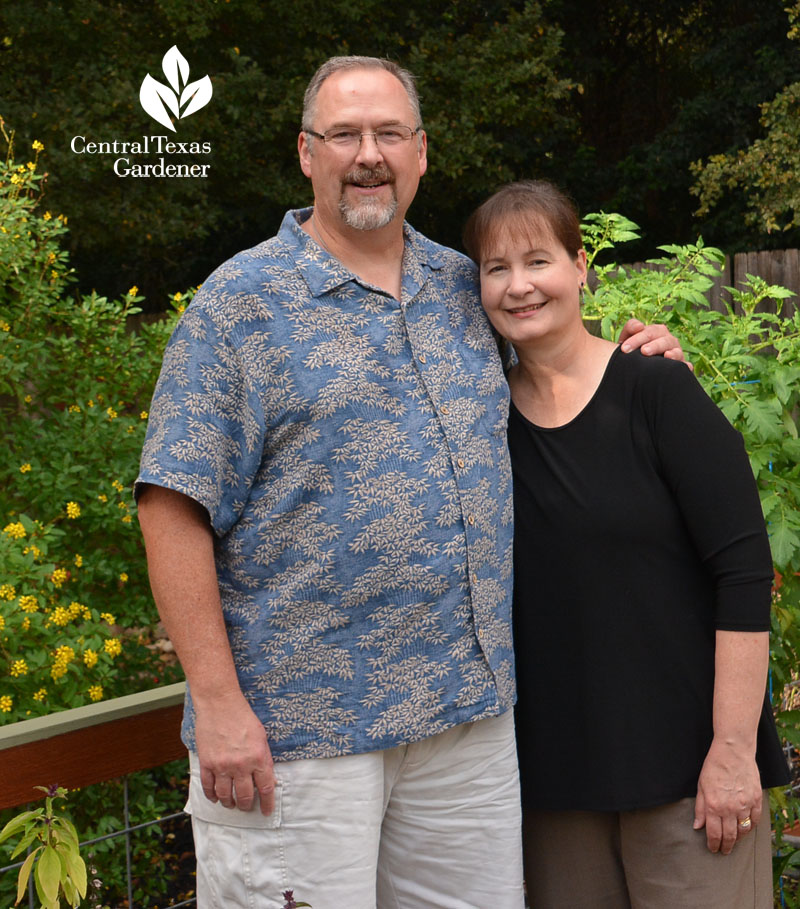 When their young sons topped 6'9, Rick designed a basketball court over a patch of grass. When the kids left the nest, Rick and Ellen bounced off ideas for the sunniest spot in their shady yard. Food court won the Final Four!


Rick likes to build things, but for raised beds that would last a long time, he chose composite decking.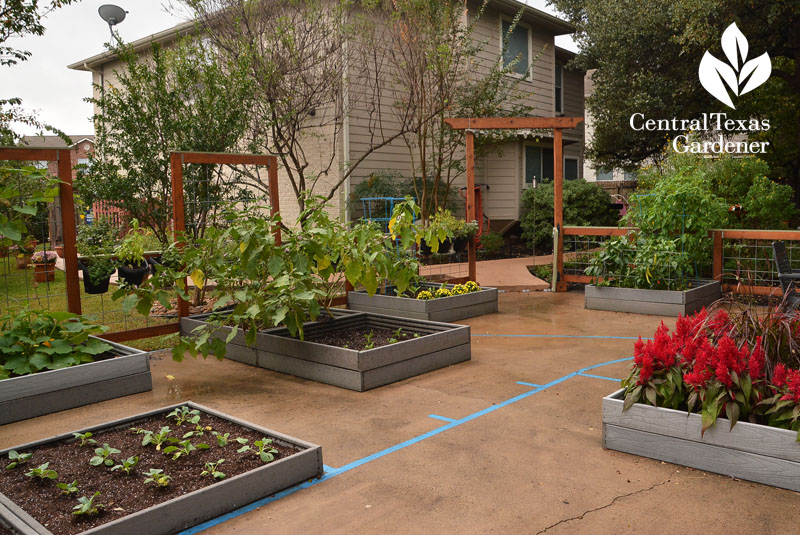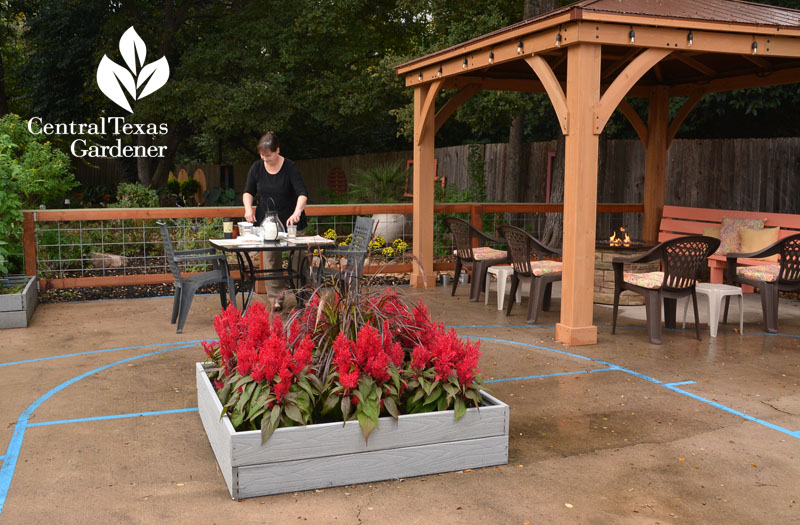 He did a soil test to confirm that all was safe in his square foot garden beds.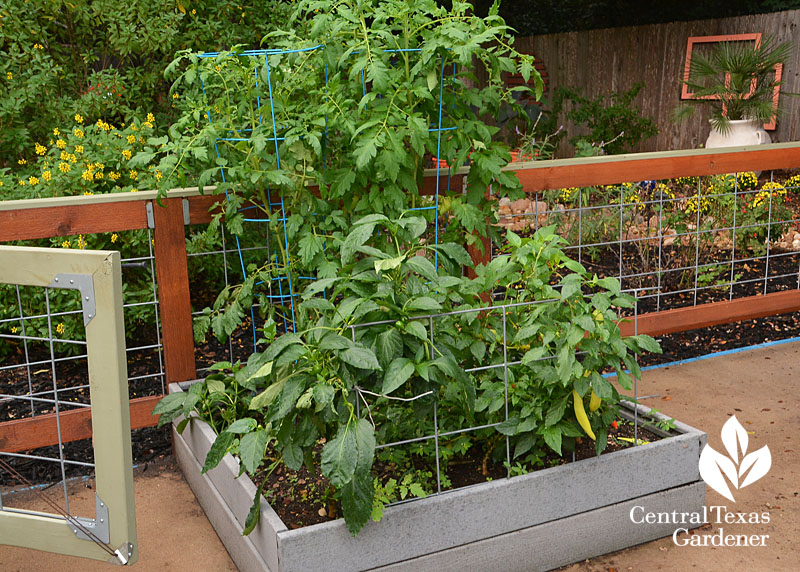 Although Rick built a cedar arbor gate and fences to keep out the playful dog, his cattle panel and trellises add dimension.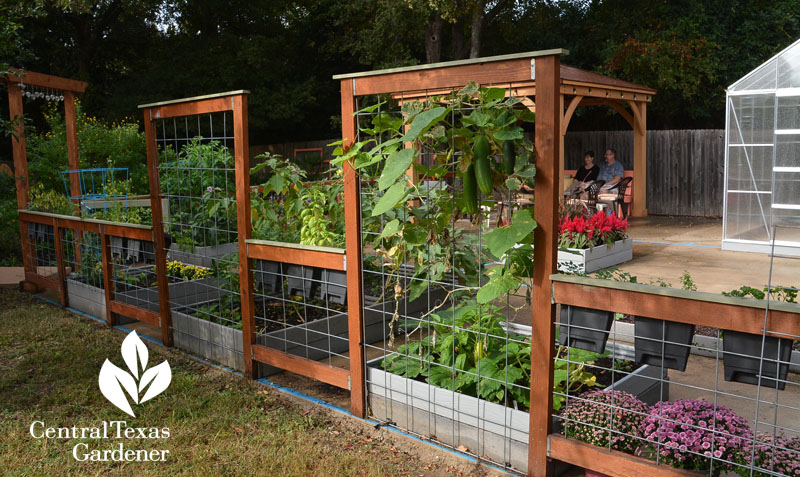 "It kind of makes it more of a living space than just a bunch of beds on a basketball court. Also, it gives you a way to grow things vertically," he says.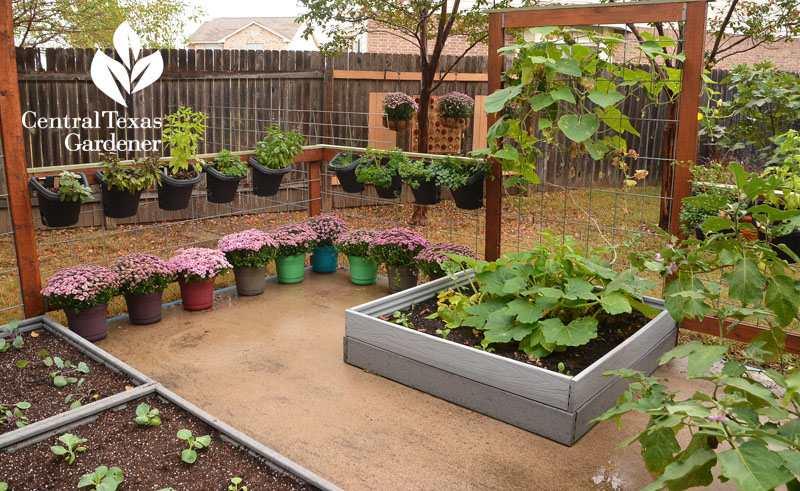 He built the gazebo from a kit, but constructed the bench—and painted it—to match their overall color scheme.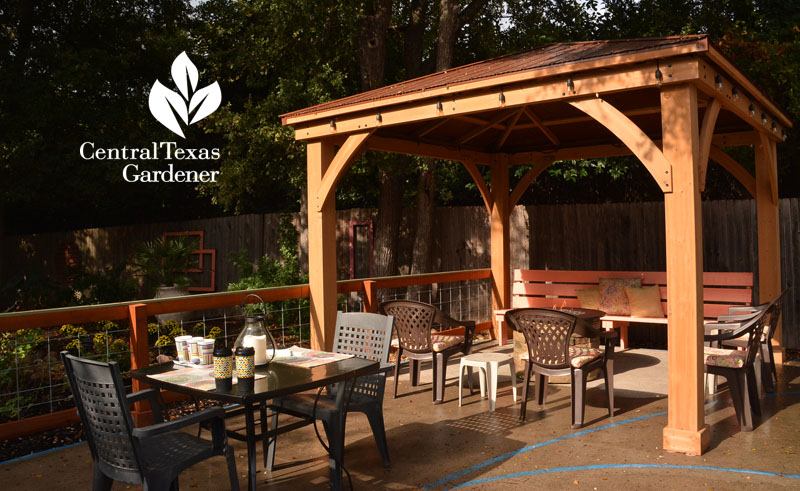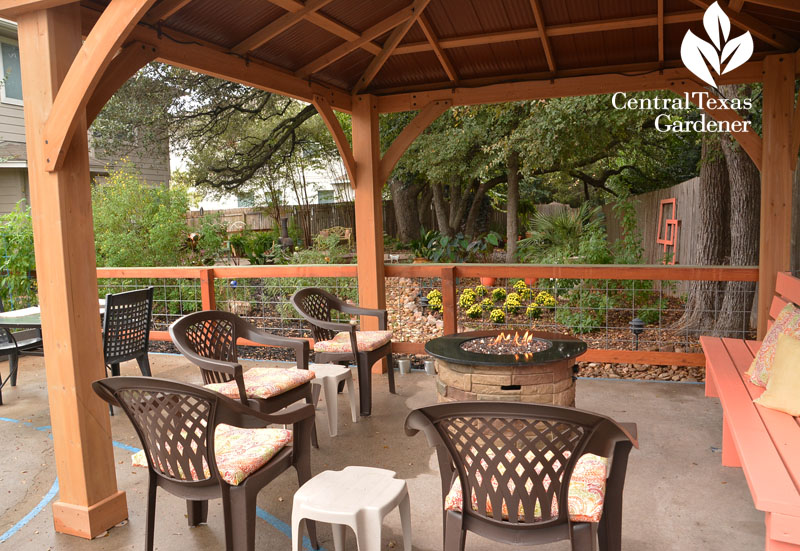 A propane fire pit makes it easy to warm up on a cool morning or evening.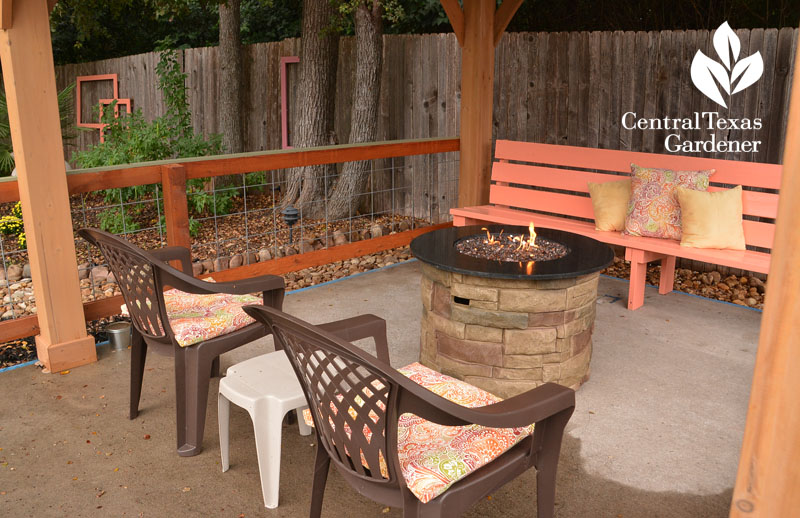 Originally, the new yard was all sod. He took out most of it after 2011, except for a bit in the side yard where fruit trees provide shade and yes, fruit!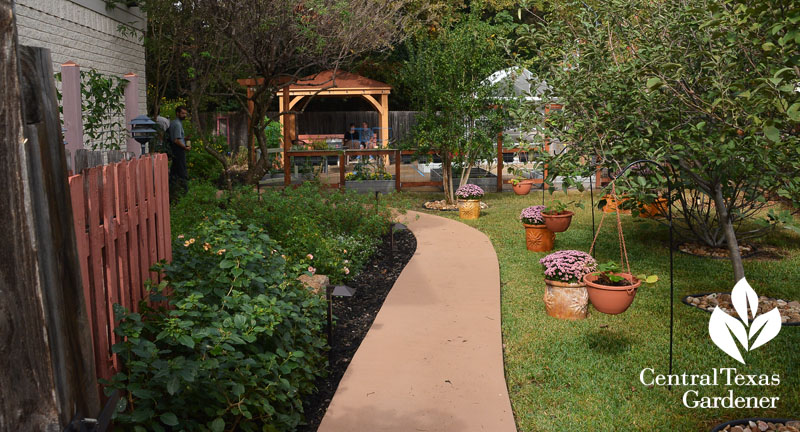 He widened the bed in the side yard for Drift roses and perennials to complement his orange-hued elements. A lavender trellis that supports a young 'Tangerine Beauty' crossvine breaks up the tall lines of the house.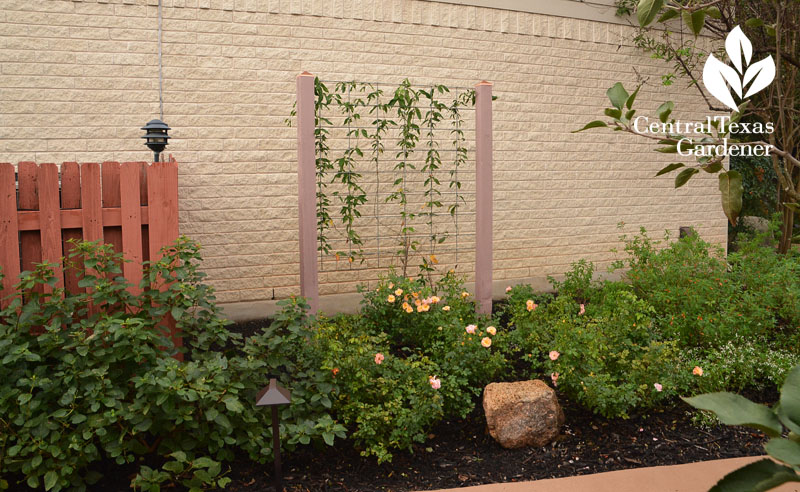 When they took out the lawn, they analyzed options for a walkway around their new scape. With a dog and their constant garden roams, Ellen and Rick went for textured, colorized concrete rather than decomposed granite.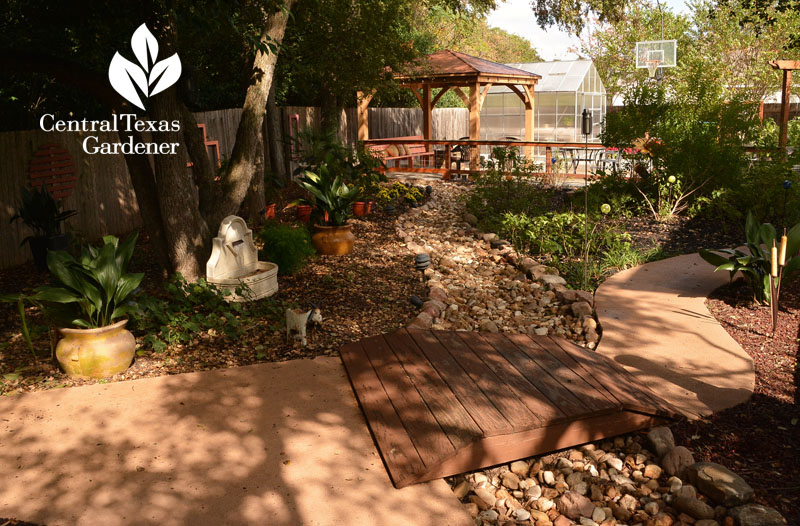 Since a neighbor's main rain gutter gushes through in rain bombs, Rick followed the water pattern to create a dry creek bed. He dug down a few inches and topped it with river stones for a decorative look that gently disperses the water to the trees.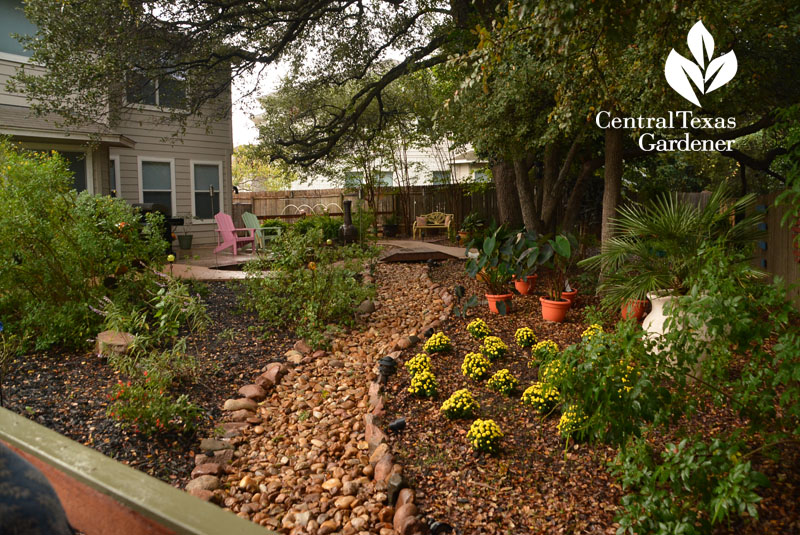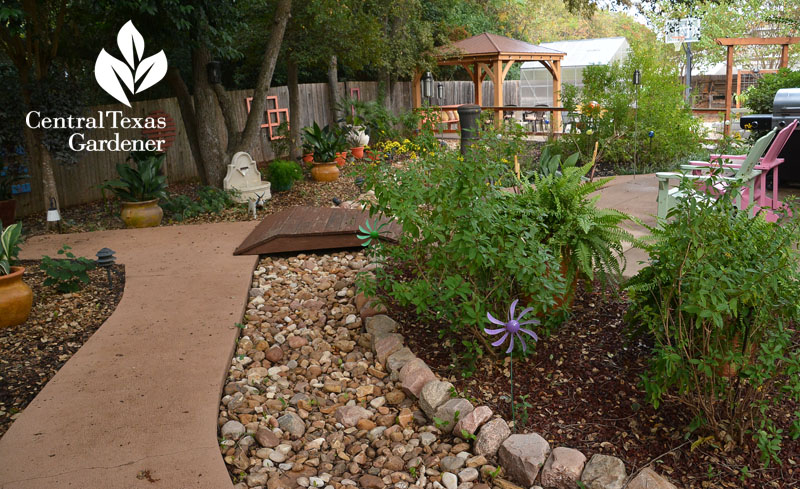 Their trees and greenbelt beyond are peaceful and cool, but tree roots make digging in plants difficult—and not good for the trees. Plus, it was "all of a color." He went for colorful containers nearest the trees.


To pep up the fence without startling the serenity, he grabbed leftover paint and wood to frame a new look.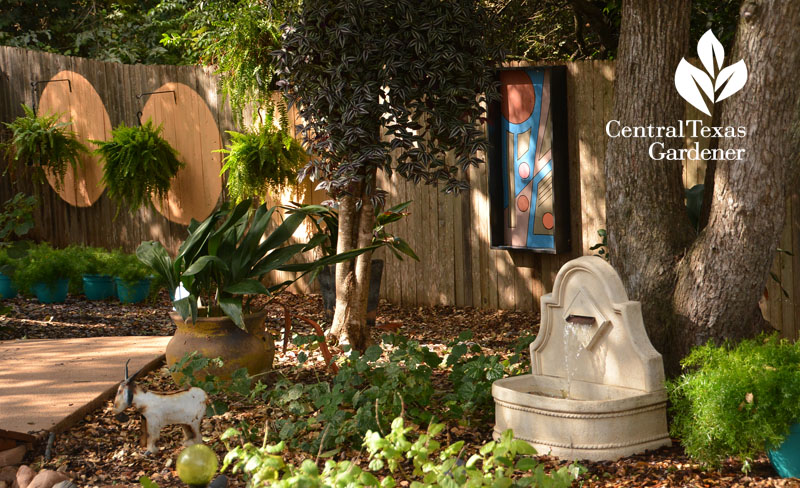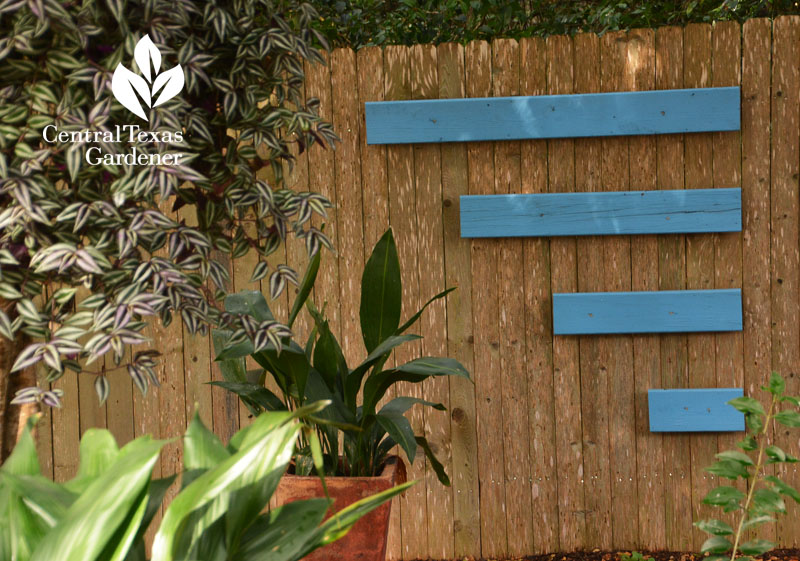 Watch the whole story now!
And thanks for stopping by! See you next week, Linda
Comments