July 27, 2017
Growing for the Community
On the home front, bees are "harvesting" nectar from my sweetly fragrant and rather gangly almond verbena.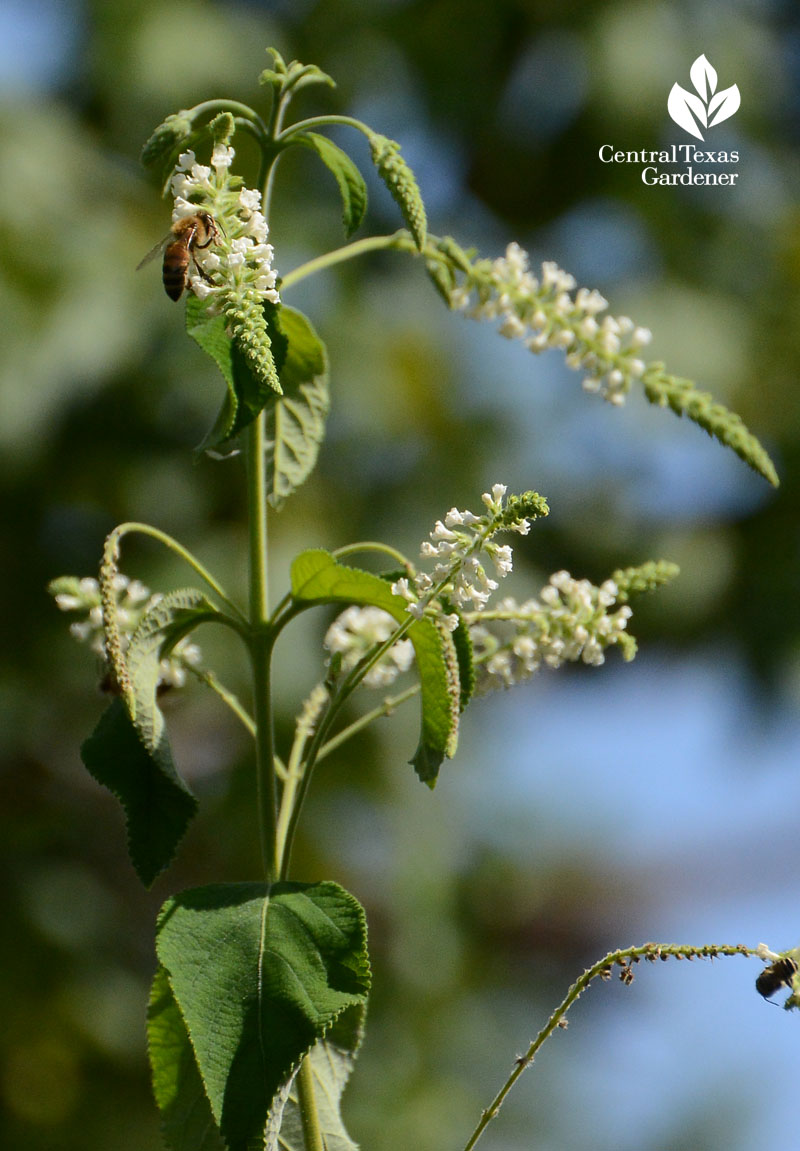 It wilts in late afternoon sun, as do we all, but it and the bees are refreshed by bedtime.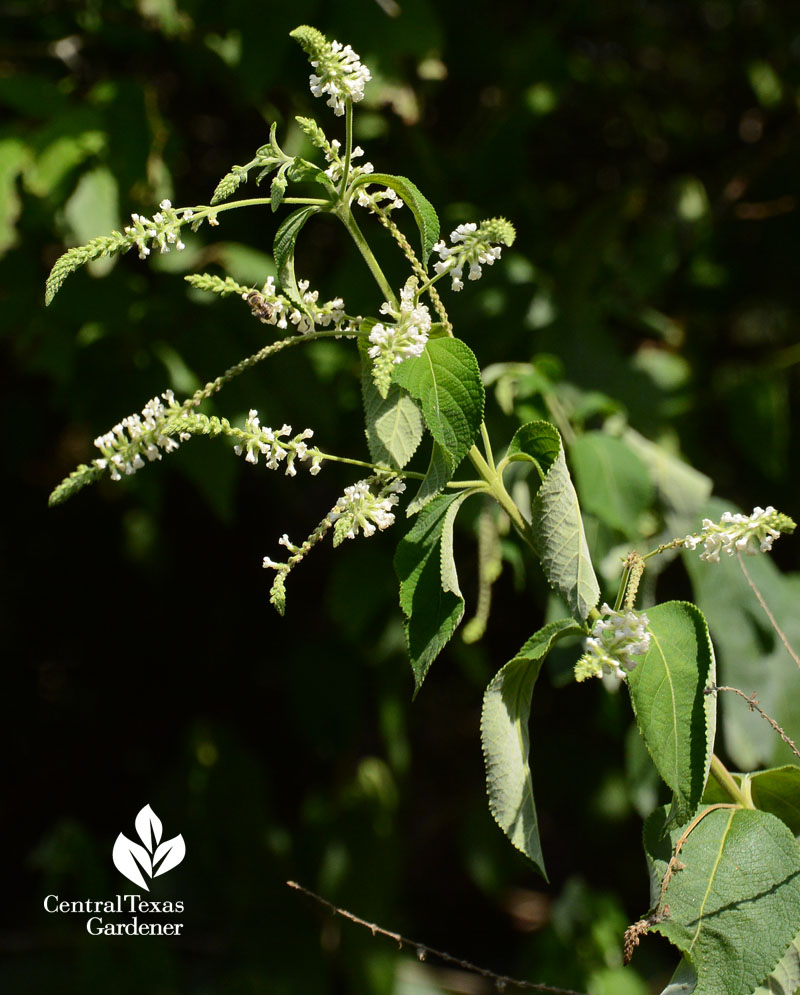 Fungal disease continues to "dine," too, thanks to ongoing humidity. In May, James Grammer spotted powdery mildew on his oak leaves. It's a common problem on many plants, especially in cool, humid weather (or at least cool nights!). Get Daphne's complete answer.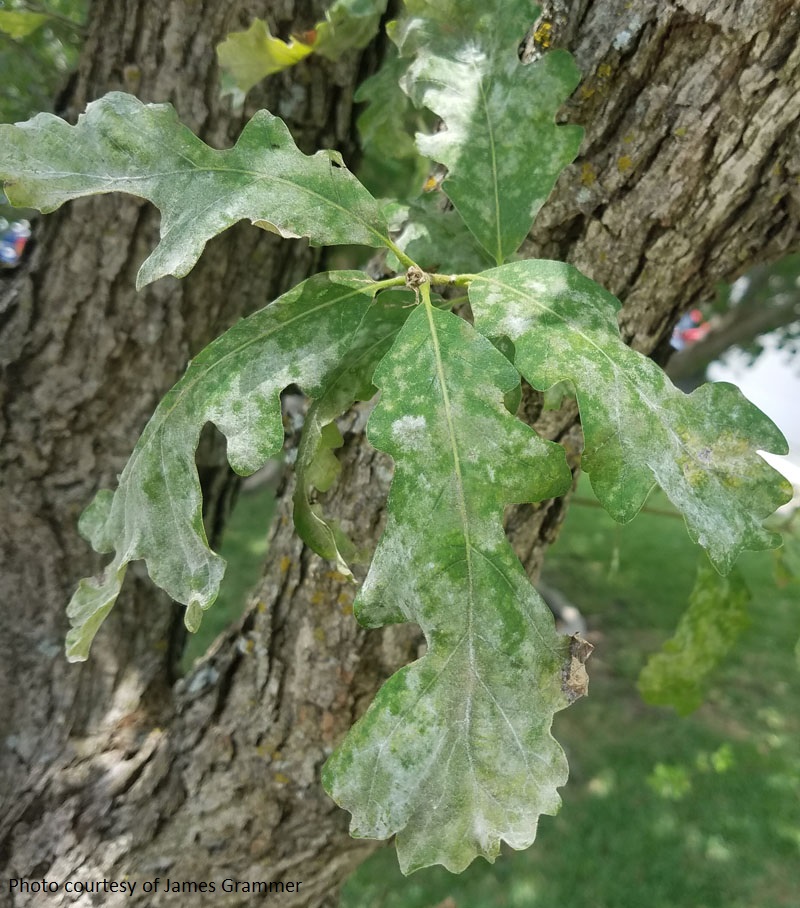 We may find it unbelievable that children are going hungry in our communities, but that's what pre-teens Addison (10) and Ian McKenna (12) discovered back when he was in elementary school. This week, they tell us why they got growing at home and in the community to feed those in need.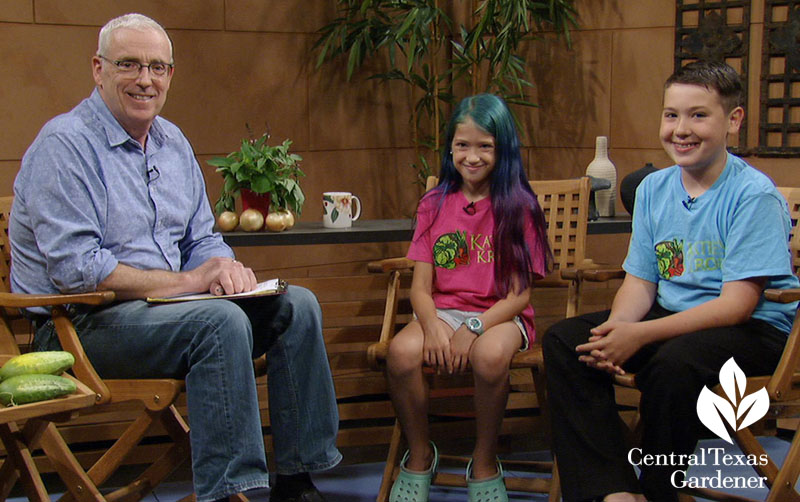 Ian's also a Katie's Krops Texas Grower 7 Youth Advisory Board member. Email him at ian@katieskrops.com to join them in their Katie's Krops projects, started in 2008 by a 9-year-old girl.
Recently, Katie's Krops awarded Ian the 2017 Rising Star Award! Congratulations, Ian!
I first met Addison and mom Sarah McKenna (who works with Meals on Wheels), when we taped the food and pollinator gardens at Oak Hill Elementary where Ian's vision took root when he was a student there.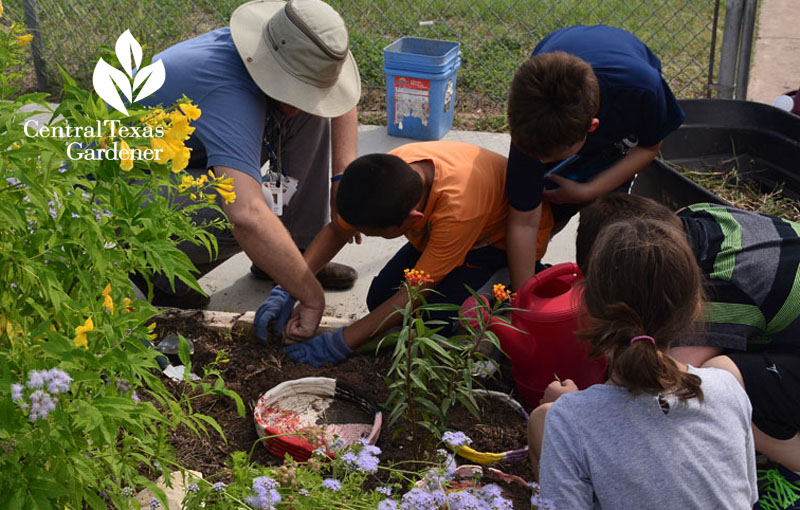 An edible plant you can find just about anywhere in the Southwest is prickly pear (Opuntia). There are many species, cultivars and varieties of drought tolerant Opuntia, including purple-hued 'Santa Rita'.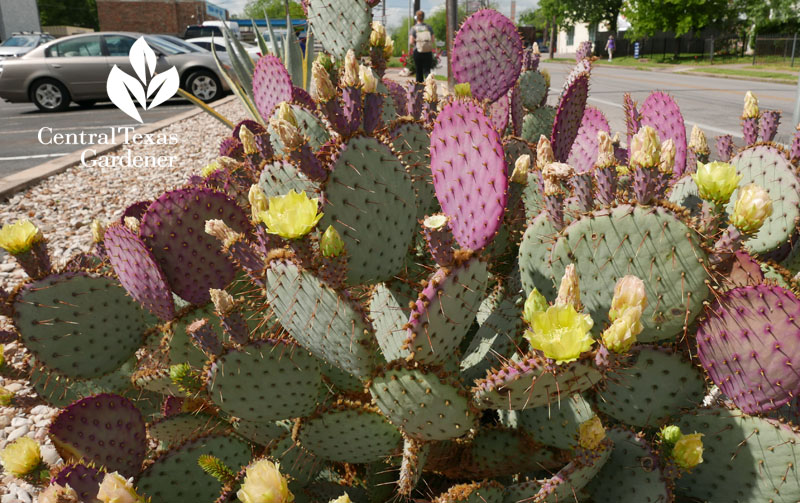 Flamboyant late spring blossoms get lots of company from bees and other pollinators. Daphne explains how to grow prickly pear.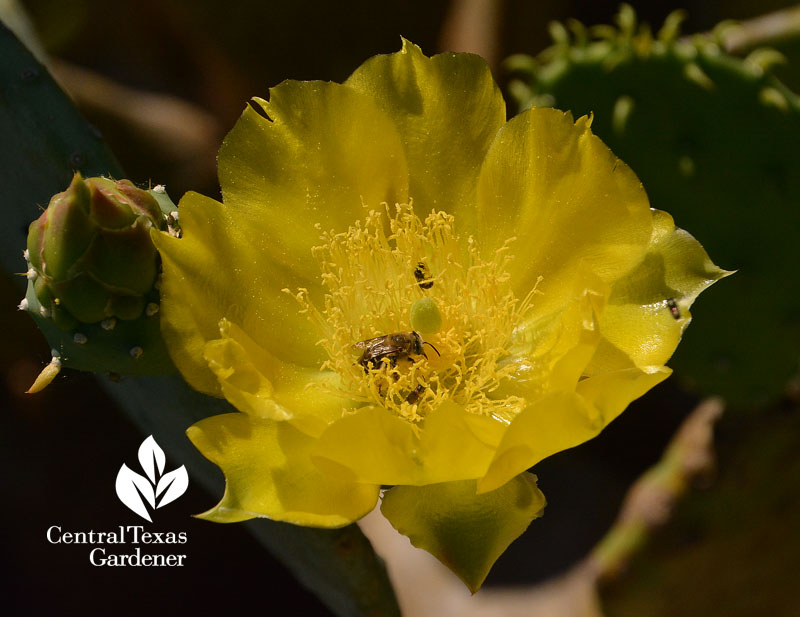 Watch our native edible plants interview—including how to harvest prickly pear and pads—with Andrea DeLong-Amaya, Director of Horticulture at the Lady Bird Johnson Wildflower Center.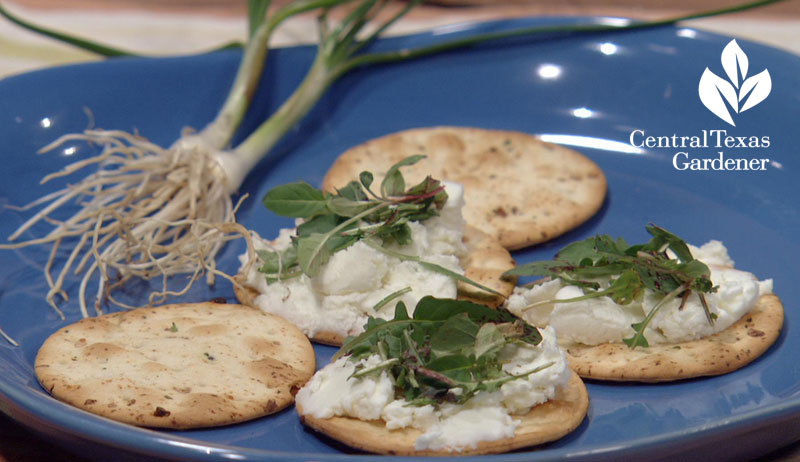 Get recipes from the Lady Bird Johnson Taste of Place.
Texas A&M AgriLife Entomologist Wizzie Brown explains how to handle insect pests on cactus.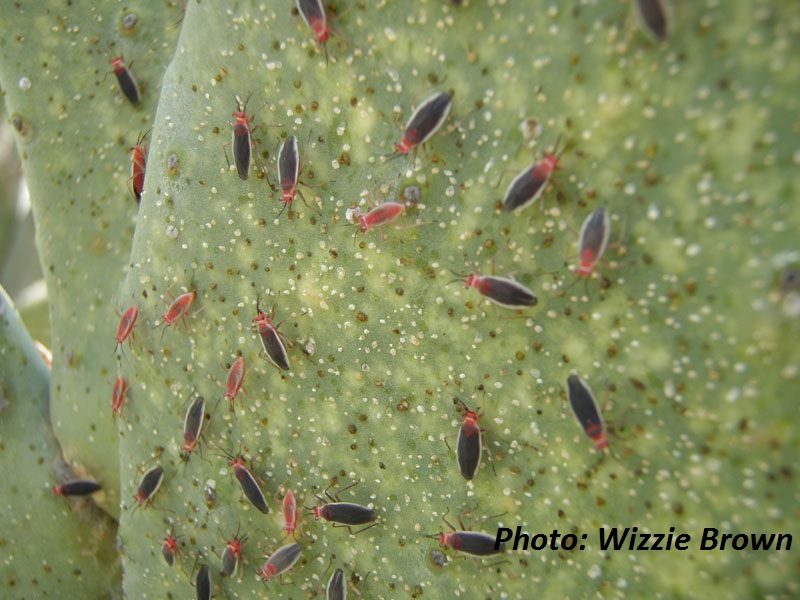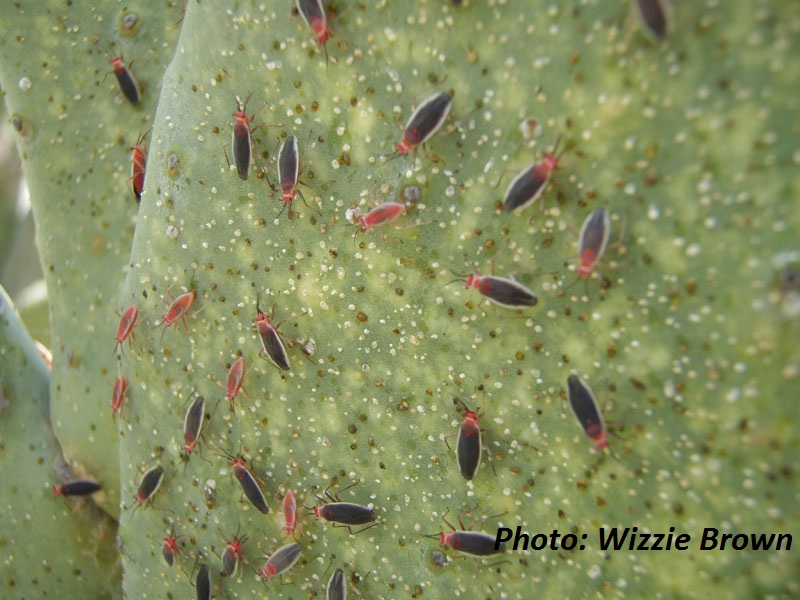 Here's more from Wizzie about succulent pests, including agave snout weevil.
In San Antonio, Richard Alcorta fries up stuffed squash and zucchini blossoms that he and wife Christine harvested seconds before rolling up and frying on his chimney starter stuffed with charcoal.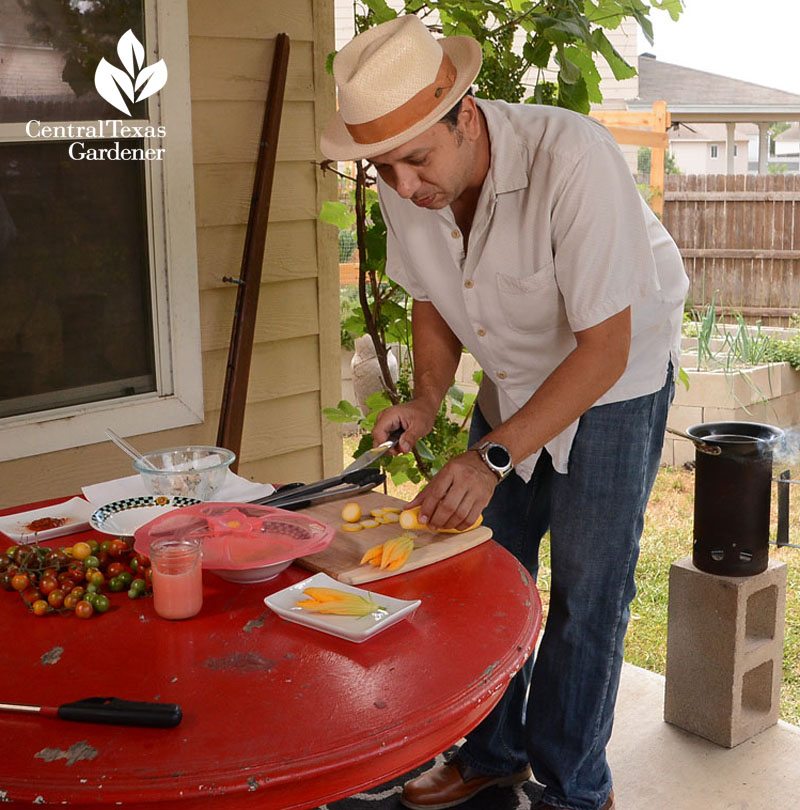 Of course, it's easier to do this inside, but this was fun! In 2018, we'll feature Christine and Richard's organic vegetable garden where he harvests for his restaurant-quality meals. Watch now! Here's his recipe for stuffed squash blossoms.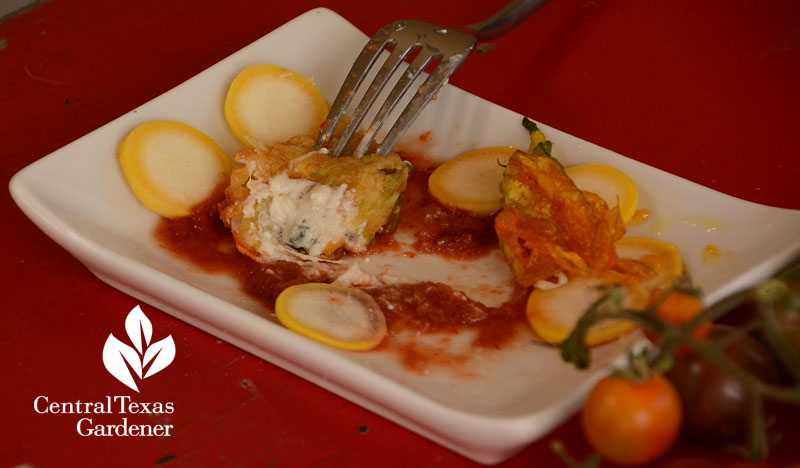 On tour in Kempner, near Killeen, Carolin Le is growing good health for her and husband, Victor Cardona, a U.S. Army veteran.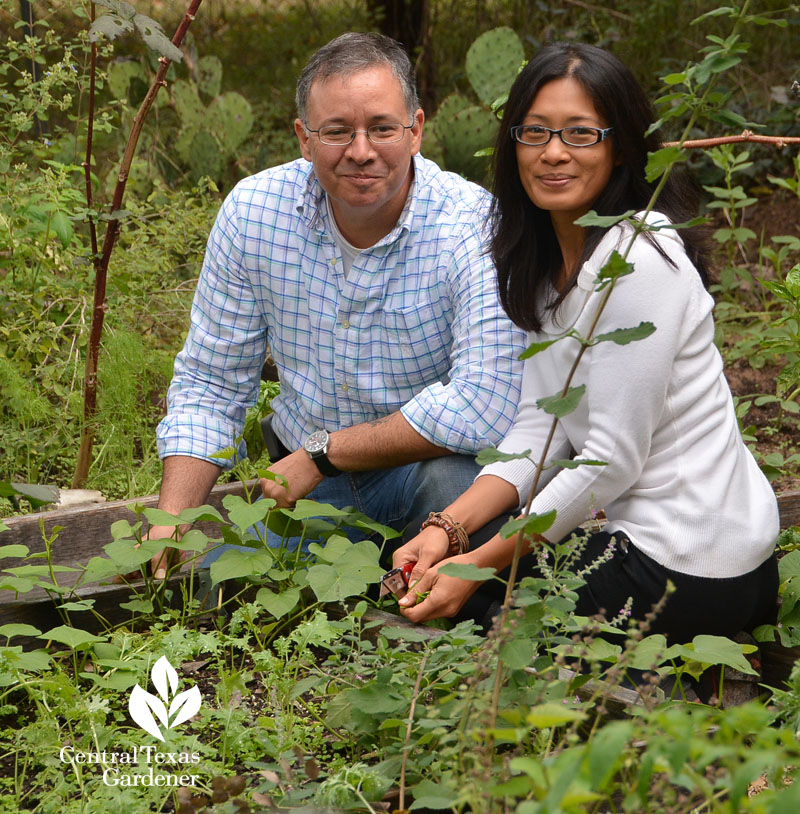 Originally from Saigon, she's dubbed her permaculture food forest Mrs. Saigon Farms to challenge an Asian perception about "farming" as a profession.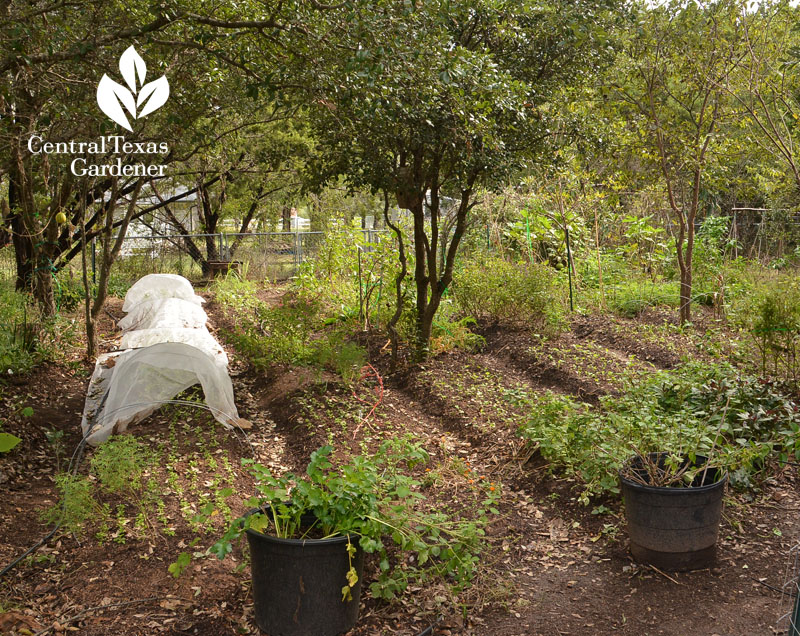 Her soil is rocky, so she mainly grows in raised beds, starting many from seeds in greenhouses that Victor built.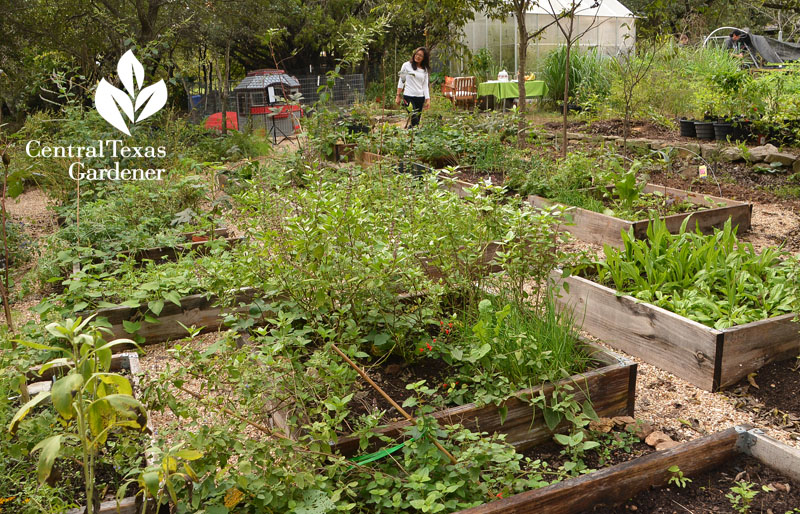 Alongside typical garden fare, she grows rare herbs, greens like dandelions, and vegetables packed with medicinal properties, including two types of plantains. "I would love to help to make people feel healthier again" she tells us.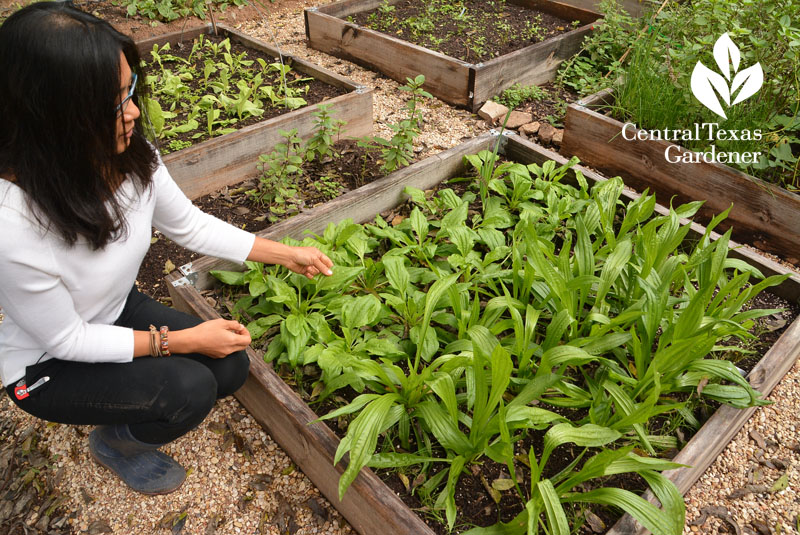 She grows enough native chile peqins to feed the birds and to include in her healthy, vegan recipes.
Carolin deftly strips and chops lemongrass to show us how "tender" it up for teas and recipes. She plants lemongrass everywhere, as a natural mosquito repellent when she brushes against the leaves.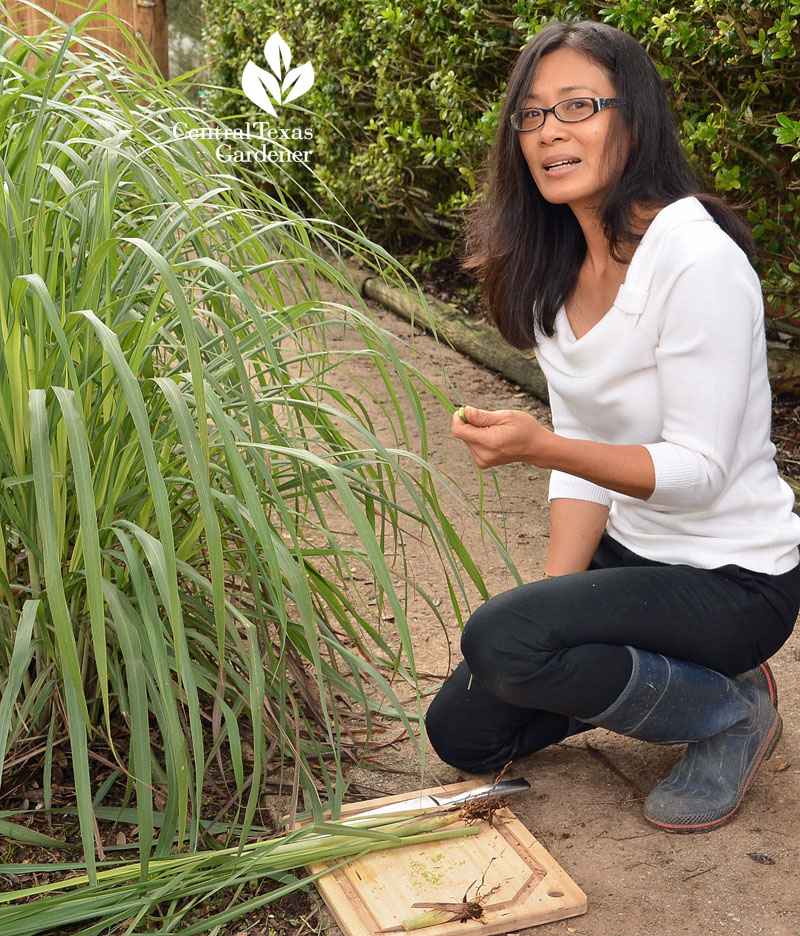 In this close-knit rural community where the nearest grocery store is 15 miles away, Mrs. Saigon Farms is the on-demand farmers market. Carolin also harvests special blends to address a customer's particular ailment, like inflammation.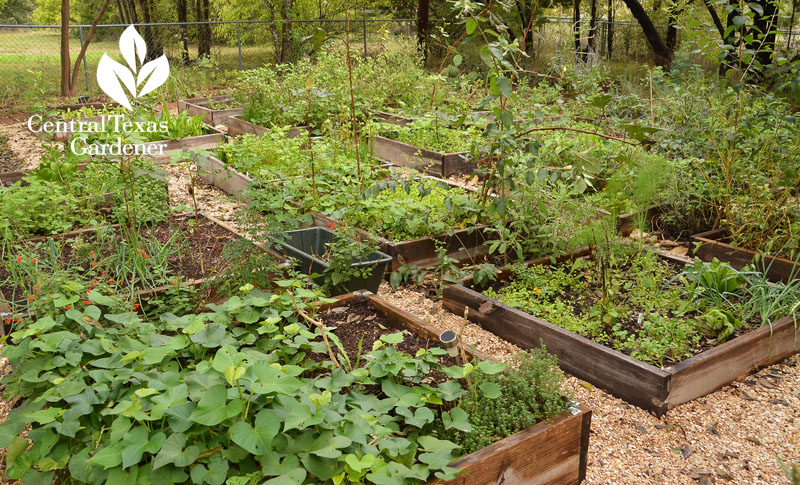 She also plants lots of flowers for the pollinators that benefit her well-being and the garden.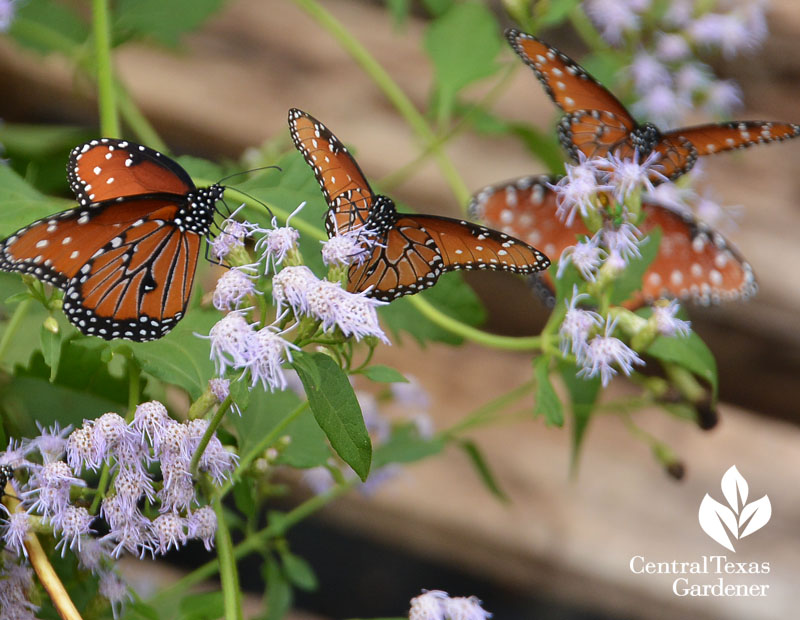 Carolin and Victor added various ducks to their family that includes two rescued dogs. As vegans, the neighbors get the eggs. Carolin gets the nutrient-rich duck pool water for her plants. And of course, lots of entertainment!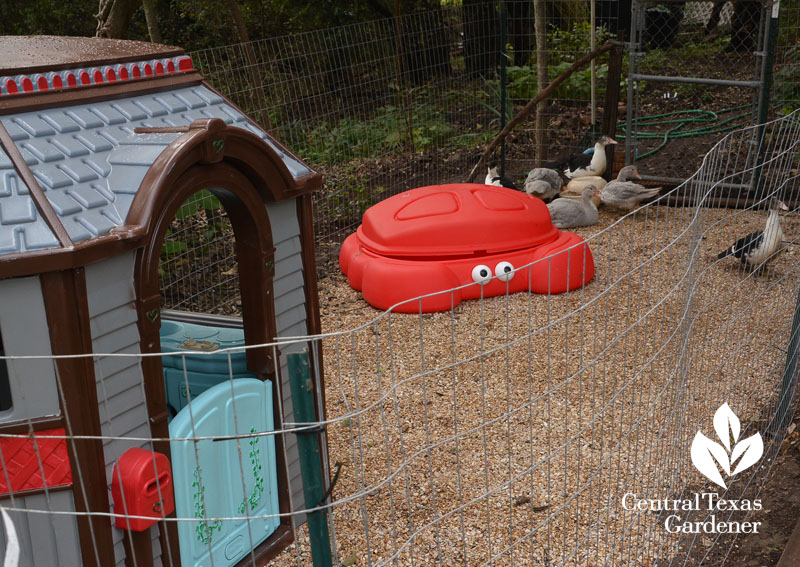 Get in touch with Carolin on Facebook and to follow her fabulous food and flower posts.
It was a bonus day for us, since Wright's Nursery was just down the road. Of course we had to stop!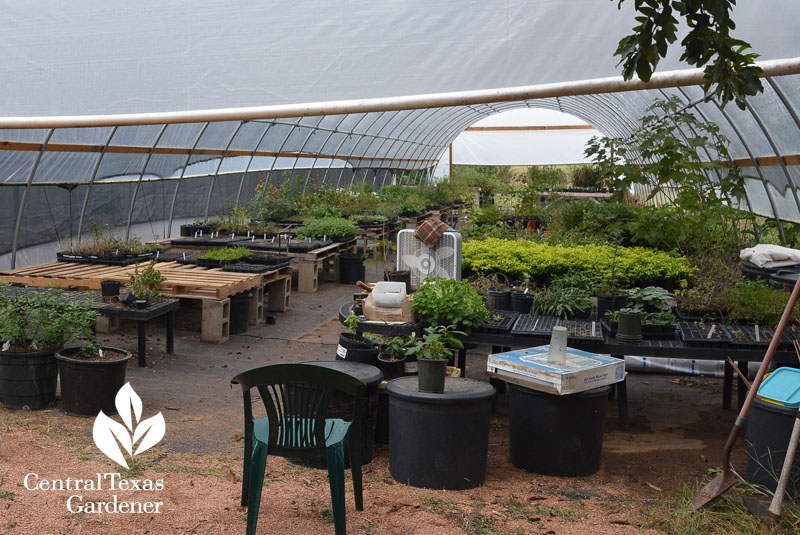 CTG loves Barbara and Bobby, who specialize in hard-to-find native plants and adapted ones. We snagged them away from propagating plants for a picture. Watch our most recent interview with Barbara!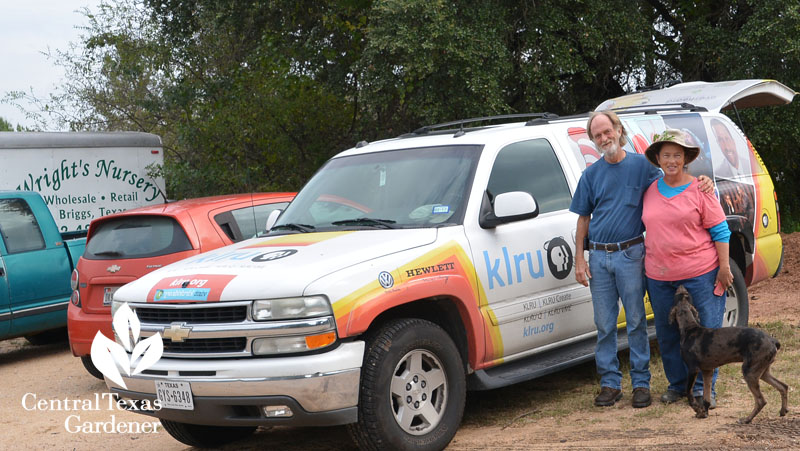 Watch Carolin's whole story now!
And thanks for stopping by! Linda
Comments