October 15, 2020
Waterfalls, Wildlife, and Drinks: Cosmic Coffee + Beer
Under leafy canopies to the tune of waterfalls and birds, grabbing a drink and a bite at Cosmic Coffee + Beer Garden in south Austin is like a picnic in the park.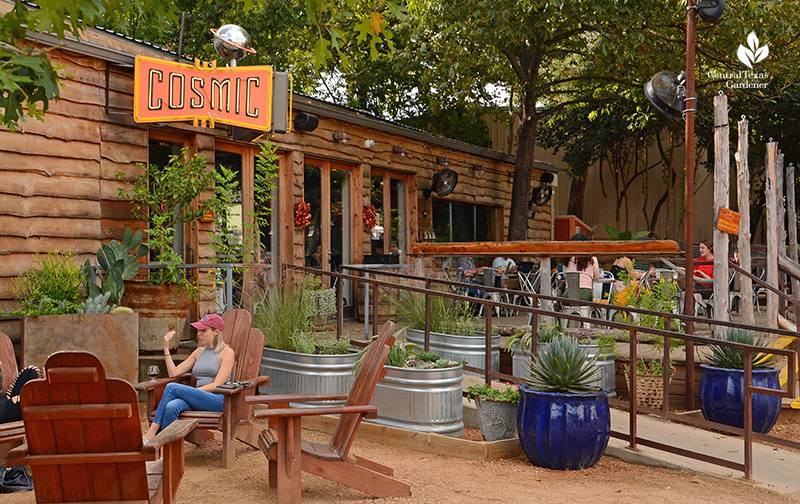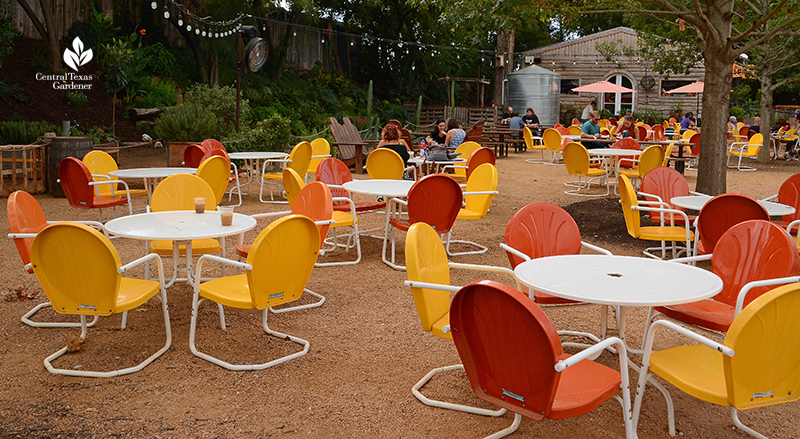 It's an outdoor office, convivial spot to catch up with friends, and a romantic date night.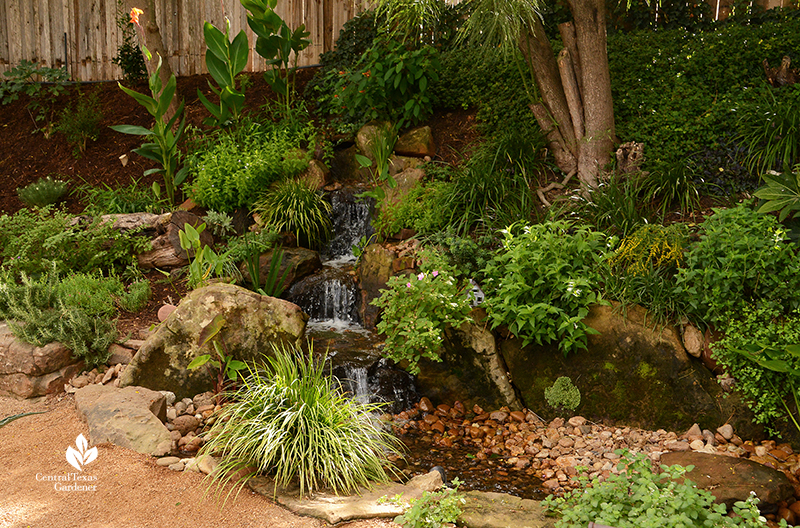 When CTG visited in fall 2019, founder Paul Oveisi told us the story behind his vision. "The sole concept is an homage to permaculture. This is our attempt to marry permaculture concepts with really good hospitality creating a positive impact on our physical environment," he said.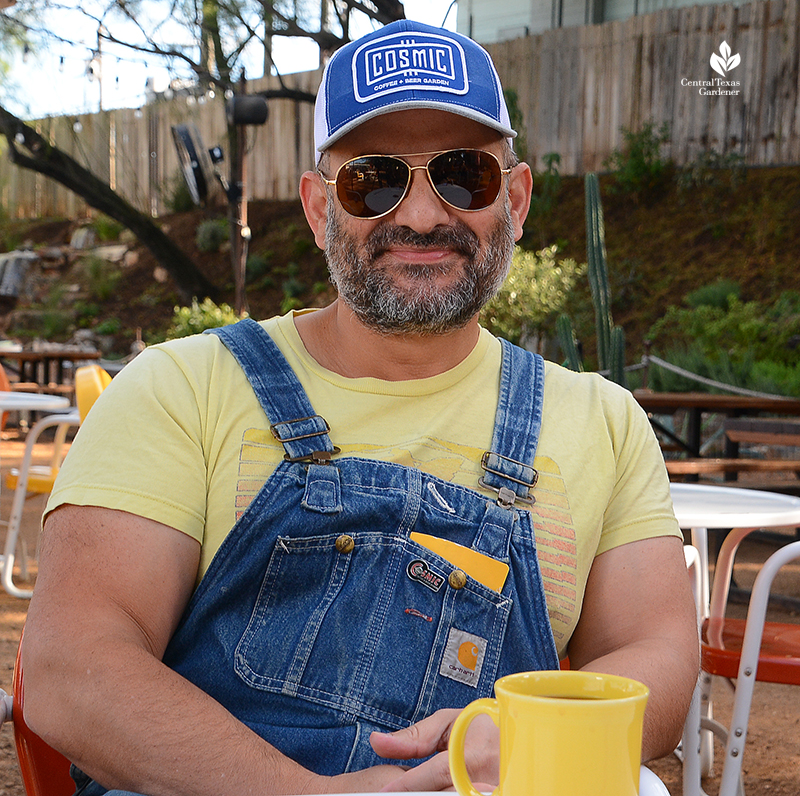 In two, busy years before opening day in January 2018, they turned ravaged land, formerly a mechanic shop, into organic food gardens and a National Wildlife Federation Certified Wildlife Habitat.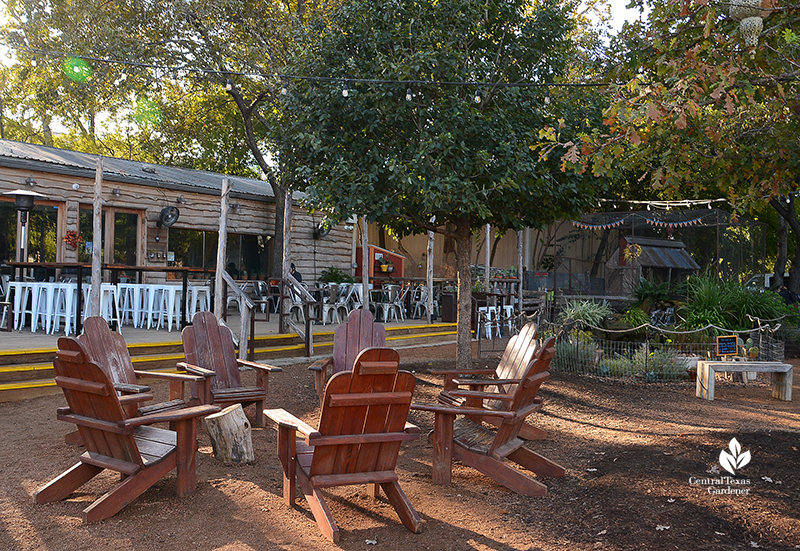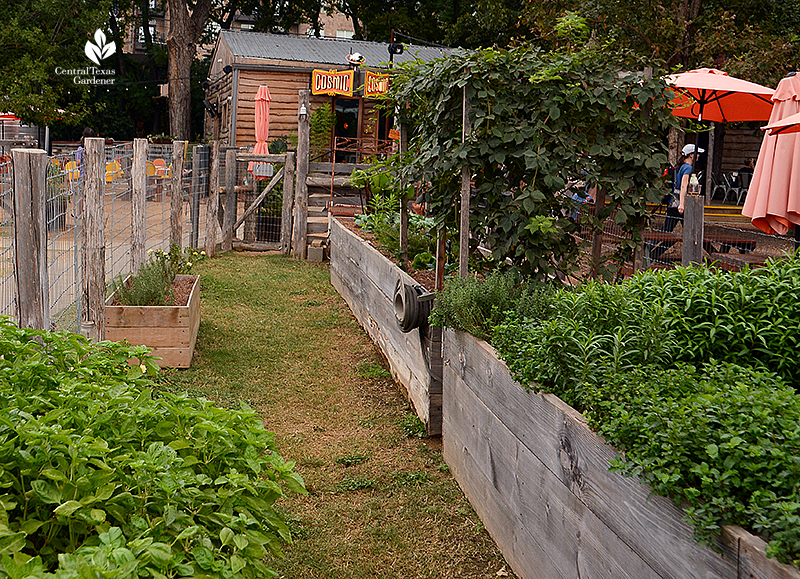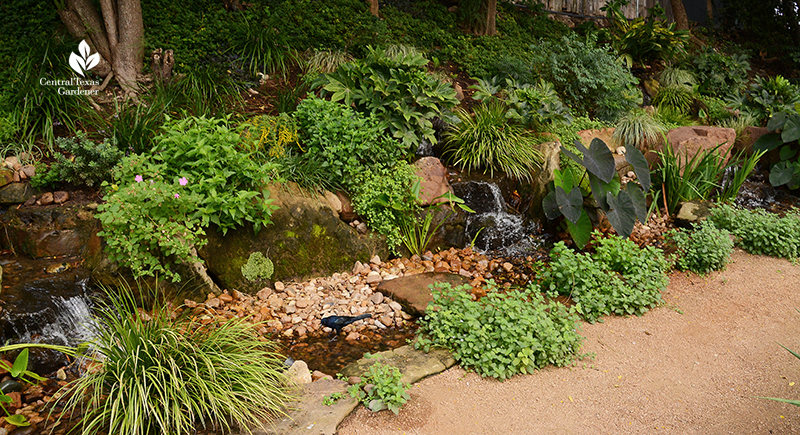 Their land renovation allows rainwater to gently infiltrate the soil. A 2500-gallon rainwater cistern irrigates gardens and supplies the waterfalls and ponds.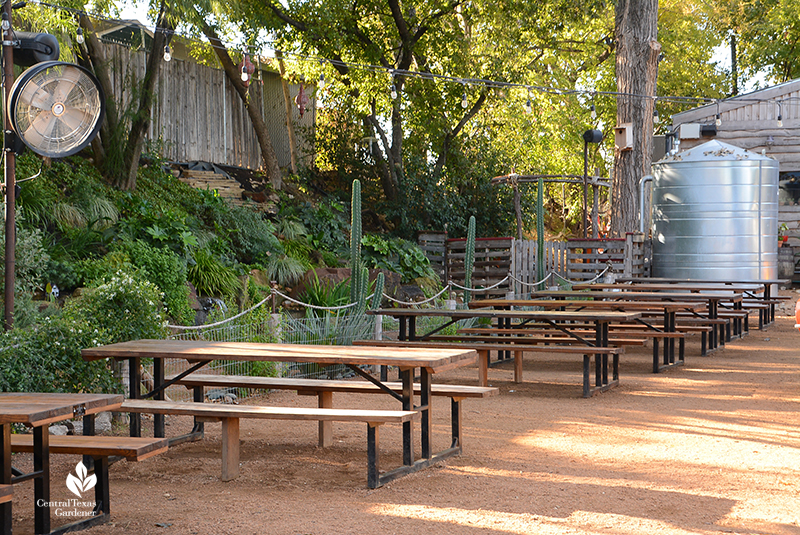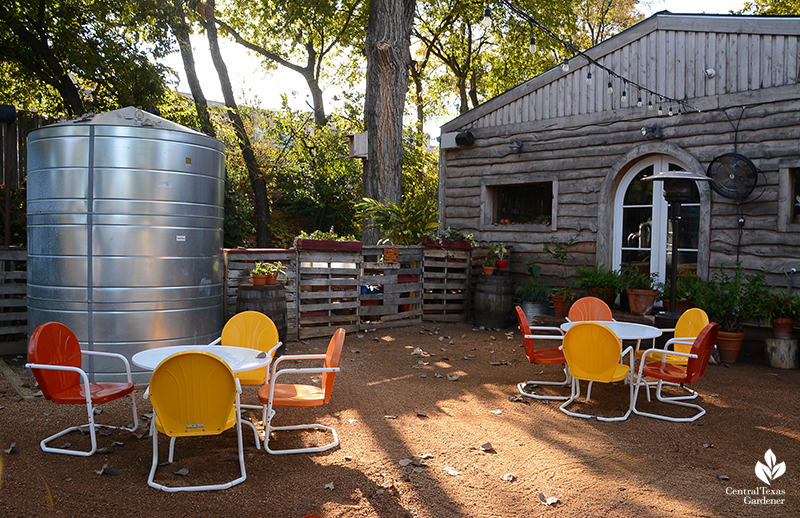 Patrons get a cluck out of safely-enclosed fluffy hens. Cosmic staff supply garden clippings and vegetable waste to appreciative beaks and in return, go home with fresh eggs.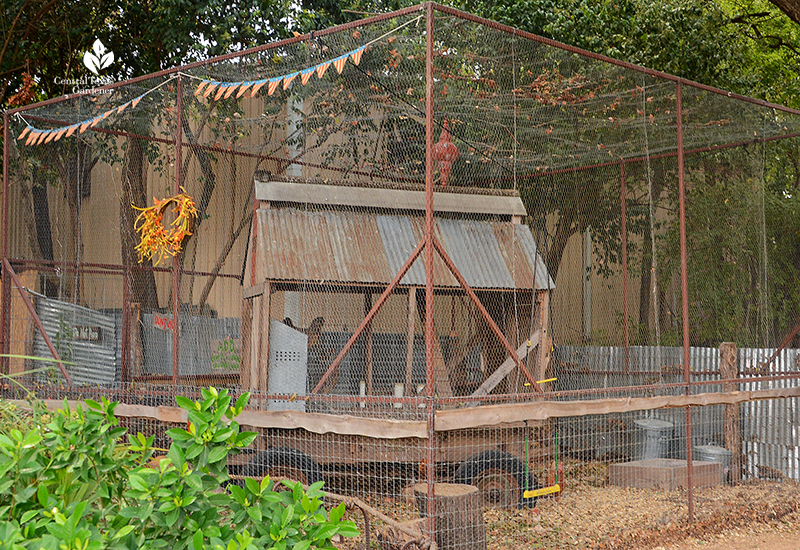 Chicken manure supplements compost bins, where coffee grounds and green waste break down into rich compost that enriches the garden's soil for thriving plants.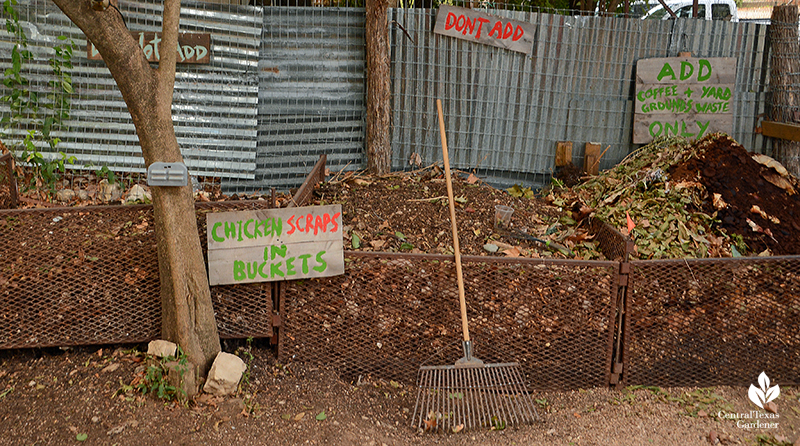 TaraRose Macuch of Wild Heart Dirt, the designer and primary caretaker behind the gardens, noted that the biggest testament to soil restoration was finding plump earthworms.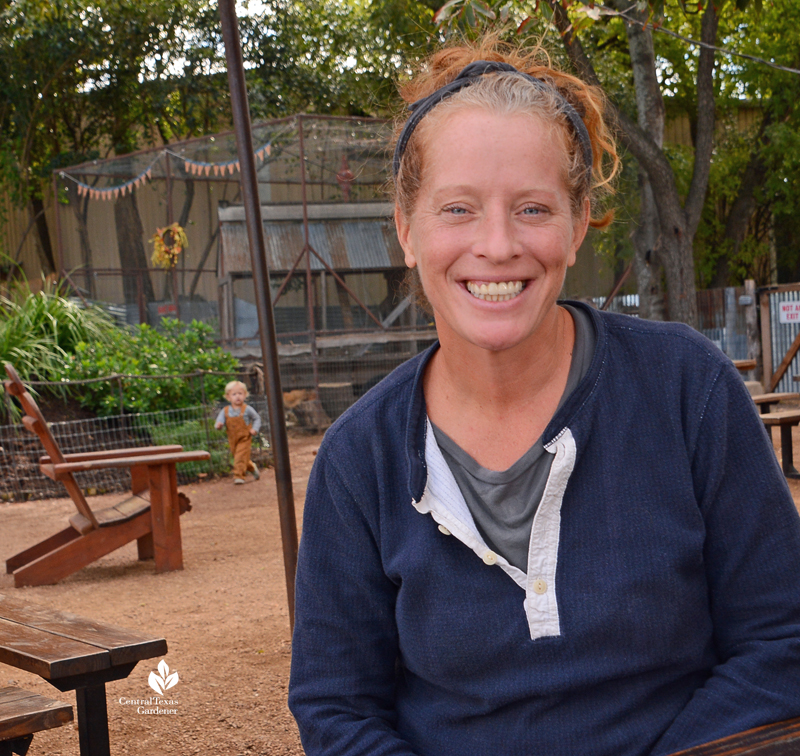 From the start, Paul invited Matt Boring of Texas Ponds and Water Features to orchestrate the ultimate music.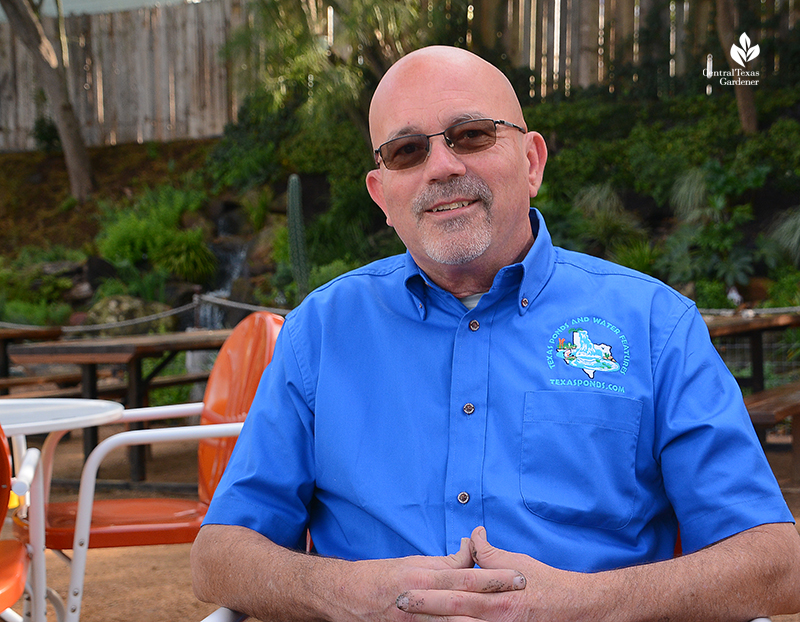 They started near the building with a 10 x 15-foot pond and upraised waterfall for unique perspectives wherever you sit.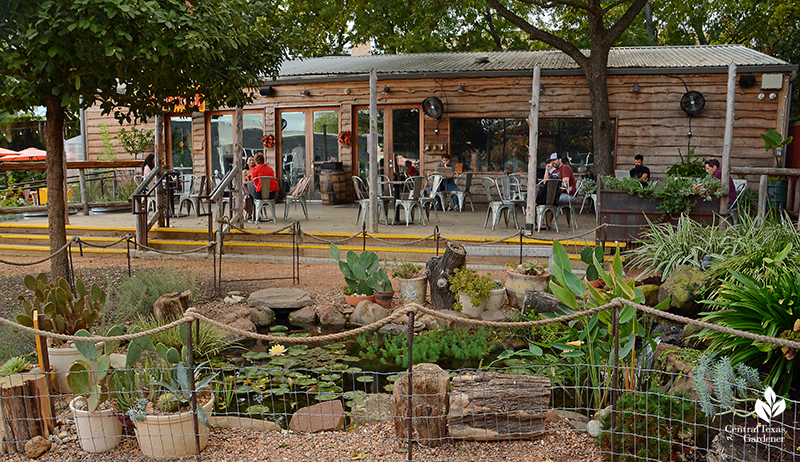 "The pond was the first thing that was done to the property, and Paul explained his vision that he wanted people to be able to walk in, turn to the right and they go, 'Wow,'" Matt said.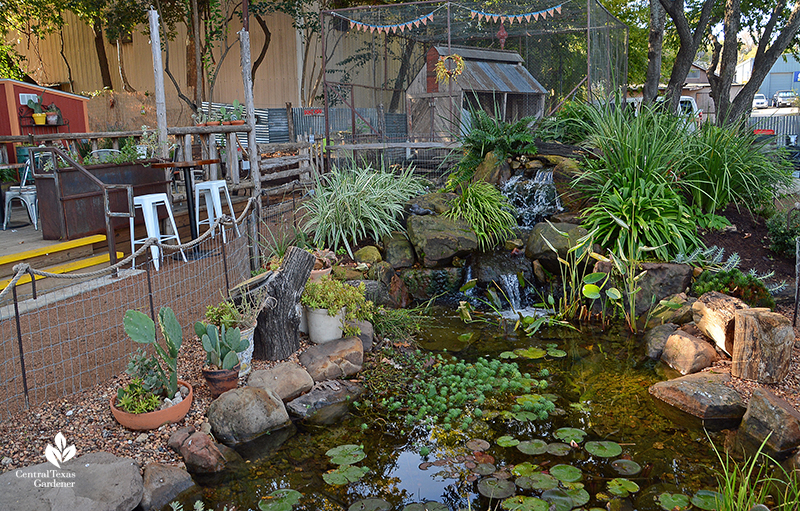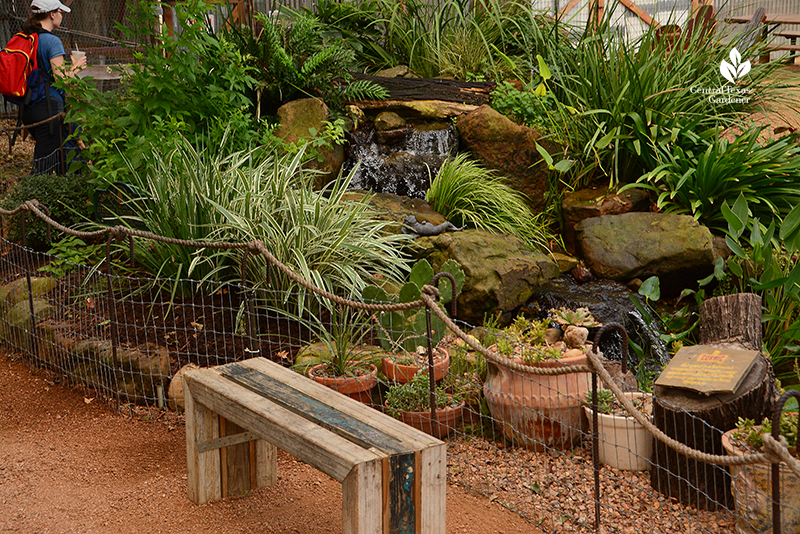 TaraRose and Cosmic staff have fun tucking in little surprises.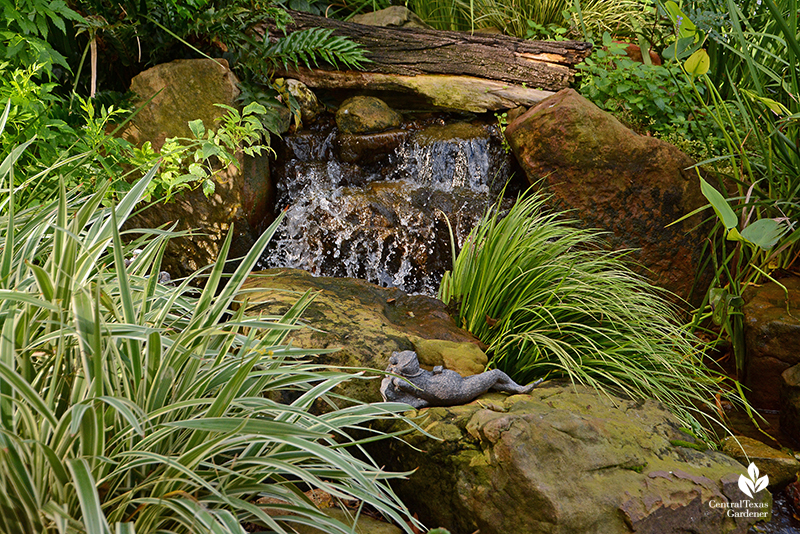 A few years later, Matt and his team gradually transformed an eroding and ugly bank into a stabilizing, visually stimulating living wall.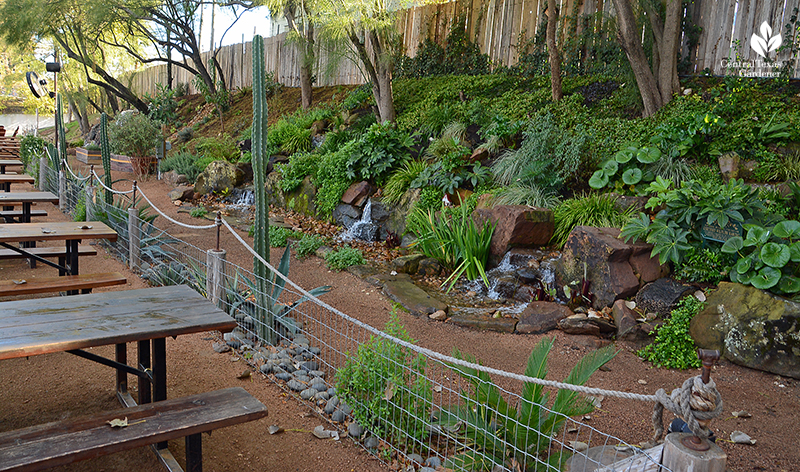 On the steep slope, they controlled erosion and built flat platforms to stabilize rock work and plants.


In fact, the first day we taped, we saw Matt's team building the latest extension. It was in operation with new plants installed on our November trip.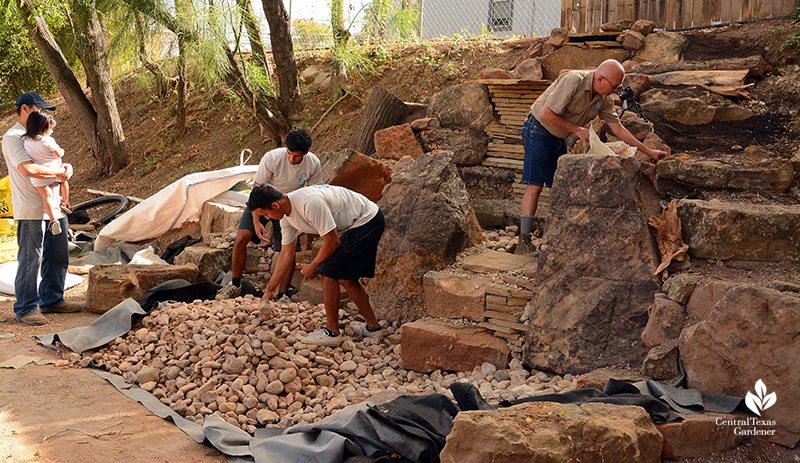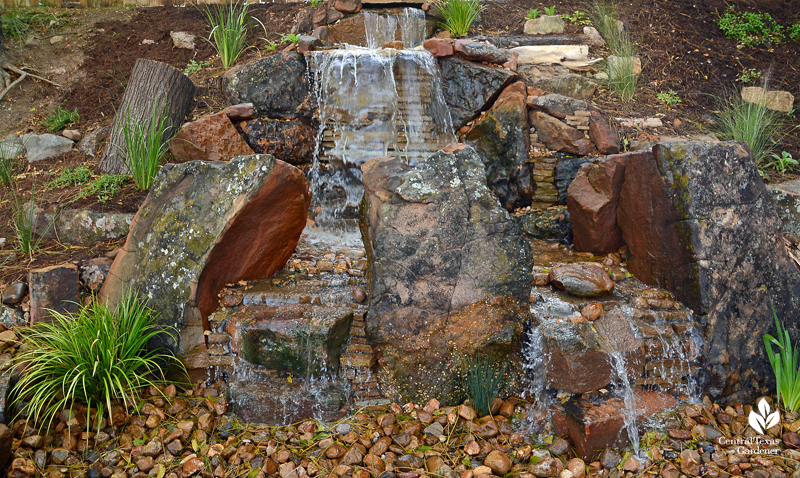 Three waterfalls cascade into a shared collection base, all fed with rainwater. "We've loved watching the diversity of species move in. It's evolved from fire ants and rats and mosquitoes to dragonflies, and damselflies, frogs and toads and lizards," Paul said.


Designed as naturally balanced ecosystems, algae bloom is not a problem.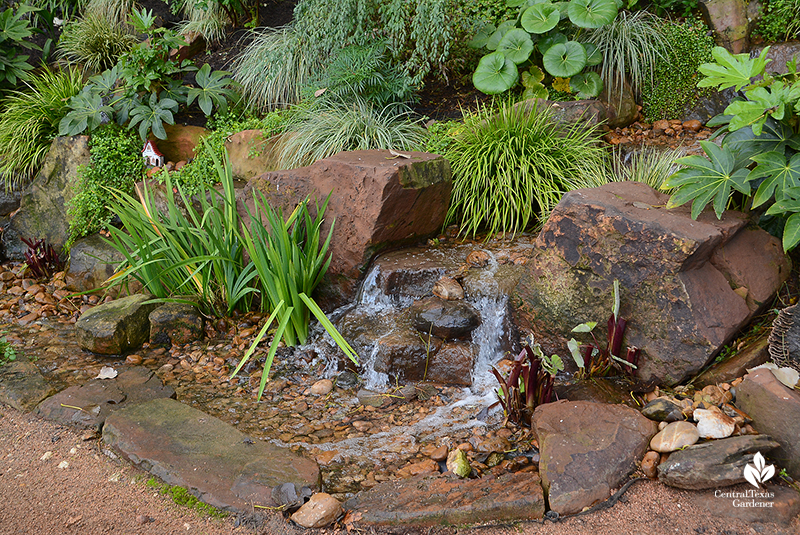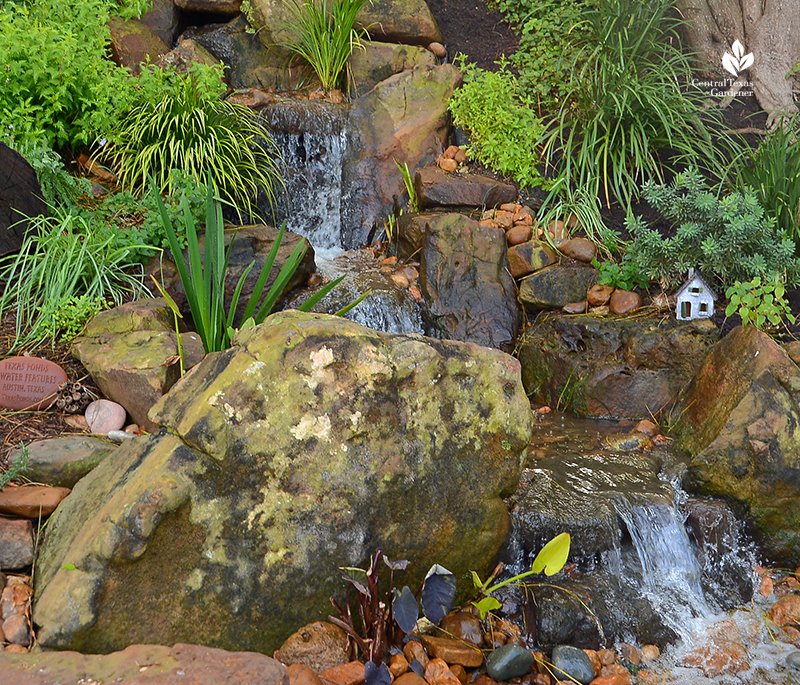 TaraRose anchored the steep incline with native and adapted plants. Her unified design factors in varying amounts of sunlight from one end to the other.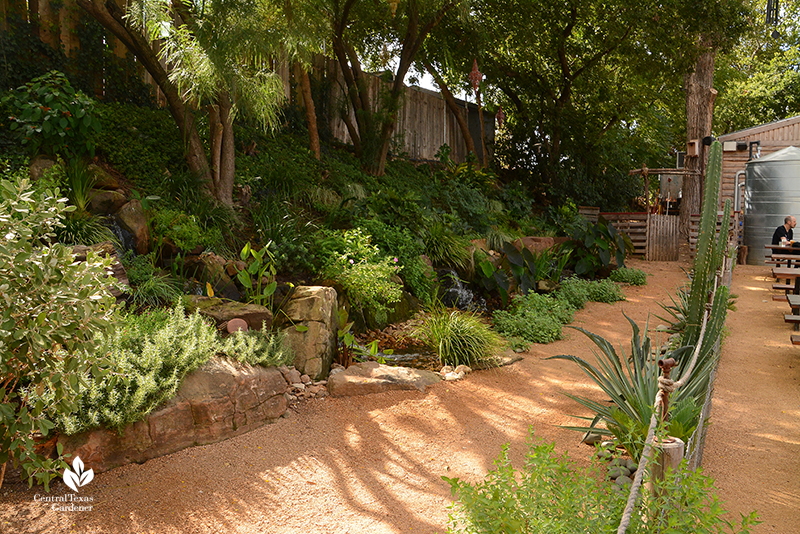 At Cosmic's entrance, walk-around raised beds grow seasonal and perennial edibles framed by trellised 'Natchez' blackberries.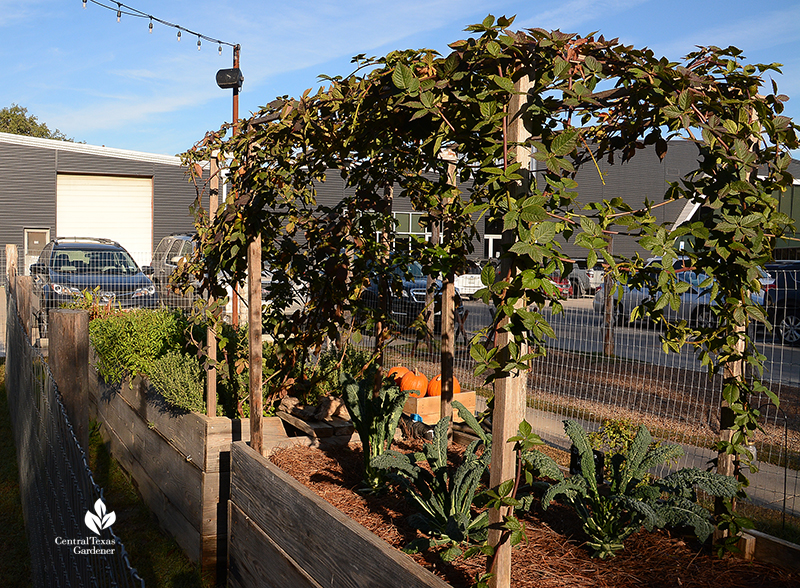 Seasonal and evergreen herbs are popular in signature "Bar Botanical" drinks. Signs identify plants for patrons who want to try them at home. TaraRose answers their eager questions about cultivation and harvesting tips.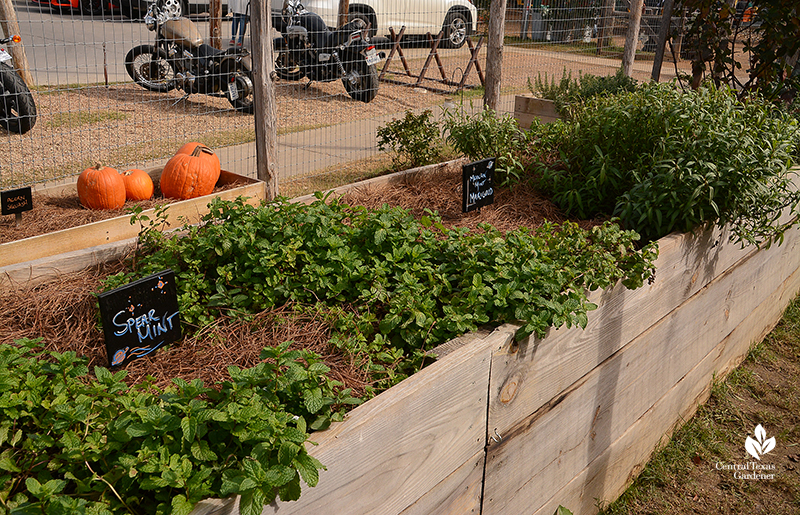 Food truck chefs harvest for off-menu items.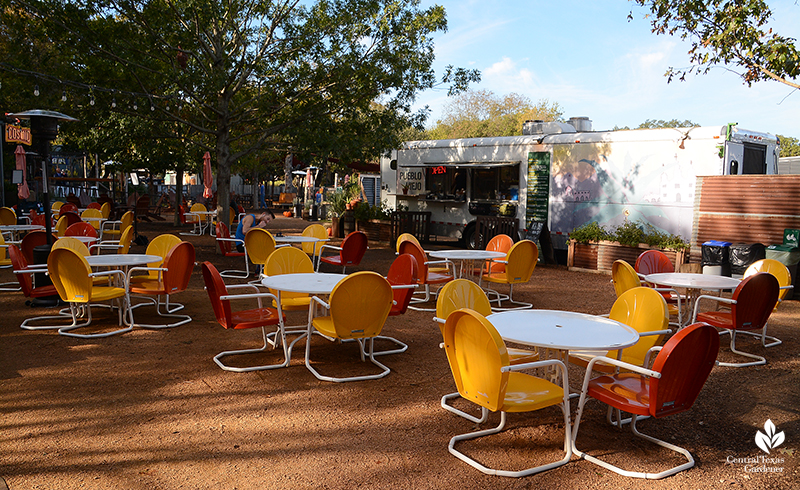 Containers prompt design ideas for gardeners, too.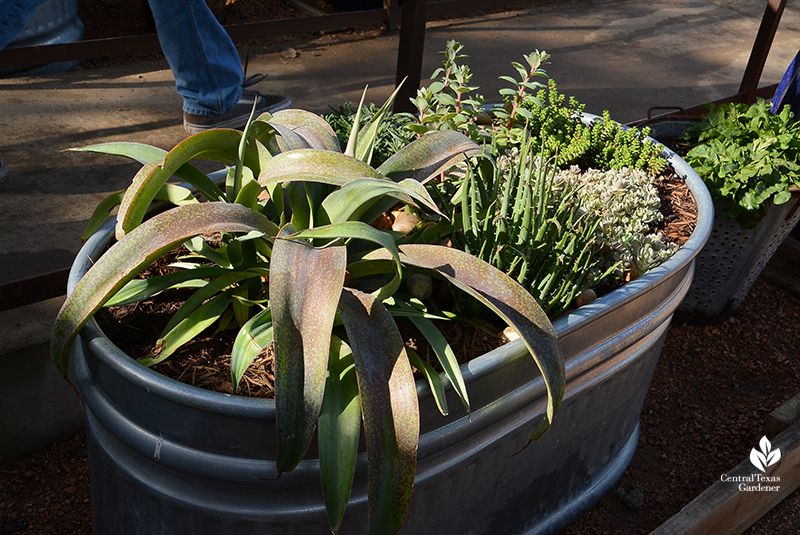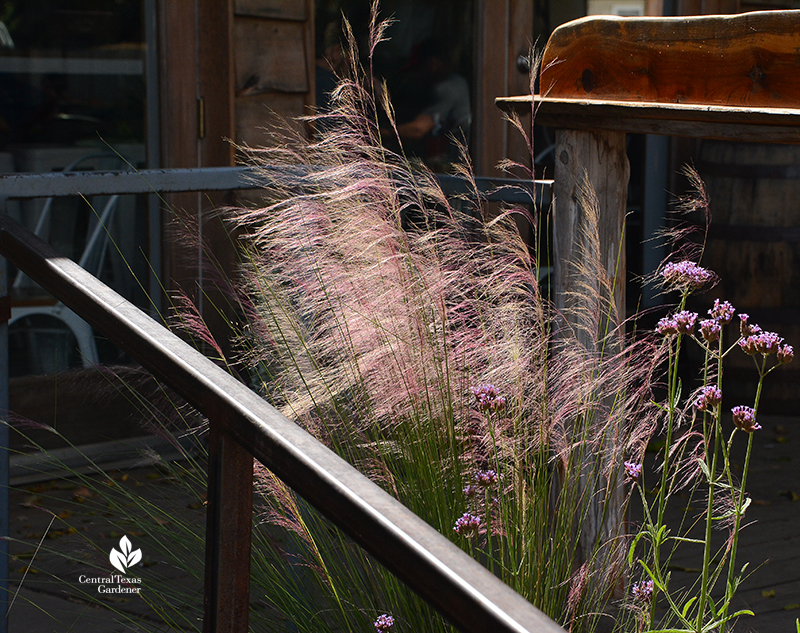 TaraRose keeps an eye out for planter potential. With recycled finds, she drills drainage holes and fills with a good potting soil mixed with a bit of aggregate like decomposed granite.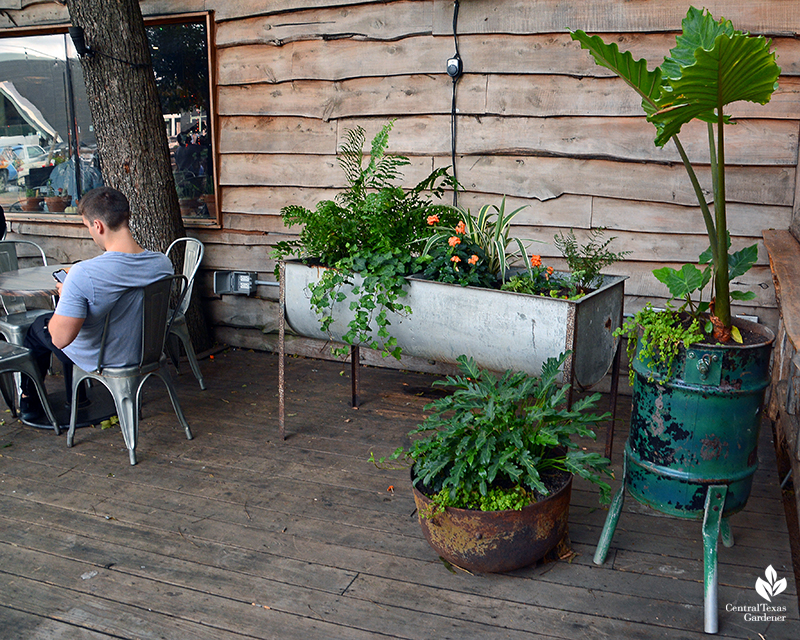 She creates little discovery moments with seasonal fun.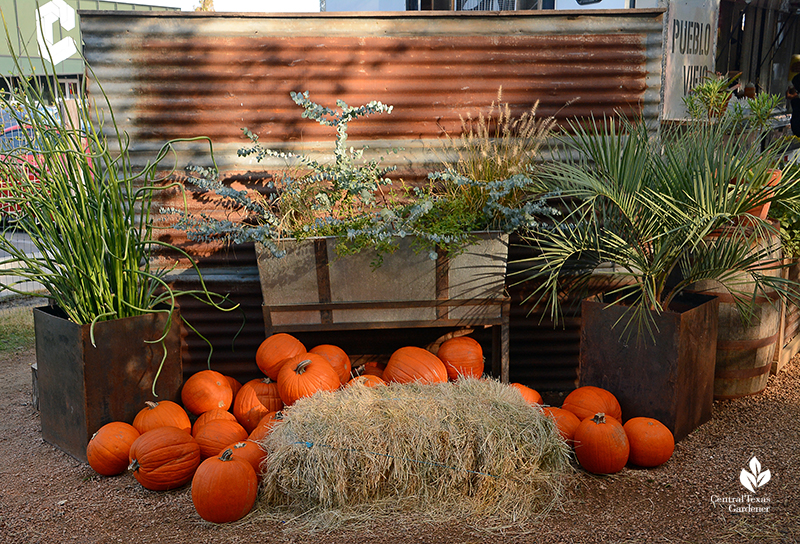 Not only do containers help unite spaces, they attract your eyes to "go places."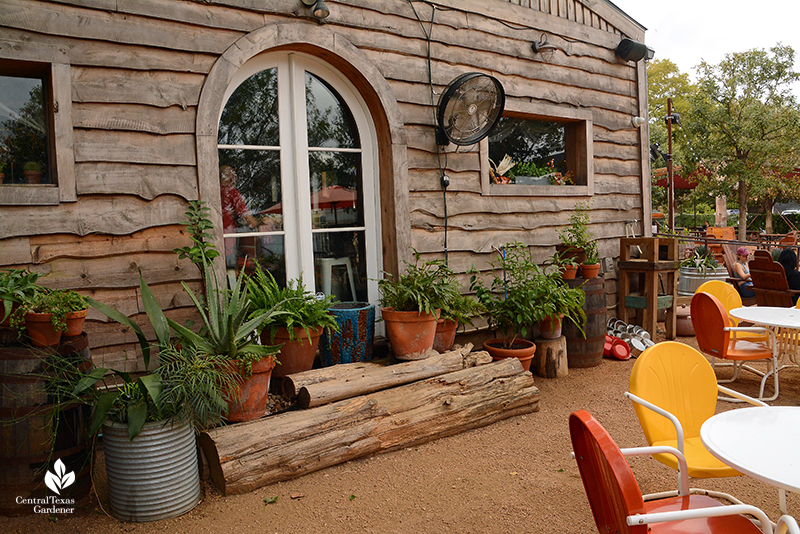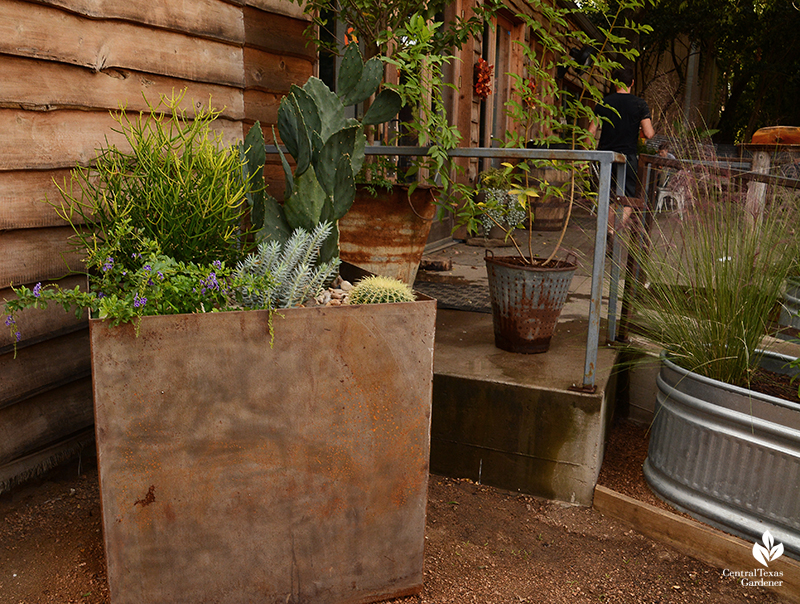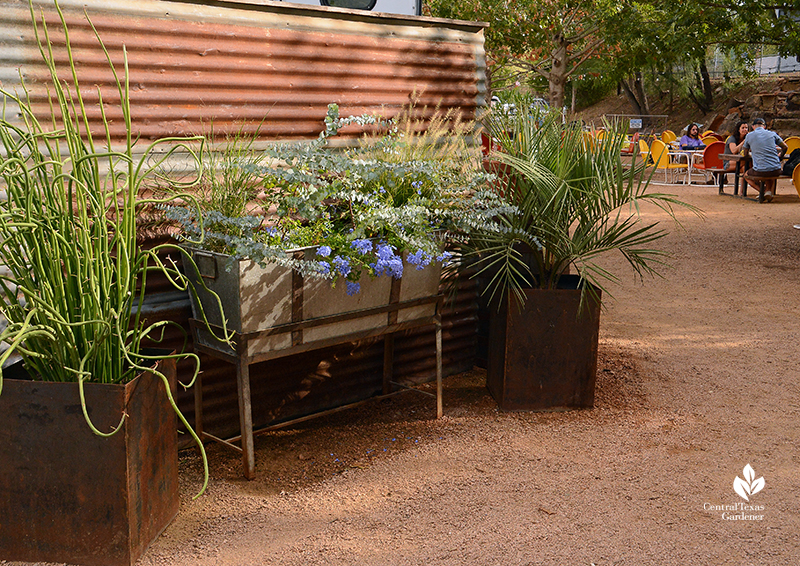 And, they make handy diversions, like in this steel container against the parking lot. Dedicated to waterwise succulents, fall flamboyant Euphorbia tirucalli 'Sticks on Fire' always captivates focus.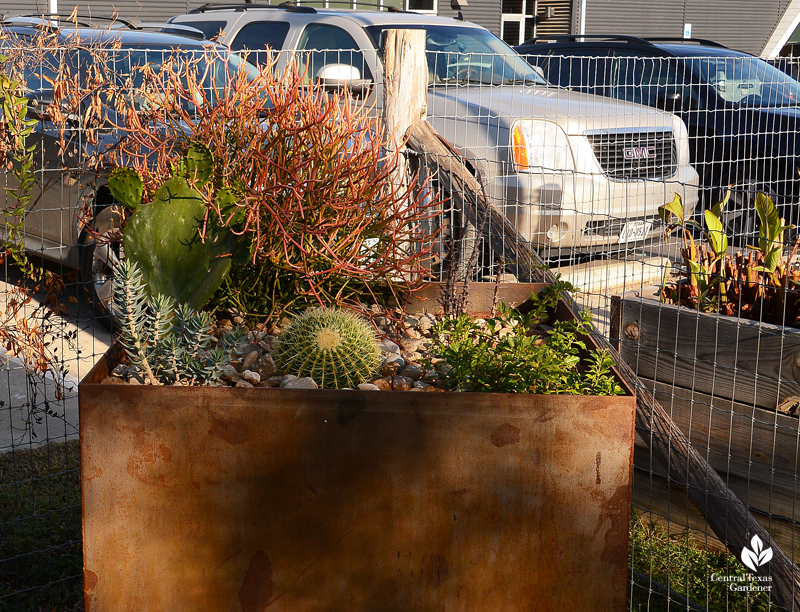 Fulltime staff gardeners, mentored by TaraRose, tend to the gardens daily, a commitment that Paul made from the start to spare hospitality staff from watering and routine manicuring chores.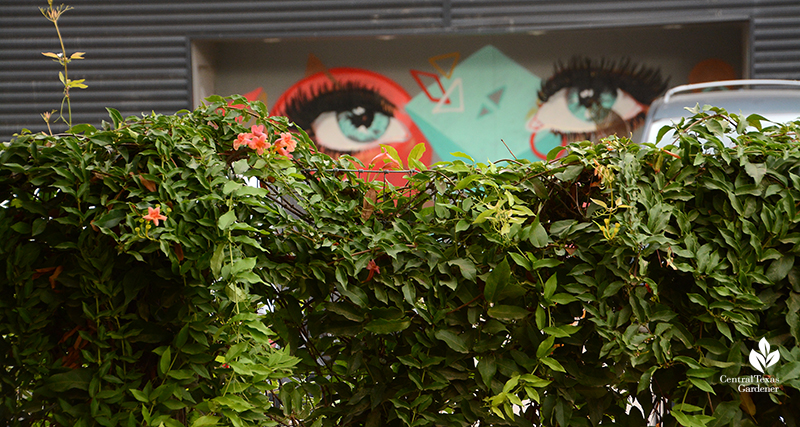 And since this is ATX, Willie Nelson watches over, thanks to Doug Moreland, a local musician and chainsaw sculpture artist who crafted the anchor for lighting, fans, and shade sails.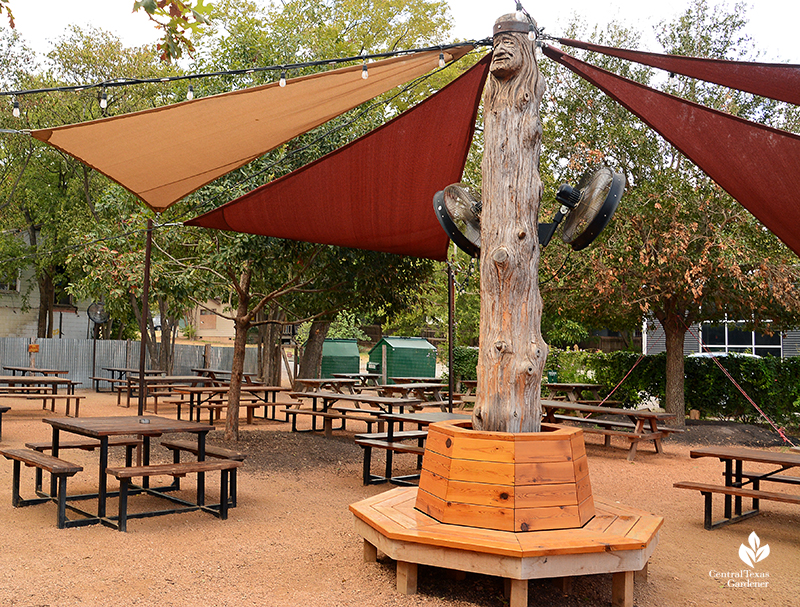 Even in summer's heat, the recently planted mature trees are already blanketing shady comfort, assisted by misting systems (fed by the rainwater cistern).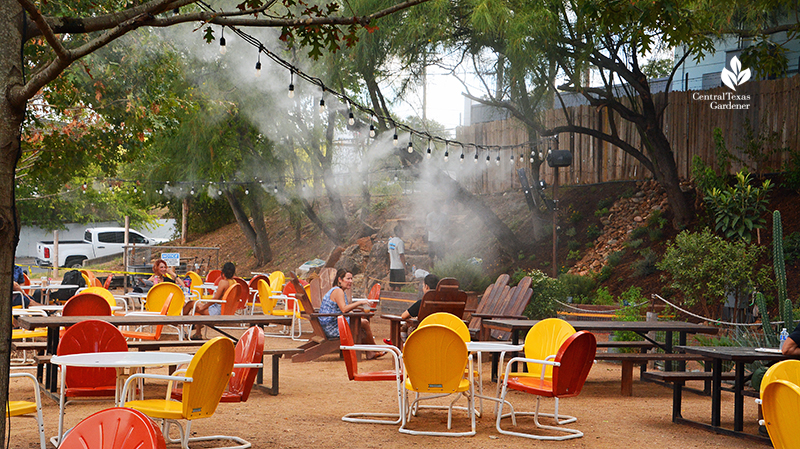 Paul encourages all establishments: "Not only do you create a positive effect on the environment, but it's also beautiful to be around, and it elevates the energy of the whole place. It may not seem it when you're putting the business plan together, but the rewards are more than what we put in. This has been a lot of fun."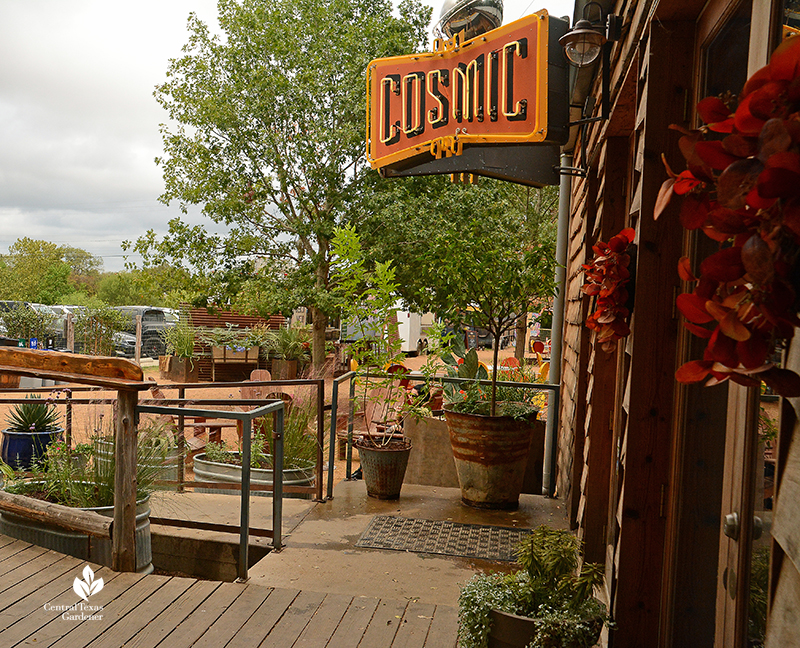 Check Cosmic Coffee + Beer Garden's hours and guidelines during pandemic times.
Many thanks to Suzanna Choffel for her music contribution "Inspire me."
Watch now!
And thank you for stopping by! See you next week, Linda
Comments