November 5, 2020
The Natural Gardeners: Jane and John Dromgoole
As a new gardener, long before Central Texas Gardener germinated, I always tuned in to John Dromgoole's Gardening Naturally radio program on NewsRadio KLBJ. I never imagined that one day I'd be in John and wife Jane's garden with the CTG team on a December morning, watching John pitch balls to their rescued dog, Lobo.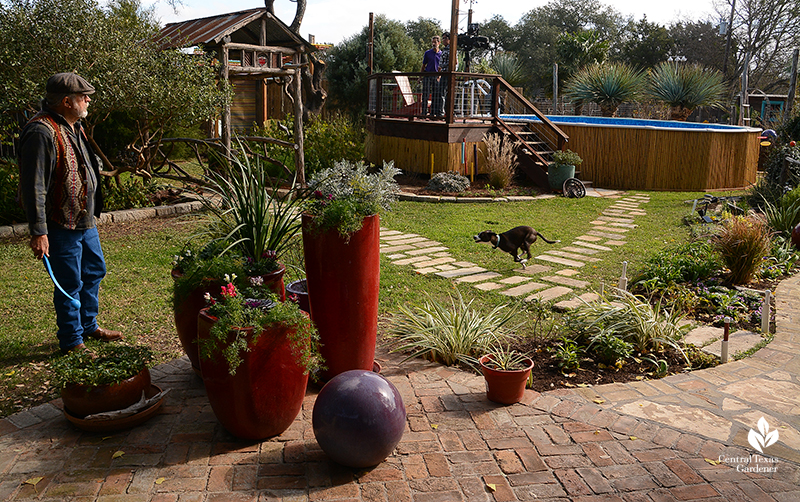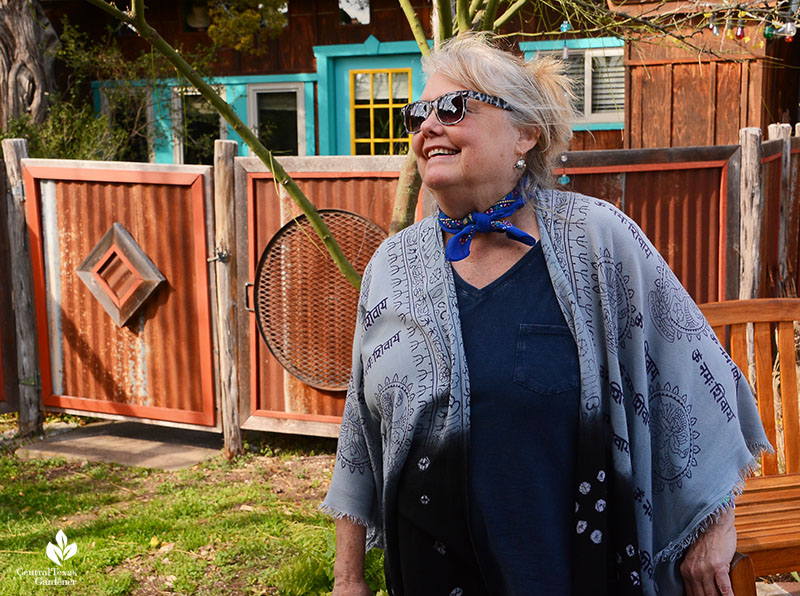 John's an organic gardening trailblazer with deep roots in Austin's nursery business, opening The Natural Gardener in 1993. As CTG grew, he joined us for Backyard Basics, captivating generations of gardeners with his sound advice and memorable wit.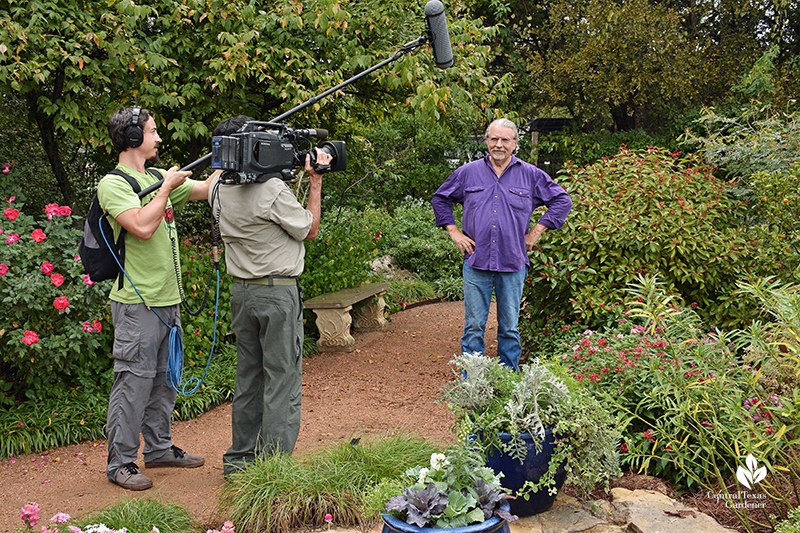 The Dromgooles brought their work home with them as they built their house, gardens, and outdoor living retreats, passing along knowledge from every hands-on project with passion and practicality. Animal rescue advocates always, playful dog Lobo supervises current home operations.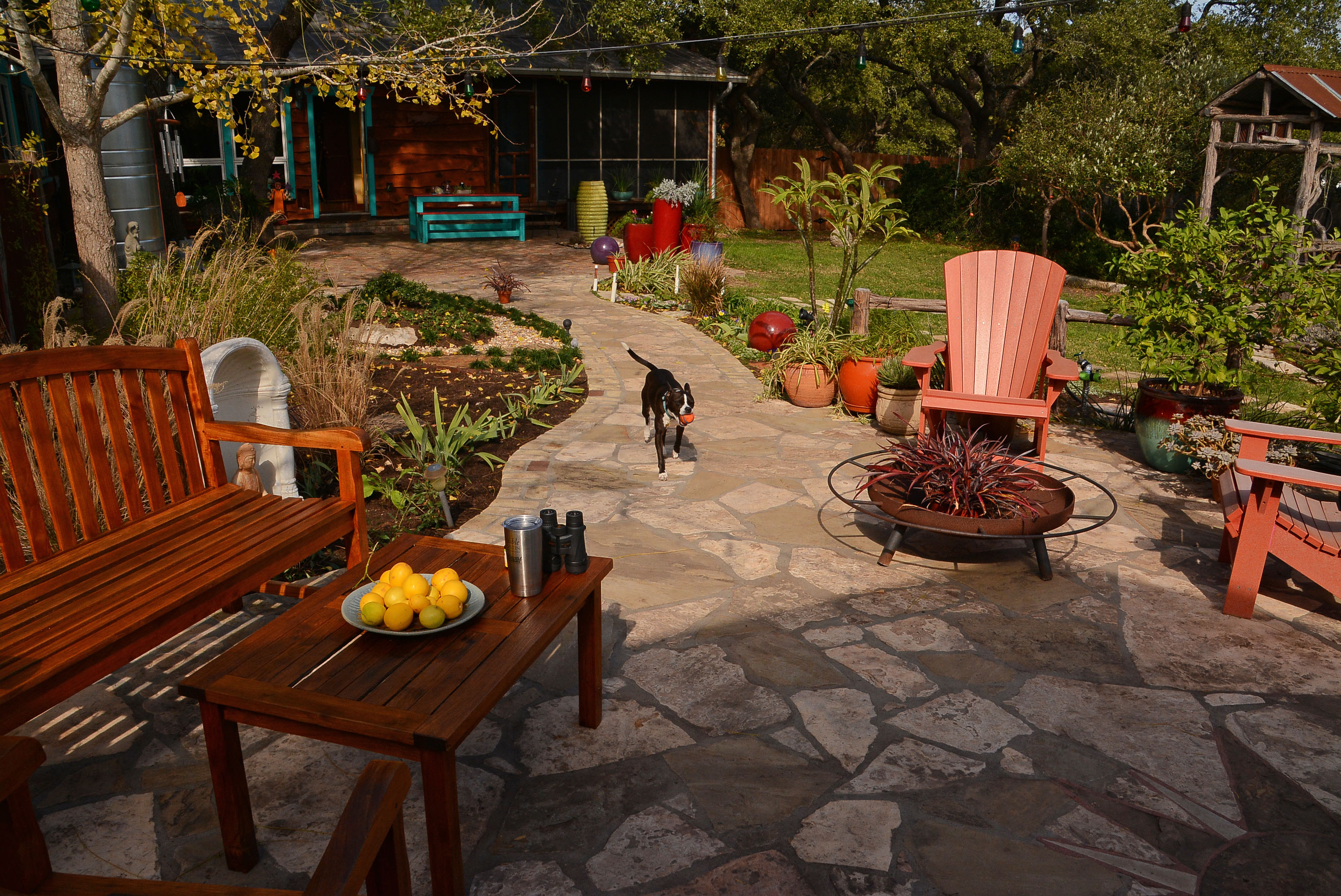 David Stalker, garden advisor and handyman, brings his expertise to every project. This berm, accented with John's scavenged rock sculpture, hosts plants that need good drainage.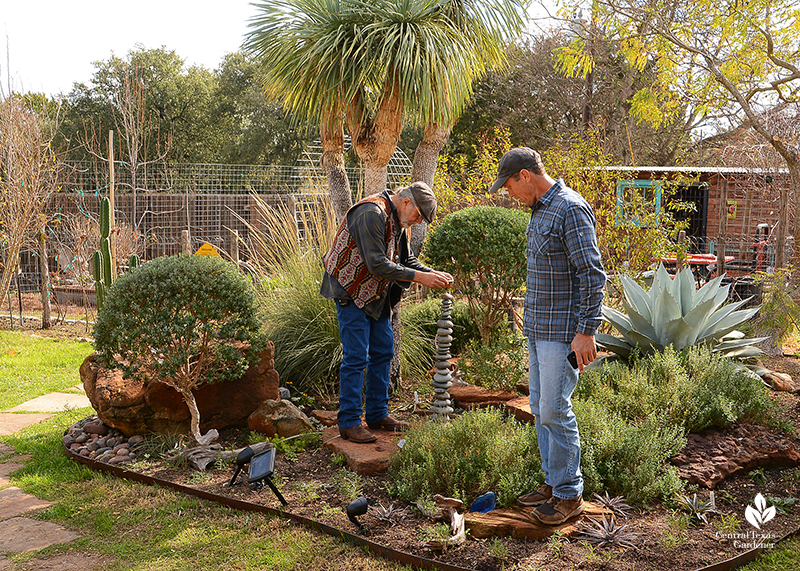 Like many of us, John's early passion started with houseplants and tropicals. Now, in his greenhouse, he protects cold sensitive plants.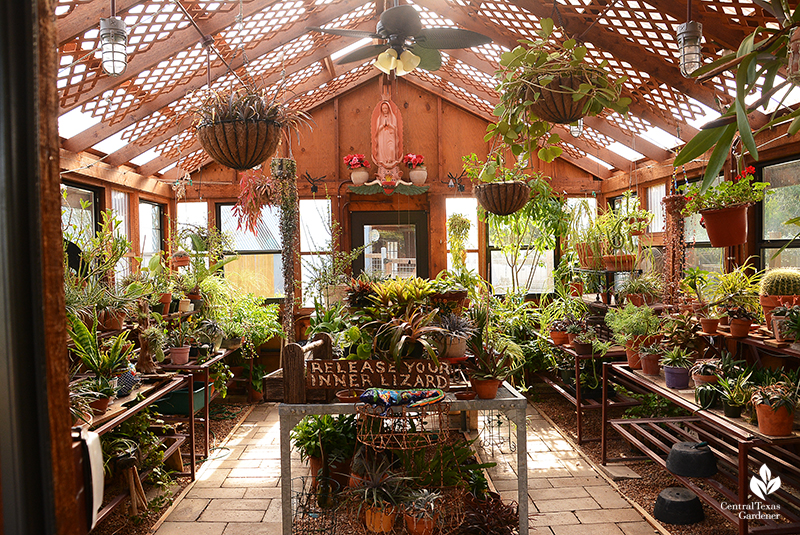 It's also where he propagates them and builds cultivation knowledge to teach new plant parents.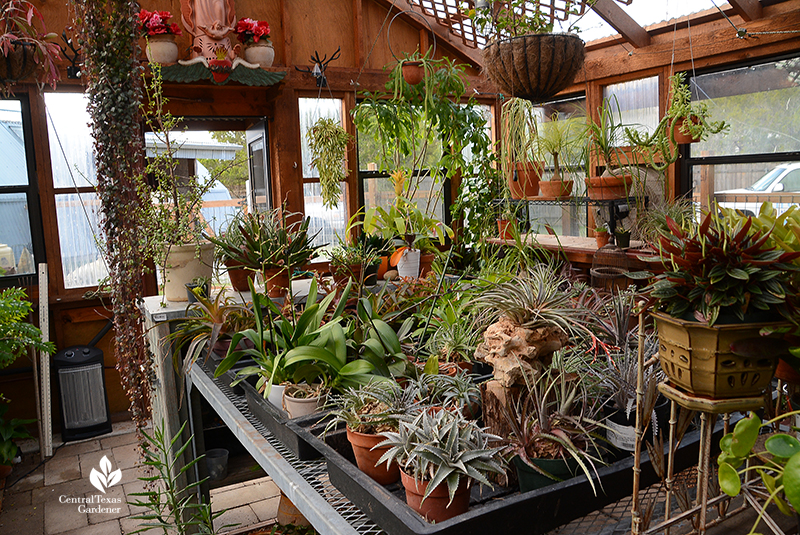 The wide plant spectrum fascinates his endless curiosity, including tillandsias, nicknamed "air plants."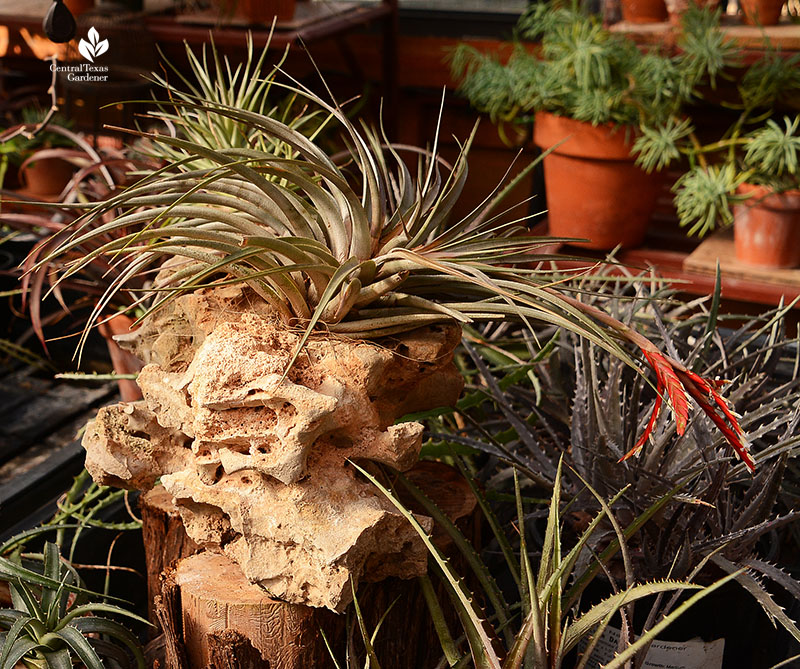 Jane and John designed the greenhouse to resemble a comfy cottage.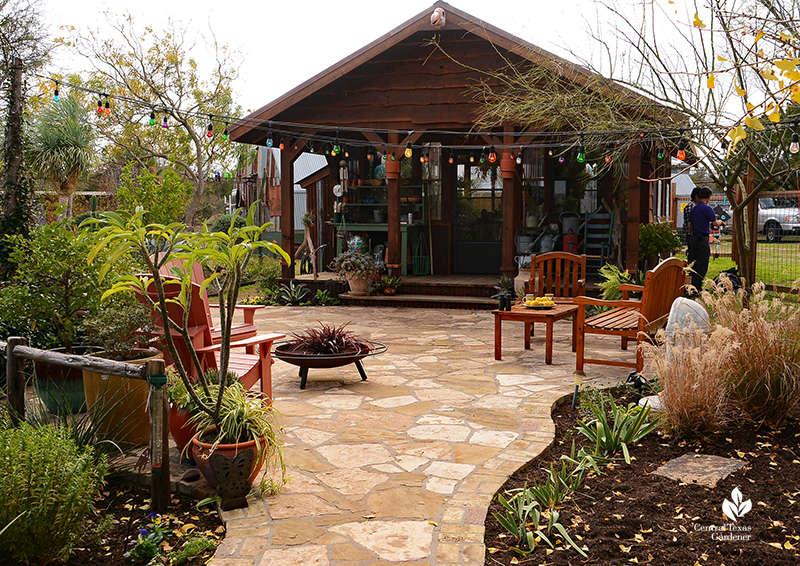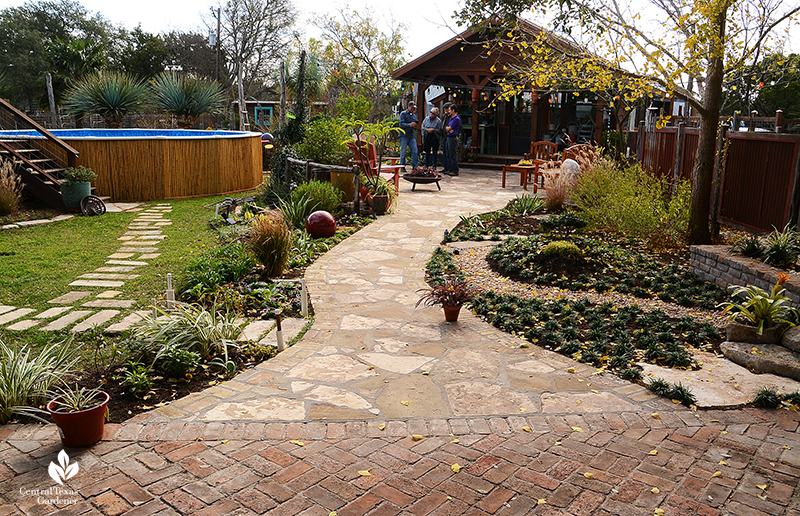 A country home-styled porch double-duties as work bench space and a shady spot to sit back and set awhile.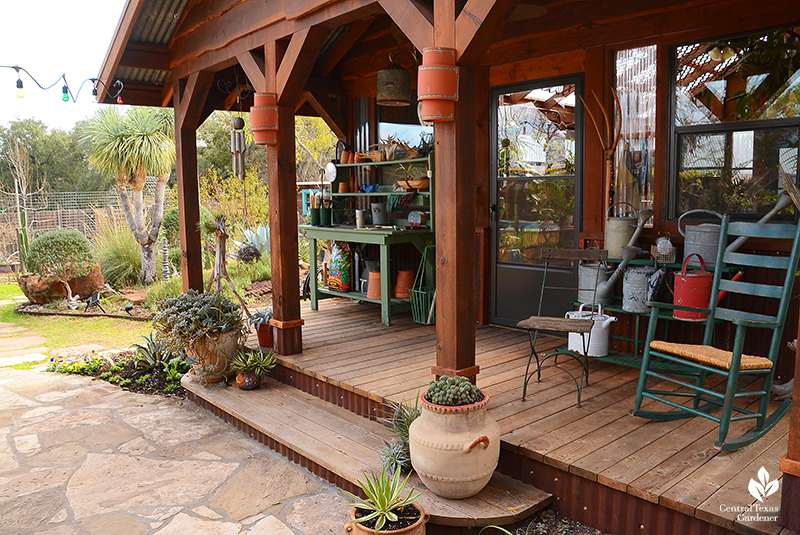 Jane and John carry their outdoor living to a flagstone patio where inviting furniture beckons downtime.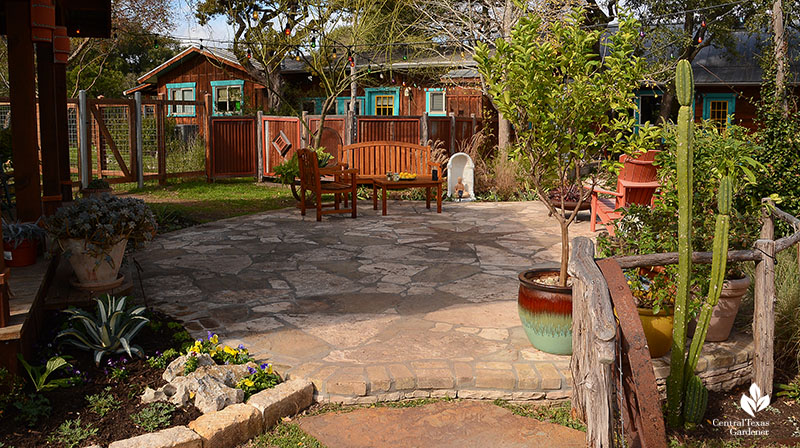 An eye always to recycle/reuse, clever rustic panels separate the patio from a studio, while a gate allows another entrance route.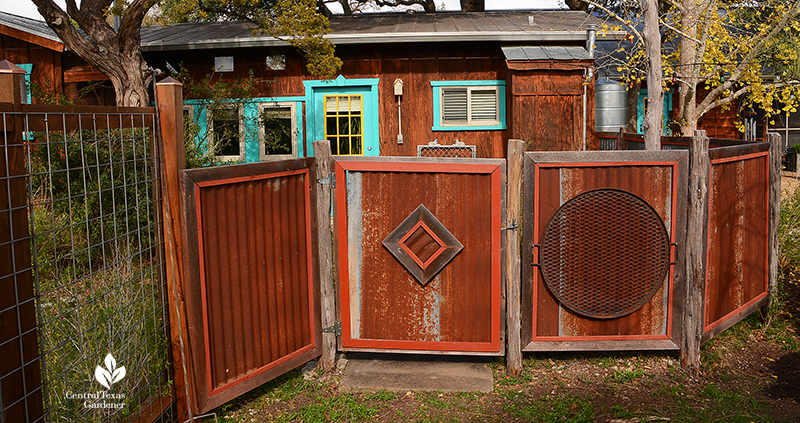 The path to the house curves along beds documented with plants, containers, and strategically colorful accents.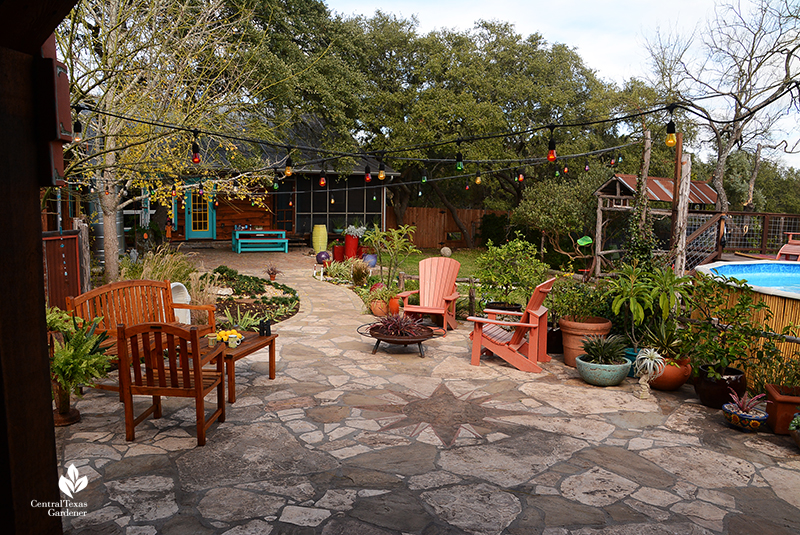 Jane and John organized big spaces with distinct areas that seamlessly flow together.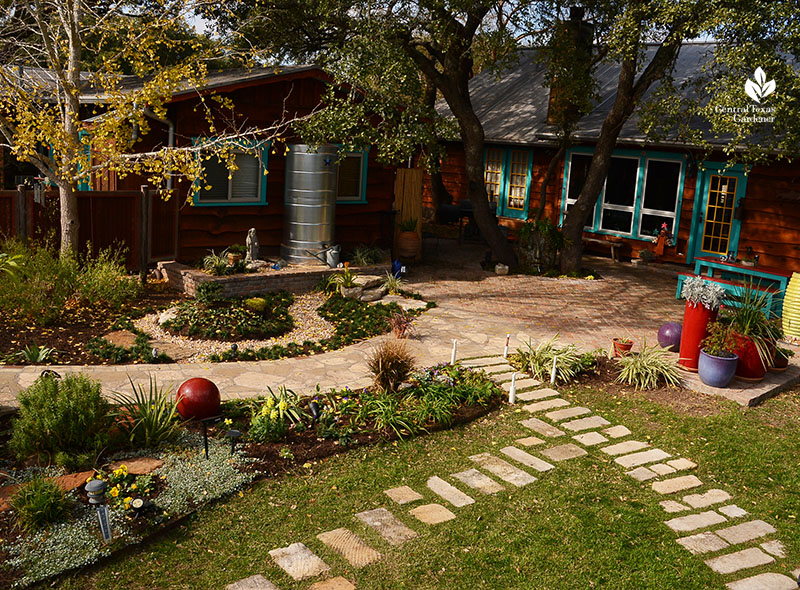 A cedar arbor leads to a grassy, summertime shady nook, bright in early December after leaf fall.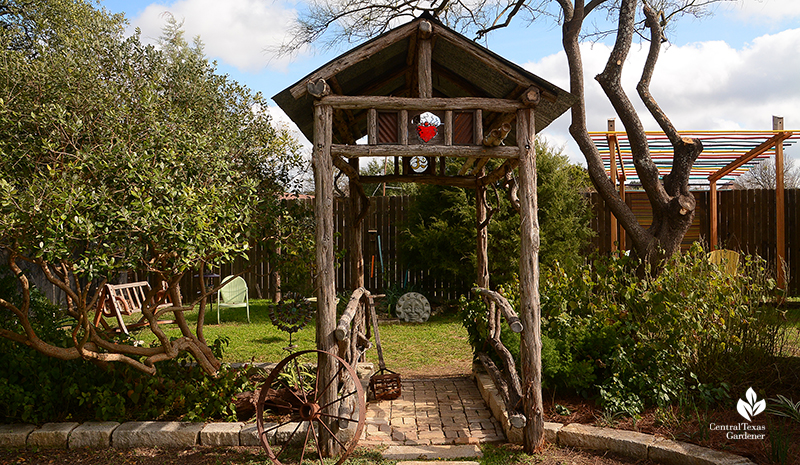 They tucked in a cozy cabana overhung with David's inventive bamboo pergola painted in festive crayon colors.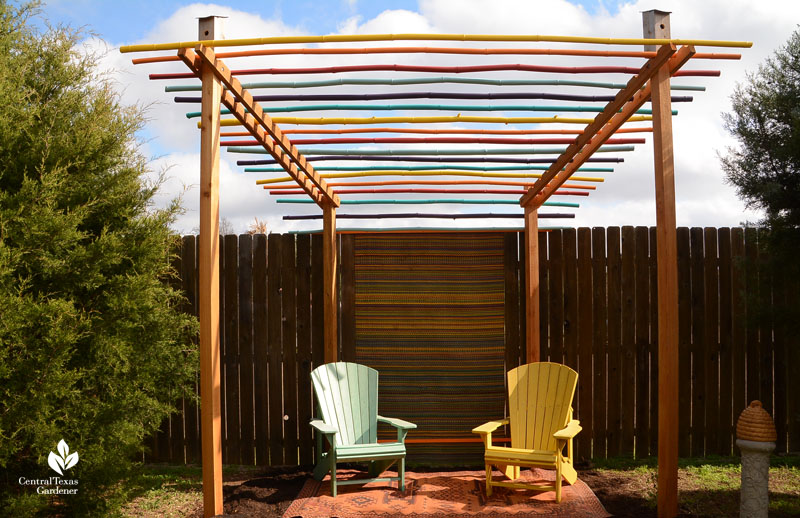 David used water-based acrylic brushed on by hand. When he built a couple of birdhouses, within a week, they had renters.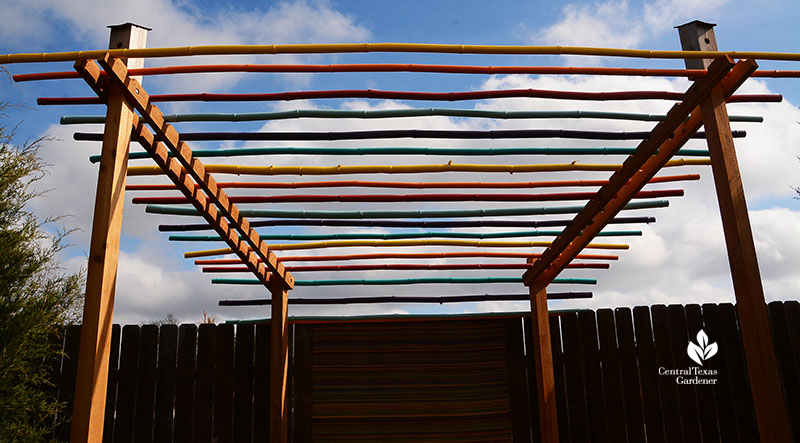 They counterpoint wide views with intimate encounters.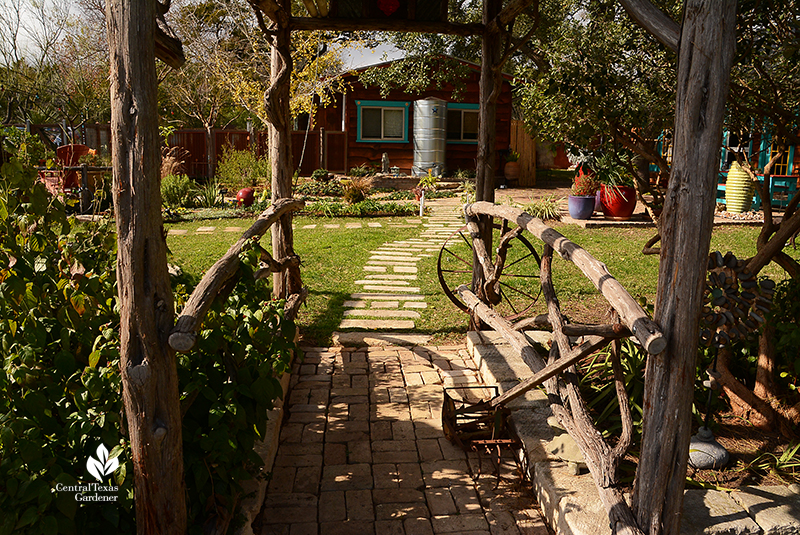 Hose guides of rebar and PVC frame the path to a tiny Zen garden against the studio's wall and its water feature, a gleaming rainwater harvesting cistern.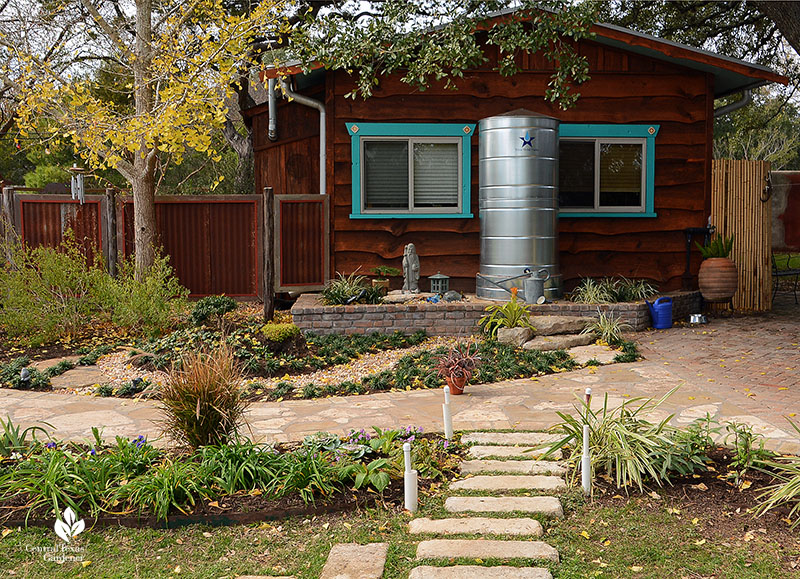 They patterned the rocky "stream" with tidy mondo grass (monkey grass).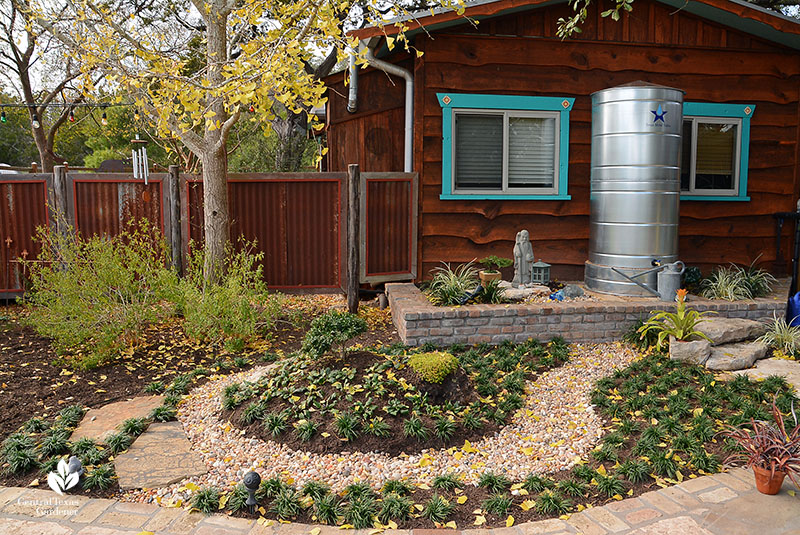 Containers contribute another dimension. Plus, they're a good option for seasonal changeouts or plants that need winter greenhouse protection.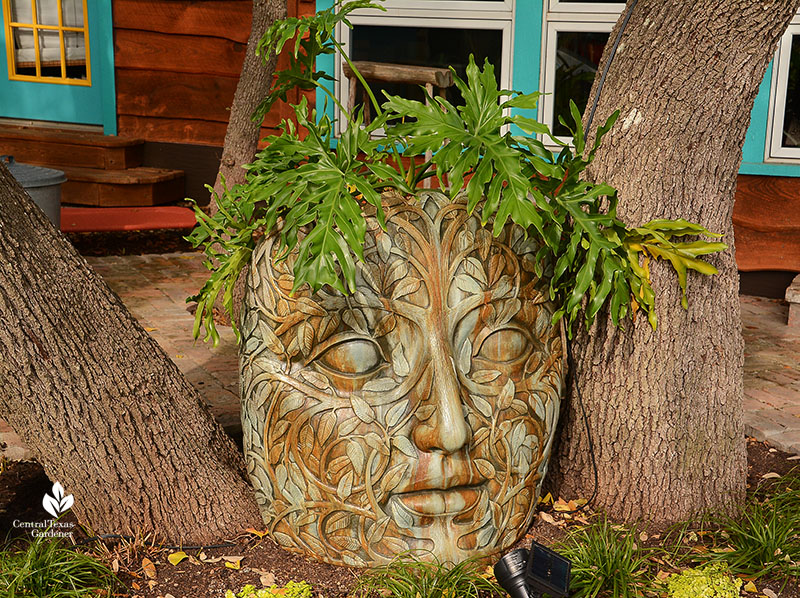 They defined the vegetable garden with a fence that supports blackberries and upcoming grapes on cattle panel trellises.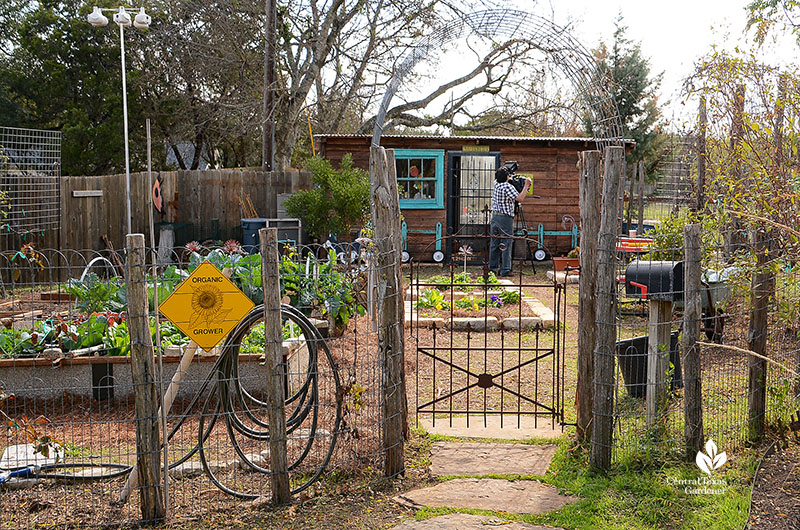 "And it was perfect to keep the dog out because he was going into the garden. He loved to dig. So he watches through the fence now and we talk to him, but he's not digging in there now," John says.
David anchored an artistic old gate that John had found and latched it with a discarded wrench.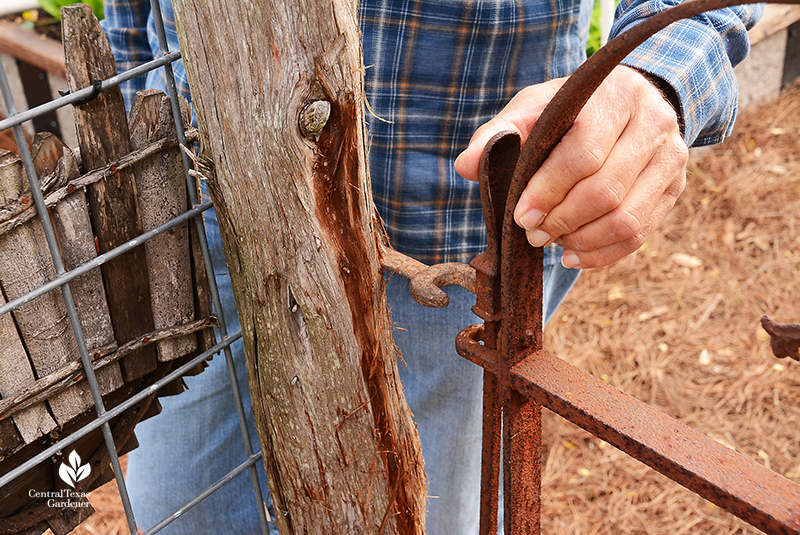 They grow vegetables, herbs, and flowers in raised beds where beneficial insects take care of any pests. Espaliered 'Warren' pears on the fence produce more fruit in a limited space.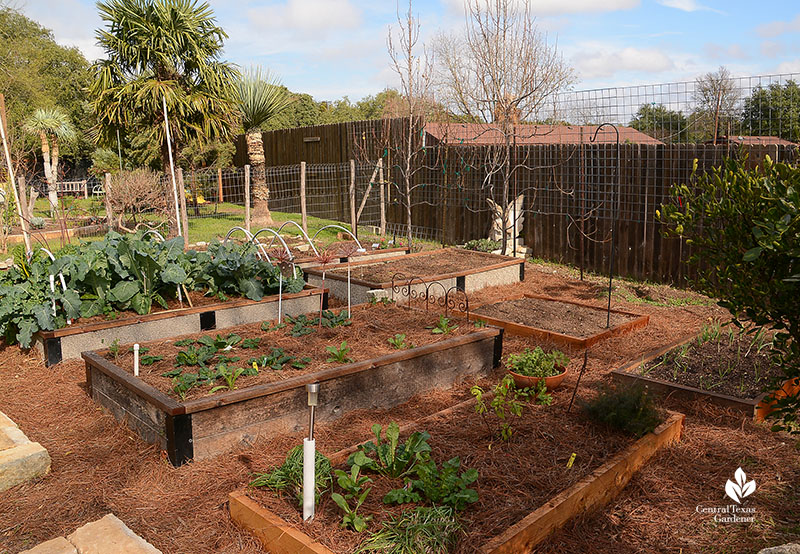 Although built with different materials, including 20-year-old wood chip and Portland cement composite beds, good soil and compost is what makes them productive.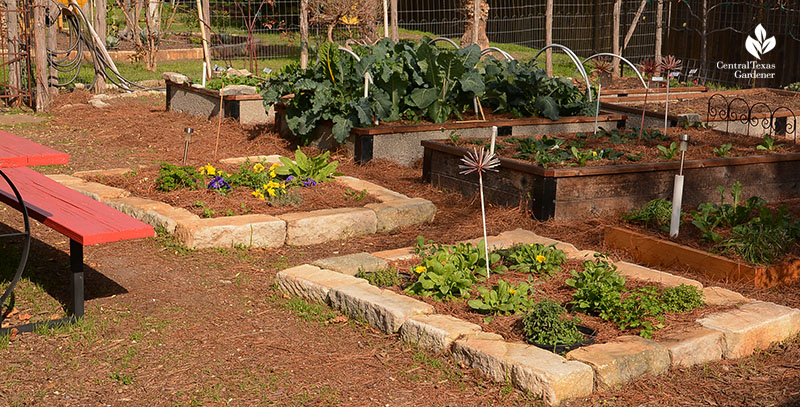 "Plants grow more vigorously, they become more drought tolerant, especially with that compost, it's like a sponge. If we're trying to save water, that's one of the ways you're doing it besides mulching," John says.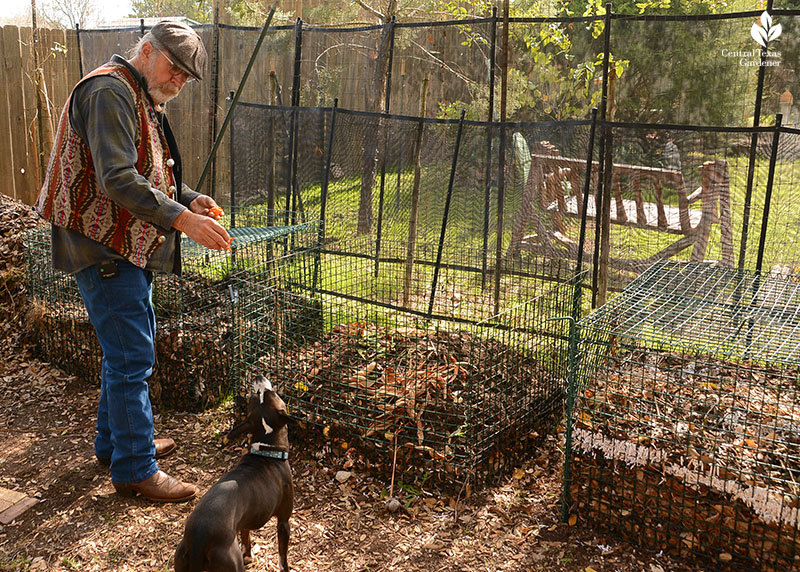 David notes, "And with the raised bed, we're not walking on the space, we're not trampling the soil."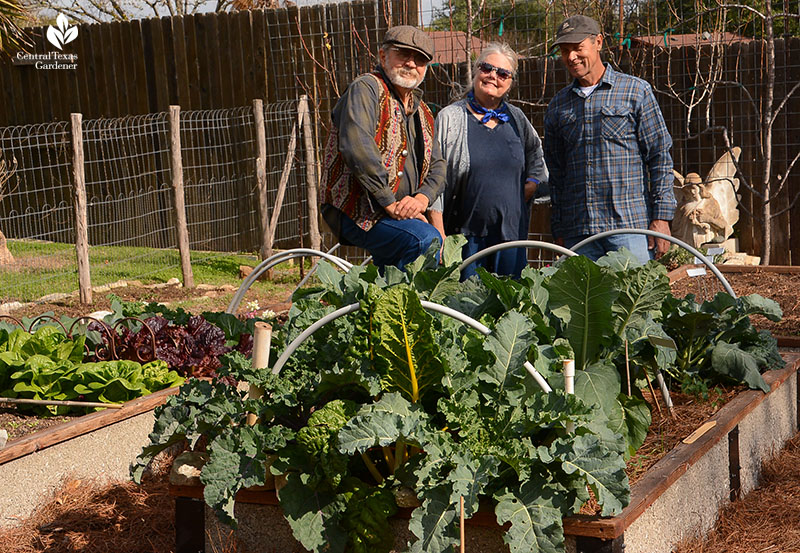 "And the plants growing together are a living mulch. So we kind of group them together," John says.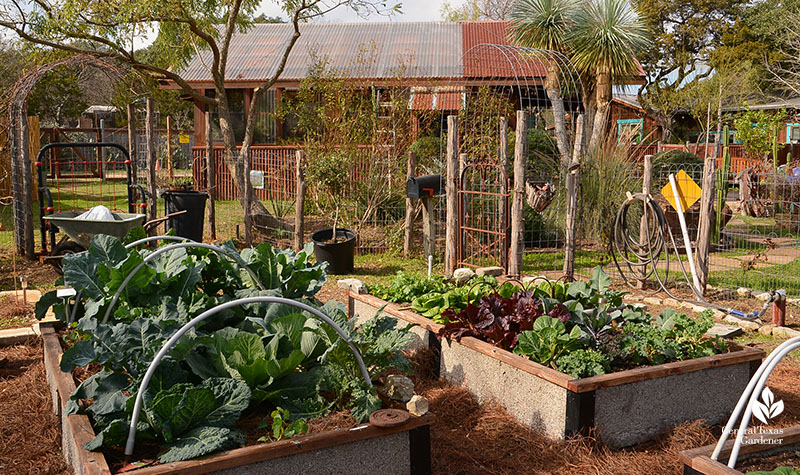 John's roots are also grounded in music and art. In the Dromgoole's colorfully inviting studio, he features artists' posters and his own portraits of musicians he's known and that influenced his life.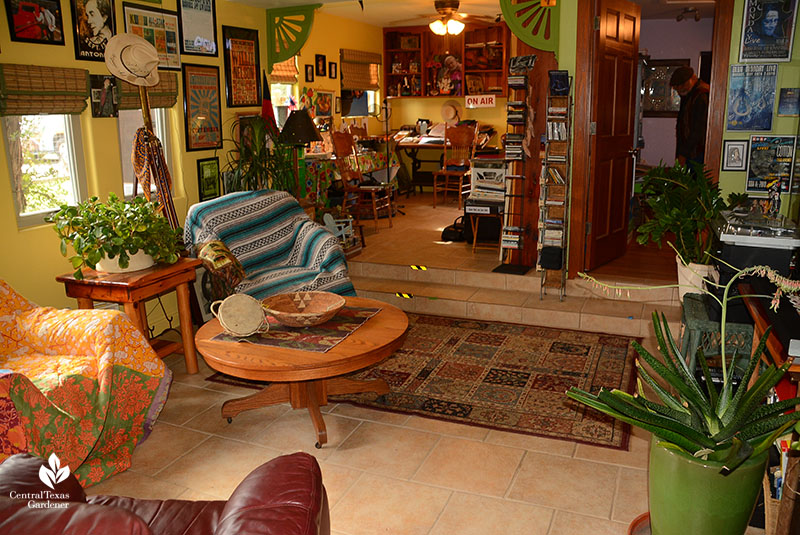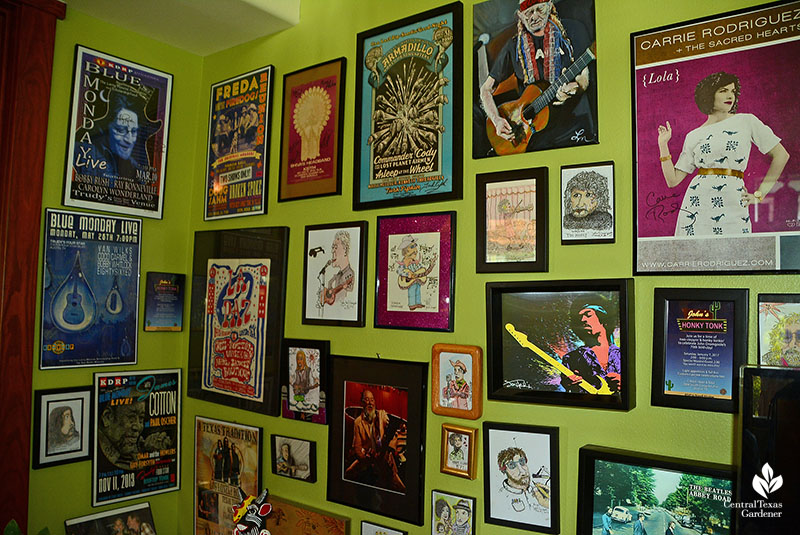 Since he's been spinning tunes and tales on the radio since high school, his passion led him
back to the radio microphone with "Dance Halls and Last Calls" on SUN radio. At home, he auditions selections for upcoming programs when he and Jane aren't just listening for the pure fun of it.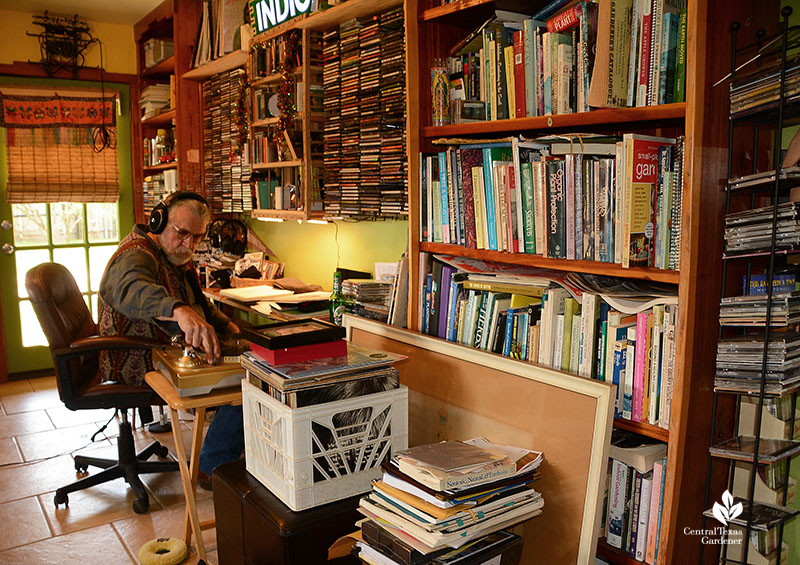 Embracing many outlets for expression is John's secret for a balanced, thoughtful life, one that he's dedicated to a sustainable future that starts right in our own yards.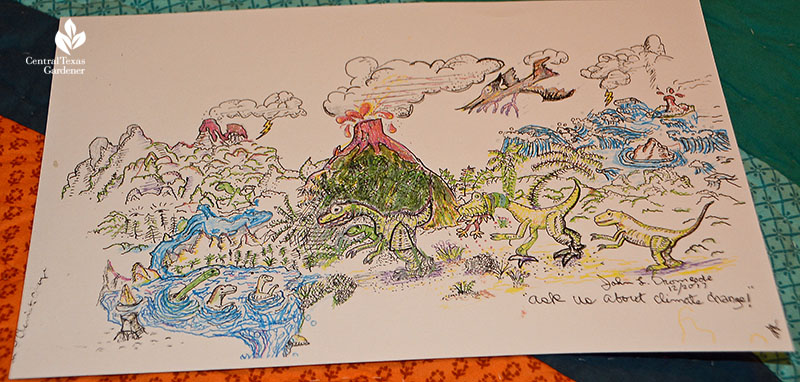 John's taught me many things over the years. His witty tales and puns always have us rollicking with laughter (or groans) at CTG. Most of all, he gives us wisdom.
When we taped this on December 5, 2019, I never expected to be editing at home instead of at Austin PBS in March. Final tech editor and musician Paul Sweeney actually played at the Dromgooles wedding! David Stalker documented that great day with director Ed Fuentes and assistant Steve Maedl.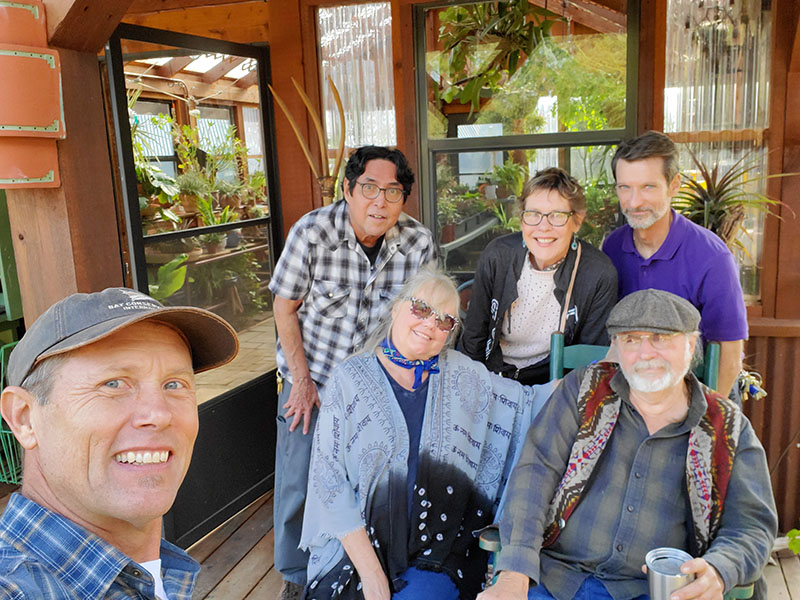 Until we're back on location, I hold John's life philosophy that day especially close: "You know, one of the things that I learned is the Zen of watering. That darn hose always twists up. I don't care if they say, 'Guaranteed not to twist.' I bring it home the first day, and it's got a knot in it. And you're frustrated and you're jerking on it. And the Zen of gardening is to say, 'Oh.' And you go over there and you untwist it and you go back to watering."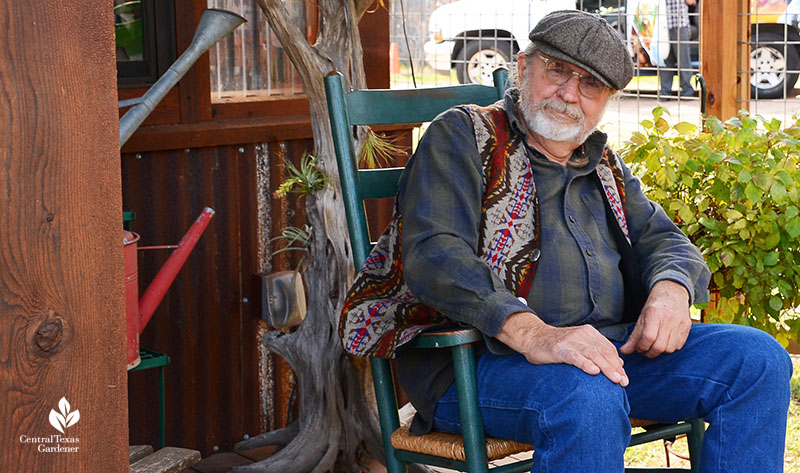 Watch now and get his tips for mounting tillandsias, too!
Thanks for stopping by! See you next time, Linda
Comments